►
◄
latest
habitat tv
blog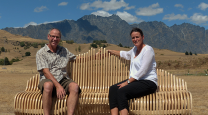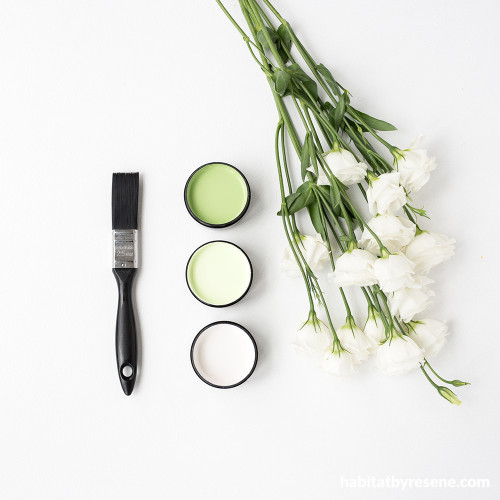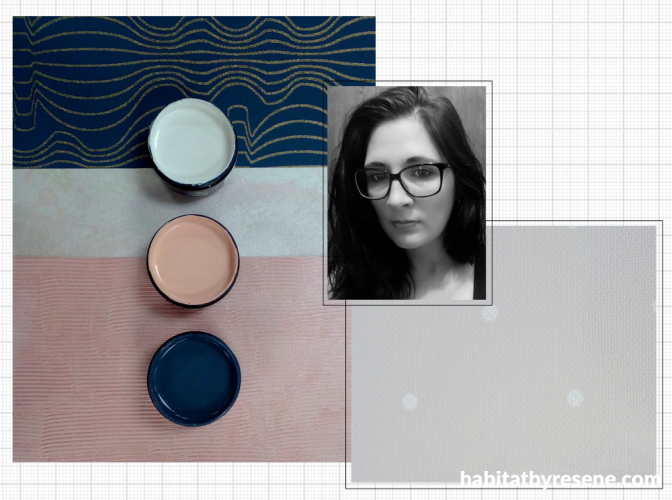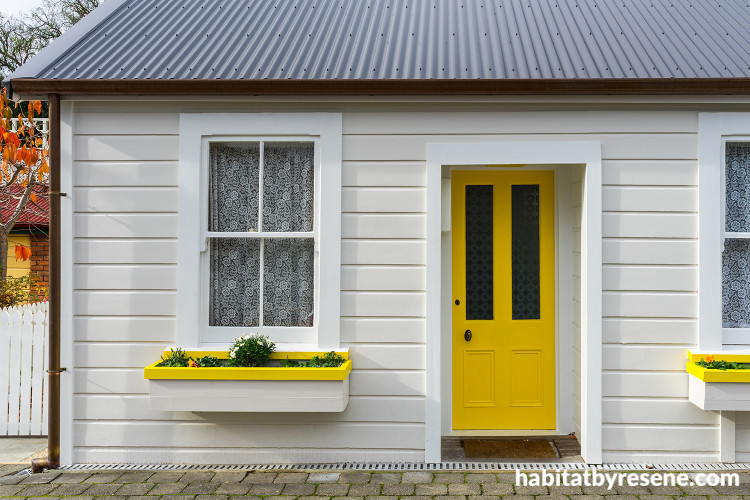 Insiders' top colour picks
Who better to tell us their favourite Resene colours and why they're hot for 2017/2018 than Resene colour experts themselves? We asked three colour experts about what's trending in interior colour for the next couple of years, and to share a few of their favourite colours from the current Resene range.
Did you know... You can ask advice from a Resene colour expert anytime? Use the in store service at selected Resene ColorShops or send a question by clicking here and get free advice about decorating your home.
Carolyn Atkinson, Resene colour expert
Tell us about trends for 2017 and 2018.
It's all about green – from the brightest to the deepest and embracing soft muted tones. There is something really appealing in the colours of nature. If you take a walk along forest tracks and bush trails you find your stress levels reduce. We value green as an eco-statement and with that in mind we see all types of green as a way to be one with nature. We can be stimulated with sassy lime greens, rested in deep green studies, lulled into a better state of mind after returning home from a busy day at work by walking barefoot across the green grass of home. And for a healthy meal we eat our 'greens'. Need I say more?
What are your colour picks?

I've chosen my three favourite colours from the Resene The Range fashion fandeck 18. My picks offer a respite from the greys and beiges that have been predominant of recent years
Resene Quarter Moonbeam has a fresh, fun loving appeal – it is hard to be down at heart when you are close to this pretty lemon. It provides a fun statement for a child's room and is a slice of soft toned warmth when used to lift white and grey palettes. It is balanced and takes on a less bright look when deeper colours are used close to it.
Resene Dark Side has a mysterious quality of deep shadow overlaying the unusual blue undertone. It acts as an anchor when it is used with brighter tones. It can also be used to provide a restful, light-absorbing feature backdrop to rich gold or copper accents, ornate embellished frames on paintings and prismatic cut glass, crystal and candles. It can be glamorous or moody and sombre.
Resene Leap Year has a blue undertone hiding in a jade green – it is a green for all seasons. It's peaceful but never dull. I see it being used in rooms that are full of bright light. It works well with pure white and silver metallic as an accent for a sophisticated Euro look. It is fresh enough to balance really dark moody reds and conservative dark greens for a traditional themed home.

Alex Pedersen, Resene colour expert
Tell us about trends for 2017 and 2018.
2017 trends are certainly more subdued than previous years; complex and sophisticated. Our global connectivity and beautiful natural surroundings have combined to create intelligent colour palettes and inspiring interiors. I see the weathered hues and neutrals, with just a hint of colour, sticking around, but this season's colour palette is diverse and infinite possibilities are available. Trends aside, my wish is for everyone to find their favourite colour and use it within their home, even it's just inside a drawer. Because every time you open that drawer it will make you smile… and for me that's what it's about.
What are your colour picks?
Resene Dark Side is a lush navy; my instant crush when I first flicked through the Resene The Range fashion fandeck 18 and immediately got to work including it into colour schemes. As luck had it, a wonderful client was looking for such a shade. We used this colour in the entrance and kitchen of her new home.
Resene Dawn Chorus is a fleshy-toned pink, a sophisticated shade for the 'grown up girl'. Its warm earthy undertone gives it a more mature hue that would look equally stunning in a young girl's bedroom or a chic office.
Resene Chalk Dust is my new staple and go-to neutral, as it's fresh and crisp yet warm at the same time. It's a versatile white and can be used across a broad range of styles from modern minimalist to traditional country.

While these colours standalone they absolutely work together. Using Resene Dark Side as the dominant wall colour with Resene Chalk Dust for ceilings/architraves/doors and Resene Dawn Chorus as accents in bedding or accessories creates a sophisticated master bedroom, combining masculine with feminine.
Alternatively, for a girl's bedroom Resene Dawn Chorus and Resene Chalk Dust would be used as the dominant colours with an accent of Resene Dark Side painted on drawers and accessories.
Brenda Ngatai, Resene colour expert
Tell us about colour trends for 2017 and 2018.
Homeowners generally are still preferring a statement wall colour, usually in a bedroom. Trending options are for colour but with a grey undertone, such as Resene Duck Egg Blue, Resene Dusted Blue or Resene Clouded Blue. For a stronger effect Resene Dark Side, Resene Baltic Sea and Resene Foundry are equally as popular.
What are your colour picks?
Trending now are softer prettier colours such as Resene Whiteout, Resene Breathless and Resene Half Mountain Mist. These options throw out a very delicate lilac but have a strong grey undertone which softens and balances them out. Contrast with Resene Alabaster or Resene Black White.

Also I'm loving yellow at the moment! Resene Turbo and Resene Spotlight are strong, bold yellows. They look fantastic painted onto a front entry door in Resene Enamacryl gloss. It's the right amount of brightness that puts a smile on your face as you approach a home. Accompanied with Resene Alabaster for the interior, it's a winning combo.

Published: 08 Feb 2017
Do you have a home full of wonderful Resene paint and colour? Send us some snaps by emailing [email protected].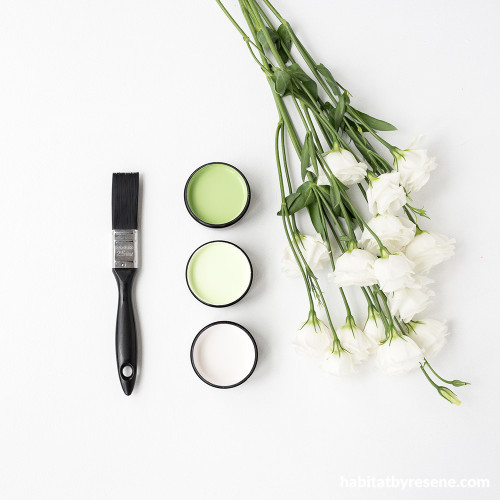 It's all about green this year, says Resene colour expert Carolyn Atkinson – from the brightest to the deepest and embracing soft muted tones. This colour combo is inspired by freshly picked foliage and features on Resene's instagram page. Testpots from top are Resene Chelsea Cucumber, Resene Reef and Resene Spring Wood.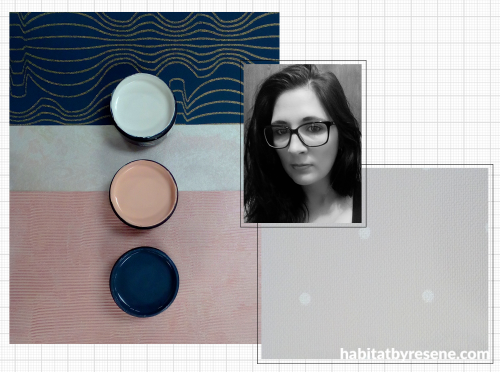 When it comes to colour trends, Resene colour expert Alex Pedersen sees weathered hues and neutrals, with just a hint of colour, sticking around. Her favourite colours right now include Resene Chalk Dust, Resene Dawn Chorus and Resene Dark Side – using the latter as the dominant colour combines masculine and feminine for a sophisticated master bedroom.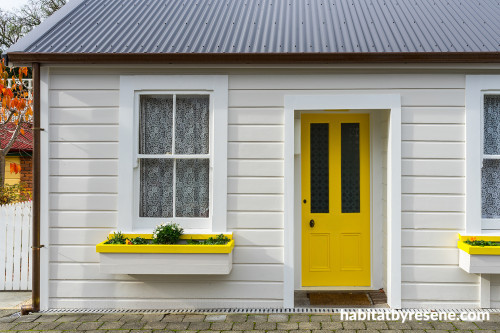 "I'm loving yellow at the moment!" says Resene colour expert Brenda Ngatai – especially when it comes to strong yellows on the front door at home. Get the look with Resene Spotlight and Resene Alabaster.