►
◄
latest
habitat tv
blog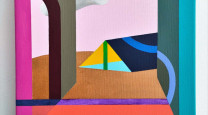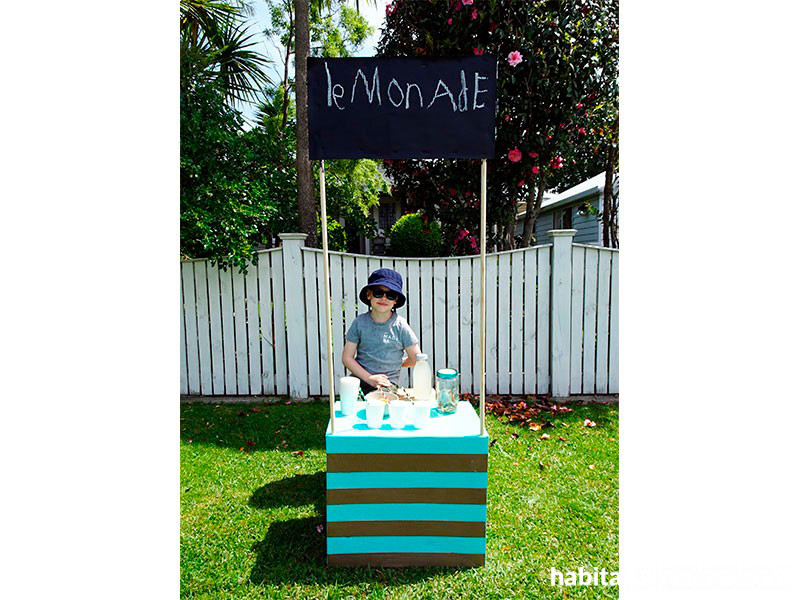 12 School holiday DIY boredom busters
08 Jul 2021
School's just about out and it's time to learn a thing or two with these crafty DIY projects. The holidays are a time for spending quality family time together, so ditch the devices and go old school. Kids will love learning how to make their own lemonade stand or friendly garden critters using everything from golf balls and rocks to paper plates. We've compiled ten craft projects with a range of ideas to suit any age. Whether your child's a whizz with woodwork or the next Picasso, there's a creative project for everyone these school holidays.
Fun and games: Wooden noughts and crosses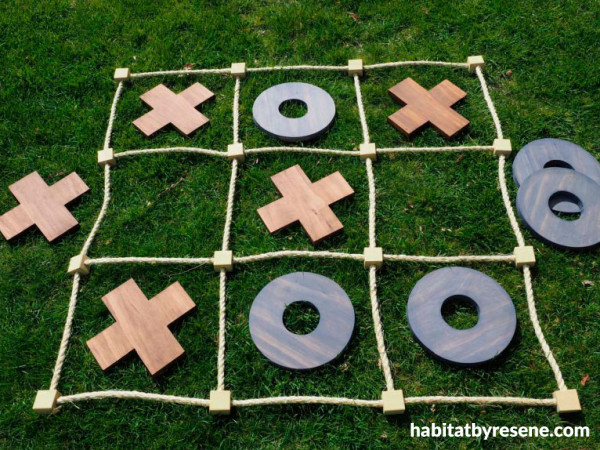 This outdoor noughts and crosses board will be a great addition to the backyard. While we've used Resene Woodsman wood stain on this project, it could easily be painted in bright colours for the kids. You can make an indoor version for those rainy days using painted cardboard and let your kid's imagination run wild with creative paint designs. Learn how to make it here
Cook up some upcycling with this cute toy oven made from old bedside drawers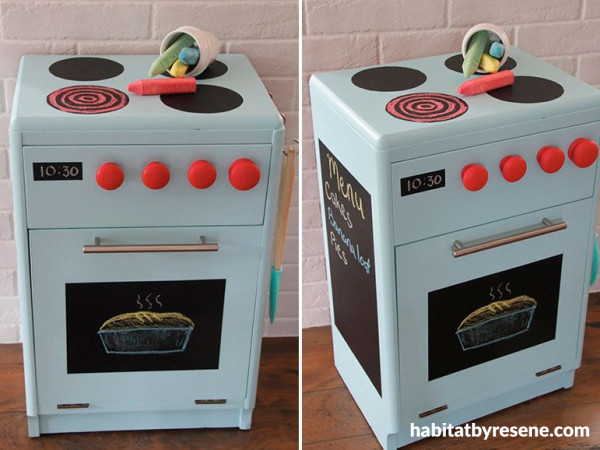 Play time is an activity best served warm! Transform tired bedside drawers into a hot little oven so budding MasterChefs can be in their element. All you need is some Resene testpots, handles for the oven door and dials and some Resene FX Blackboard Paint, paint so your child can draw what's cooking on the oven door and write menus using chalk. Here's how to make this baker: Turn an unwanted cabinet into a magical kid's oven | Habitat by Resene
When life gives you lemons, make a lemonade stand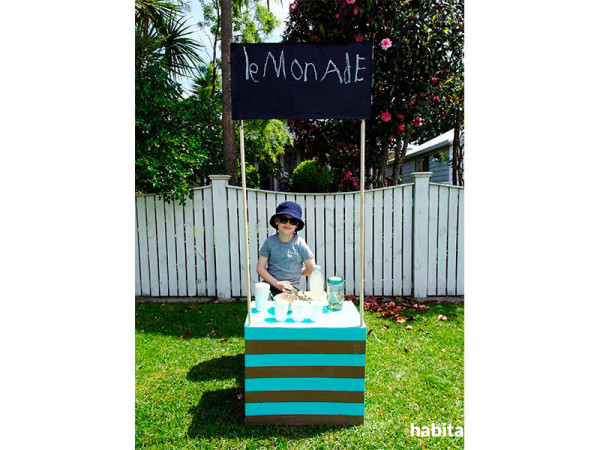 This fantastic lemonade stand project is perfect for your kids to attempt on their own – or with a little supervision – that will keep them busy and build their confidence. Six-year-old Milo worked hard during the school holidays to build and paint his dream lemonade stand. The result gave Milo a real sense of pride in completing a creative project from start to finish, while having fun with colour along the way! Here's how to make your own lemonade stand to be proud of
These cute golf ball ladybirds are above par

With just a few golf balls and some Resene testpots, you can create these adorable ladybirds. This makes for a great kid's project – they can use red, black and white paint to make harlequin ladybirds or make their own ladybird characters with a medley of fun colours. Click here to find out how to create these cute critters
Pull up a chair: Create an animal face stool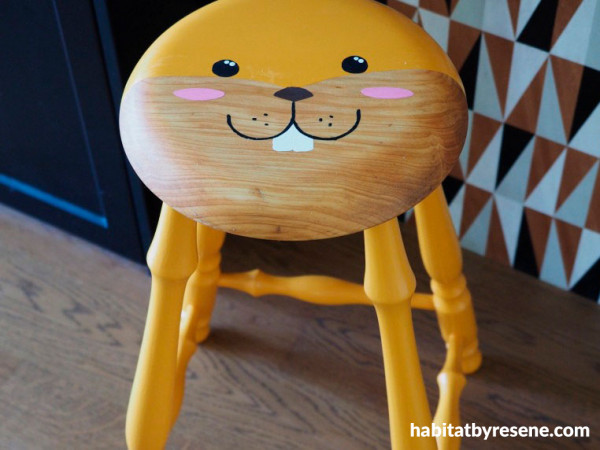 Upcycle an old stool with a cute-as-a-button animal face design that the kids will love. This bright and friendly face will encourage kids to sit down at the kitchen island or breakfast bar to eat. Let them choose their favourite animal for the stool's theme, then go wild with Resene colours. Click here for some tips and tricks on how to upcycle your stools
Put all your paint in one basket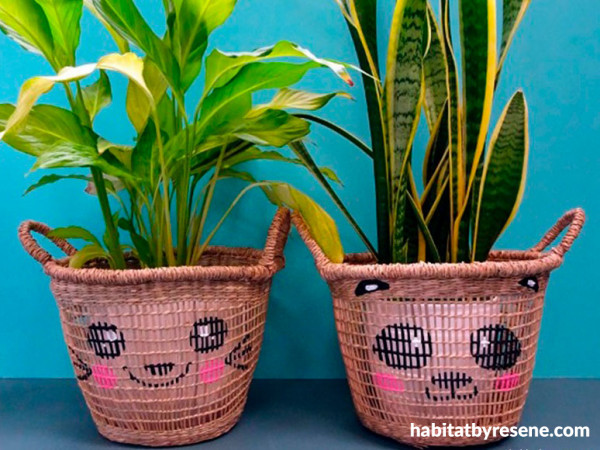 Bring some plain storage baskets to life using a few Resene testpots and some leafy house plants! This is a great school holiday project for the kids – let them create their own characters and pot their own plants. Or try using the basket as a laundry hamper in their room to make cleaning up fun. Here's how to create these snazzy baskets
Glow and behold: pasta glow bugs!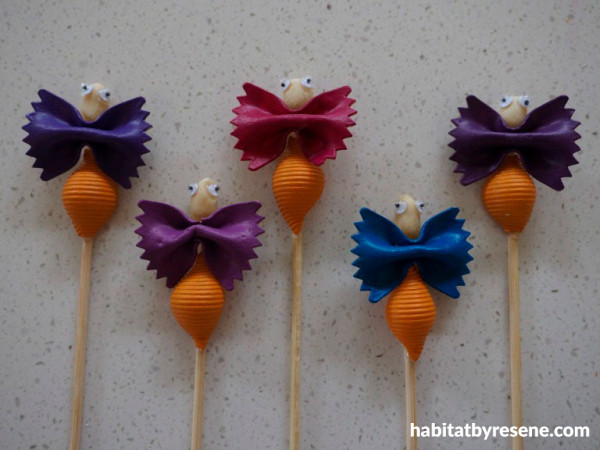 Using expired pasta, Resene testpots and a sprinkle of creativity, the pasta-bilities are endless these school holidays. These easy-to-make glow bugs can be finished in two ways - as colourful wall delights or as glow in the dark spectacles. With their colourful wings, these glow bugs are the perfect boredom buster to help your kids pasta time away and a great way to use up those leftover pieces of pasta at the back of the cupboard. Learn how to create these glow bugs here
Create a handy tote bag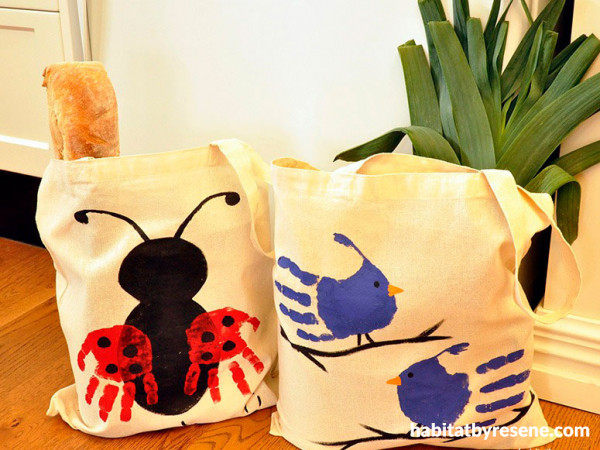 It's time to get hands on with these creative tote bags. Birds and ladybirds are brought to life with some imagination and a few Resene testpots in this quick and easy kid-friendly DIY. Permission to get a little messy: granted. Learn more about how to create these trendy bags here
There's oceans of fun to be had with these easy paper plate fish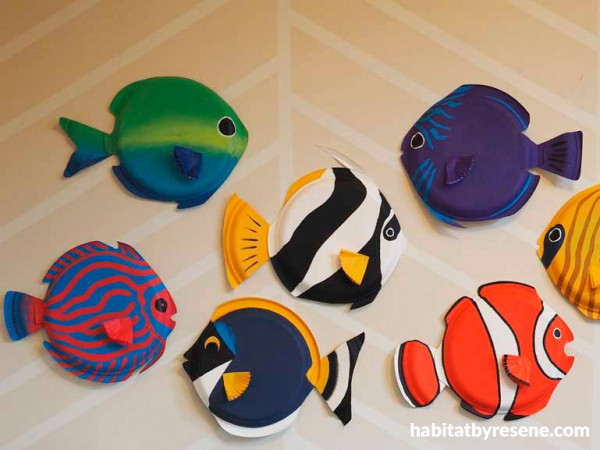 These creative and colourful fish out of water are the perfect boredom buster for a rainy day. Made from paper plates and inspired by tropical fish, this simple DIY décor is perfect for your kid's bedroom or bathroom. While the fish keep the kids busy, you can keep the theme going and paint a cabinet in sea blue Resene Lynchpin or just keep swimming with a vase in Resene Sea Fog. Dive in and learn how to create these fish here
A cracking good way to get kids growing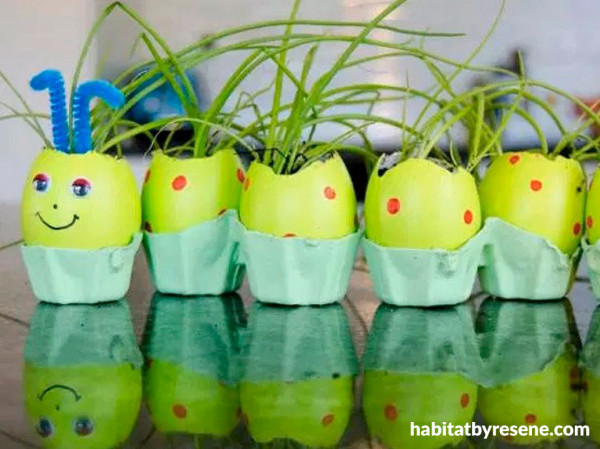 Microgreens are an easy way to introduce kids to gardening. These fast-growing plants are available as seeds at garden centres and once planted will be ready to eat in a couple of weeks. They can be germinated in plant pots, upcycled tins painted in Resene or even eggshells. Create a happy caterpillar plant grower from discarded eggshells and paint in Resene testpots in zesty colours such as Resene Tutti Fruity, Resene Lickety Split and Resene Get Reddy. Learn how to make a hungry caterpillar here: Cracking good ideas for kids | Habitat by Resene
Paint a turtle that rocks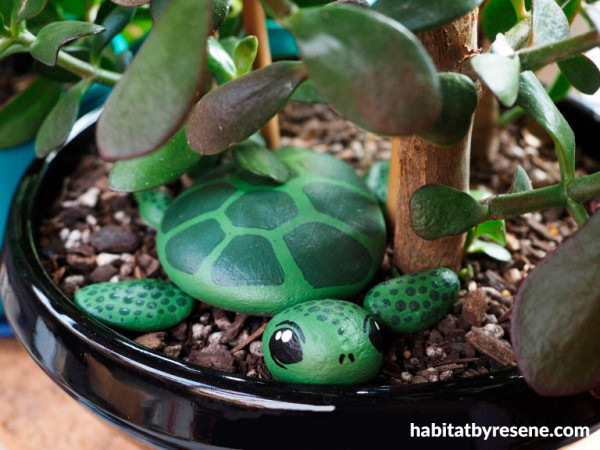 Here's a garden project worth shell-ebrating these holidays! Add some turtle power to your garden with these turtles made from garden rocks. Give power to the pebble and paint yourself a turtle in a range of Resene colours. Or you can get creative and create a whole ocean in your backyard by painting rocks into whales, dolphins and clownfish. Here's how
Shine and dandy: Make some colourful glow in the dark shoes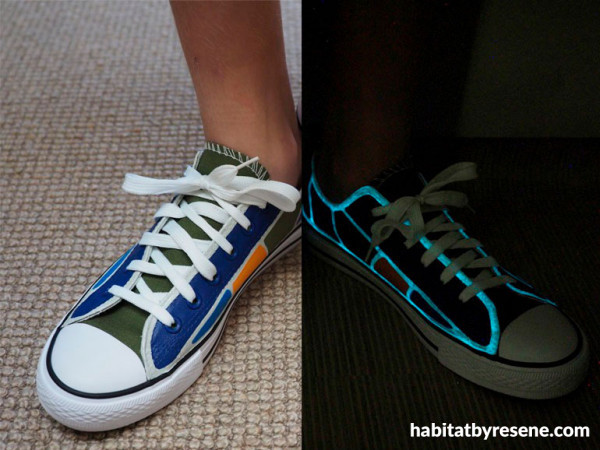 Transform your kid's favourite shoes into fabulous works of art. Use bright blocks of Resene colour and Resene FX Nightlight glow-in-the-dark paint to add some fun to their outfit that's sure to impress when they head back to school. This is the perfect rainy-day activity to try and also teaches your children the value and joy of upcycling. Learn how to create the design here
Published: 08 Jul 2021