►
◄
latest
habitat tv
blog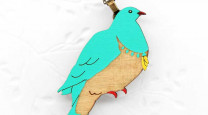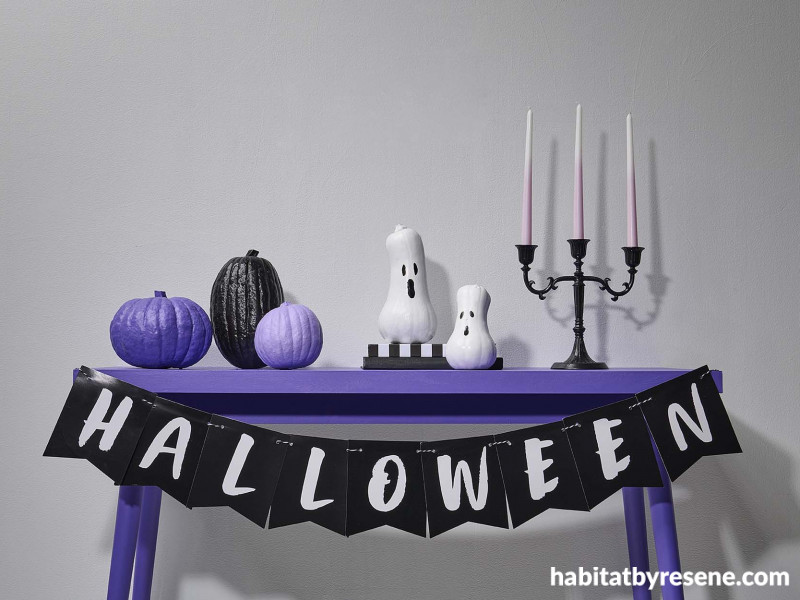 2 Boo-tiful pumpkin crafts for Halloween
21 Oct 2021
Get your spook on this year with these two positively petrifying pumpkin crafts. Squash the misconception that Halloween is only for kids by creating these simple pumpkin-inspired DIYs that can be dressed up for a sophisticated Halloween get-together. Painting pumpkins makes for a great Halloween display, with pumpkin ghouls that are as equally cute as they are scary. If you're after a more sustainable DIY that you can resurrect for years to come, try out our terrific Jack-o'-lantern treat pot that's sure to be a hit with kids and adults alike.
DIY Painted pumpkin ghouls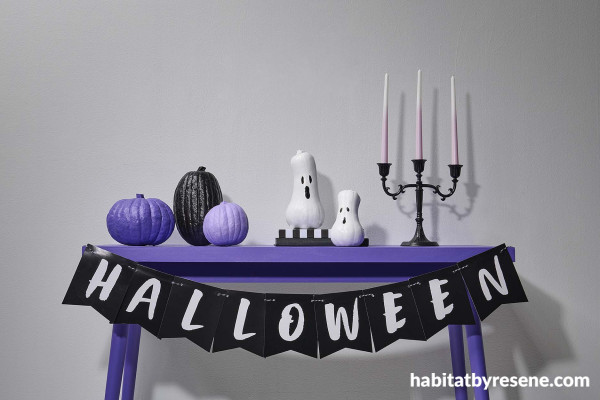 This spooky scene comes to life with wall in Resene Black White, hall table in Resene Daisy Bush and the candleholder repainted in Resene Black.
You will need:
Step 1: Paint round pumpkins in your choice of Resene colours – Vanessa used Resene Daisy Bush, Resene Dancing Girl and Resene Black.
Step 2: Make the taller pumpkins or butternuts into ghost pumpkins by painting a face on them as seen in the photo – Vanessa used Resene White for the base and Resene Black for the face.
Make your own pumpkin treat pot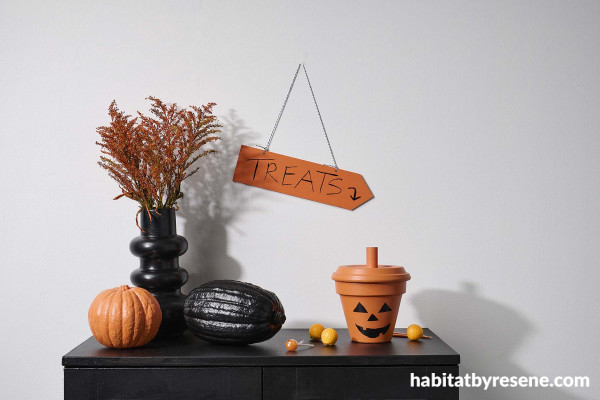 Create a frightful two-tone Halloween scene with Resene Black – featured here on the vase, cabinet and pumpkin – and Resene Ecstasy on the second pumpkin, sign and treat pot. Wall in Resene Black White.
You will need:
15cm terracotta pot
17cm terracotta pot saucer
Piece of dowel that is 5cm in length and 1.5cm in diameter
Resene testpots in your choice of colours – Vanessa used Resene Black and Resene Ecstasy
Thin paintbrush
Pencil
Craft glue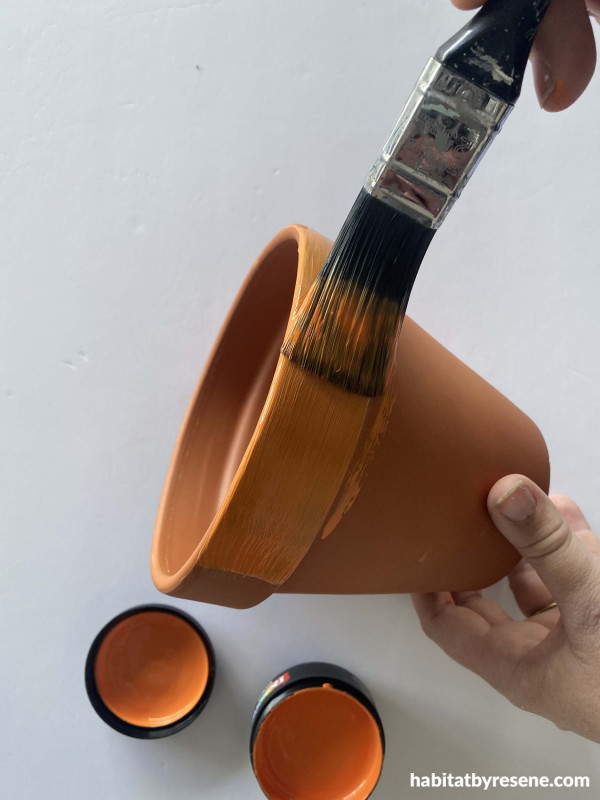 Step 1: Paint the terracotta pot, saucer and piece of dowel with two coats of your chosen Resene colour, Vanessa used Resene Ecstasy, and leave to dry between coats.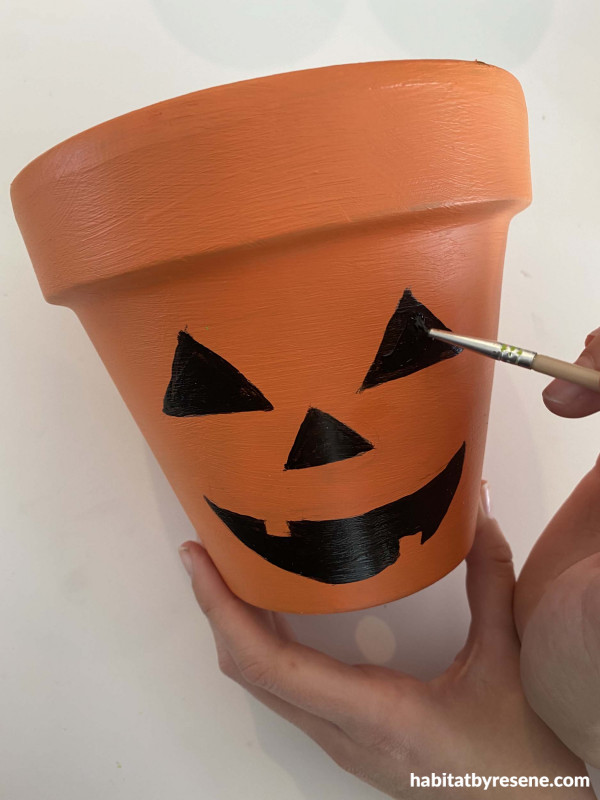 Step 2: Using a pencil, draw your pumpkin face onto the pot. Paint your pumpkin face – Vanessa used Resene Black – using a thin paintbrush.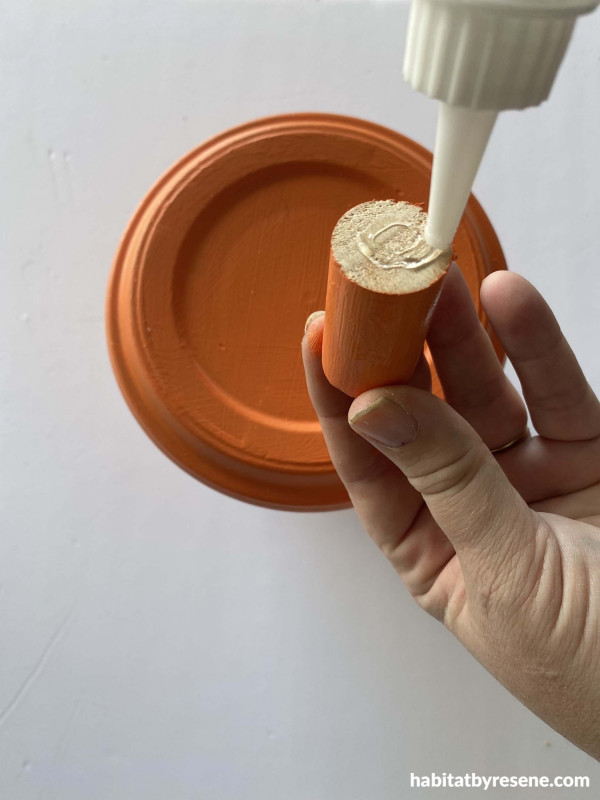 Step 3: Glue the piece of dowel to the bottom of the saucer to form a lid handle.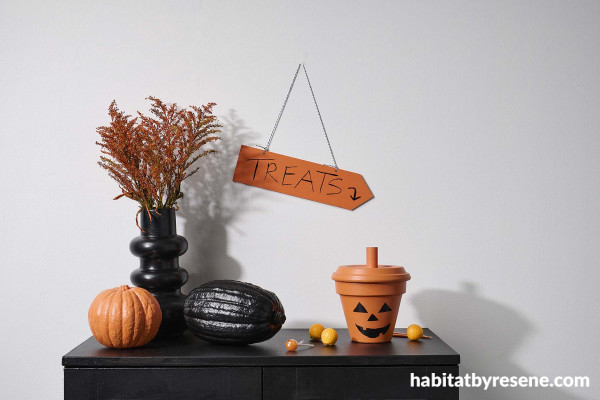 Step 5: Add treats ready for Halloween!
projects Vanessa Nouwens
images Bryce Carleton
Published: 21 Oct 2021