►
◄
latest
habitat tv
blog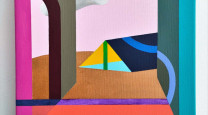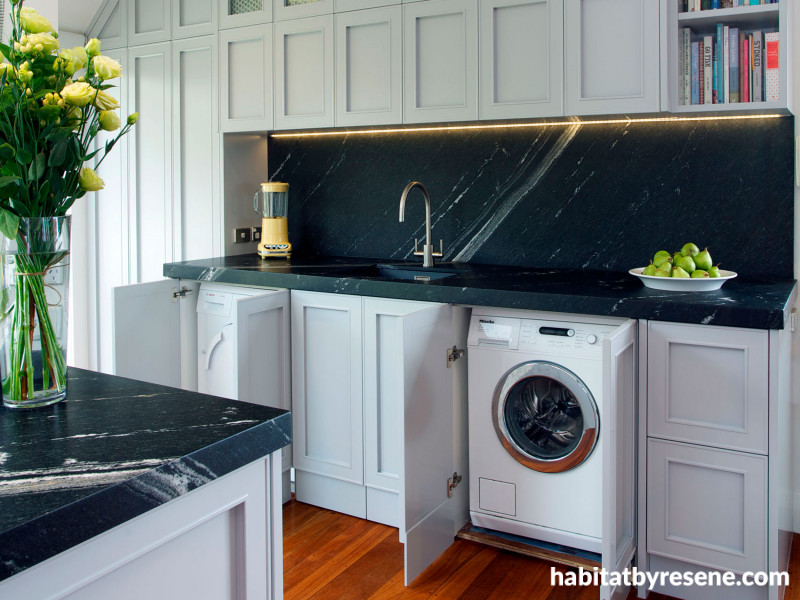 5 design hacks for updating your laundry
05 Aug 2021
Laundries are one of the most functional spaces in the home, but they can also be a great place to experiment with design and colour. With a few easy design tips, tricks and space savers, you'll be bubbling with excitement over your new laundry look.
Have loads of fun with colour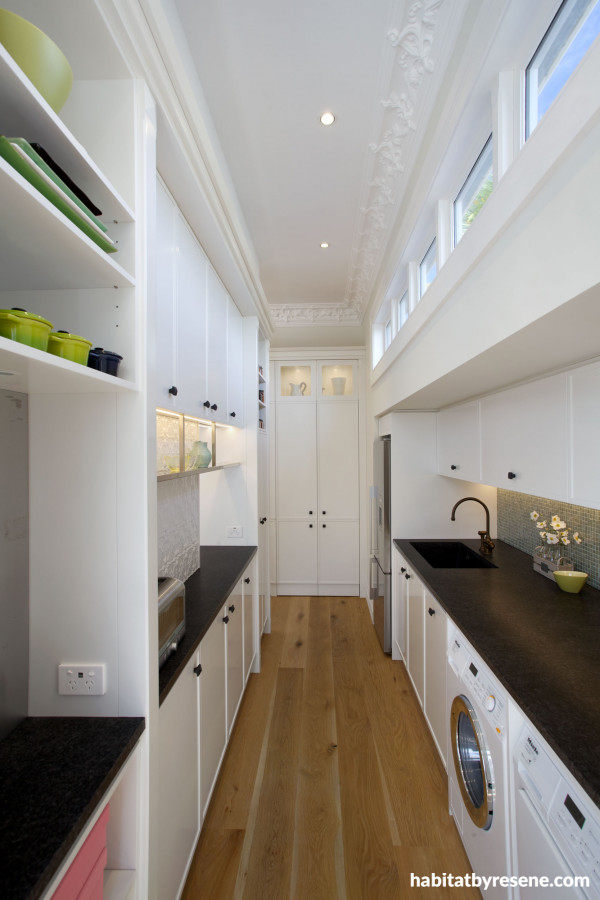 Natalie from Du Bois Design painted this Mount Eden laundry in Resene Eighth Thorndon Cream.
The laundry is a great space to get creative with colour. Typically one of the smallest spaces in the house, laundries benefit from light colours that make the space look larger. Try Resene Eighth Thorndon Cream for classic houses and villas or Resene Black White for more modern laundries. A happy yellow such as Resene Buttercup is also a great way to inject some energy into the space.
Keeping your laundry clean is easier with Resene SpaceCote Low Sheen Kitchen and Bathroom, made with anti-bacterial silver and added MoulDefender. It can be tinted to colours off white and is designed for durability in wet areas. Use it on your laundry walls and team with Resene Lustacryl Kitchen & Bathroom on trim and joinery.
Hide it in plain sight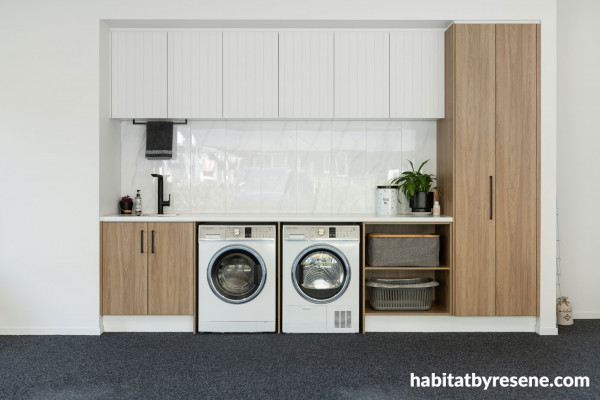 This laundry from JBH Building uses Resene Half Black White on the walls and cabinetry.
Inventive storage is key to creating a cohesive and functional laundry. "Laundries need to be practical and pretty," says Sally from JBH Building. She gives us her three top tips for creating a successful laundry design:
Measure everything you need to store – you want everything to fit well in the space and be tidy, laundry hampers, ironing boards and clothes driers included.
Make counter tops deep enough – you need to allow for the depth of your washing machine and dryer so that they don't stick out.
Have closed overhead cupboards plus a tall cabinet. Let's be honest, laundry items aren't pretty so we want them hidden away. The tall cabinet is to house your mops and brooms.
Check out more of JBH Building's work on their website, Facebook or Instagram
Stack it up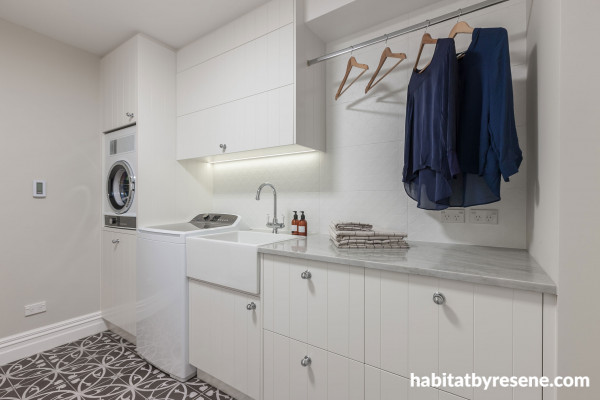 This Epsom laundry uses nifty storage hacks to create more space in the room. The cabinetry is in Resene Quarter Joanna and walls in Resene Half Joanna. Project and image by Natalie Du Bois from Du Bois Design.
A well designed laundry can save headaches when it comes to needing workspace down the line. Including functional bench spaces and work areas doesn't leave a lot of room for storage. One nifty solution is to stack your appliances. Stacking dryers on top of washers saves much-needed space and overhead shelving and cupboards are a fabulous way of gaining more storage, leaving the bench top free.
If you're tight on space Plumbing World has bi-fold and pocket doors that are an easy way to keep the laundry appliances out of sight. "When planning your space, think about what your priorities are," says Dianne from Plumbing World. "Do you need storage for ironing boards, cleaning equipment or drying space?
"By ticking off your priority list you can create a layout that will make the laundry slightly more enjoyable. Don't forget to allow for ventilation if required and plumbing and electrical outlets."
Check out more of Plumbing World's products here
Get your workspace ready to tumble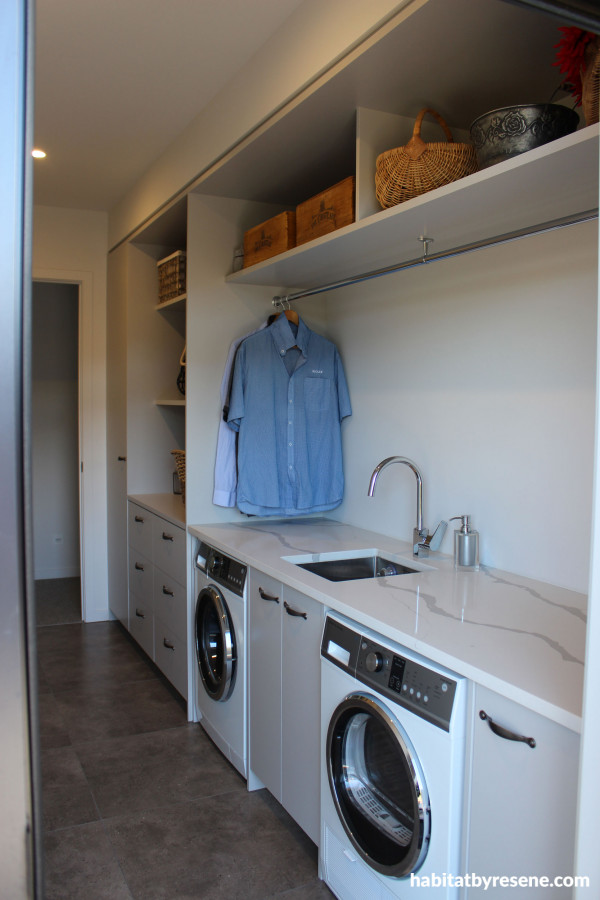 Tracy from Keys Design paired Resene Sea Fog for the ceiling and trim with Resene Double Sea Fog walls in this sophisticated laundry.
An often forgotten element of laundry design is bench space. The laundry is so much more than a washer and dryer, it's a place where a sufficient amount of bench space can make all the difference between a cramped space and a functional, working part of the home.
Tracy from Keys Design creates timeless family laundries that are both practical and elegant. "The laundry needs to be a happy place!" says Tracy. "It needs to be practical and beautiful, with a good amount of room either side of the sink to work on and tall storage space for your mops, brooms and ironing board.
"High storage space is key to keep cleaning products away from little people and try to incorporate some hanging space if possible.
"Use quality, timeless benchtops and cabinetry. Doing the washing shouldn't feel like a chore in the space."
Tracy Keys Designs worked with Amuri Kitchens and Maker Build to create this modern laundry.
Super surfaces and sneaky storage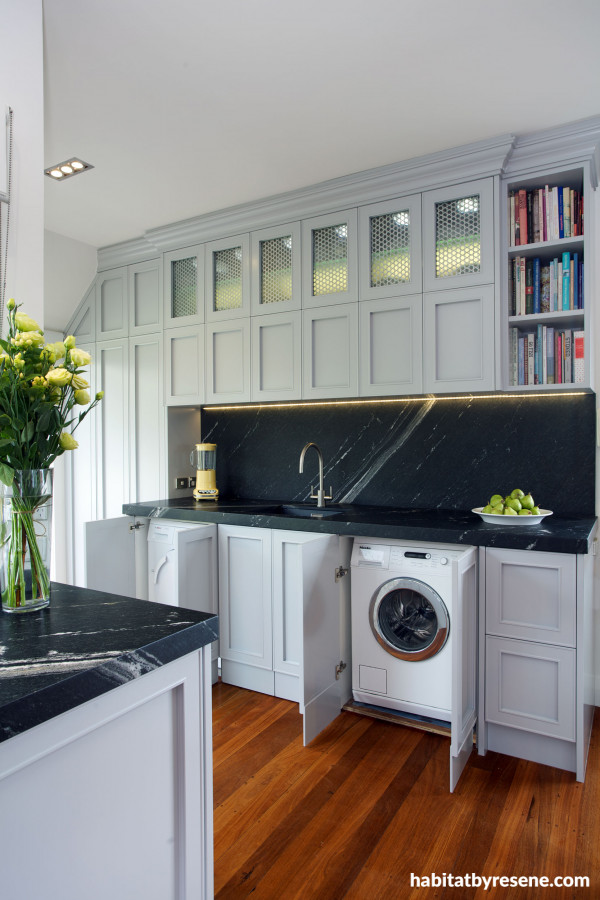 Natalie Du Bois from Du Bois Design utilised unused space in the kitchen to of this Remuera home to create a laundry with cabinetry in Resene Triple Concrete and surrounding walls in Resene Half Bianca.
In an ideal world, our homes would have an abundance of laundry surfaces that would make it quick and easy to get the chores done. But the reality is most laundries are often squashed into cupboards or snuck into what would otherwise be unusable space. This is where space-saving appliances come in to save the day. If you have minimal laundry space, consider using a washer dryer combo machine.
Create a paw-some pet drawer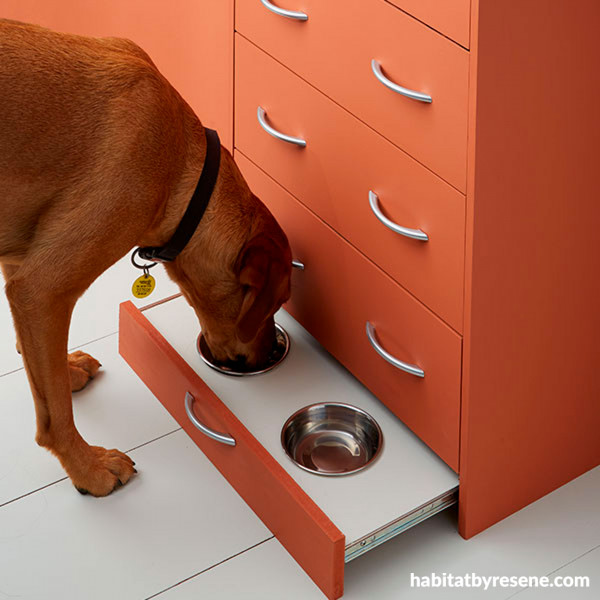 This handy pet drawer is painted in Resene Ecru White and Resene Sunbaked.

If you're renovating your laundry, take the op-purr-tunity to install an extra drawer where you can conceal your pet's food and water bowls, keeping them out of the path of traffic – and out of sight – between meal times. Learn how to make it here
Top tip: Winter weather means drying your clothes outdoors is often impossible, so it's good to think about alternative drying solutions when redesigning your laundry. Try an overhanging drying rack in the laundry space or a portable heated drying rack that can be packed away when the sun comes out.
Published: 05 Aug 2021