►
◄
latest
habitat tv
blog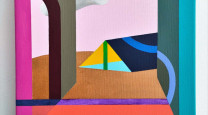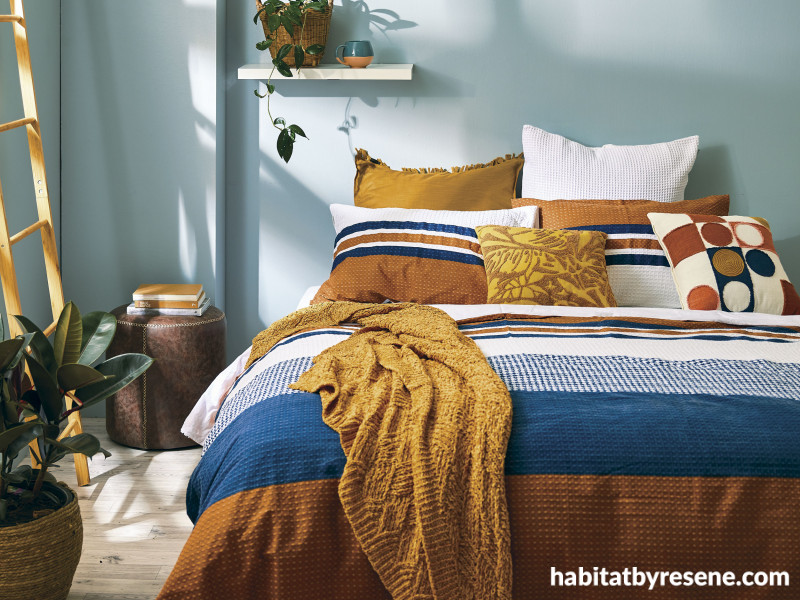 A splash course in colour: Three ways to make blue cosy
08 Jul 2021
During these wintery days, there's no need to feel blue – colour your walls with the colour instead! We're putting our own spin on the winter blues, making them cosier than ever with these three simple styling hacks. Blues are often reserved for the summer months where they're used to add a crisp coolness to interior spaces. However, the right blue can increase the cosiness of your home while still adding a fresh hint of colour. Here's how:
Rug up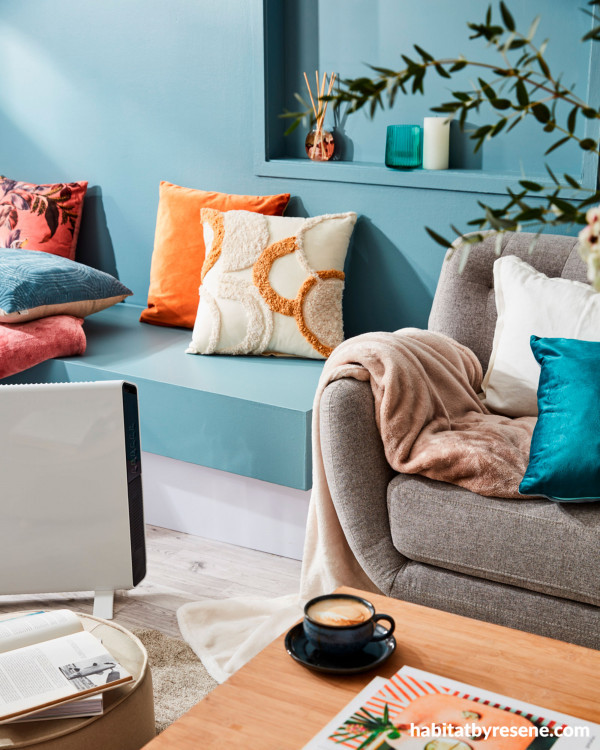 This cosy nook's Resene Bluff walls are warmed up with colourful KAS Marine cushions and a Colorado Harvest Grey 2-seater sofa from Briscoes.
Resene Bluff is a soft and moody early morning sky grey blue. Brighter and bluer than traditional grey, Resene Bluff is a great way to introduce a splash of colour into your home. The trick with a cooler blue such as this one is to use it sparingly in the space. Colour a nook of the room or create a feature wall and pair it with warmer grey or white walls such as Resene Quarter Pearl Lusta. Bright light will make Resene Bluff seem brighter, muted lighting will enhance its moodiness. If you painted your entire room blue over summer, never fear. When it comes to a blue winter room, the busier the better. Use lots of textures; think fluffy pillows, warm blankets and woollen rugs. These textures will add interest to the room, making the space feel less open and increasing the level of cosiness. But don't overwhelm the space with colour, Resene Bluff is naturally bright so use muted autumnal pops of orange and mauve.
Call of the wild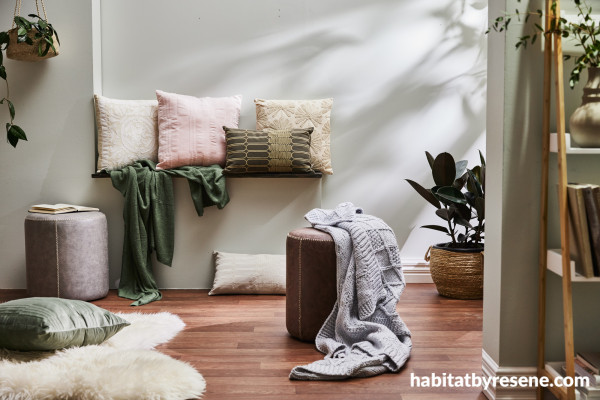 Resene Harp, a grey blue, creates a cosy atmosphere with a variety of KAS Velvet Flint cushions and a deep olive URL Lichfield throw from Briscoes.
Summer is all about bach-y beach inspired colours and Resene Harp is another fantastic pale grey with green undertones and works well in living areas. The relationship between brown and blue may be modern and trendy, but like most successful colour trends it is inspired by nature; a sapphire river carving its way through earthy cliffs, trees reaching their chocolaty branches towards a crisp blue sky. Go back to basics and pair your walls with a timber floor stained in dark Resene Woodsman Dark Oak or incorporate indoor planters painted in deep Resene Brown Pod. Keep bright whites and dark blacks to a minimum in the space and pair with accents and surrounding walls in warm neutrals to ensure a continuous flow.
Duck, duck, spruce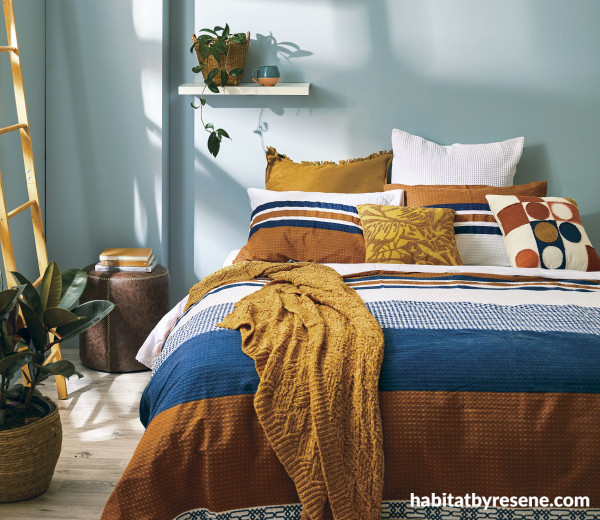 Resene Triple Duck Egg Blue creates a great contrast with the fiery hues of the Gracious Living Mable Queen duvet set from Briscoes.
Spruce up your home with Resene Triple Duck Egg Blue. One of the most popular blues in the Resene range, Resene Triple Duck Egg Blue is a pale shell blue, a clam reflection of winter skies over the Baltic Sea. A pale blue bedroom wall can be a powerful component in creating a cosy space. The bedroom is a place to relax and painting your room in Resene Triple Duck Egg Blue is a great place to start. Style the room with bright colours to create a sense of warmth. Contrasting colours such as orange, yellow and red will energise a space. Alternatively, create a wall design using horizontal stripes or choose striped bedding to add movement in the room. Horizontal lines will move the eye across the space, making it seem wider but less high, perfect for winter when we want to be in smaller, cosier spaces.
Published: 08 Jul 2021