►
◄
latest
habitat tv
blog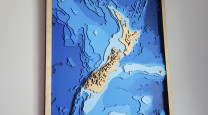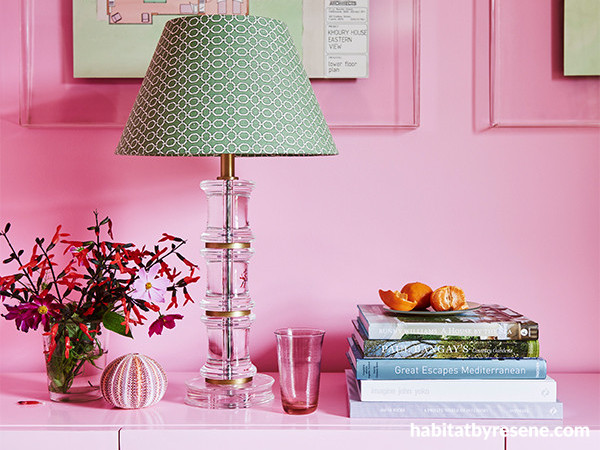 Barbiecore décor: Create your own Malibu dreamhouse with a pop of pink
31 Jul 2023
In a world that celebrates individuality and self-expression, the resurgence of nostalgia has brought forth an enchanting trend that captures the essence of whimsy and unapologetic femininity – as well as a recent release of a pink-packed movie – Barbie. As you can guess, the barbiecore trend is all about the pretty, sweet colour, pink. If this side of the colour wheel catches your eye, you'll love our tips and inspiration for how you can incorporate pink into your interiors using the many shades of Resene, to ignite a sense of playfulness, confidence, and warmth while infusing your living spaces with an irresistible charm that transcends time.
Chic dreamhouse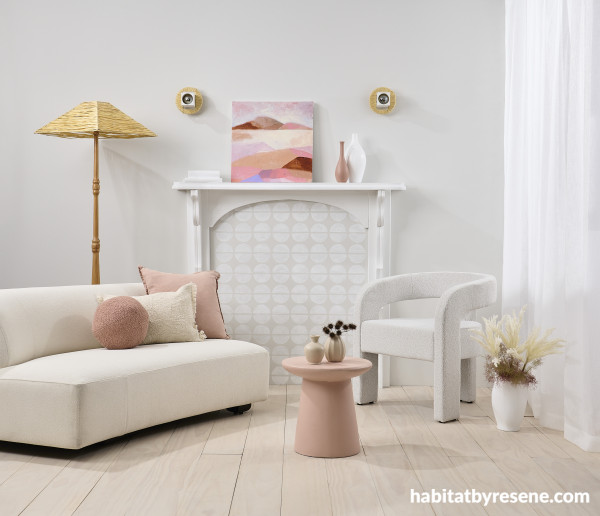 In this gentle tickled pink room, the floor is finished in Resene Colorwood Breathe Easy, the walls are painted in Resene Triple Black White, fireplace in Resene Half Black White, stencil inside fireplace is in Resene Triple Black White and Resene Eighth Black White, table in Resene Awaken, vases in Resene Sour Dough, Resene Summer Rose and Resene Eighth Black White. Sofa from Soren Liv, chair from David Shaw, cushions from Baya, ball cushion and foliage from Adairs, lamp from Sailor and Scout, artwork by Brenda Clews. Project by Melle van Sambeek, image by Bryce Carleton.
This is a great option if you love pink but don't want to go full Barbie! Subtle accents of pink in a neutral room, through painted décor and fabrics, will give you enough pop of this pretty colour while still remaining classic and timeless. If you're looking for a gentler more subtle tone of pink - an alternative to the bright magenta-based shade of Barbie's high heels, car, and well, everything - try shades like Resene Vintage, Resene Twilight, Resene Soothe and Resene Wafer.
Malibu sunset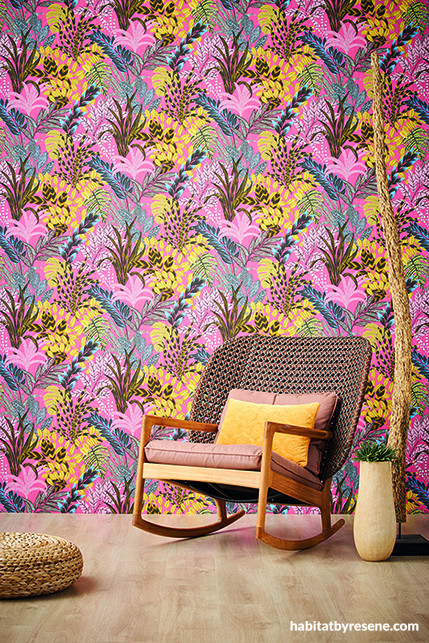 This bright, vivid wallpaper, Resene Wallpaper Collection 37860-2, has the fun and entertaining shades of pinks, yellows and blues, leaving you feeling like you're driving through Malibu for a sunset ride in the famous pink convertible.
This captivating wallpaper design from the Resene Mata Hari Wallpaper Collection transports you to a dreamy paradise, where sun-kissed beaches and lush palm trees come to life. The playful essence of barbiecore is beautifully captured in the exuberant colour palette, evoking a sense of joy and optimism. As you enter this room, your eyes are immediately drawn to the lively pattern. The bold yet feminine combination of pink, yellow, and orange creates a delightful backdrop that effortlessly infuses the space with a touch of tropical charm and vacation vibes. Pair this wallpaper with subtle pinks like Resene Pink Lace or Resene Pale Rose, or neutrals like Resene Merino, Resene Half Thorndon Cream or Resene Quarter Blanc.
Barbie boudoir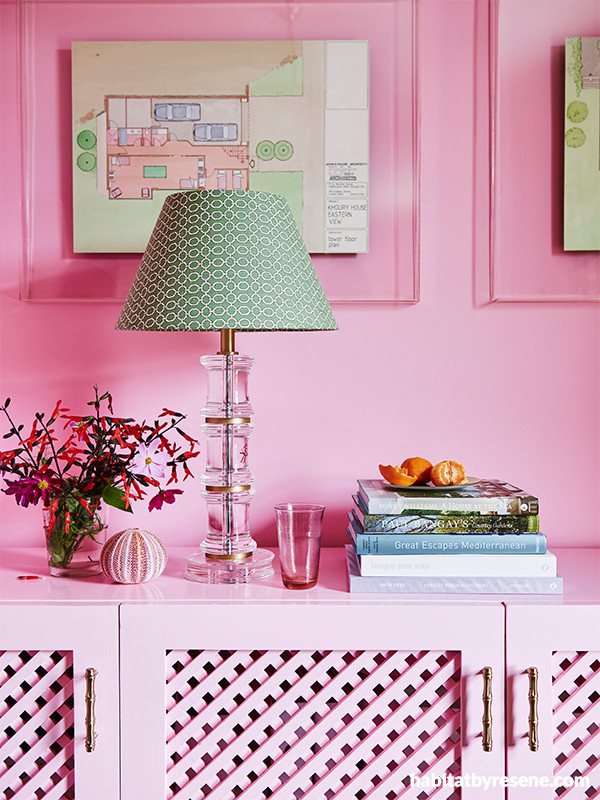 Pink is a favoured statement colour in interior designer Charlotte Coote's work. This wall and console here are adorned in the cherubic pink, Resene Cupid. Image by Lisa Cohen.
This is one for the pink lovers. Layers of repeating colour is what unifies this space and makes it a glamorous and chic room for interior designer Charlotte Coote's client to enjoy. The bespoke lattice console was painted in the same colour but in a high-gloss, Resene Enamacryl gloss waterborne paint, differentiating it from the walls, but also giving it a built-in look. Resene Cupid is the perfect homage to the barbiecore trend. If you love this shade, you might also like Resene Princess, Resene Ballerina, Resene Smitten and Resene Hopbush.
For more pink inspiration and advice, visit your local Resene ColorShop today.
Published: 31 Jul 2023