►
◄
latest
habitat tv
blog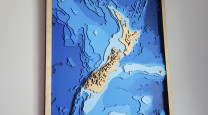 Bright ideas in a wooden bowl: A stylish DIY pendant for your home
20 Sep 2023
Let there be bowl-ight! This charming pendant is both rustic and chic, and the best part is, you can make it using those old wooden bowls in the back of the cupboard that you never use! Choose your favourite Resene colours, or match your pendant to your existing home colour scheme to create a cohesive look in any space – just like we've done here with our earthy neutral room.
You will need:
1 large wooden bowl (30cm in diameter and 12cm deep)
1 medium wooden bowl (25cm in diameter and 8cm deep)
1 small wooden bowl (10cm in diameter and 5cm deep)
Testpot paintbrush
Sandpaper
Hanging light kit
Glue (super glue, wood glue or strong craft glue or similar)
Pencil
Ruler or tape measure
Drill
Hole saw drill bit approx 38mm
Resene testpot paints in colours of your choice. We used Resene Brown Sugar, Resene Kalgoorie Sands and Resene Sand.
Note: Your bowls don't have to match the size of ours, this is just a reference. You can make your pendant as big or odd shaped as you like – as long as you can drill a hole through the middle to thread the hanging light kit through.
Step 1: Measure the centre of each bowl and make a cross mark with pencil.
Step 2: Using your hole saw drill bit to drill through the middle of each wooden bowl.
Step 3: Give each bowl a light sand before painting.
Step 4: Paint each bowl in your chosen Resene colour. We used Resene Brown Sugar for the large bowl, Resene Kalgoorie Sands for the medium bowl and Resene Sand for the small bowl. Apply two coats.
Step 5: Glue the bowls together. We glued ours with the biggest bowl at the bottom, then the smallest, then the medium. Make sure the holes you have cut out line up so you can thread the hanging light kit through.
Step 6: Finally thread through the hanging light kit and add your light bulb. Make sure you get an certified electrician to install your pendant light.
Wall and floor painted in Resene Rice Cake. Rug from Mocka, throw from Adairs.
project Vanessa Nouwens
image Bryce Carleton
Published: 20 Sep 2023