►
◄
latest
habitat tv
blog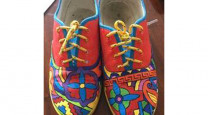 Colour made easier – Resene launches new charts
23 Mar 2016
There's no doubt about it – Resene has always been known as the colour leader of the paint world, with a vast array of colours from versatile neutrals to on-trend shades. The company continually updates its colour collections, for example, adding a range of greys to the Resene Whites & Neutrals chart recently in answer to the resurgence of popularity for this colour. Every two years, the company launches another fashion fandeck, and this month it relaunches its hugely popular Resene Multi-finish range in new-format cards for easy colour selection.
The range is so vast that sometimes it's tricky to keep up with exactly what's available at Resene ColorShops when it comes to charts.
Here's a guide to the various collections and how they fit together.
---
Resene Multi-finish is the backbone of the Resene colour collection, with the largest collection of colours, spanning the rainbow and beyond. Available in 64 themed palette cards with a total of 896 colours, the collection brings together the most popular Multi-finish colours, together with favourites from many of The Range fashion colour fandecks and a selection of new colour strengths. It's a best-of-the-best Resene colour collection and is designed to work alongside the existing Resene Whites & Neutrals collection.
The new palettes are two chips wide with all colour chips running flush to the edge of the card, which makes it easy to compare colours to each other, or to other swatches or samples. On the back of each palette is colour information, including recommended complementary colours.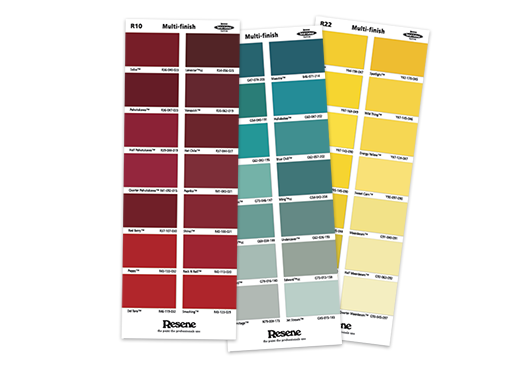 The Resene Whites & Neutrals collection is home to the most popular Resene colours. The full fandeck has 360 white and neutral colours, each with complementary colour scheme suggestions. Choose a colour family and then use up to six strength variants – from triple down to one eighth – to create a tone-on-tone colour scheme. And marvel at the huge array of 'whites' that have been designed by Resene – from misty black-edged whites, through to alabaster tones, aged ivories to classic creams. This range is available as a fold-out chart, as individual cards or as a comprehensive fandeck.
The Resene The Range fashion colours collections showcase the latest on-trend fashion colours, with complementary colour suggestions on the back of each chip. This brings together brand new colours and also popular colours from the existing Resene colour range. Dovetailing seamlessly into the first two collections, this is ideal for colour lovers and fashion followers.
The Resene BS5252 collection is an enduring collection that has been with Resene for more than 30 years. Based on the Resene British Standard, this collection was one of Resene's first forays into an extensive range of colours, at a time when decorators were used to beige, beige and beige. While it's less used these days, it is often referred to in council requirements and many of the colours have found their way into other colour charts.
The Resene Karen Walker collection is a collaboration with New Zealand's own world-renowned fashion designer Karen Walker. Now in its fourth incarnation, the collection comprises seven 'stories' that are compiled by Karen based on an emotional standpoint rather than a technical one. The result is a collection with a cohesive thread yet one which puts colours together in a surprising way.
The Resene KidzColour chart is designed with children for children and features a range of pastels through to bold colours and metallics designed for use on children's rooms and spaces.
The Resene Metallics and Special Effects chart was ahead of its time. With metallic at the forefront of many current interior schemes, these paints add a touch of glamour or an industrial edge to your look. Ideal for interior or exterior use, Resene Metallics and special effects play with the light to bring an added dimension to your finish.
The Resene Heritage colour chart helps you capture a traditional look for your home, by bringing together colours that were used in historical buildings as identified by heritage colour expert, Ian Bowman. It's ideal for owners of older homes who want to dress them in authentic colours.
The Resene Colorwood collection features interior wood stains that can be used on all interior timber, from ceilings and floors to walls, trim, joinery and furniture. Available in a range of natural wood tones, or bright hues, to rejuvenate, enhance and protect your timber or choose Resene Colorwood Whitewash or Resene Colorwood Rock Salt for a whitewash or blonded look. Most of the colours can also be tinted in exterior Resene wood stains, such as Resene Waterborne Woodsman.
---
Charts for the outside
While most of the colours from the collections mentioned above can be tinted into Resene Lumbersider exterior paint, there are also specialist charts for outdoor surfaces and projects.
The Resene Roof Systems chart features popular Resene colours and matches to popular COLORSTEEL® and COLORBOND® colours, as well as metallic and miox options. You can choose a colour for your roof from the other Resene colour charts too; it's just that this chart has colours that are designed to work well on roofing.
The Resene Woodsman exterior timber stains chart has everything you need for the great outdoors for your timber. Choose from a range of timber stains for everything from your weatherboards to fence, deck to wooden furniture. These colours can also be tinted into Resene Colorwood if you would like to use them inside.
The Resene Decks, Paths, Driveways and Recreational Areas chart is the go-to collection for protecting and rejuvenating areas around your home and garden.