►
◄
latest
habitat tv
blog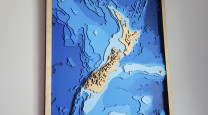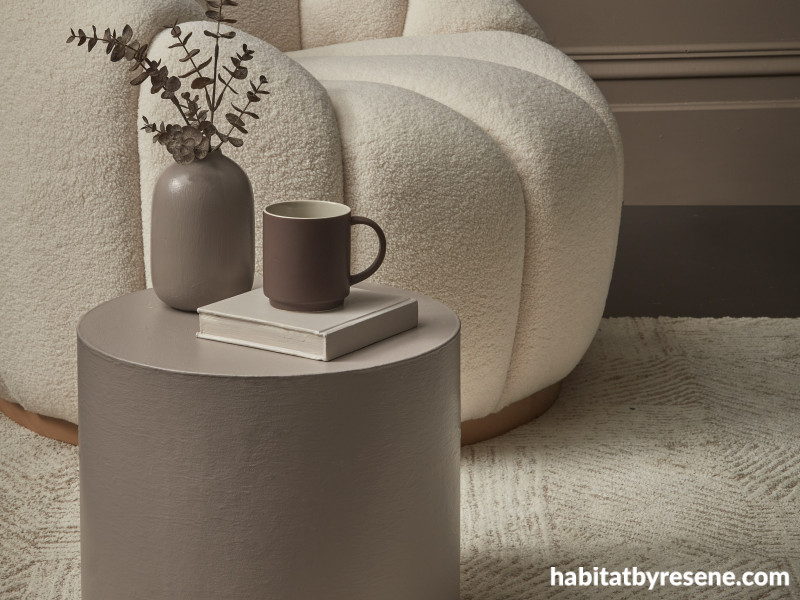 Creating a cosy haven with Nood and Resene
08 Nov 2023
Although we're heading towards summer, those crisp bites of wind and rainy days still seem to roll in. If you're someone who likes to be cosy all year round, then this will be some great design inspiration for you and your home. To transform your living space into a snug haven, all you need is some delightful Nood furniture and rich, earthy Resene tones to infuse your room with warmth and charm you can enjoy all year round.
Let's first consider the essential backdrop element in a room — the paint colour. Resene paints offer a wide array of colours and finishes, allowing you to create the perfect ambiance in any space. For this cosy room, we selected a deep, moody brown for the walls, creating a cocooning atmosphere that's both inviting and stylish. We've styled our room in two different ways to show you how you can easily change things up:
The alluring all-brown and beige scheme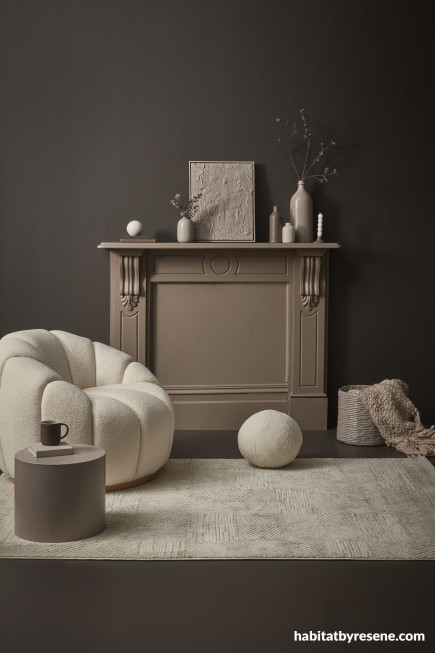 In this space the wall is painted in Resene Kilamanjaro, fireplace in Resene Kabul, round side table, tall and medium vases, artwork and basket in Resene Hurricane, dark brown vase and candle in Resene Felix, small vase and ball in Resene Tide and books in Resene Felix and Chair, cushion and throw from Nood.
This room embraces the timeless elegance of a monochromatic colour scheme. With walls, accessories and furniture in varying shades of brown and delicious beige, you get a seamless transition between all surfaces. This palette provides a sense of unity and sophistication.
The inviting boucle chair, lush throw and cushion from Nood work to anchor the room. Nood furniture offers a range of contemporary and classic options that complement any room's design, especially if you're after cosy and comfortable pieces.
Blue accents for a splash of serenity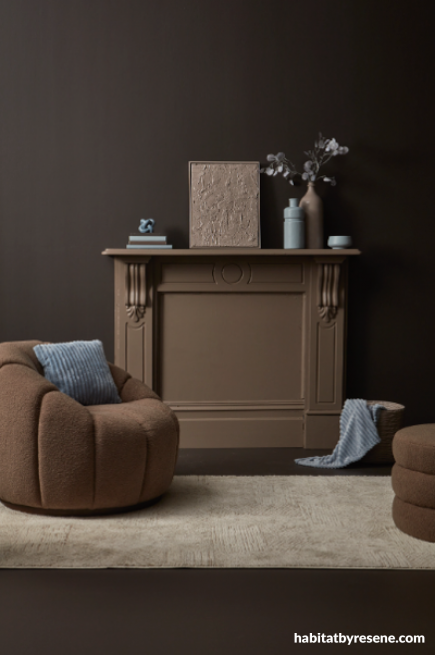 This room cocoons and soothes as soon as you come in. Wall painted in Resene Kilamanjaro, fireplace in Resene Kabul, tall vase, artwork and basket in Resene Hurricane, bottle vase and dish in Resene Dusted Blue and books in Resene Felix and Resene Dusted Blue. Chair and ottoman from Nood.
Our second style uses the same base colours, but we've easily changed up the look by adding different accessories in pops of blue on vases, books and cushions. This design introduces a subtle twist by incorporating soothing accents, proving how easy it is to change the look and feel of a space without re-doing the whole room.
The blue accents bring a sense of calm and serenity, creating a balance between warmth and coolness. The combination of brown and blue is both inviting and visually appealing. The boucle chair and ottoman from Nood are in a rich chocolate tone which blends with the room and allows the accented blue tones to catch your eye.
Other colours that work well with browns are dusky mauves like Resene Strikemaster, brick oranges like Resene Fire and earthy greens like Resene Flax.
Transforming your living space into a cosy room is a delightful project, made all the more enjoyable with the versatility of Resene paints and stylish furnishings from Nood. So, go ahead, pick your colour scheme and style with furniture – it's time to create your cosy retreat.
For more paint and colour advice visit your local Resene ColorShop or Ask A Paint Expert online.
To see more furniture and homeware from Nood visit www.nood.co.nz
project Vanessa Nouwens
images Bryce Carleton
Other accessories: rug and coffee cup from Freedom
Published: 08 Nov 2023