►
◄
latest
habitat tv
blog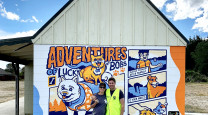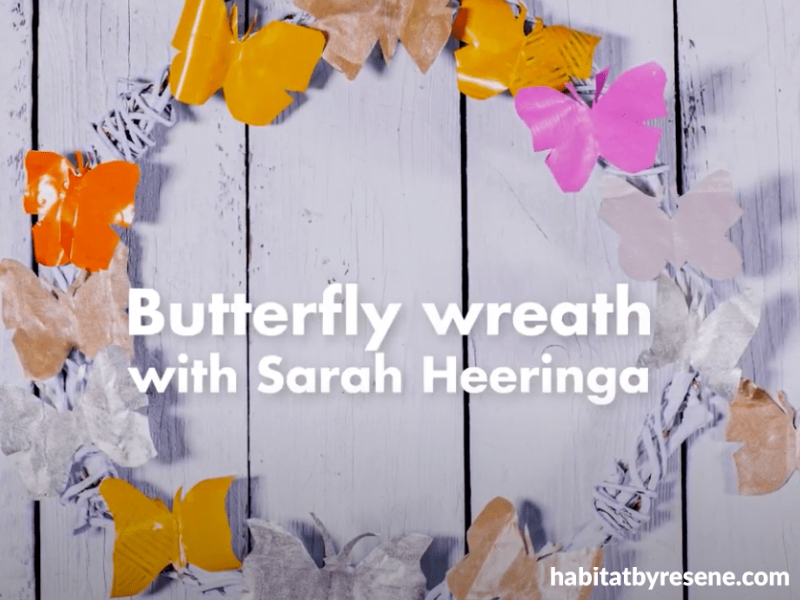 DIY butterfly wreath
12 Jan 2022
Use testpots in your favourite Resene paint colours to upcycle used foil coffee bags and create this quick and easy butterfly wreath. Watch the video to see how it's done.
You will need:
Step 1: Twist flexible vines into a circular wreath. If you don't have a garden or appropriate trees on your property, you may choose to purchase a premade wreath instead.
Step 2: Using a testpot brush and a Resene testpot in your choice of colour (we used Resene Quarter Frozen), paint your wreath in two coats, allowing the first to dry before applying the second. To speed up the drying process, you may use a hair dryer on a low or no heat setting.
Step 3: Cut open your empty foil coffee packets to form flat sheets. Paint each sheet in two coats using a different colour of Resene testpot of your choice – we used Resene Pirate Gold,Resene Adrenalin, Resene XOXO, Resene Proton metallic and Resene Rose Gold metallic. Allow your first coat of paint to dry fully before applying the second.
Step 4: Fold each piece of painted foil in half then use our simple butterfly template to trace the outline with your felt tip pen or marker, aligning it to the fold. Cut out each butterfly shape with scissors so that the fold opens to reveal the other half of the identical shape.
Step 5: Use hot or quick bond glue to attach your butterflies to your painted wreath. Once your glue has dried, hang your wreath on your door or fence as a cheerful greeting to visitors and passers-by.
Top tip: Instead of using coffee foil packs, use other recycled materials you find at home or try making your wreath using cut lengths of Resene Wallpaper, which are available at your local Resene ColorShop.
Project: Sarah Heeringa, video: Ben Whorwood
Published: 12 Jan 2022