►
◄
latest
habitat tv
blog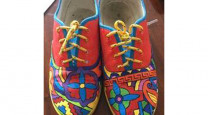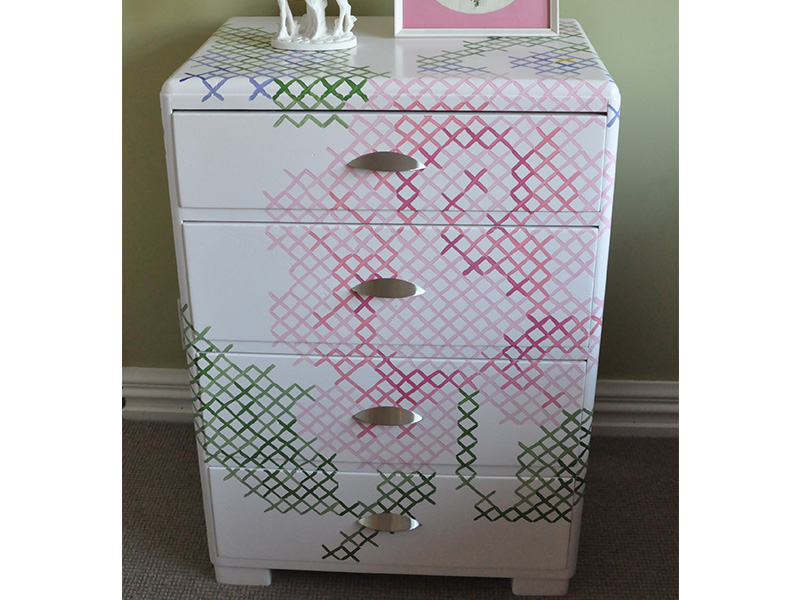 DIY cross-stich drawers
14 Aug 2019
Give an old chest of drawers a colourful, one-of-a-kind makeover with this creative, hand-painted technique.
You will need: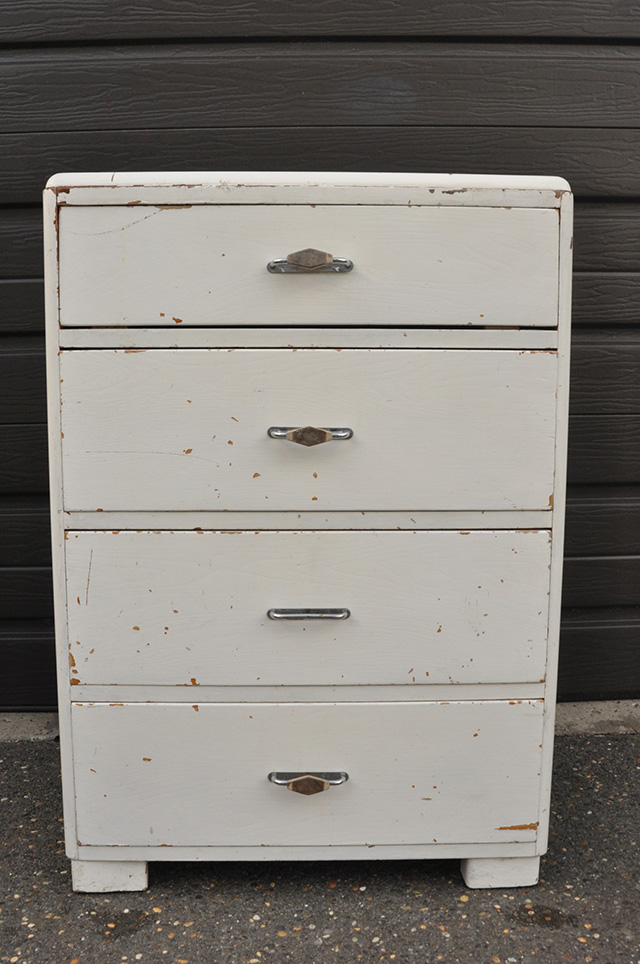 Step 1 Remove the drawers and number each drawer on the back so that you know which one fits in which space when you put them back in. Then, remove the handles.
Step 2 Using 150 grit sandpaper, sand the front and body of the drawers, paying particular attention to the edges and corners where paint may be cracking and flaking. Make sure you remove all loose paint before wiping down with a soft cloth to remove all the dust.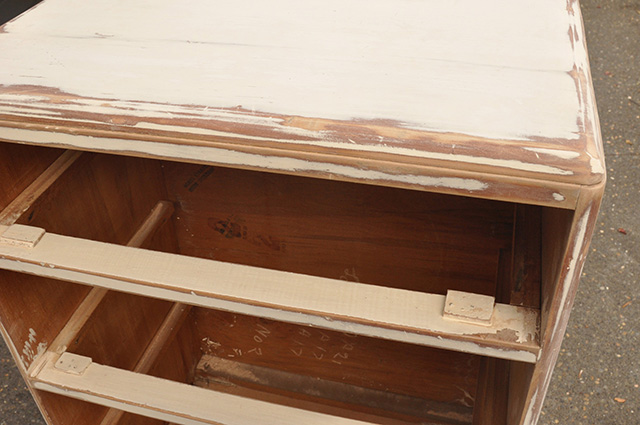 Step 3 Using a small foam roller, paint the front and body of each drawer with Resene Quick Dry primer undercoat. For an ultra fine finish, once dry, lightly sand with a soft sanding block or very fine finishing sandpaper for a super smooth final paint finish! Once you've finished sanding, dust down the surfaces with a soft cloth.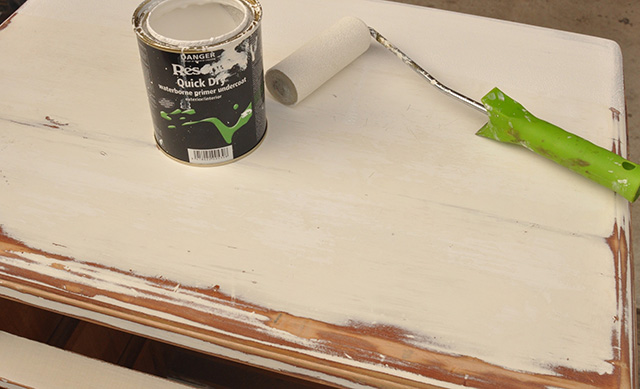 Step 4 Apply two coats of Resene Lustacryl in Resene Sauvignon with a foam roller, leaving the first coat to dry before applying the second. Leave the paint to harden and cure for a few days.
Step 5 Put the drawers back in their allocated slots. Run a length of painters tape up the front corner of the drawers before repeating this with another length of tape, parallel and 3cm from the first tape. Using a ruler and pencil, make small marks on both lengths of tape at 3cm intervals.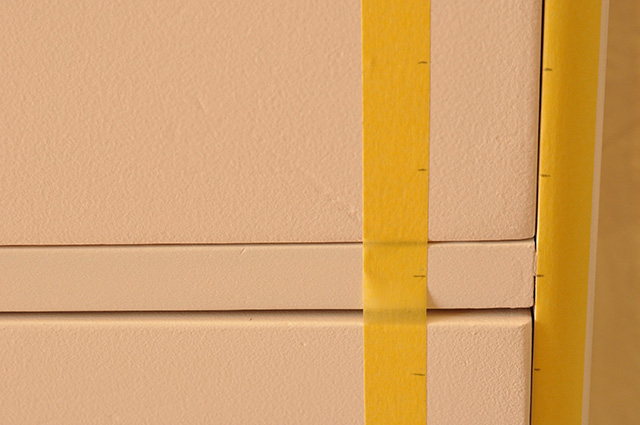 Step 6 Using a small craft paint brush, make an 'X' between the pencil marks, using your embroidery pattern as a guide.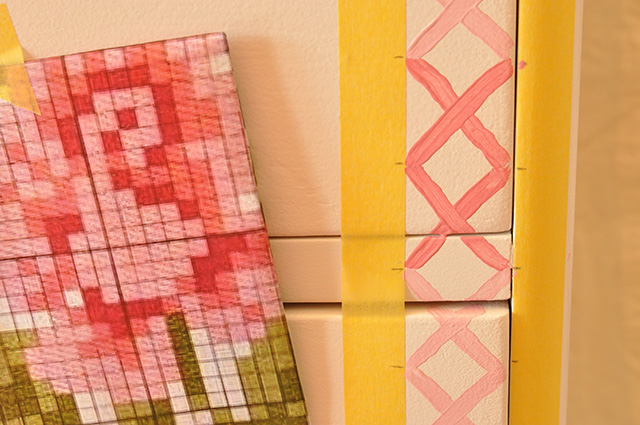 Step 7 Once you have finished painting 'X' along the length of the tape from top to bottom, measure 3cm to the left at several points along the length of the tape. Carefully remove the tape and reposition it along the new measurement marks. Repeat the process of painting 'X' as your pattern.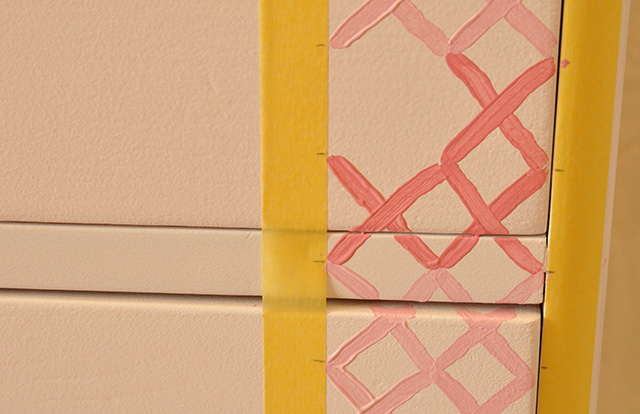 Step 8 Repeat the process of measuring 3cm across, moving the tape over, and painting on the 'X'.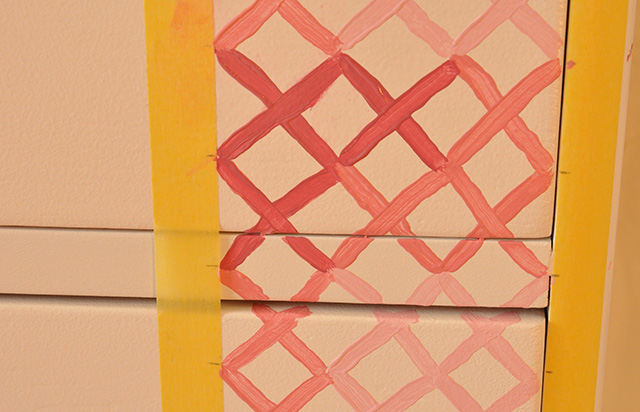 Step 9 Once the paint is dry, replace the handles or update with new ones for a fresh look.
Top tip: If you are left handed, start your pattern on the right-hand side of the drawers so that as you move the tape across each time, your hand won't smudge the wet paint.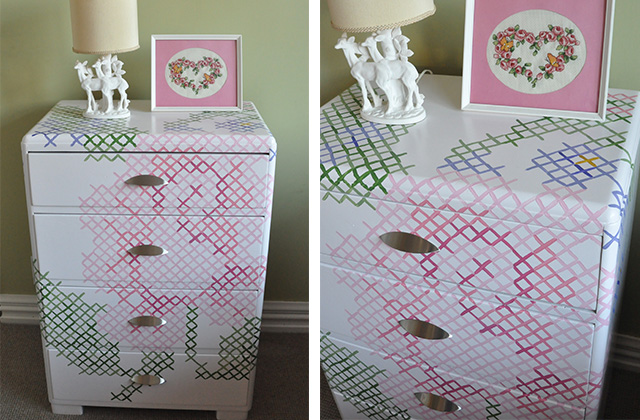 The wall behind this upcycled chest of drawers is painted in Resene Quarter Crisp Green. The drawers are painted Resene Sauvignon with a hand-painted cross-stitch effect in Resene Cupid, Resene Glamour Puss, Resene Rouge, Resene Highland, Resene Green House, Resene Reverie, Resene Valour and Resene Influential.
project and images Fleur Thorpe