►
◄
latest
habitat tv
blog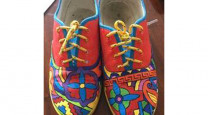 DIY Easter bunny favours
24 Mar 2021
While the kids may be sorted with Easter egg hunts, don't forget the adults - keep them sweet with these Easter bunny favours, filled with some of their favourite holiday treats.
You will need:
Serviettes or plain, lightweight fabric (we recommend recycling old sheets or using offcuts cut to 27x27cms and double hemmed)
Artist brushes, including liner brush
Resene testpots in your choice of colours — Leigh used Resene Fountain Blue and Resene Golden Tainoi for the napkins and Resene Wild Thing and Resene Pelorous for the beads
Mini Easter eggs
Large hole wooden beads (Leigh used 35mm beads)
Ribbon

Step one: Take the serviette and unfold it twice into a larger square.
Step two: Paint your pattern onto the different squares. We did horizontal lines on ours, in different colours. Once dry, fold diagonally from each side to form creases.
Step three: Take the large beads and paint in complementary colours.
Step four: Once dry, use the liner brush to paint a bunny face onto each one.
Step five: With the square open, place mini Easter eggs into the middle.
Step six: Pinch two corners of the side together, using the creases to pull the serviette or fabric in between to the centre. Repeat on the other side to create a boat-like shape.
Step seven: Wrap at centre, to create a bag for the eggs, with the bunny ears at top.
Step eight: Twist until the top is able to fit its way through the bead hole.
Step nine: Pull the bunny ears through the beads and separate them to perfect the shape.
Step ten: Finish with a ribbon bow around the bunny's neck.
project Leigh Stockton
image Bryce Carleton
video Ben Whorwood