►
◄
latest
habitat tv
blog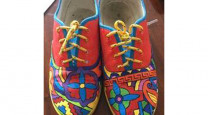 DIY: Upcycled stools
08 Dec 2016
The Salvation Army and Resene have partnered up for the Upcycling for Good project, to show how easily you can transform the secondhand items that can be found at your local Salvation Army store. How does it work? An item is selected from the Salvation Army, upcycled using Resene paints and stains, and then returned to The Salvation Army to be resold.
The most recent find by stylist and DIYer Sarah Herring is a couple of old timber bar stools, bought for $12 each.
You will need:
Sandpaper
2 testpot brushes
Resene Quick Dry Waterborne Primer Undercoat (500ml)
Resene Lustacry in Resene Zinzan (500ml) and Resene Galliano (500ml)
Resene testpot of Resene Always (or the white shade of your choice)
Masking tape
Small detail brush
Step 1: Sand the stools to remove any old colour, stain or lacquer, then using a testpot brush apply one coat of primer to all faces of the stools. Wait until this has dried completely. Try not to load the brush with too much paint or you will see drip marks when the paint is dry.
Step 2: Measure and mask the pattern as shown. Apply your main colour to both stools using at least two coats for good coverage. Wait for each coat to dry completely before adding more paint.
Step 3: Remove the masking tape and start applying your second colour. It should be easy to cut into the masked line where the blue paint stops by using a testpot brush. If you are not confident at cutting in, you can always mask against the line again. Apply three coats of colour.
Step 4: For added interest, choose an area to paint an on-trend pattern. This is a nice way to modernise the stools and break up the blocks of colour. Here, the footrest was given a simple geometric pattern. Apply white paint (this is Resene Always) to create your pattern. You may like to use a smaller brush for this step to avoid any mistakes. Once the last coat is dry, remove the masking tape.
See our first Upcycling for Good project here.
And to find your local Salvation Army store, go to www.salvationarmy.org.co.nz
We'd love to see your projects. Make sure to share your upcycling or decorating projects using Resene products on Instagram and Facebook, or email us at [email protected]