►
◄
latest
habitat tv
blog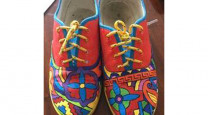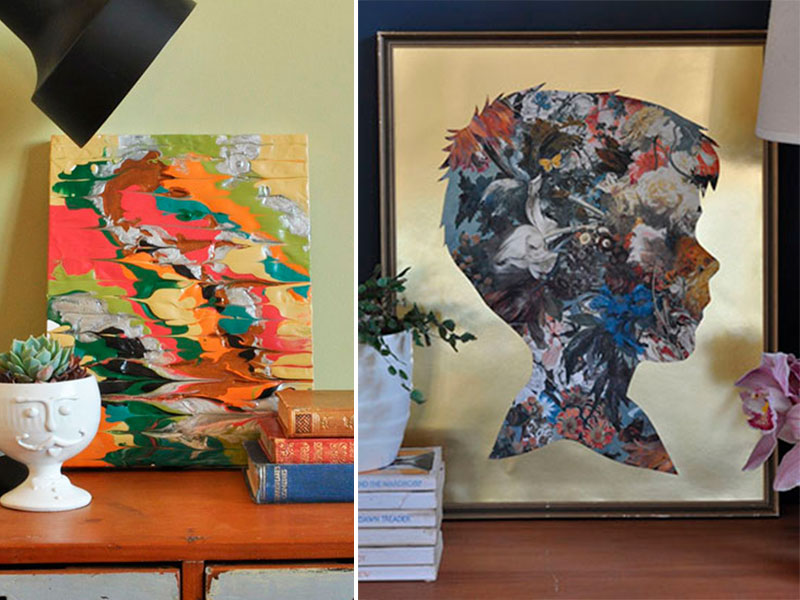 Easy DIY art: Maximum impact
01 Nov 2018
Try these simple techniques to create dramatic retro-style art.
Poured paint art
Simply pour on the paint for a freestyle artwork.
You will need: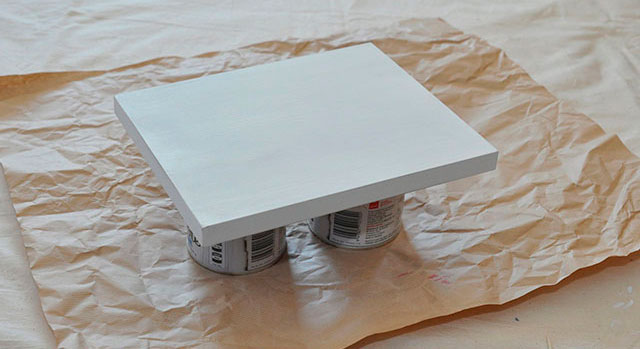 Step 1: Cut your MDF to size. We used 20cm x 25.5cm. Undercoat the MDF with Resene Quick Dry primer undercoat. Once dry, use a fine grit sandpaper to sand the board, particularly on the edges. Stand your MDF board up on a couple of cups or tin cans and use a large piece of paper to catch the drips once you start pouring.
Step 2: One at a time, pour your testpots of paint on to the board. Make swirls and swizzles – have fun experimenting with different colour combinations.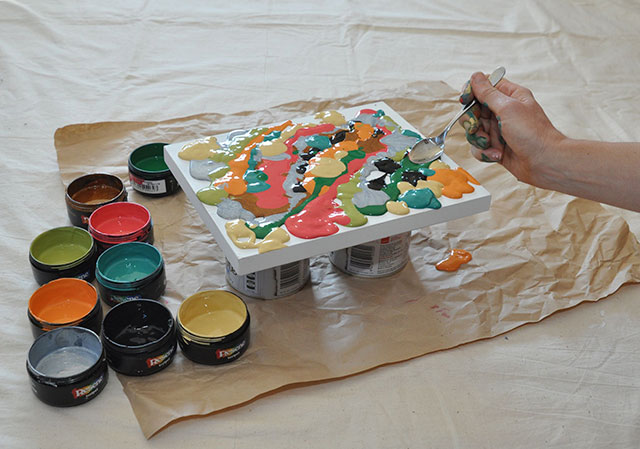 Step 3: Once you've finished pouring, use your finger or the back of a teaspoon to spread the paint to the edges and to fill in any gaps. Don't worry if the paint runs over the edge.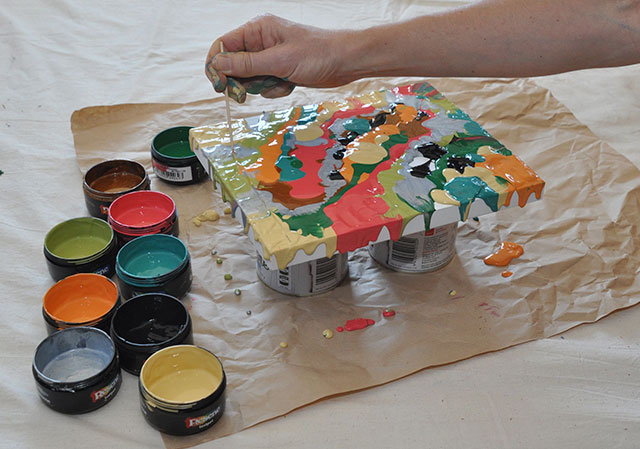 Step 4: Using a skewer or toothpick, make lines through the thick paint. To get the same effect as ours, make lines up and down the board, alternating in direction. You could also have the lines all going the same direction, or cross-hatched, or wobbly.
Step 5: Leave to dry for a couple of days - somewhere small, curious fingers won't poke it!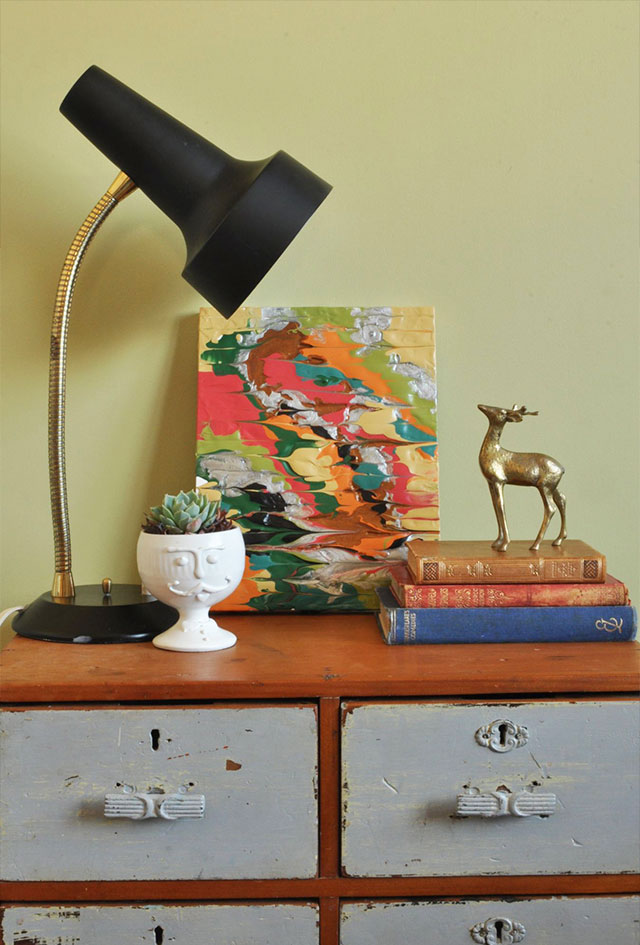 Wallpaper silhouette art
Create a unique portrait with your favourite wallpaper print.
You will need:
A picture frame
A 1m wallpaper sample. We've used Resene Wallpaper Collection design 605655. Wallpaper samples can be purchased at Resene ColorShops.
Print-out of photo silhouette
Ballpoint pen
Scissors
Clear tape
Gold (or other coloured) cardboard, or paint your own using a Resene Gold Dust testpot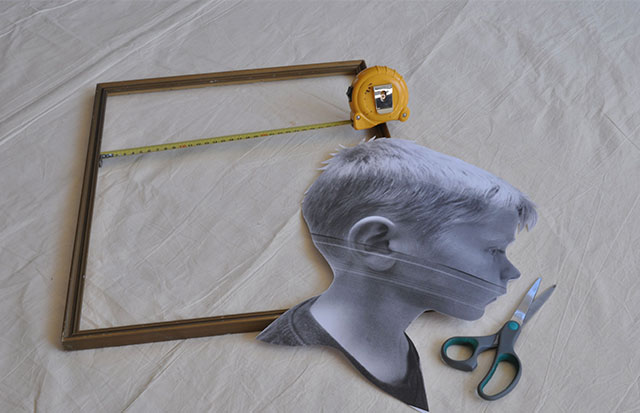 Step 1: Take a profile photo of yourself, or somebody else, or even a pet, standing side-on against a plain wall or background. Disassemble and measure the picture frame (this one is second-hand). Using a computer, re-size your photo so it will fit within your frame and print it. Cut out the silhouette.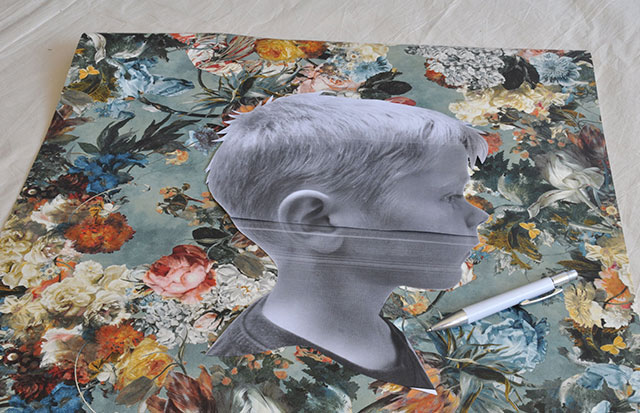 Step 2: Place the photo on to the wallpaper and position it so that the pattern will look good on the silhouette. In this example, we wanted the head to be where the flowers were most concentrated. Using loops of tape, attach the print to the wallpaper then trace around the outside of the print with a ballpoint pen.
Step 3: Carefully remove the print from the wallpaper and use scissors to cut out the silhouette on the wallpaper following the traced outline.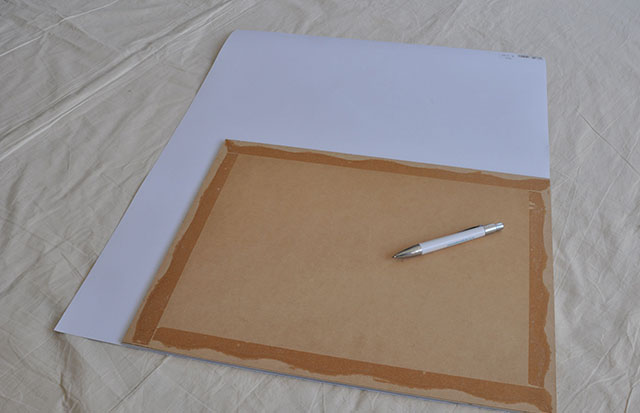 Step 4: Take the backing board from the picture frame and use this to trace around your cardboard – I used gold metallic card, but black or dark navy would also look good. Or you could paint a card your chosen colour using a Resene testpot. Cut this out, and making sure that you position the wallpaper silhouette in the centre of the frame. Attach it to the gold card using either loops of tape or glue.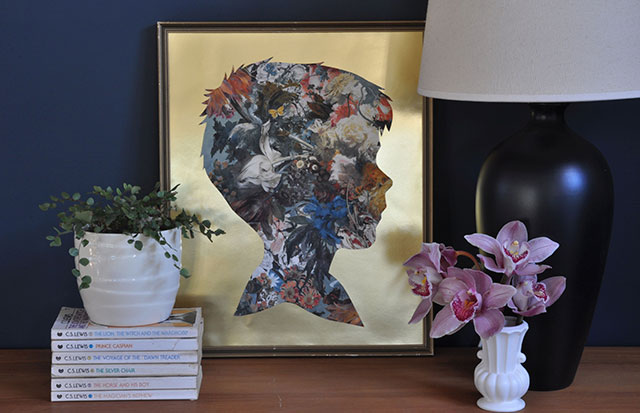 Styling and images by Fleur Thorpe