►
◄
latest
habitat tv
blog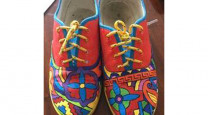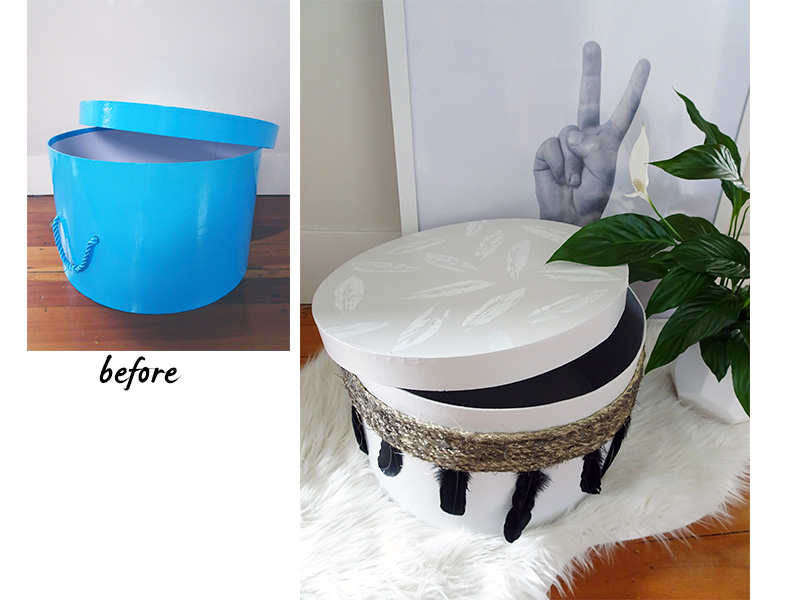 Easy DIY: tribal twist storage box
15 Nov 2018
Turn a cardboard lidded hat box into a stylish piece of home décor, with a tribal twist!
You will need:
Testpot brushes
Resene Quick Dry primer sealer undercoat
Craft feathers (from a dollar store or craft supply shop)
Natural fibre rope (from a hardware store)
Hot glue gun (or super hold PVA and lots of patience!)
Resene testpots in your choice of colours. We used two testpots of Resene Half Rakaia and one each of Resene Oilskin and Resene Alabaster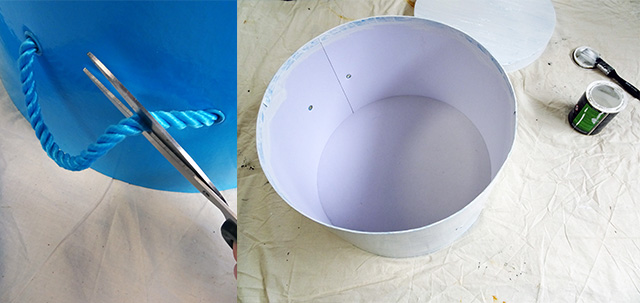 Step 1: Always check your second-hand item for repairs and give it a clean before starting. This cardboard hat box had a bright blue finish, so we applied one coat of Resene Quick Dry primer sealer undercoat to both the inside and outside surfaces to hide the blue and prepare it for painting. If your box or container has a smooth, shiny surface use Resene Waterborne Surface Sealer instead. We also cut the bright blue rope handles and removed them from the box.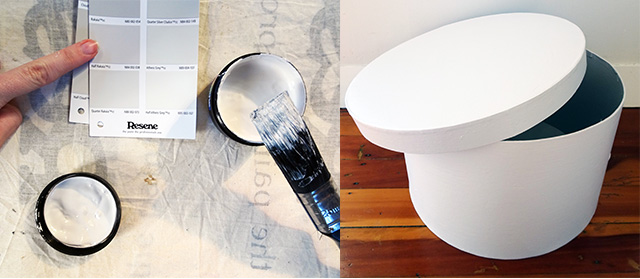 Step 2: Apply two coats of your chosen colour with a testpot brush. This is Resene Half Rakaia.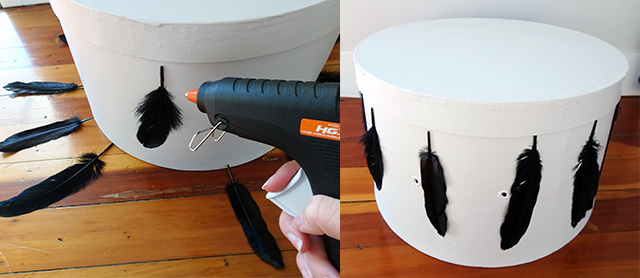 Step 3: Once all the paint is completely dry, take a selection of black craft feathers and apply them around the outside of the hat box using a hot glue gun. Use as many or as few as you like! If your hat box has a lid like this one, make sure you attach the feathers far enough down the side of the box for the lid to fit.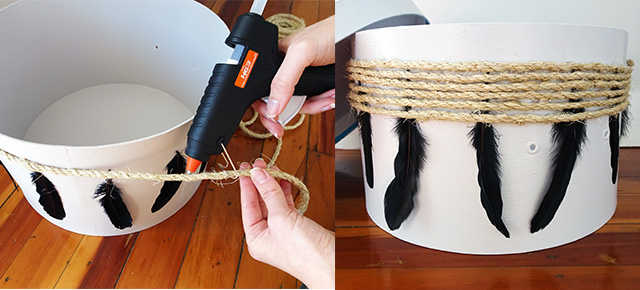 Step 4: Glue the rope around the outside of the box with the hot glue gun. Wrap the rope over the top of the feathers. Apply small drops of glue as you wrap the rope around, taking time to let the glue bond before moving along.
Step 5: Roughly paint the rope with Resene Oilskin. We weren't aiming for full coverage, so that the natural fibre still shows through. You can also paint the rope before gluing it onto the box.
Step 6, optional: If you wish, you can use a couple of leftover craft feathers to stencil a design on the lid of the box. Paint one side of a feather in Resene Alabaster, then carefully press the painted side down onto the hat box lid to leave a feather print. Repeat this randomly over the lid.
Top tip: When painting with a tribal theme, throw perfection out the window and embrace crooked lines, texture, and less than perfect paint techniques to get a more organic result.
Projects by Sarah Herring.
These DIYs are brought to you by Upcycling for Good, a collaboration between Resene and The Salvation Army family stores. The project asks keen DIYers to upcycle second-hand items using Resene paint – look out for this regular feature on Habitat by Resene.