►
◄
latest
habitat tv
blog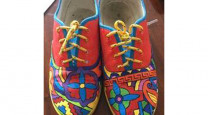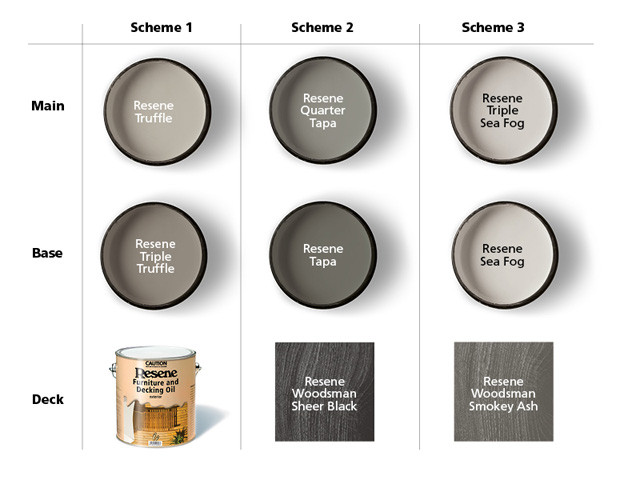 Exterior colour rescue – your problems solved
11 May 2016
The Resene colour expert solves your exterior colour woes.
Q: We've brought a two-bedroom bach in need of painting. It's an older house with a funny deck with a garage underneath. At present it is painted all different colours, and some parts have never been painted before! It's a headache!
A: From what I can see, the windows and garage door are powder-coated dark brown so are a permanent element in the colour scheme.
I feel that the base of the house should be either a darker or lighter (but tonal) version of the main house colour. It won't be a 'stand out' feature but it will appear well co-ordinated.
The deck timbers don't appear to have been stained or painted and are looking a bit sad. A thorough treatment with Resene Moss & Mould Killer after sanding to remove any contamination and semi-detached cellulose fibres will make it look fresh and clean and then you can decide what you want to do with it.
Some ideas to get you started: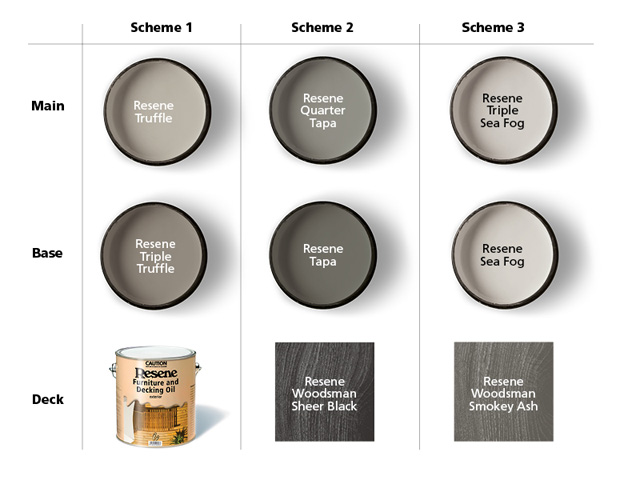 1. Main house in Resene Truffle; base in Resene Triple Truffle and deck in Resene Furniture & Decking Oil for a natural look.
2. Main house in Resene Quarter Tapa, base in Resene Tapa and deck in Resene Woodsman Sheer Black (to work with the existing joinery)
3. Main house in Resene Triple Sea Fog, base in Resene Sea Fog and deck in Resene Woodsman Smokey Ash.
Q: I'm going mad trying to find the exact pearly white grey to paint the exterior of my house. It's already painted this type of colour but I can't seem to find a match. Any ideas?
A: First figure out whether the pale grey on the house is a warm or a cool grey. Find a part of the house that has had the least amount of weathering - probably on the shady side - and place a sheet of white printer paper partially over it. This will:
Show how much colour it has compared to the sheet of pure white paper.
You will see underlying colours and hopefully see whether it is a cool white/grey or a slightly warmer white/grey.
All colour undergoes change due to aging and sun so by checking this area you may get a good idea of what the real original colour was like.
Here are some grey/white colours to try.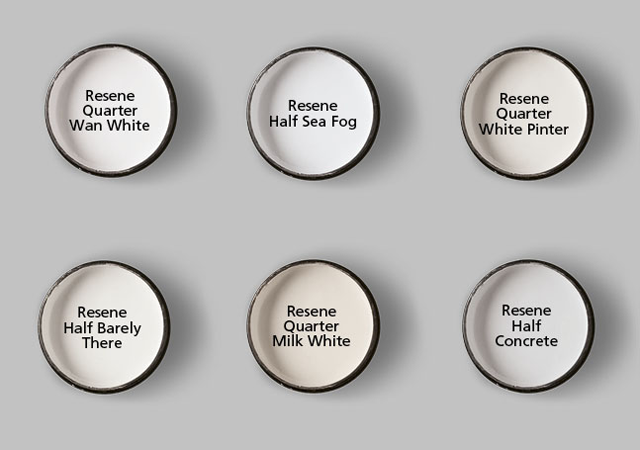 Buy testpots and paint them onto a white card or piece of paper leaving an unpainted border and place it on the weatherboards. If these are too light, you will find deeper versions of them on the Resene Whites & Neutrals cards at your Resene ColorShop.
The original painter may have tinted some white paint himself which wasn't unusual historically.
As a second to last resort, use a blade to lift a slice of paint off the house and take it to Resene to have it colour matched.
Last resort? Choose another white/grey from the list above to use, and carefully record (on the wall of the shed or garage) the name of the colour, its code and what gloss level of paint you have used - for next time!
Q: Wondering if you have colour schemes that work for exterior of 1960s homes. Everything seems to be painted in boring sand tones; it's a colour ghetto round here! I don't like the old State house pastels and I am thwarted by an abundance of sun so dark colours are not an option. The house is currently painted white so is very glary.
A: The main influence for paint colours during that decade is a paint chart called BSS 101 which all paint companies of that era used in New Zealand. Resene still has it as a reference - ask to view swatches at your local Resene ColorShop. The paints are still available but if you want testpots, some may to be ordered from Resene head office or you may need to use A4 drawdowns (swatches).
Also check out a series on Colour through the Decades on the Resene website, in particular this 1960s one.
Do you have a colour question? For free advice, visit your local Resene Colorshop or go to www.resene.com/colourexpert.