►
◄
latest
habitat tv
blog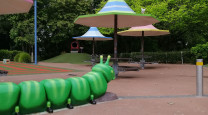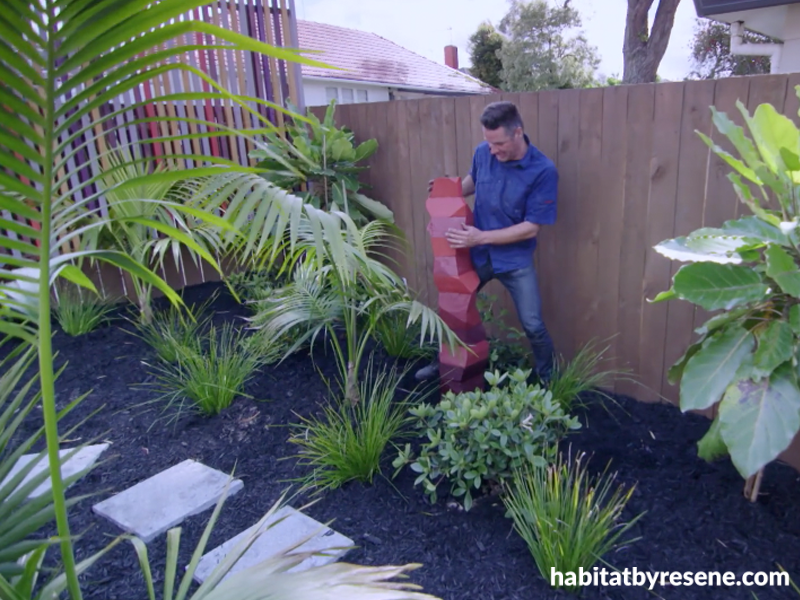 Get Growing: make a garden sculpture
24 Nov 2016
Every garden needs a focal point, and in The Get Growing Roadshow makeover garden, the solution was to make an eye-catching garden sculpture.
Landscape designer Justin Newcombe wanted a simple, uncomplicated project using leftover materials. A few sections of leftover sleeper timbers were used to make a sculptural form by cutting them into facetted blocks then painting each block a different colour.
The overall effect is a nicely balanced object with a bespoke handmade feel. It was painted using a palette of Resene reds to connect with the colour scheme used in the privacy screen created the previous week.
The new garden art takes on a slightly different appearance as the sunlight travels across its surfaces during the day.
Here's how to make your own sculpture.
1. Using a drop saw, cut blocks off a piece of sleeper using various angles and pitches.
2. Place the first block on top of the second and trace out the base so the two connect with a uniform shape.
3. Using the traced lines as a guide, cut the second sleeper, again alternating the angles and pitches. Place the second block on the first, then number them with a pencil for matching up later.
4. Repeat these steps until your stack is over a metre high. Disassemble the stack, paint with your favourite Resene colours then reassemble and glue the blocks together.
5. The makeover garden sculpture used Resene Lumbersider in Resene Chocolate and Resene Red Ochre as well as Resene Woodsman penetrating oil stain in Resene Totem Pole. This stain colour was also used on the privacy screen, which helps visually connects the two forms.
6. Once dry, insert a d12 galvanised screw into the bottom of the sculpture and set it on a bed of concrete in the garden.
The Get Growing Roadshow screens each Friday at 9.30pm on Choice TV.
Published: 24 Nov 2016