►
◄
latest
habitat tv
blog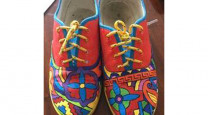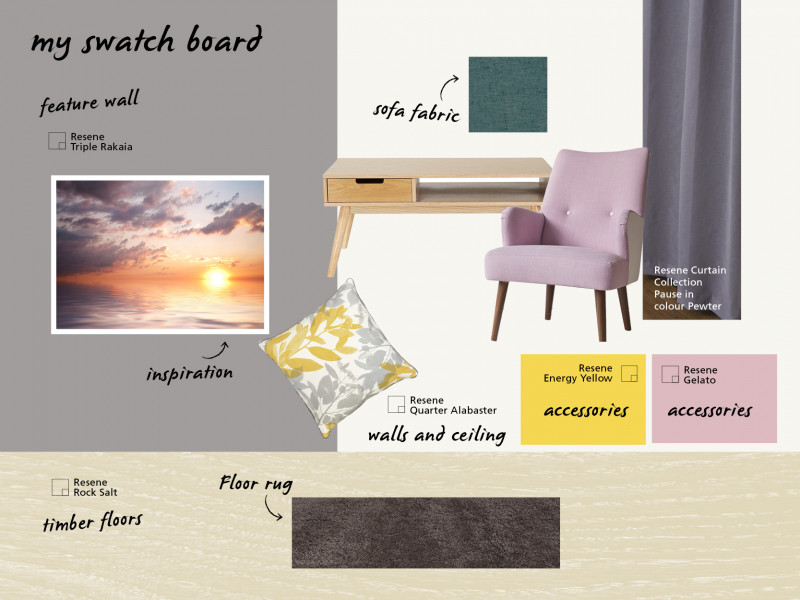 How to create a swatch board
09 Apr 2015
A swatch board is literally a board on which you paste samples of Resene colours, products and fabrics you are going to use. You may have collected ideas online and digitally pinned examples of rooms or colours you like, maybe even compiled an actual scrapbook, but the swatch board condenses those ideas in a very physical way.
Top tip: Like the look of that wall colour? You can pin your favourite colours and ideas from our website into a look book. Click here to create your own.
Few of us get the chance to paint and furnish our entire house in one go. It's often a progressive project lasting a couple of years. The swatch board acts as permanent reminder of your original vision, that you can reference to make sure you don't wander off track. You can add new products, and make sure that even if your tastes change somewhat over time, the bedroom you're planning this year doesn't end up jarring with the living areas you did a couple of years ago.
Here's how to do it:
1) Start with an inspiration point. It might be something natural like a shell or flower, or a photograph of a view or a setting, or a piece of fabric or an artwork.
Nature is often a good starting point as colours used in nature always work well together. They're never simple, however.
Take a beach scene for example, where the sea will range from moody green-grey to translucent aqua and the sand from grey-white to metallic grey. Then there is the cream of the toi toi flowers and sea foam, the chalky black of dried seaweed, the soft green of dune grasses and the myriad rusts, pinks and whites of sea shells.
Forget your assumptions and look hard at the object or scene you have found, to identify the various colours.
2) Match those colours to corresponding Resene shades. You won't actually use all of these paints as some will represent accent colours for upholstery or cushions, but this will give you a colour palette to keep referring back to.
Get the various testpots from your local Resene ColorShop and paint them onto A4 sheets of card. Then put them in order of the amount of space they will be in the room – use the whole A4 sheet for the colour/s you will use for the walls, then place smaller strips of the other colours on top, ie those that represent the curtains, sofa coverings, kitchen cabinetry, cushions etc. This scheme gives you an overall idea of colour direction.
You may need to modify it slightly depending on the less flexible and more expensive components of your scheme, ie the flooring, a kitchen benchtop or a fabric you have fallen in love with.
3) Choose your flooring and any other less flexible items – remember that there are so many Resene paint colours available but often fewer choices of oak flooring or carpet, for example, so your paint colour choices can be modified to match.
The floor, especially, is the greatest expense and surface in a home and the one you're least likely to change in a hurry. It's the most important aspect to get right. Also remember to include the colour of your window joinery if it's to be aluminium (as opposed to timber which can be painted).
4) The final component of your board is the fabrics, for curtains and blinds, upholstery and cushions. This can be the most confusing part, with the plethora of fabrics on the market.
Suppliers often have fabric collections that include upholstery and curtaining fabrics and which may have a variety of patterns but which have common colours or styles. You might choose plain neutral fabrics as, say, the main window and sofa coverings, then use more interesting patterned fabrics for cushions and chairs.
Did you know… that Resene also stocks a range of exciting curtain fabrics that come with suggested Resene paint colour matches?
5) Now check that your original paint colour choices work with the other components and adjust if necessary.
Read more: Design experts suggest alternative schemes for this Wanaka home, using their own swatch boards.