►
◄
latest
habitat tv
blog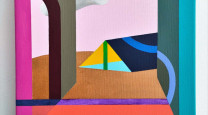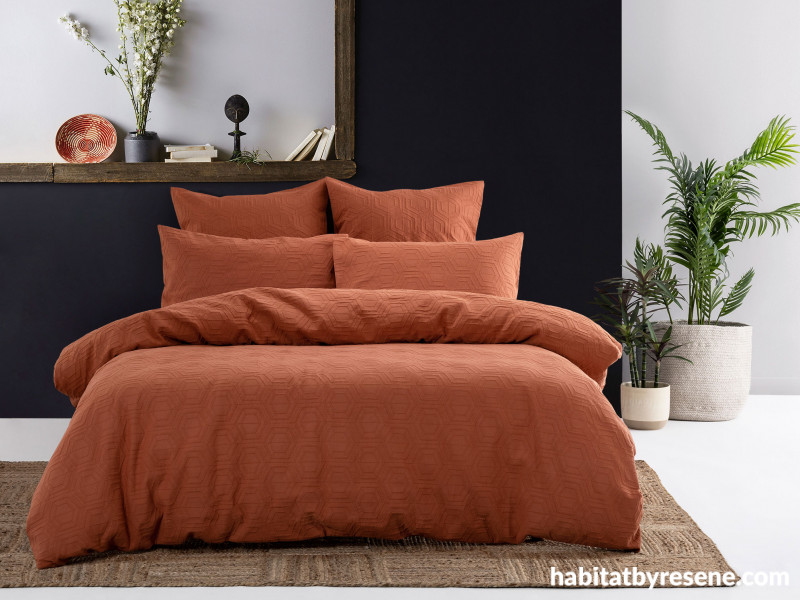 How to create texture and dimension in your bedroom
29 Jul 2021
The bedroom is arguably the most unique room in the house. We all want a bedroom true to our personality, whether that means embracing our minimalist side, a trendy boho look, or even a full-blown jungle theme.
The bedroom is so much more than its four walls, it's the space where we spend half our lives, but sometimes those four walls can end up looking a little flat. With the Resene Living range of colourful bedlinen from Briscoes and some nifty renovating hacks, your bedroom can shape up to be the space you've always dreamed of. We've collected four of our best tips for creating texture and dimension in your bedroom to inspire you to pick up a paintbrush.
Shelf life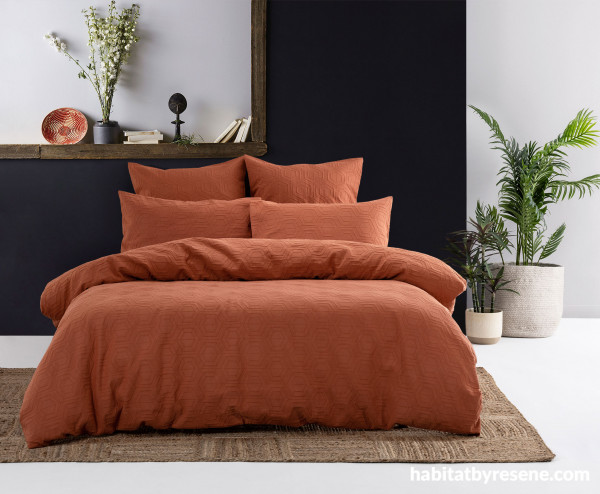 Resene Hot August inspired the earthy hue of the Resene Living – Kimmo duvet. The Hot August-coloured duvet pops against the Resene Nero shelf and Resene Half Rice Cake wall.
Shelves painted in Resene Nero bring a contemporary feel to this bedroom, where earthy décor grounds the space. Creating a large asymmetrical wall shelf in your bedroom will not only create extra display space but will also enhance the wall itself with a modern design feature. Keep it neutral with Resene Nero and Resene Half Rice Cake to allow your décor space to breath. A monochromatic colour palette on your walls will allow you to get creative with your décor without overwhelming the space. Raise the bar with additional texture through embossed bedding with the Resene Living Kimmo range.
Pop it like it's hot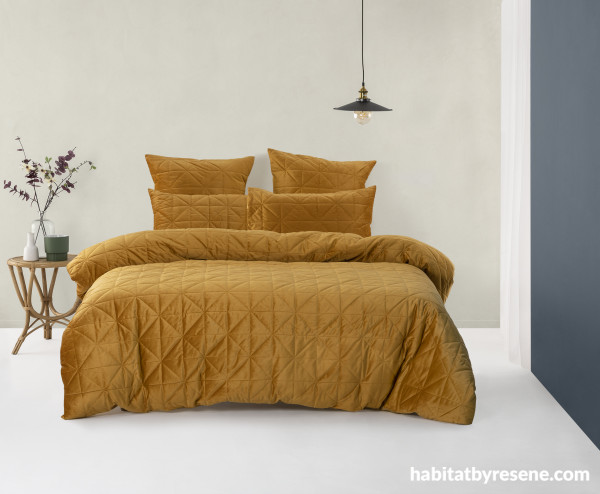 This sophisticated Resene Living – Celeste duvet cover in Hot Toddy offers a luxurious feel to the room and pops against the Resene Blanc wall. The feature wall in Resene Rhino creates an area of interest in the room.
A colour pop or feature wall is a great way to enhance the depth of your room. This room does both, with a quilted style Resene Living – Celeste duvet cover in Hot Toddy and a deep Resene Rhino feature wall. The success of this room lies in the bright bed being separate from the feature wall, allowing room for both bold colours to breath and not become overpowering. A dark feature wall that is separate from the main area of activity will also elongate the bedroom, receding back and creating the illusion of space.
Pass on the batten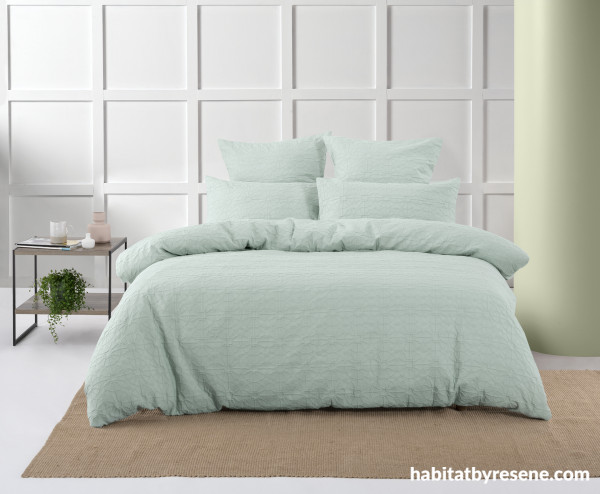 The Resene Living – Mikkel duvet cover in Sorrento creates a calm atmosphere in this bedroom and complements the Resene Alabaster wall and the column in Resene Aura.
Battens are a great and inexpensive way to create interest in your bedroom. With so many ways to arrange your wall battens, there's a style for every type of home. For a modern look, try a large-scale grid with Resene Alabaster on the walls and a darker grey such as Resene Truffle on the battens. If you're after a more traditional look, try a horizontal arrangement of battens stained in Resene Colorwood Mahogany. If you have a support column or beam in your room, make it a statement with a bright colour inspired by your décor.
Two of a kind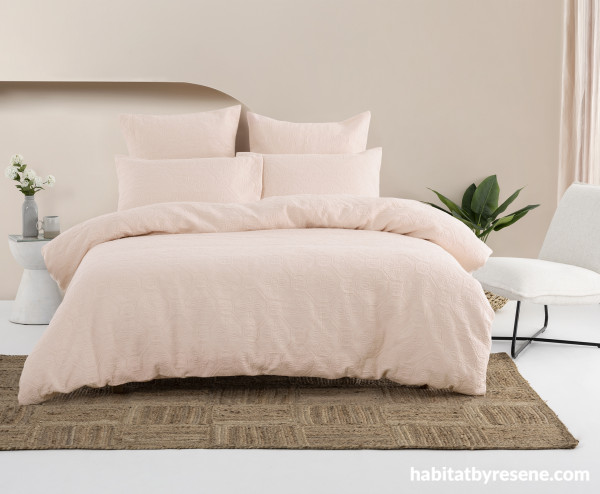 Resene Cashmere walls complement the Resene Living – Arabella duvet cover in Dust Storm in this serene room.
The easiest way to create dimension in your bedroom is through the continued use of colour. Using differing hues of the same colour can add depth to a room while still maintaining a cohesive aesthetic. Be sure to keep the tones of your colours similar too. For example, this bedroom features two warm pinks, with the hint of red in the dusty coral Resene Cashmere wall connecting with the Resene Living – Arabella duvet, Dust Storm. Amp up your room with lots of textures, such as creative recessed wall shelves or a textured rug.
Check out the range of Resene Living duvets and décor online for more colour options or head to your nearest Briscoes store.
Published: 29 Jul 2021