►
◄
latest
habitat tv
blog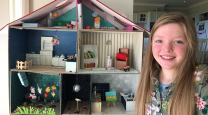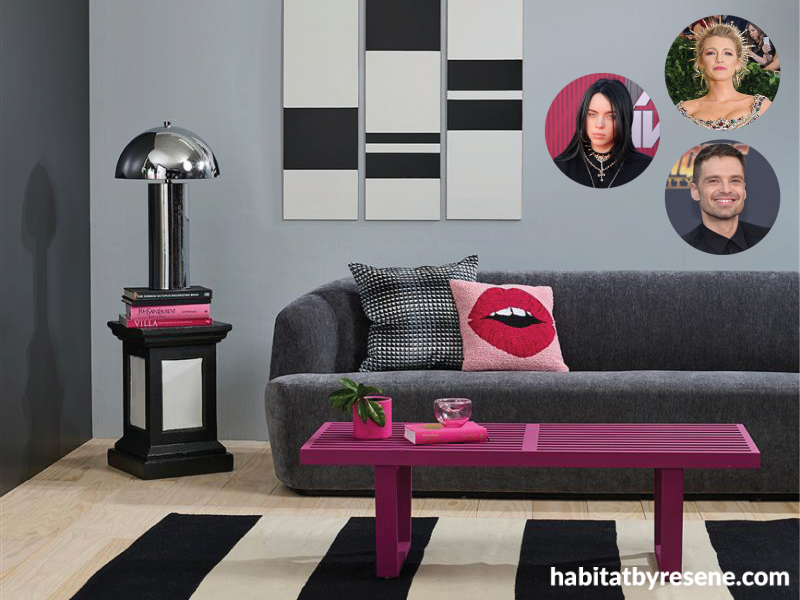 Met Gala glam: Three interior styles for a touch of star-spangled glamour
05 May 2022
The stars were out on the first Monday in May for the annual Met Gala in New York. The event, which is a fundraiser for the Metropolitan Museum of Art's Costume Institute, is famed for its avant-garde looks where the world of fashion blends with art. This year's theme is gilded glam and white tie, which coincided with the museum's exhibition In America: An Anthology of Fashion. For the theme, some stars embraced looks inspired by the Gilded Age, a term first coined by author Mark Twain about the period of industrialisation in the United States between 1870 to 1890. Other stars opted to embrace the Americana side of the theme opting for iconic American looks.
We take a look at a few of the looks from the big event and a few ideas for creating a little star-spangled glamour in your own home.
Diamonds are Forever
A kiss on the hand might be quite continental but diamonds were Kim Kardashian's best friend at the Met Gala this week. The reality TV star wore the original Jean Louis-designed dress famously first worn by Marilyn Monroe when she sung 'Happy Birthday Mr President' to JFK in 1962. The vintage address is adorned with 6000 crystals and had to be handled by gloved museum curators at the Ripley's Believe It or Not! Museum in Orlando where it is usually displayed. The nearly nude dress is a perfect match for warm neutral Resene Eighth Bison Hide, and you can add additional sparkle to your home with Resene FX Metallic Bedrock. Golden and champagne colour dresses were a big theme of the awards with the likes of Billie Eilish also embracing the golden hue.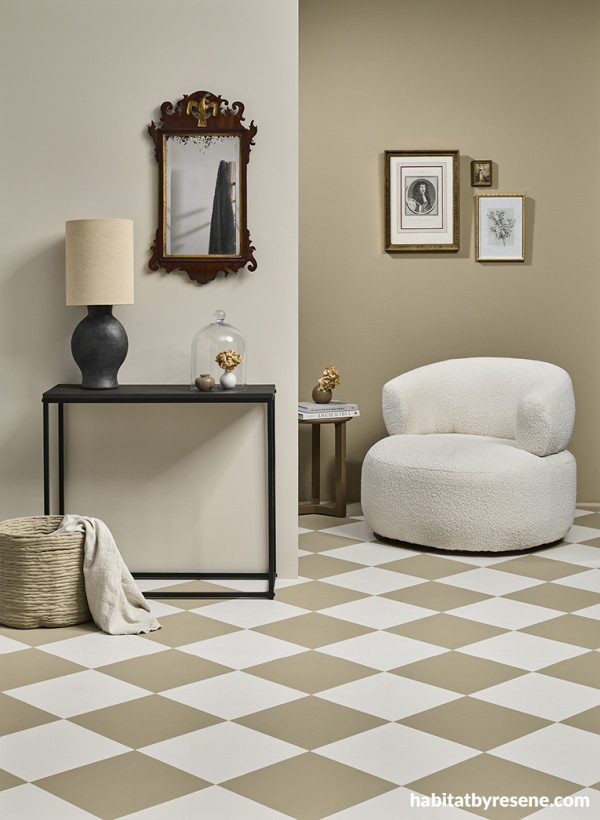 Diamonds are forever, but you don't have to embrace diamond designs on your floor if you opt to paint them rather than tile. Painting your floor in a diamond or checkerboard pattern is a much more cost-effective way to embrace this trend. This diamond design is painted in Resene Triple Bison Hide and Resene Eighth Bison Hide and colours from the same family are incorporated into this tonal look with Resene Triple Bison Hide on the back wall and Resene Half Bison Hide on the left wall, creates depth and interest in the space. Hall table and bud vase in Resene Bokara Grey, side table in Resene Tobacco Brown, vase in Resene Eighth Thorndon Cream and coat rack (reflected in mirror) in Resene Dusty Road. Lamp from Freedom, armchair from Le Forge, textured vases from Slow Store. Project Melle Van Sambeek, image Bryce Carleton.
--------------
Heavy Metal
Many stars such as Cardi B and Cara Delevingne wore metallic dresses, as a nod to the industrialisation of the Gilded Age. But it was Blake Lively who really put the pedal to the metal with her copper coloured dress inspired by the Statue of Liberty which was constructed in the Gilded Age between 1875–1886. Blake's dress had a big reveal moment when it unrolled to reveal a striking green skirt inspired by the statue's green patina. For a little gilded glamour in your home, try painting vases, furniture and picture frames in glitzy colours such as Resene Gold Dust and Resene Copper Fire from the Resene FX Metallics range. Alternatively, there are many vintage inspired wallpaper patterns which feature hints of gold or silver such as Resene Wallpaper Collection HX8-047.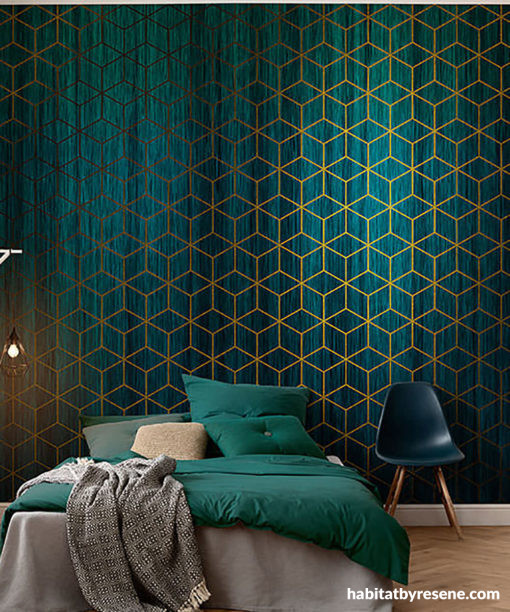 For a little Hollywood glamour in your bedroom or living room try a feature wall in a wallpaper with a hint of gold. Resene Wallpaper Collection HX8-047adds a dramatic touch of sparkle to a space – pair this design with a green-based white like Resene Rice Cake and soft flooring in Resene Colorwood Natural and Resene Colorwood Whitewash.
--------
Some like it Hot Pink
A number of stars wore head to toe fuchsia and hot pink on the red carpeted stairs of the Met, including actors Glenn Close, Sebastian Stan, Ashley Park and newlywed actor Nicola Peltz Beckham.
Many of the pink numbers came from Valentino, inspired by the fashion label's Autumn/Winter 2022 Paris Fashion Week show which showcased entirely pink and black outfits. The entirely pink outfits were designed to be a 'moment of reflection' to encourage viewers to focus on the details such as necklines and fabrication.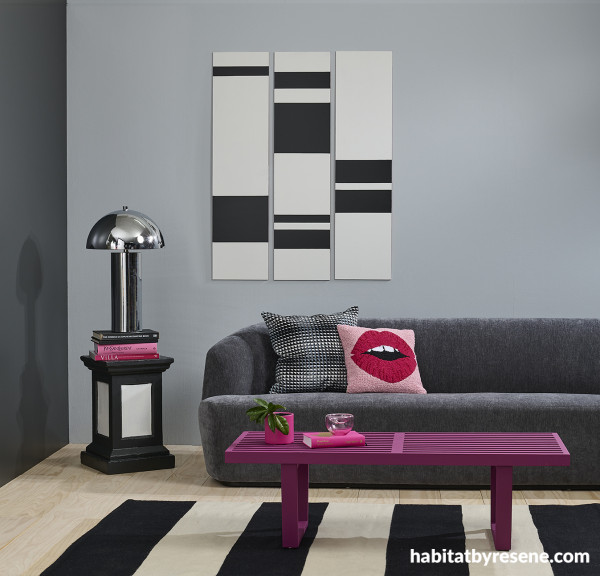 Bring runway style to your home with pops of bright pink. The bench is in Resene Pompadour and the plant pot is Resene Scrumptious add a splash of fun to this largely black and white room with the back wall in Resene Half Gull Grey, side wall in Resene Element and floor in Resene Colorwood Whitewash. The DIY artwork and the plinth table are in Resene Eighth Black White and Resene Element. Sofa from Dawson & Co, cushions from Kip & Co. Rug and lamp stylist's own. Project Kate Alexander, image Bryce Carleton.
Hot pinks are also making a statement in interiors with Resene Scrumptious, Resene Pompadour and Resene Colour Me Pink bringing pops of passion into spaces. Resene Scrumptious is also making a splash with a limited edition Garage Project beer. Order it online here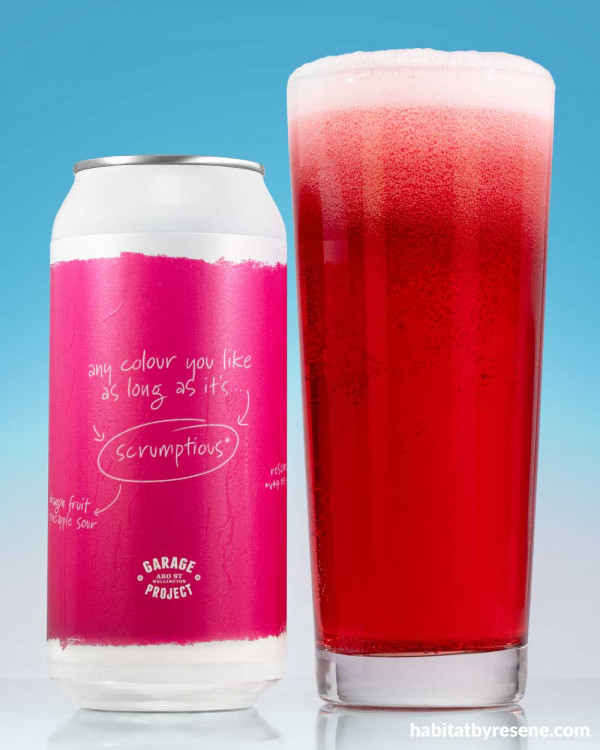 Published: 05 May 2022