►
◄
latest
habitat tv
blog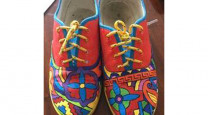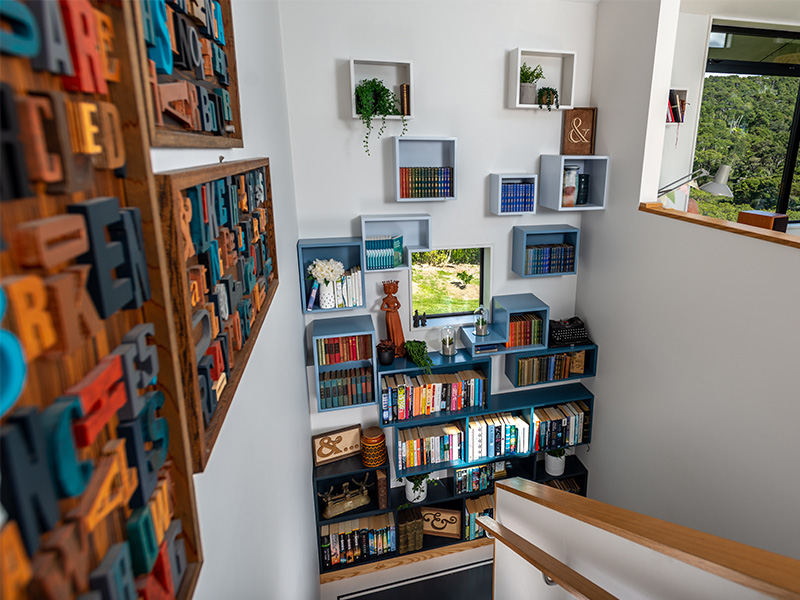 Michele's DIY bookcase brings in a bevy of beautiful blues
30 Apr 2019
With a little help, Michele created this unique custom bookcase to reclaim under-utilised space in her staircase. She painted it Resene Blue Charcoal, Resene Cello, Resene Escape, Resene Breathless and Resene Half White Pointer. The walls are also in Resene Half White Pointer.
Michele's new bookcase was something that was always supposed to finish their new build. But, like so many projects, it took a couple of years to eventuate. Now, a series of boxes flows up the stairwell in an ombre of Resene blues before they fade out into Resene Half White Pointer to match the main wall.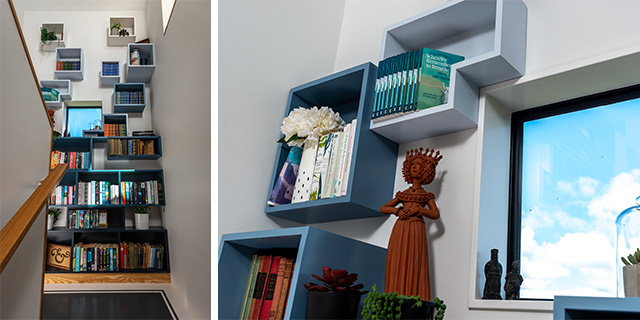 Michele chose her blues – Resene Blue Charcoal, Resene Cello, Resene Escape and Resene Breathless – from the same palette of the Resene Multi-finish collection and then used Resene Half White Pointer to blend the upper shelves into the walls.
Michele worked with Alex from Use-D to make the boxes and then her husband James painted them individually. She says that getting them fixed "was quite the undertaking", and involved ladders, lots of ideas and helpful suggestions as the boxes free formed their way up the wall.
To make a bookcase like Michele's, you will need:
Pencil and paper and a sense of adventure when planning what might fit where, along with a bit of flexibility to work around stud levels and any windows
Marine ply, wood glue and a good eye for angles (Or, you could work with someone like Alex from Use-D to configure your boxes)
A selection of Resene colours of your choosing. Michele used Resene Blue Charcoal, Resene Cello, Resene Escape, Resene Breathless and Resene Half White Pointer.
A drill, screws, a stud-finder, a level – and it can pay to have a pencil handy so you can mark the studs you will be attaching the boxes to
After each ply box was constructed with glue and screws, the holes were filled and sanded down to give the boxes a smooth finish. Next, the boxes were painted using Resene testpots inside and out, with adequate time allowed for the coats to dry before the next one was applied. Using a level and a variety of hanging hardware, wall anchors and a level, the boxes were attached to the wall with the darkest and largest at the bottom and smaller and lighter ones near the top. Then, the wall at the back of each box was painted the same colour as the box to complete the look.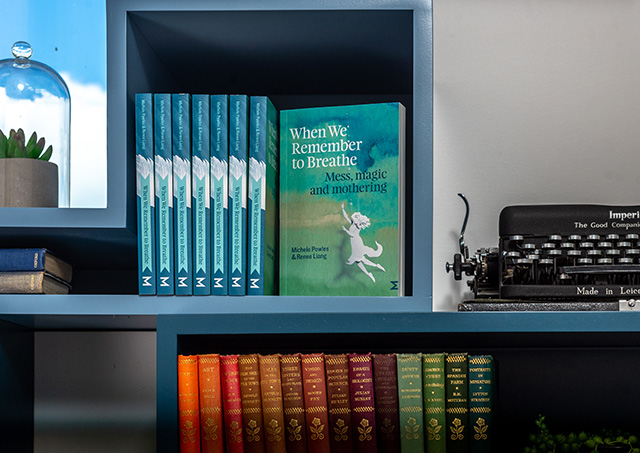 A close-up of the finish product, featuring Michele's new book. The lower box is painted Resene Cello, the upper box is painted Resene Escape and the walls are in Resene Half White Pointer.
Michele's bookcase now holds a selection of inspiring reads along with Michele's latest, 'When We Remember to Breathe' – available 1 May 2019.
In the book, which has been released just in time for Mother's Day, Michele and co-writer Renee Liang, lay bare the raw joy, beauty, discomfort and humour of modern motherhood. The result is uplifting and fearless.

Some days it's poetry, other days it's potty training. When they were both pregnant with their second child, Powles and Liang made a pledge to write a paragraph a week to each other. They wrote between loads of washing, on laptops balanced precariously during breastfeeds, at 3am. And the result is a remarkable exchange about the small moments, the disasters, the guilt trips and the glory, the first steps, the wonderment of watching their kids grow into real little people. It's powerful and poignant Kiwi writing which gives voice to the modern woman, shooting straight from the hip and direct from the heart.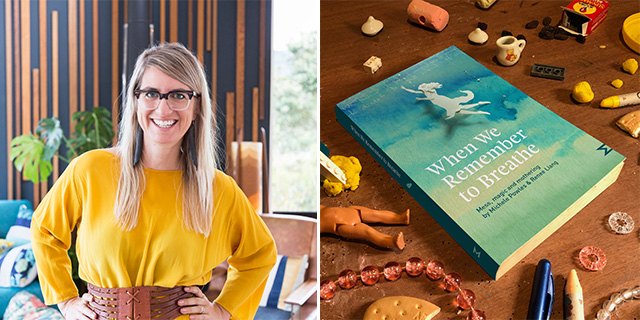 Author Michele Powles and her brand new book, 'When We Remember to Breathe'
imagesJessie Casson, Loork