►
◄
latest
habitat tv
blog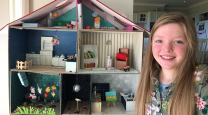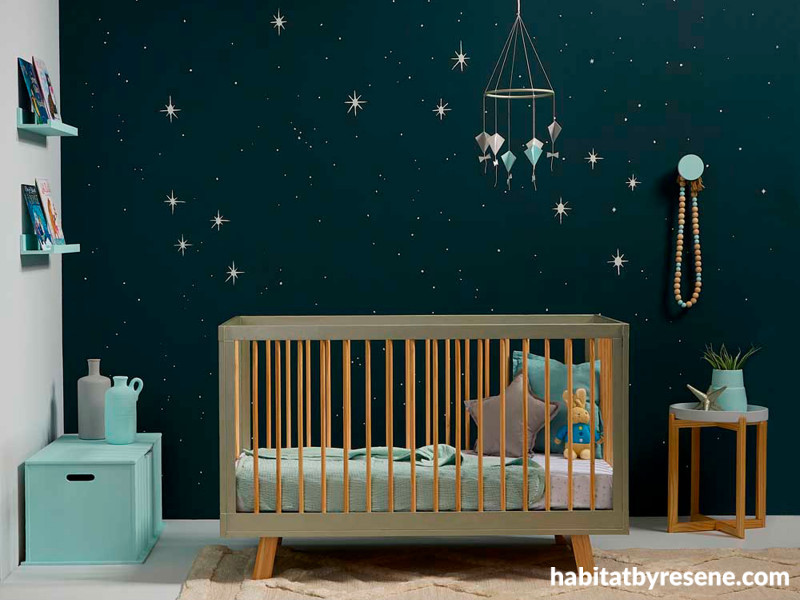 Celebrate Matariki with this cluster of DIY ideas
01 Jul 2021
Celebrate the stars this Matariki with this roundup of easy DIY tips and tricks that will have your home looking out of this world. With ideas for the whole family, it's the perfect time to come together and get creative.
Matariki is the Maori name of the Pleiades star cluster and also refers to the season of the cluster's rising in early July, indicating the start of the Maori New Year. With many legends about the Matariki star cluster, one of the more popular legends is Matariki as a mother surrounded by her six daughters: Tupu-ā-nuku, Tupu-ā-rangi, Waipunarangi, Waitī and Waitā and Ururangi. We've collected seven wonderful ways to decorate your home in celebration of the New Year that'll have you itching to rug up and go stargazing.
Shine bright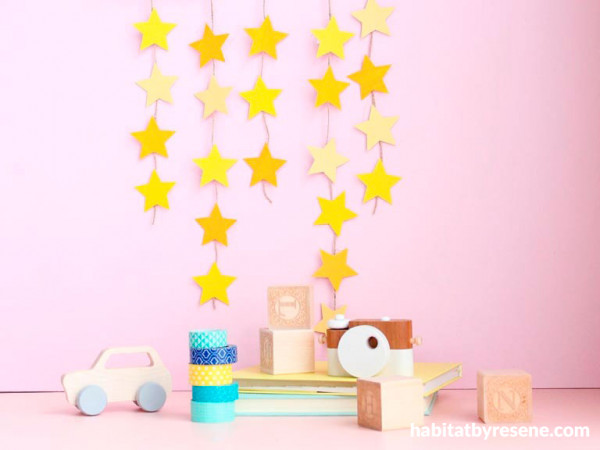 Matariki is about spending time with your whānau and what better way to celebrate than to deck out your little artist's room with strings of colourful hanging stars. Resene Lightning Yellow shines bright in this family-friendly DIY, and all you need to get started is a cookie cutter, cardboard and some string. Check out the full instructions here
Starstruck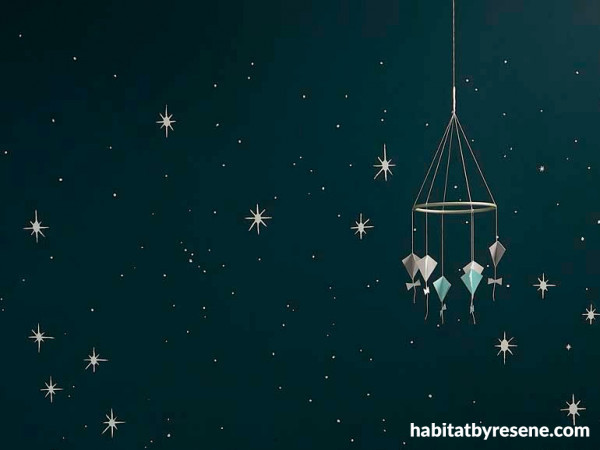 Kites or manu tukutuku were traditionally used by Māori to symbolise the start of Matariki. They were also used for divination to locate wrongdoers and measure whether an enemy attack would be successful. Traditional kites were made from branches of the mānuka and kareao trees with coverings made from aute raupō and ūpoko tangata plants and lines made of muka, the fibre of the flax leaf. You can create this kite mobile with a few simple supplies - see the full instructions here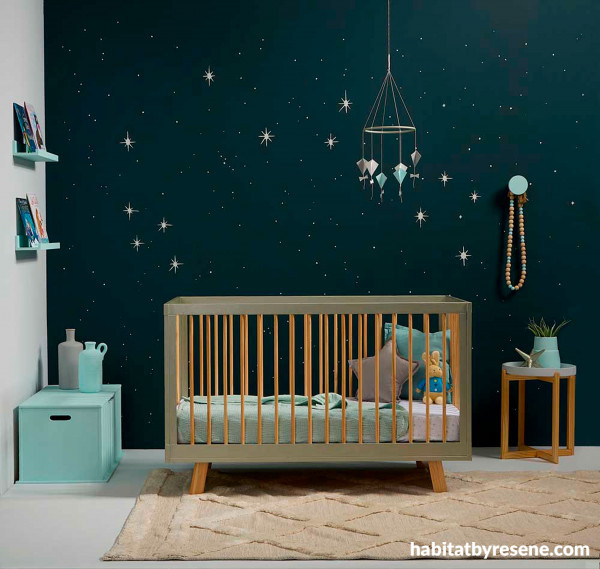 The back wall is in Resene Warrior with stars in Resene Black White. The left wall and floor are in Resene Mystic with a toybox in Resene Reservoir.
Written in the stars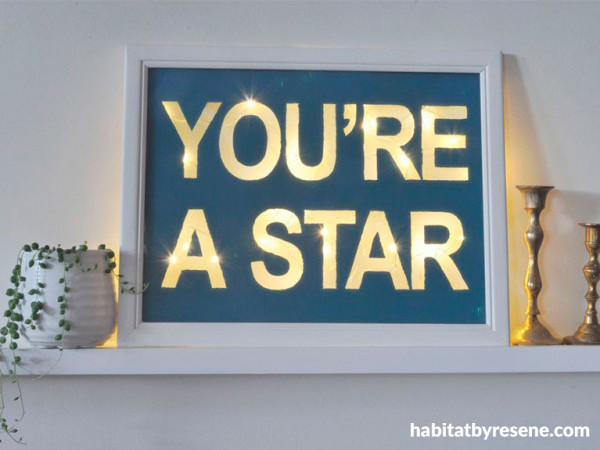 With a string of twinkle lights, a Resene testpot and an old picture frame, you can show off your serious DIY star power with a customised illuminated message like this one. Moody Resene Bismark is the perfect backdrop for these bright twinkle lights, or you can mix it up with a stormy night sky in Resene Blue Night. Check out the full tutorial here
To the moon and back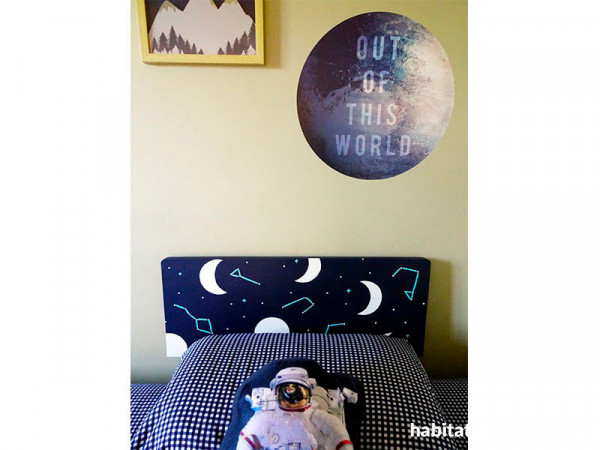 Go to infinity and beyond with a few favourite Resene colours and create this space-themed glow-in-the-dark headboard your little astronaut will love. There's a galaxy of possibilities for any space fan – try a headboard in bright Resene Daisy Bush with Resene Bright Spark stars or deep Resene Red Oxide for a pop of space mayhem. Click here for full instructions.
Stars and stripes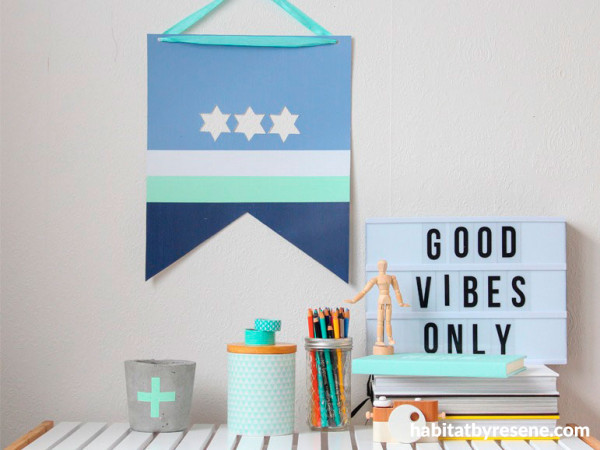 Crack out the cookie cutter for this super-easy wall flag that will have your study wall or craft station looking fresh and ready for creating on those rainy winter days. Embrace a range of night sky blues, including Resene Midnight Express and Resene Ship Cove. For more info on how to create this cute flag, click here
Reach for the stars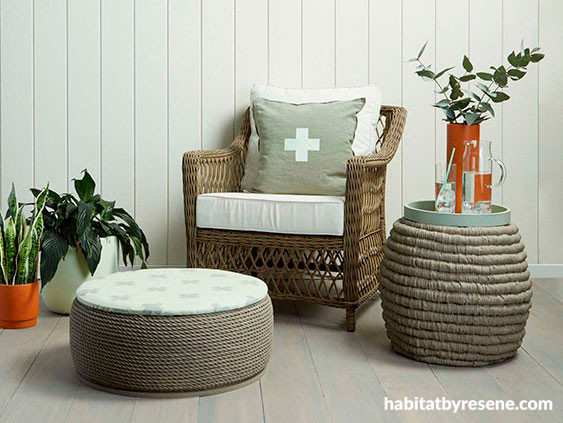 What better way to celebrate Matariki than a night stargazing on the back deck? Keep comfy with this handmade outdoor ottoman – the perfect companion to night gazing and blue sky thinking. With its simple elegant finish, you wouldn't believe that this stylish ottoman is made from an old car tyre! For more tips on how to create this ottoman, take a look at the video
Moon around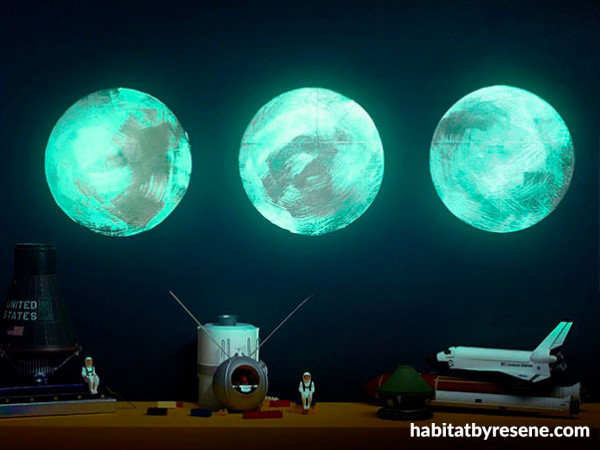 Ditch the nightlight for a glow in the dark galaxy wall. The moons are painted on this wall using Resene FX Nightlight from the Resene Special Effects range and will delight the young astronaut in your family. Or, you can throw a lesson into the mix by creating the phases of the moon across their bedroom wall. For more tips on how to get the look, click here
Published: 01 Jul 2021