►
◄
latest
habitat tv
blog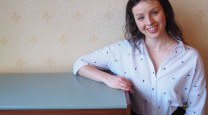 Off the record: Add flair to your flooring with patterned vinyl
07 Oct 2021
Flooring ideas from Godfrey Hirst
Let's be honest: vinyl flooring isn't usually considered cool. But gone are the days of sticky 70s vinyl, peeling at the corners. Now, this versatile material is a cost-effective, stylish option for furnishing contemporary homes – and it's a whole lot cooler than it used to be.
Whether you're refreshing the family home or doing up your bach, there's a vinyl flooring option for you. Godfrey Hirst offers a range of high-quality vinyl flooring options to suit every aesthetic – from faux tiles to bright, modern prints.
Affordable, durable and foot-friendly
Today's vinyl sheet flooring is durable, affordable and high-quality. Godfrey Hirst's range is soft and warm on the feet and springs back easily from pet paws, muddy shoes and heavy furniture.
Vinyl pattern flooring is ideal for kitchens, bathrooms and laundries, because it's waterproof and resists mildew – but you could try it in just about any space. As a hard-wearing, easy-to-maintain material that's difficult to stain or scratch, it's a great kid-friendly choice and also works well in a bach, standing up to seawater and sandy feet. It's also a cost-effective solution, allowing you to finish your flooring in style without breaking the bank.
Easy on the eye
Modern vinyl isn't just hardier, it also doesn't compromise on looks. Godfrey Hirst's design-forward range of vinyls offers plenty of colours and patterns to bring new life to your interiors. Whether you're after intricate traditional patterns, imitation textures or ultra-contemporary lines, vinyl is a fantastic choice.
Let's take a look at some of the options:
Tile for days

The Tasman Mapua vinyl design from Godfrey Hirst has the look of stone tiles without the hassle of installation, or the cost. Pair with walls in Resene Merino and skirting in Resene Alabaster to create a calming and rejuvenating bathroom.
Stone and tile floors are a classic. Water-resistant, aesthetically clean and available in a vast range of colours and styles, they're a perennial favourite for bathrooms and kitchens and are also a way to create cool 'industrial'-looking living spaces.
With patterned vinyl, you can embrace the aesthetic of stone and tile with quicker and easier installation, and have money left over for another part of the project.
Patterns please

Godfrey Hirst's MacKenzie Aragorn vinyl has an on-trend Mediterranean-style design. This classic look is great in rooms with simple décor. To achieve it, stain timber walls with Resene Colorwood Natural and pair with Scandinavian-style furniture finished in Resene Colorwood Whitewash.
If you're after something a bit more fashion-forward, the Godfrey Hirst range offers plenty of choice. Bring the Mediterranean into your home with a colourful terrazzo print, jazz up kids' bedrooms with funky geometrics or brighten up your lounge with Moroccan tiles.
Gone are the days of bland 70s vinyl. Today, you can use this endlessly adaptable material to incorporate on-trend patterns and textures into your home, quickly and easily. Vinyl makes everything from a marble finish to a geometric feature floor possible at an affordable price.
Wooed by wood

Parquet-style vinyl flooring from Godfrey Hirst's MacKenzie range costs a fraction of the wood equivalent. To achieve this classic look, paint walls in a smoky grey green like Resene Lemon Grass and window trims in Resene Half Rice Cake.
Wood is a traditional flooring choice for good reason: it's elegant and subtle, its range of warm colours add life to any room and it's a timeless classic.
But parquet and herringbone styles in particular can be beyond the budget. Godfrey Hirst's range of faux-wood vinyls add the elegance of wood to any room at a fraction of the cost, and without the upkeep. Faux-wood vinyls are perfect for lounges and bedrooms
– wherever you'd traditionally have a wooden floor – but they can also be installed in wet areas, where you might not traditionally put wood, such as bathrooms.
The flooring all-rounder

Ashlyn from Godfrey Hirst's Malvern range features V-grout embossing, giving vinyl the look and feel of tile. Furniture finished with Resene Colorwood Greywash will give your room a relaxed earthy feeling.
Whatever you're after, there's something for you in the Godfrey Hirst range. Banish ordinary flooring in favour of stylish pattern designs on beautiful, practical patterned vinyl – your eyes will thank you!
Visit www.godfreyhirst.com for more information.
Published: 07 Oct 2021