►
◄
latest
habitat tv
blog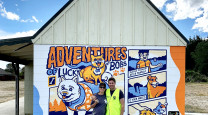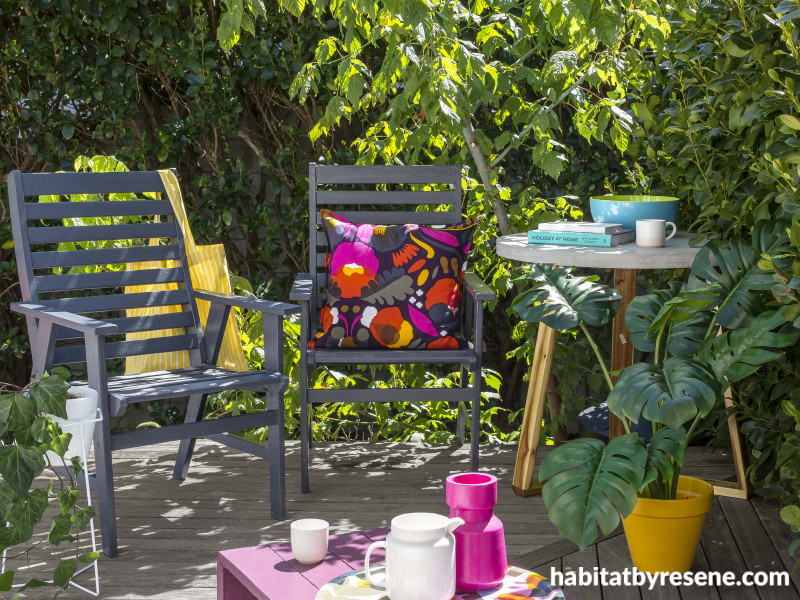 Outdoor living – using the right products for renovating outdoor areas
12 Jan 2022
Outdoor living is a style for all seasons, and offers that vital extension to the house – the coveted 'extra room'. It's one of the most public areas of your entire house, where everyone gathers, so the effort you put into your outdoor area pays dividends in the pride of a well-maintained deck, or seating area. Take advantage of Resene's range of outdoor products to both maintain and improve your outdoor area.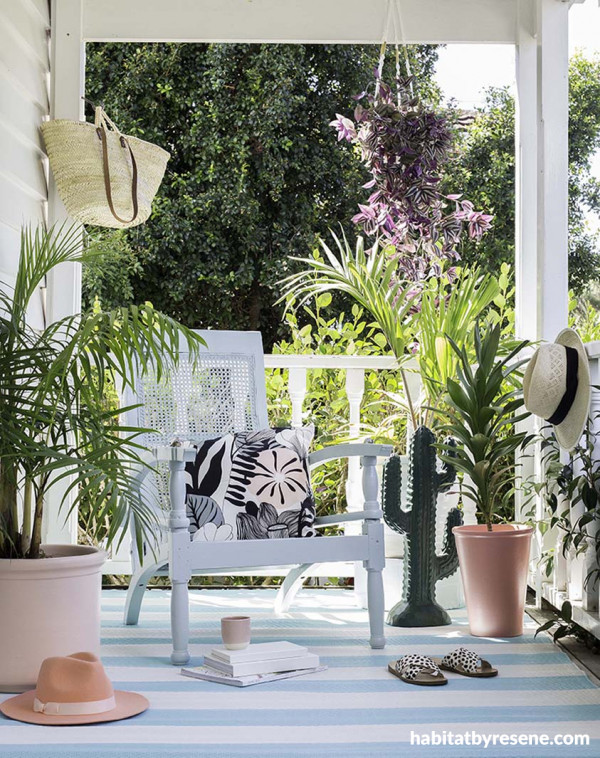 No matter how small the space, outdoor living adds a valuable asset to your home, and can always be improved with paint and colour. Chair in Resene Ashanti, house and balustrade in Resene Quarter White Pointer, cactus in Resene English Holly, pot on left in Resene Wax Flower and pot on right in Resene Glorious. Project by Amber Armitage, image Aimee Magnee.
The deck is always a good place to start. Resene Timber and Deck Wash is a quick and easy way to clean surfaces, such as weatherboards and decks, before staining or painting. Start by sweeping the deck with a stiff broom, and pick dirt and debris from corners and cracks with a putty knife.
Scrub any mouldy areas with Resene Moss & Mould Killer, and then wash with Resene Timber and Deck Wash. Rinse off with a garden hose or low-pressure water blaster. Do not use a high pressure water blaster as this will fur up the timber grain. Sand the deck if needed to smooth rough spots or remove old stain.
Once it's clean you can assess, does it need a new finish?
While a timber deck can be left to weather, it's best to stain or paint it to protect the timber and help it last longer. For a stained finish, use Resene Woodsman Decking Stain or Resene Kwila Timber Stain (a kwila deck should be left to weather for four to six weeks first though) or Resene Furniture and Decking Oil if you prefer an oiled style finish. Painted finishes, such as Resene Lumbersider and Resene Non-Skid Deck & Path, are also good options for pine decks, especially old weathered ones as they will help to hide any uneven colour.
Darker stains can also be good for disguising discoloured areas common in aged, weathered timber, particularly cedar. If you are using a dark colour, consider choosing a Resene CoolColour formulated with special pigment technology to reflect more heat than a standard stain colour. Check with your local Resene ColorShop staff whether a CoolColour is right for your project. Resene does not recommend clear finishes on exterior timber as they don't provide sufficient protection for the timber against the weather. Instead choose a stain colour close to your timber colour. The pigment in the stain will help to protect your timber.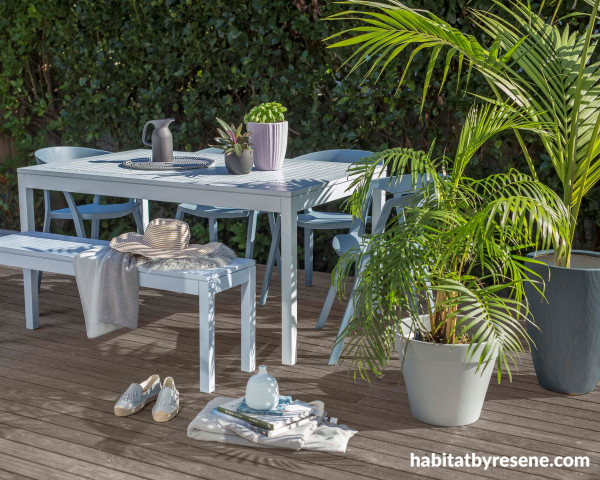 Painted furniture is a great way to add a splash of colour to the outdoors. Table in Resene Casper, bench seat in Resene Smokescreen, larger pot on table in Resene London Hue, smaller pot on table in Resene Karaka, large pots in Resene Neutral Bay (front) and Resene Gunmetal (behind) and vase on books in Resene Cut Glass. Project by Amber Armitage, image Aimee Magnee.
If you have old pavers that have lost their colour, you can refresh their colour using Resene Concrete Stain, much like a wood stain works on timber.
Sick of staring at the shabby fence? Give it a smart new paint job using Resene Lumbersider tinted to whatever colour you want. A good idea is to use the trim colour (the one around your windows) on a more classically styled fence if you want it to be a feature. Or if you want it to blend into the garden, use a nature inspired green like Resene Camouflage. Resene Lumbersider is a waterborne low sheen paint based on a tough waterborne resin – it's easy to apply and will give you a durable finish. Best of all, enjoy the quick and easy water clean-up once you've finished the painting.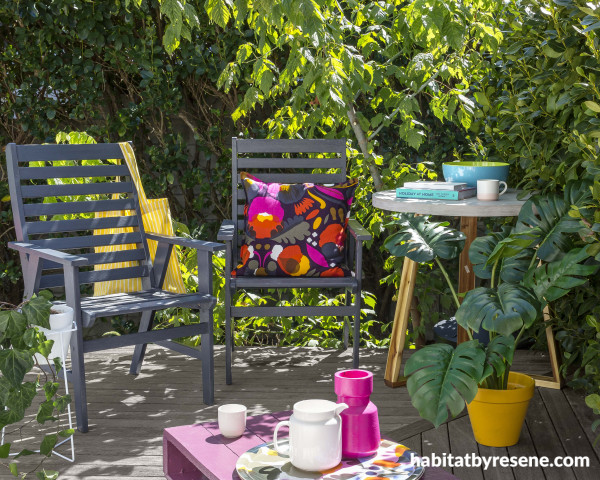 A well-maintained deck is always an inviting area to gather. Deck stained in Resene Woodsman Smokey Ash, chairs painted in Resene Gumboot, pallet table in Resene Mulberry, pot in Resene Buttercup and vase in Resene Scrumptious. Project: Amber Armitage, image: Aimee Magnee.
Published: 12 Jan 2022