►
◄
latest
habitat tv
blog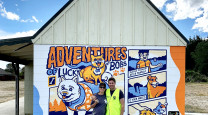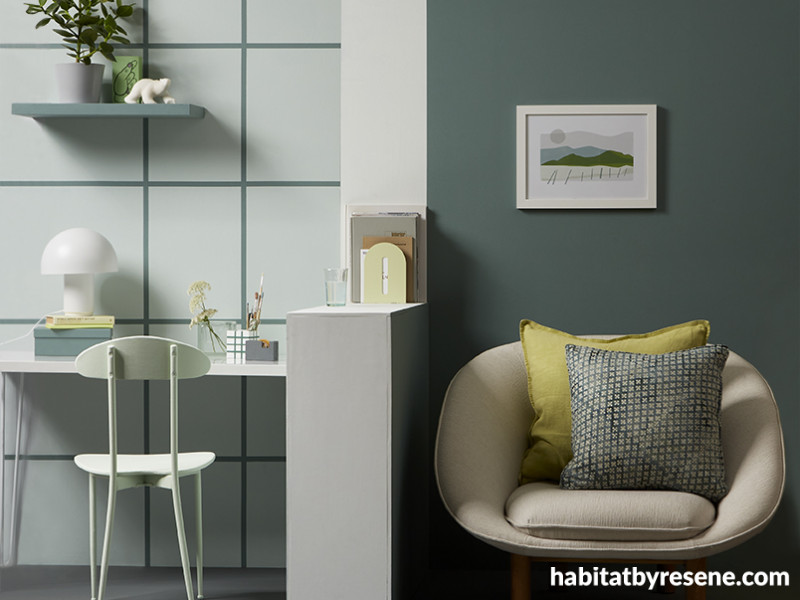 Pale and interesting – neutrals that add subtle colour to a room
12 Jan 2022
White is the most popular colour when it comes to painting your home, but it's far from the only choice when looking for a pale and interesting colour. There are many colours that act like neutrals which will add a different vibe to your interiors over standard white.
Resene Duck Egg Blue is a good example, a pale shell blue. It's about as classic a colour as you can get, but it pairs well with a wide range of retro styles. That's because it's a colour that just keeps coming back around and you can likely find examples of it used in nearly every era of design. Other retro-chic colours to try with Resene Duck Egg Blue that have an 80s-revival flavour are misty mauves, clear off-whites or buttery yellows such as Resene Abbey Road, Resene Quarter Carrara or Resene Melting Moment.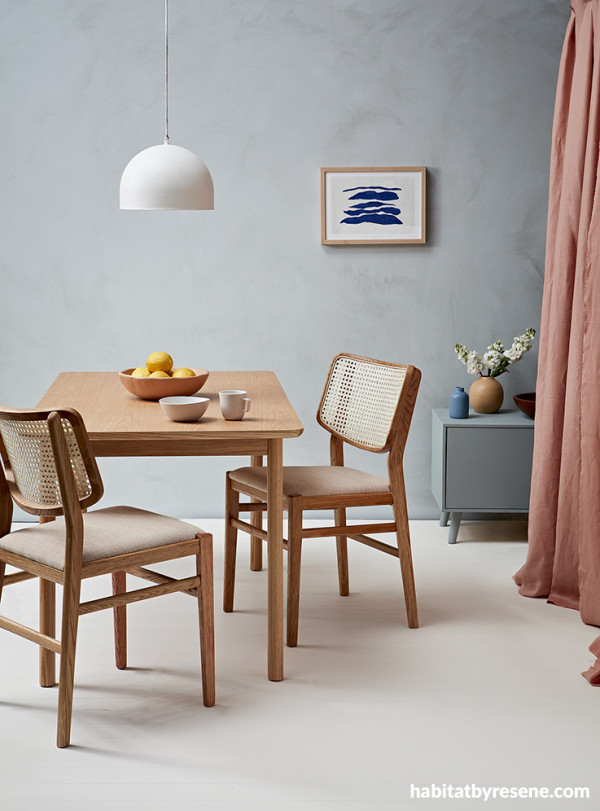 The wall in Resene Duck Egg Blue has also been given a soft 80s-esque texture using Resene FX Paint Effects mixed with Resene Rolling Stone while the sideboard in Resene Inside Back both coordinates and contrasts. The 80s revival dining chairs combined with furniture forms, like the dining table and the sideboard, that are unquestionably contemporary seal the look – but it's the crisp Resene Half Orchid White dome pendant light, Resene Half Villa White floor and accessories in Resene Kalgoorie Sands, Resene Moccacino and Resene Wedgewood that make this room really work.
Project: Gem Adams, image: Wendy Fenwick
Grey-toned greens are currently among the most popular hues available and a key colour trend for 2022. And given that they're both contemporary and relaxing, variations like Resene Thor and Resene Paris White are great picks in a multi-purpose room where activities can demand concentration and calm. Plus, they make a stylish pairing.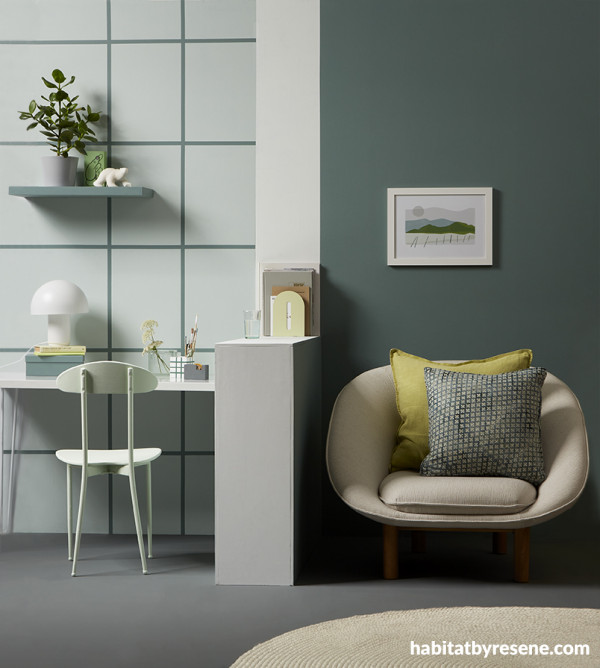 Try a white with a hint of green.The left side of wall is in Resene Paris White, a polished white with a hint of light green that brings in the colours of nature to a room setting. The grid design is in Resene Thor while the middle stripe and top of dividing wall is in Resene Saltpan. Floor in Resene Mako and right-hand side of wall and shelf in Resene Thor.
Project: Kate Alexander, image: Bryce Carleton
Resene Ghost is a misty, otherworldly mauve. It emanates a soft, subtle vibe that is both unusual and calming. Warmer and more deeply saturated variations like Resene Matakana and Resene Zulu pop when layered over softer, cool tones like Resene Ghost and Resene Santas Grey while deeper cool hues like Resene Jimmy Dean and Resene Hammerhead add moodiness, contrast and help to ground the space.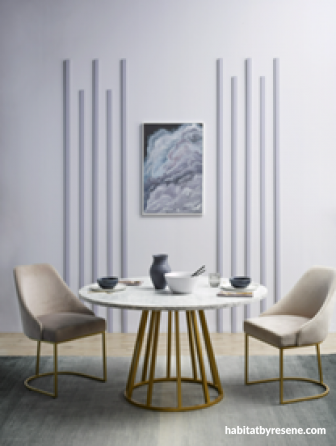 Shades of mauve act like a neutral in this layered room. The cloud artwork was created using testpots in Resene Gumboot, Resene Matakana, Resene Zulu, Resene Jimmy Dean, Resene Santas Grey,Resene Ghost, Resene In The Mauve and Resene Sea Fog with frame in Resene Sea Fog. Wall is in Resene Ghost, battens in Resene Santas Grey, floor in Resene Colorwood Rock Salt. Vase and bowls in Resene Zulu. Salad bowl in Resene In The Mauve.
Project: Laura Lynn Johnston, image: Melanie Jenkins
Nothing says welcome home quite like a sunny shade of Resene Moonlight on the walls. The flooring is painted in Resene Grey Olive, door in Resene Quarter Pearl Lusta with edges and jamb painted in Resene Influential. The vintage bench was given an update in Resene Chorus Line and Resene Quarter Pearl Lusta. Mat and baskets from The Ivy House, Kate Alexander Doorway artwork from Endemicworld. Project: Kate Alexander, image Bryce Carleton.
To inject a little warmth into your space try a pale buttery yellow like Resene Moonlight or Resene Moonbeam. Yellow infuses a room with positivity and while bright yellows can be very high energy, pale yellows when paired with earth tones and warm whites can create tranquil environments.
Whether it's cool undertones in the blues, subtle shades of grey-green, or hints of mauve there are dozens of variations to explore in the off-white palette that will pep up a colour scheme.
Published: 12 Jan 2022