►
◄
latest
habitat tv
blog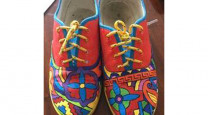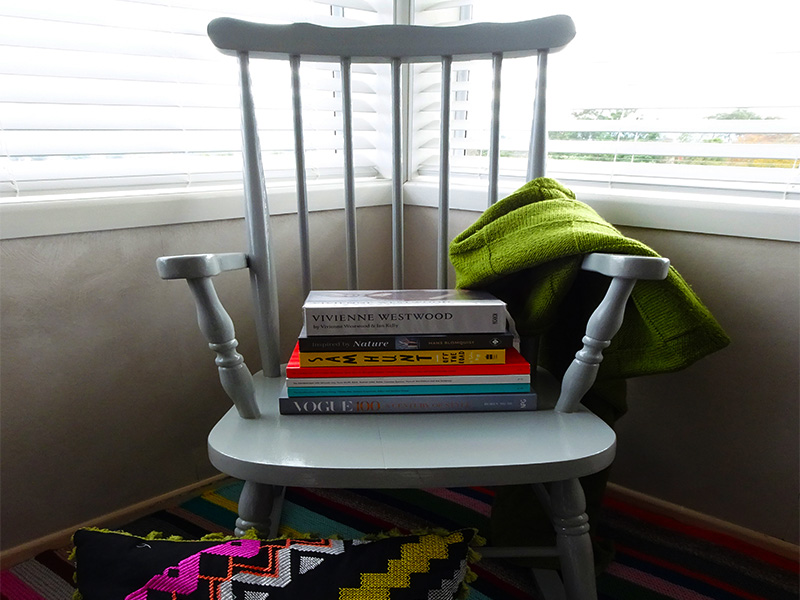 Restore a beautiful old rocking chair with a simple but stylish new look
02 Sep 2020
This old rocking chair's colour palette needed an update, but structurally it was sound and a very impressive chair. Sometimes, making over a pieces of furniture may seem overwhelming or difficult. But in reality, the steps are quite simple. You don't always need to add decorative effects, either. It can be equally effective to stick with a great Resene colour in a fabulous gloss finish.
You will need:
A rocking chair or similar item
Sandpaper or an electric sander
Speedbrush (optional for applying varnish)
Resene Quick Dry waterborne primer undercoat
Resene Aquaclear waterborne urethane varnish gloss
Resene Enamacryl gloss waterborne enamel in your choice of colour – Sarah used Resene Stack
Resene testpot brushes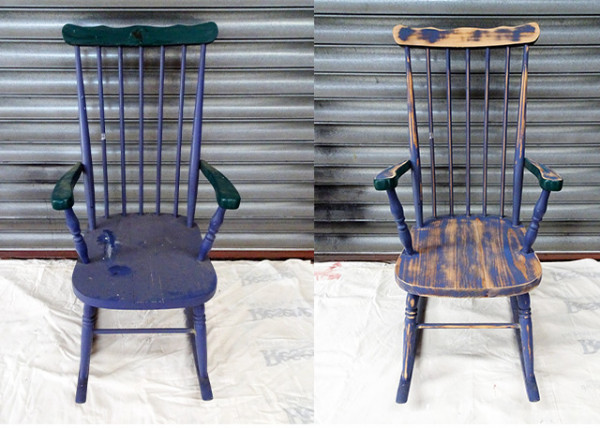 Step 1 Clean the chair thoroughly and then sand back the old layers of paint. It's fair to say that sanding is not the most fun part of renovating furniture, but it is really important to prepare your surfaces correctly. Sarah used sandpaper for the small areas and an electric sander for the larger surfaces. Wipe down all surfaces with a clean dry cloth to remove all the sanding dust. Or, if the surface is smooth and in good condition, you can clean it and then prime it in Resene Waterborne Smooth Surface Sealer, which will provide a surface for the topcoats to grip onto.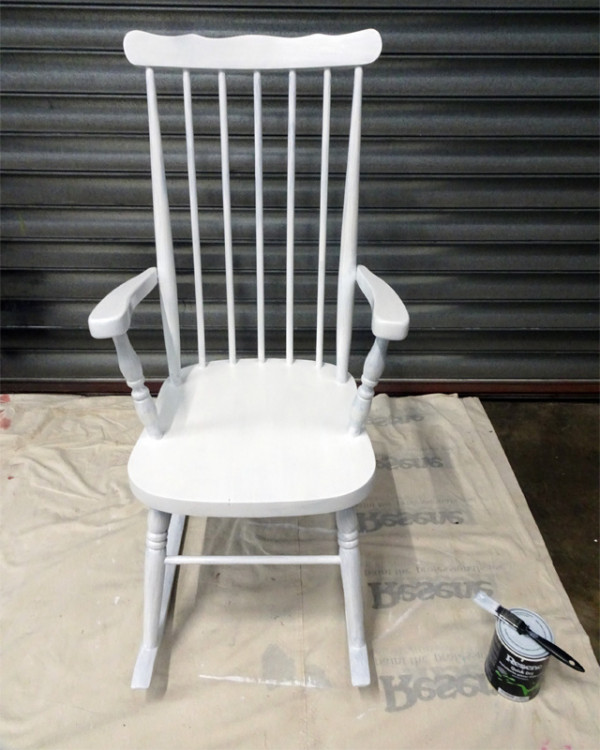 Step 2 A smooth undercoat is good preparation for your topcoats. Apply one coat of Resene Quick Dry waterborne primer undercoat to the entire chair using a testpot brush. When painting tricky areas like the turned back rest, be careful not to overload your brush with paint or it will run and leave drip marks. Allow the primer to dry fully.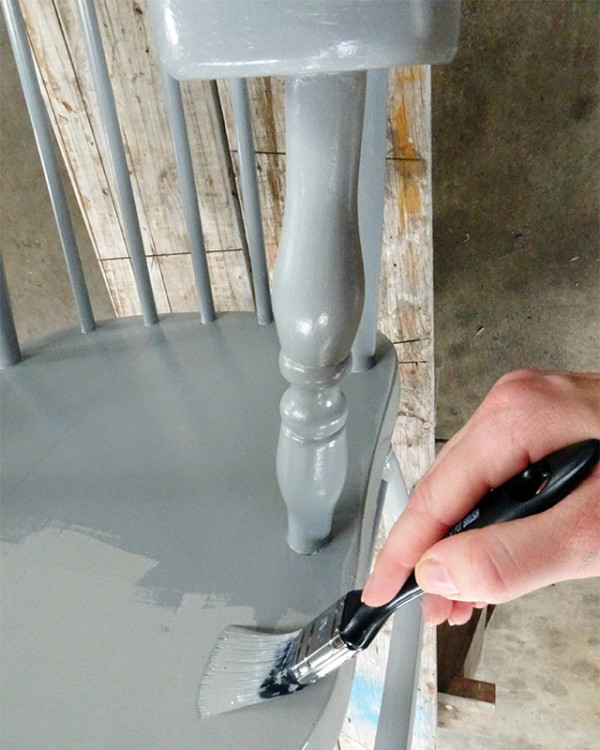 Step 3 Using a testpot brush, apply two coats of Resene Enamacryl tinted to your chosen colour – Sarah used Resene Stack – allowing adequate dry time between coats. Sarah chose this colour and paint finish combination because she wanted to freshen up the chair with a whole new industrial look, in an ultra-glossy, concrete grey.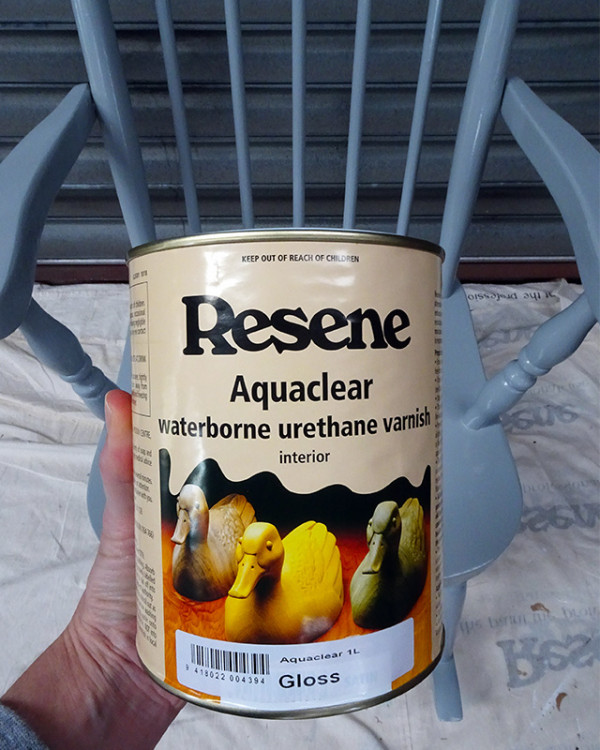 Step 4 To complete the makeover, apply three coats of Resene Aquaclear gloss to give the chair an extra sleek and shiny finish and extra protection. Sarah used a testpot brush to apply each coat, but you might prefer to use a speed brush. Make sure you wait for each coat to dry completely before applying the next.
Top tip: For an added dose of colour, pick out a few areas of the chair to paint in contrasting or complementary Resene colours.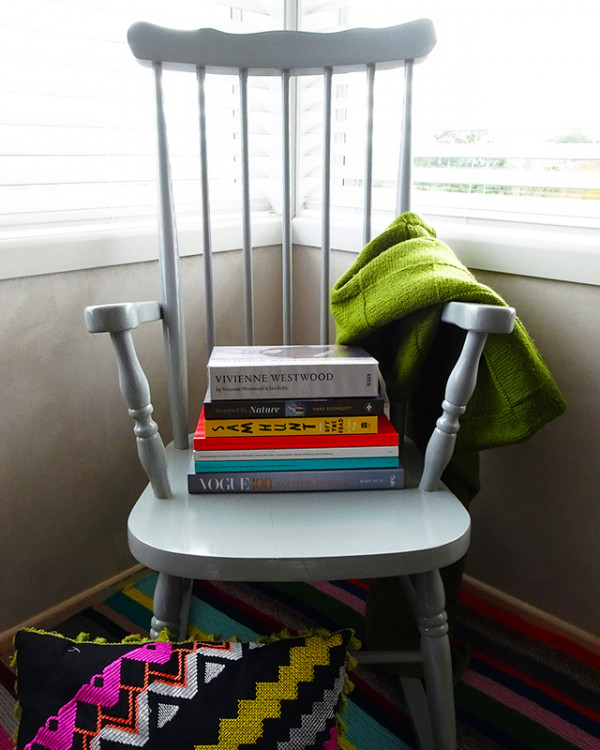 What was previously an old and unwanted chair, now has a cool new look in Resene Stack that wouldn't be out of place in a modern interior setting. All you need now is a stack of good books, a cosy blanket and a sunny spot! Give it a try with a chair of your own.
project and styling Sarah Herring