►
◄
latest
habitat tv
blog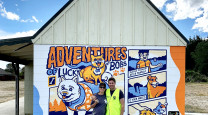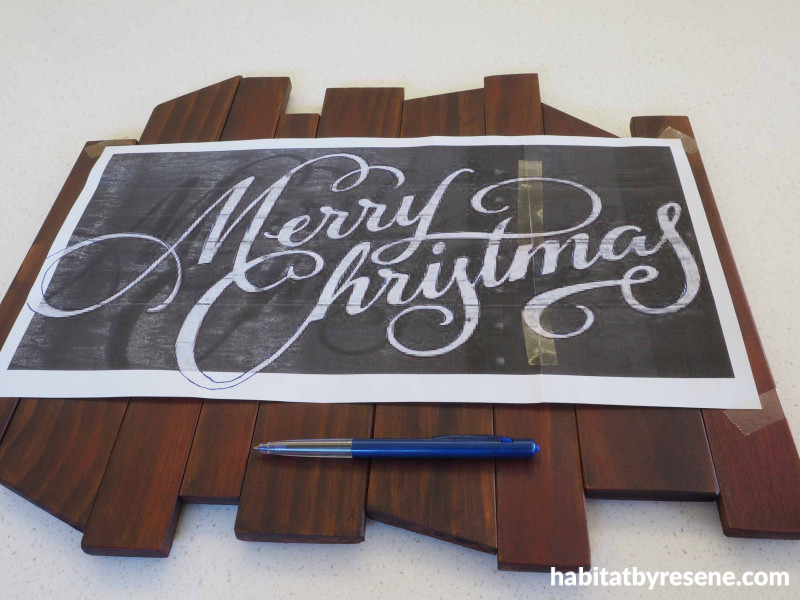 Season's greetings - make a Merry Christmas or a Happy New Year sign
23 Dec 2021
Make your own festive sign for a Merry Christmas or a Happy New Year with a handful of Resene testpots, and some timber offcuts. Perfect for hanging from your front door or on the wall.
You will need:
Lengths of untreated pine scrap wood, varied in length from 25cm to 37cm
Saw
Sandpaper
Resene testpots in your choice of colours, Fleur used Resene Colorwood Teak, Resene Dawn Pink and Resene Salsa
Paintbrush, including a thin artist paintbrush
Resene Colorwood stain in Resene Teak
Cloth/rag
Rubber/silicon gloves
Wood glue
Computer printout of a quote
Ballpoint pen
Sellotape
Electric drill
Seed lights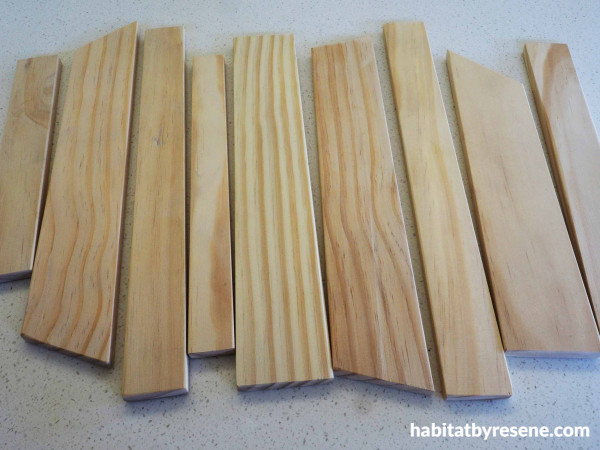 Step 1: Start by collecting your scrap wood together and sand down any rough edges.
Step 2: Roughly paint on your first colour on each piece of board. Don't apply too much paint and keep it fairly thin for a rustic effect. Fleur used Resene Salsa.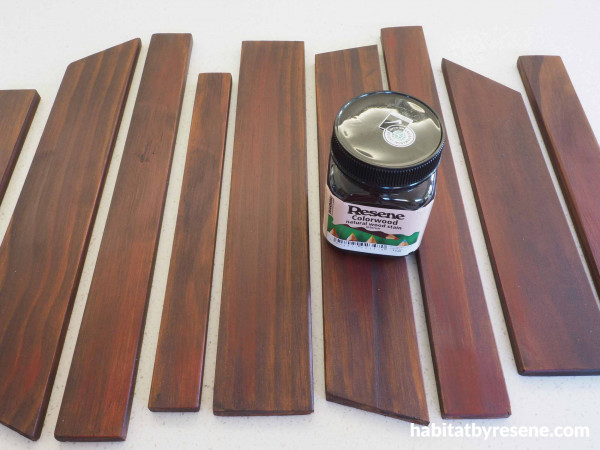 Step 3: Once the paint is dry, use a soft lint-free cloth to wipe on two coats of Resene Colorwood stain in Resene Teak.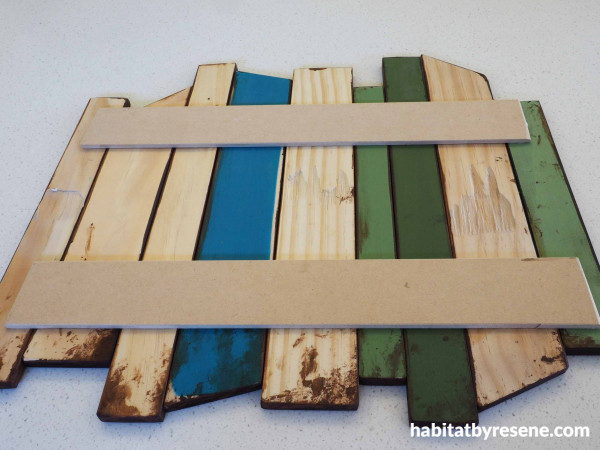 Step 4: Flip all your wood over and glue two more lengths of scrap wood horizontally as supports for the back. Leave to dry.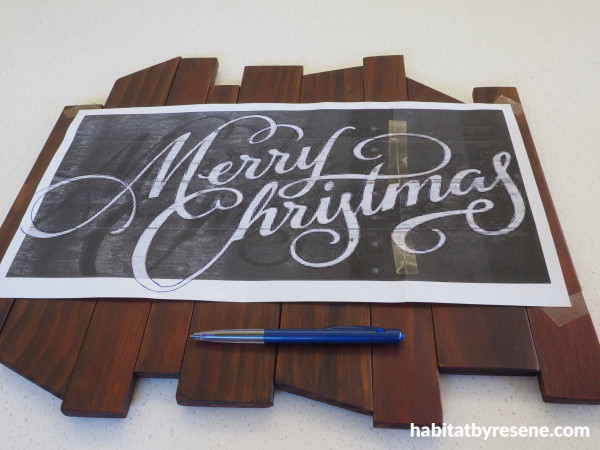 Step 5: Use a computer and printer to print out some Christmas text or a quote and tape it in place. Use a ballpoint pen to trace around the words, pressing firmly so that it will leave an indentation on the wood behind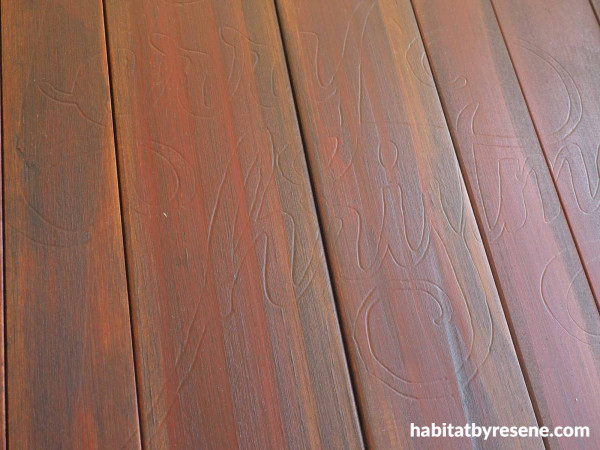 Step 6: Use a thin craft paintbrush to fill in the words with Resene Dawn Pink. Fleur added some extra stars and then used an electric drill to make random holes through the wood around the painted words.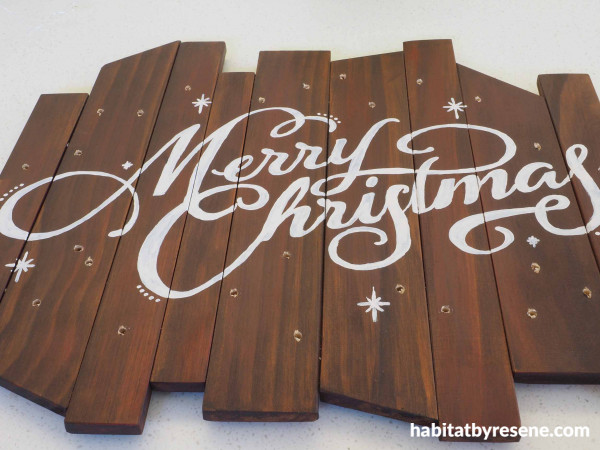 Step 7: Gently push individual LEDS of a seed light set through each of the holes. Switch on for a glowing sign of the season!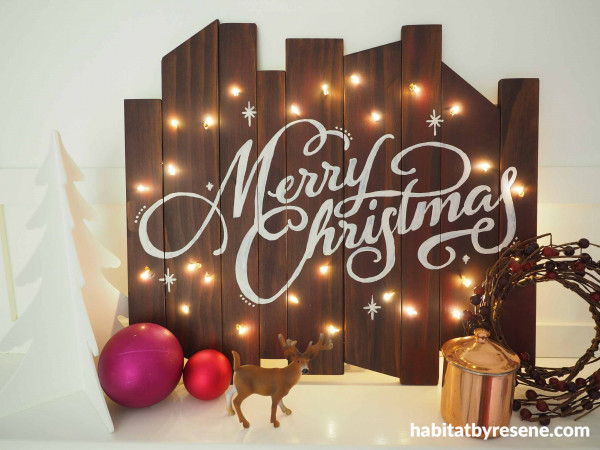 Add Christmas cheer to your front door or mantelpiece with this festive sign. Sign in Resene Colorwood Teak with writing in Resene Dawn Pink and background wall colour in Resene Half Rice Cake.
Project and images: Fleur Thorpe.
Published: 23 Dec 2021