►
◄
latest
habitat tv
blog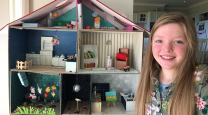 Trend alert: Six colours we can't get enough of right now
Like trends in fashion, building design or music, our collective taste in colours is constantly evolving. Our fondness for certain colours is influenced by all sorts of external factors from pop culture touchstones like TV shows or red carpet fashion moments, to global shifts in economics, news events, seasons or changes in the way we live. Where sometimes we might crave soothing pastels or stormy dark shades, at other times we embrace fresh neutrals or bold brights. Here are six shades that are definitely having a moment.
Primordial greens – try Resene Jurassic or Resene Forest Green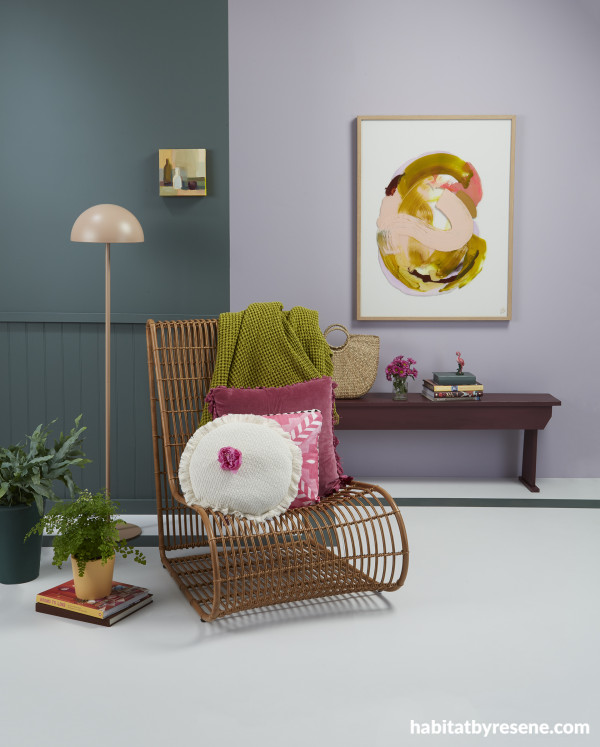 The deep, warm tones of Resene Jurassic green on the panelled wall anchor this sitting room making it feel inviting and comforting. It is paired with a rear wall in Resene Lola and a floor in Resene Concrete given extra impact with a Resene Jurassic stripe. The bench is Resene Cab Sav. The pots are Resene Permanent Green (tall) and Resene Porsche, and the tiny vase is Resene Citron. Project by Kate Alexander, image by Bryce Carleton.
We love it because... in turbulent times, or as changing seasons make us want to retreat and relax, these deep greens hark back to undisturbed forests, perfect for creating a cocoon. Resene Jurassic or Resene Forest Green are the archetypes, ideal in comforting rooms designed to enable a little winter hibernation.
Use it… in cosy master bedrooms, movie and living rooms or sheltered outdoor entertaining spaces.
Accent colours to try are… on-trend deep oxide reds like Resene Pioneer Red to really emphasise the warmth and cosiness of the rich greens like Resene Botanic. Then add pops of Resene Iko Iko for brighter mustardy highlights.
The neutral best friend is… warm and velvety Resene Thorndon Cream brings out the inherent warmth in Resene Palm Green and slightly lighter Resene Paddock. For a pared back more natural feel try a light beige neutral like Resene Parchment.
Dip your toe in with… Resene Jurassic for its flexibility in how it pairs with other shades. For that plush retreat try it with layers of plummy Resene Aubergine or for a brighter space use it as an accent against neutral walls in Resene Urbane.
Sky blue – try Resene Ziggurat or Resene Solitude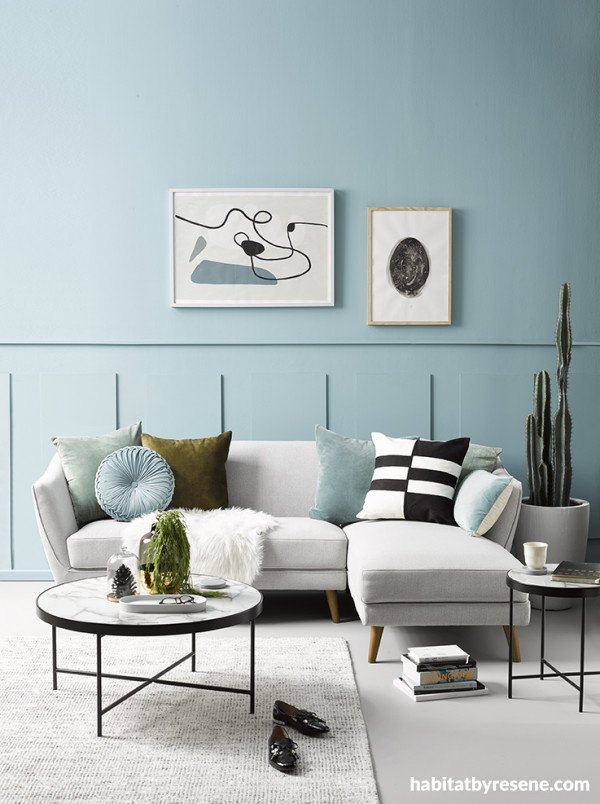 Earthy green accents and fresh neutrals really allow this living room with its sky blue rear wall in Resene Ziggurat to soar. The walls are complemented by a floor in Resene Mountain Mist. The tall planter is Resene Alabaster, the coasters are Resene Rolling Stone and the oval tray is Resene Half Duck Egg Blue. The shorter plant pot is Resene Celeste. The DIY artwork is painted with Resene Celeste,Resene Nocturnal, Resene Rolling Stone, Resene Blue Bayoux and Resene Alabaster with a frame in Resene Half Duck Egg Blue. Project by Laura Lynn Johnston, image by Wendy Fenwick.
We love it because... sky blue sings of optimism. It takes us back to sunny beach days or simply being outdoors feeling good. The right shade of sky blue brings nature inside and works as a beautiful backdrop for tranquil spaces that inspire and uplift. Try Resene Solitude for a soft atmospheric blue or dial up the intensity with Resene Ziggurat.
Use it… in kitchens and dining areas to create fun, uplifting communal environments.
Accent colours to try are… on-trend muted lilacs like Resene Cosmic work well to create an unexpected and soothing colour palette. Or try sky blues like Resene Curious Blue or Resene Danube, against deep stormy blues like Resene Indian Ink or Resene Bunting. Black also works well as accent colours to bring some sharpness and structure to the dreamy blues.
The neutral best friend is… Resene Half Tea, a versatile, pale neutral that will keep your sky blue shades feeling warm and sunny. Alternatively try slightly grey or cloudy-toned whites such as Resene Parchment or Resene Half Sea Fog.
Dip your toe in with… Resene Ziggurat because it is a warm blue with a subtle grey undertone that makes it extremely compatible with a lot of other colours. Try using it almost as a neutral on long sweeps of wall, paired with muted sea-toned blues like Resene Ming, or go bold with a splash of dark Resene Plum.
Wine reds – try Resene Merlot, Resene Cab Sav and Resene Salsa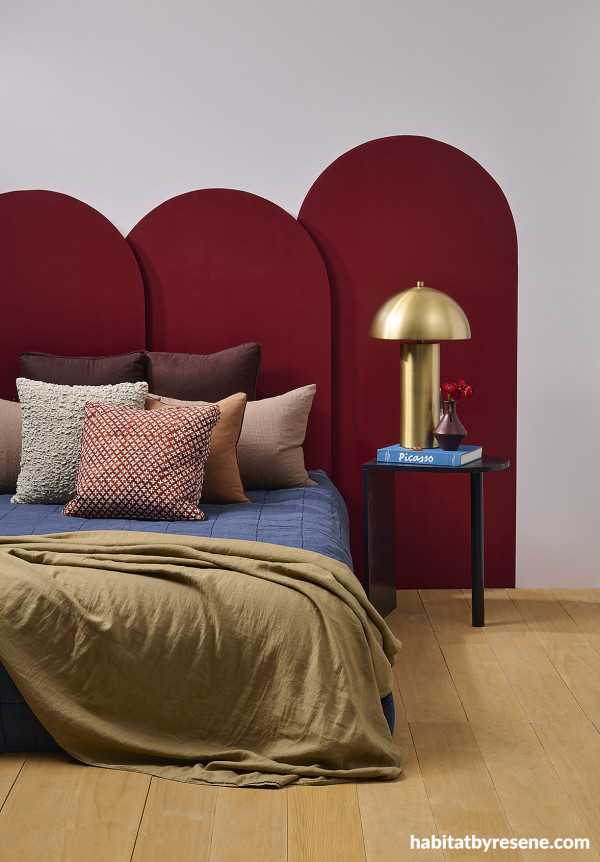 The depth of colour in the burgundy-hued headboard in Resene Salsa brings drama, comfort and luxury all together in this glamorous bedroom. The gold lamp pops boldly with the red to draw the eye, just like an expensive piece of jewellery. The rear wall is Resene Bonjour and the timber floor is Resene Colorwood Natural. The bedside table is Resene Jaguar. Project by Kate Alexander, image by Bryce Carleton.
We love it because... shades like Resene Salsa and Resene Persian Red bring instant warmth when you're ready to hunker down for winter. But they also bring drama, sophistication and luxury, working particularly well against plush fabrics and other jewel tones.
Use it… in old-school formal dining areas, cosy living or sitting areas and bedrooms.
Accent colours to try are… pops of brassy or textured gold to bring instant glamour to your interior. Keep the gold finishes slightly matte or aged, and the reds deep, for a lived-in feel that will stop it heading too far toward Christmas decoration - try Resene FX Metallic in Gold Dust. Dusky warm pinks are another unexpectedly good partner for deep reds; try Resene Arthouse with the warm mauve pink of Resene Vintage.
The neutral best friend is… warmer grey or green toned neutrals such as Resene Half Tea or Resene Quarter Silver Sand to keep the reds muted and inviting rather than over-bearing. Or for an unexpected option try a very pale pink like Resene Soothe.
Dip your toe in with… Resene Red Ochre on a feature wall against trim in Resene Porcelain. If red walls feel like too much of a leap, opt for one or two key features like a headboard or bookshelf in Resene Vanquish. Then play with accessories that lean toward natural-toned greens and creams or go bold with jewel tones and metallics.
Spicy terracotta – try Resene Cumin and Resene Twizel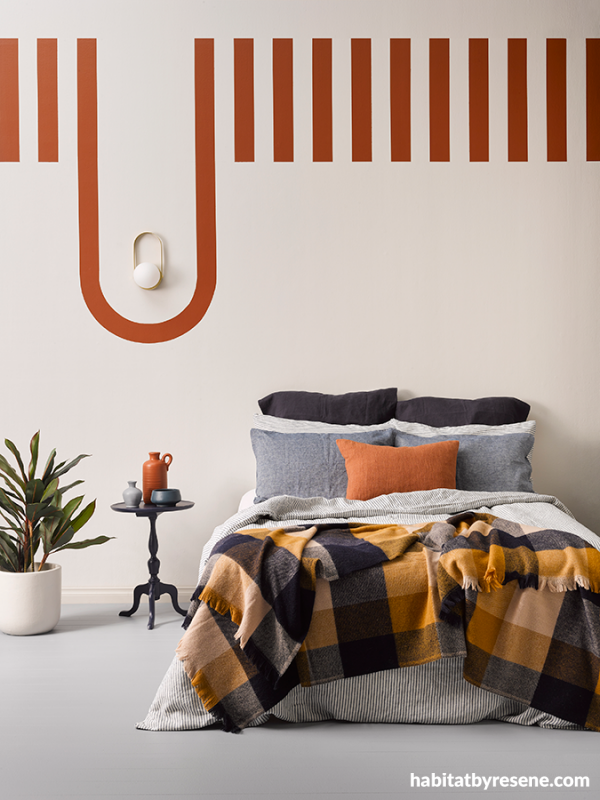 A simple but dramatic painted design in rich Resene Cumin a adds a lot of warmth to an otherwise fairly neutral bedroom. Walls and skirting painted in Resene White Pointer with a floor in Resene Half Raven. The side table is Resene Indian Ink and sitting on it are a large jug vase in Resene Cumin, a bottle vase in Resene Desperado, a fluted bud vase in Resene Half Raven and a low dish in Resene Coast. The larger planter is in Resene Cloud. Project by Laura Lynn Johnston, image Melanie Jenkins.
We love it because… the global focus is all about getting back to nature, sustainability and appreciating the earth in all its forms. That all puts spiced-up terracotta shades like Resene Cumin and Resene Twizel at the centre of our interiors, not just bringing natural charm, but warmth and a touch of 70s nostalgia.
Use it… on kitchen cabinetry or as an accent shade to spice up pared back minimalist space.
Accent colours to try are…spice-rack shades with accent notes of metallic, such as Resene Bronze, or other rich spicy shades such as the mustard yellow of Resene Pizza. To cool things down add anchor notes of deep greige Resene Stonewall.
The neutral best friend is… the complex off-white of Resene Ottoman, a great partner for the heat of Resene Cumin. For something different add notes of a shimmery neutral with Resene Zorba.
Dip your toe in with… the lower half of a wall in Resene Moroccan Spice, paired with the clay-toned neutral Resene Half Tea on the top half. Paint a faux-headboard behind your bed in Resene Desperado with deep blue bedlinen and fresh white trim in Resene Alabaster.
Herbal greens – try Resene Gum Leaf, Resene Secrets and Resene Ravine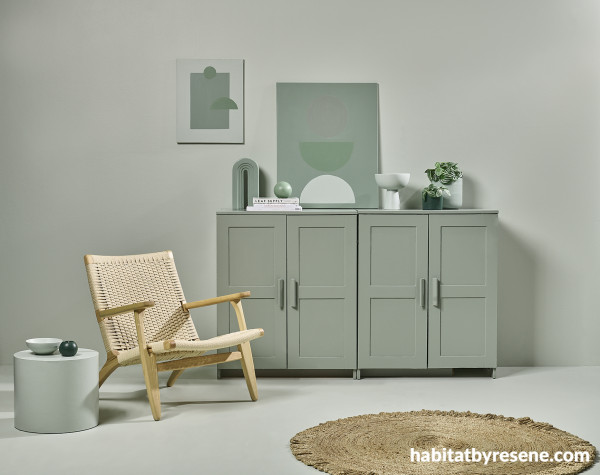 Emphasise a connection to the natural environment with layered tones of herbal green mixed and natural fibres. It leaves this sitting area feeling fresh, cool and modern, yet still comfortable and uplifting. Here the walls and floor are painted in Resene Secrets while the large cabinet is Resene Ravine. The round side table is Resene Pumice. On the cabinet the vases and ornaments are (from left) Resene Pumice, Resene Xanadu (ball), Resene Cabbage Point,Resene Timber Green (small pot) and Resene Pumice. On the side table the bowl is Resene Pumice and the ball is Resene Timber Green. Project by Vanessa Nouwens, image by Bryce Carleton.
We love it because… these botanical shades like Resene Gum Leaf and Resene Ravine, bring both warmth and freshness, and, of course, a strong connection to nature. They can make dark rooms feel brighter, or stark rooms feel warmer.
Use it… anywhere and everywhere you want to add light and vibrancy without harsh edges. These muted greens would be great in a plant filled bathroom, a sun-soaked kitchen or a simple bedroom retreat.
Accent colours to try are… dark greens like Resene Everglade if you want to opt for tonal layers. For something less expected try a burnt orange like Resene Clockwork Orange, a deep burgundy red like Resene Cab Sav or a moody slate blue Resene Ivanhoe.
The neutral best friend is… to try using layers of natural fibres to really emphasise the connection with the outdoors. Think about Resene Colorwood wood stains over timber finishes to showcase the grain of the wood. Opt for fresh whites like Resene White or Resene Quarter Rice Cake.
Dip your toe in with… an almost neutral green hue such as Resene Secrets, then add layers of different botanical greens on fittings, fixtures and accessories, going from light to dark. Shades to try are Resene Lemon Grass, Resene Envy or Resene Untamed.
Millennial purple – try Resene Ghost and Resene In The Mauve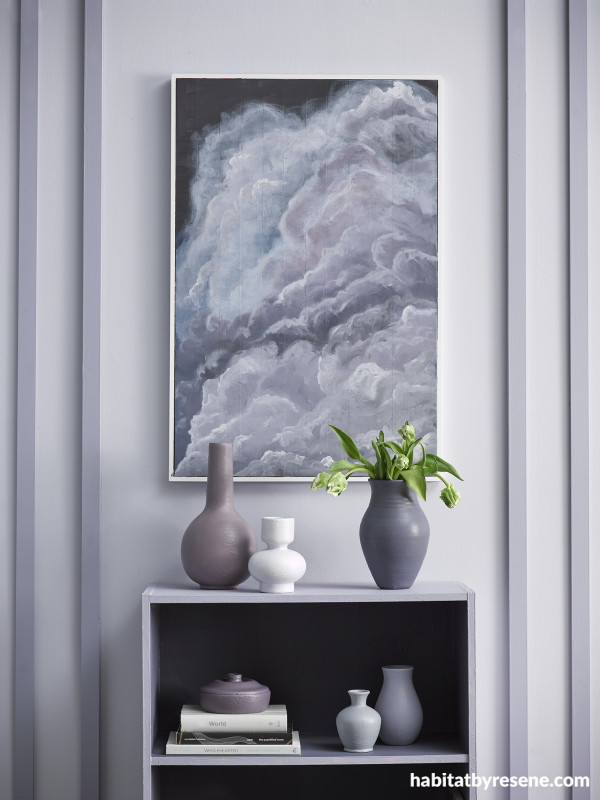 Layers of mauves create a dreamy, soothing space. The walls in Resene Ghost are given some structure with battens and a bookshelf exterior in Resene Santas Grey. The bookshelf interior is painted in darker Resene Jimmy Dean. The vases in Resene Zulu, Resene In The Mauve and Resene Jimmy Dean, Resene Ghost and Resene Santas Grey. The DIY cloud artwork uses Resene Gumboot, Resene Matakana, Resene Zulu, Resene Jimmy Dean, Resene Santas Grey, Resene Ghost and Resene In The Mauve, framed in Resene Sea Fog. Project by Laura Lynn Johnston, image by Melanie Jenkins
We love it because… it's the sophisticated grown-up sister of popular millennial pink. Lilac shades like Resene In The Mauve or Resene Ghost are soothing and warm yet stylish. The subtle, pale grey or pink tones make them an interesting alternative to neutrals and they work beautifully when different colour intensities are layered together.
Use it…in well-lit warm rooms like elegant bathrooms, cosy reading nooks and sophisticated bedrooms.
Accent colours to try are… bright green Resene Snowy Mint or muted yellow Resene Moonbeam for a snap of freshness. To double down on luxury, pair pastel mauves with dark stormy charcoals like Resene Baltic Sea and a metallic accent in Resene Gold Dust or Resene Silver Aluminium.
The neutral best friend is… crisp whites like Resene Alabaster and Resene Black White which will give the dreaminess a bit of edge, but for a softer finish try greige-tinged neutrals like Resene Quarter Truffle or Resene Quarter Friar Greystone.
Dip your toe in with... pale muted millennial purples like Resene Poet used on a feature wall or a bookshelf, and pair it with natural linen or flax fibres and anchor with an accent of a deeper purplish grey like Resene Nocturnal.
Published: 21 Apr 2022
Do you have a home full of wonderful Resene paint and colour? Send us some snaps by emailing [email protected].
the look
If you're stuck on what
colour to use or need colour
advice, try out the Resene
Ask a Colour Expert service.