►
◄
latest
habitat tv
blog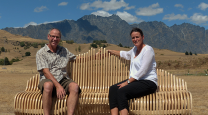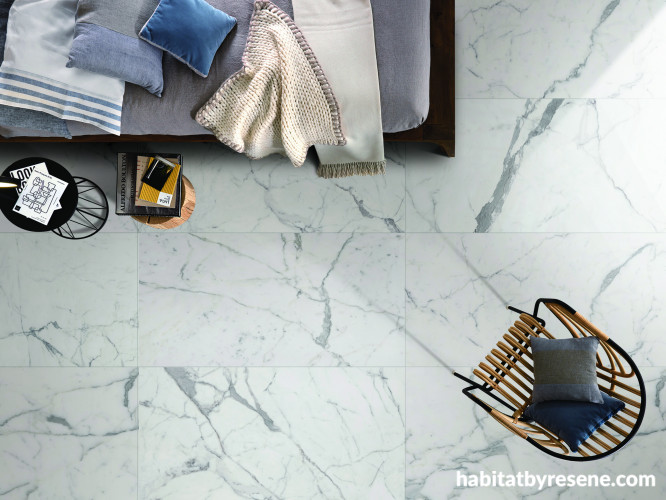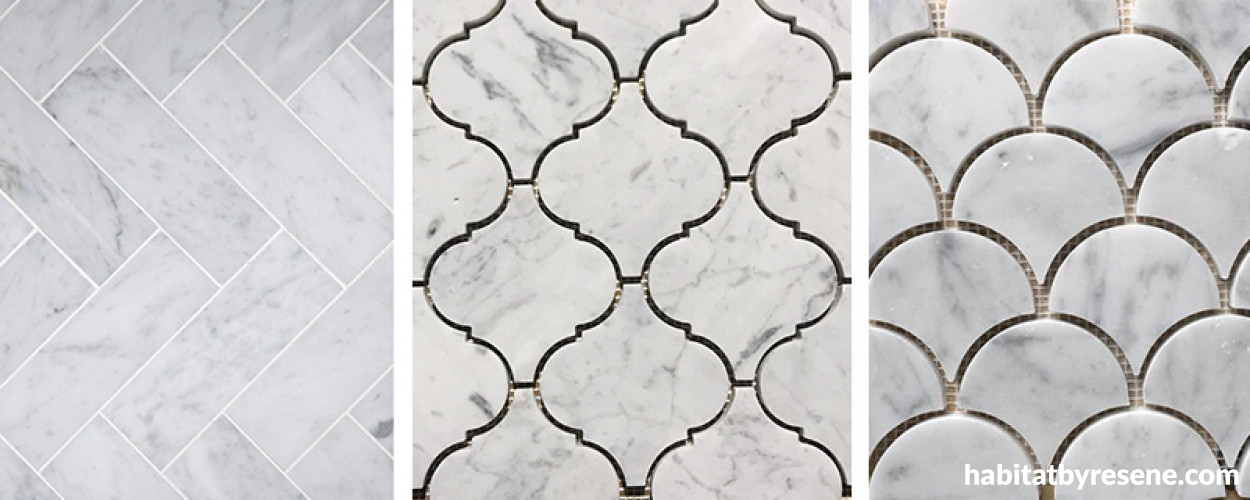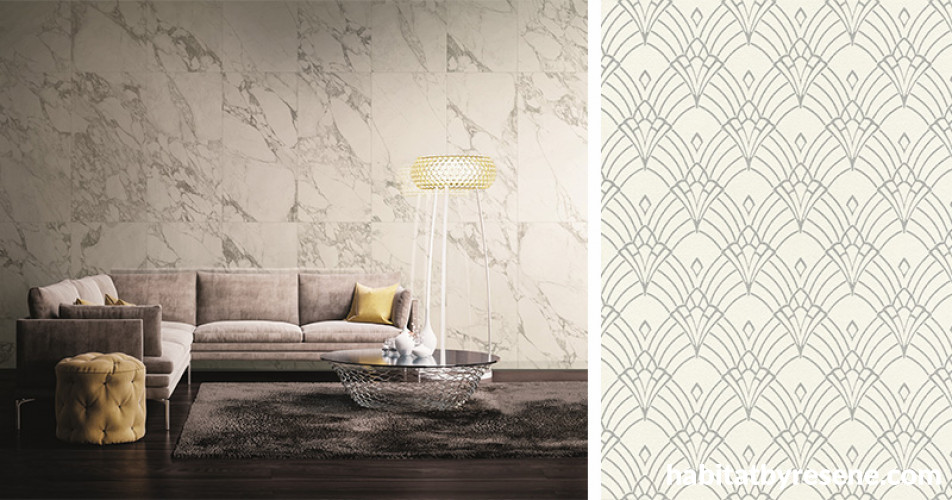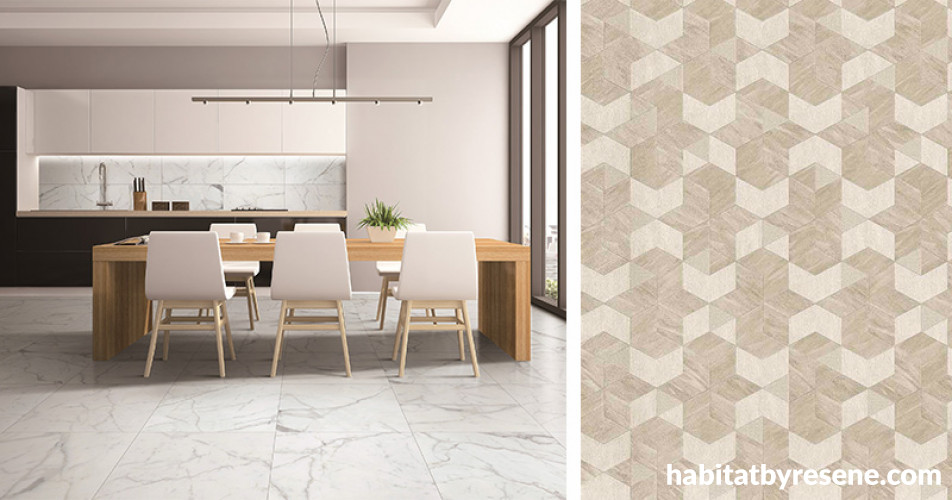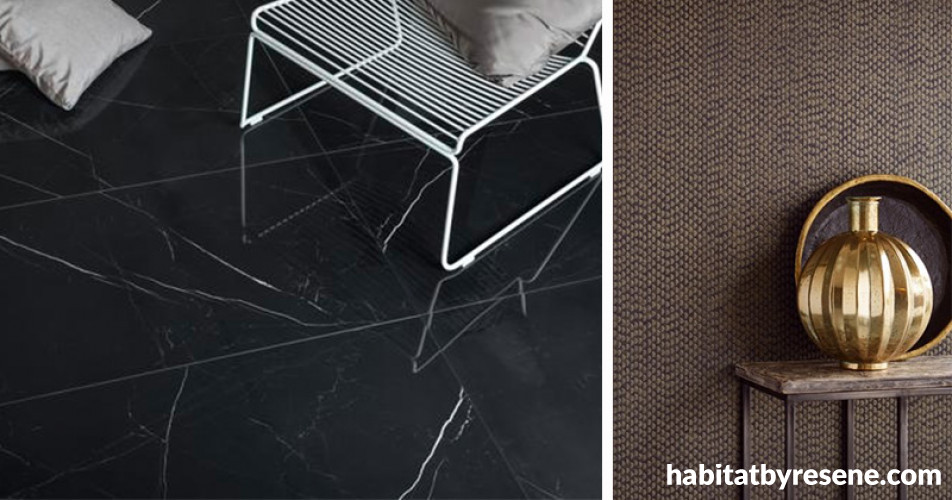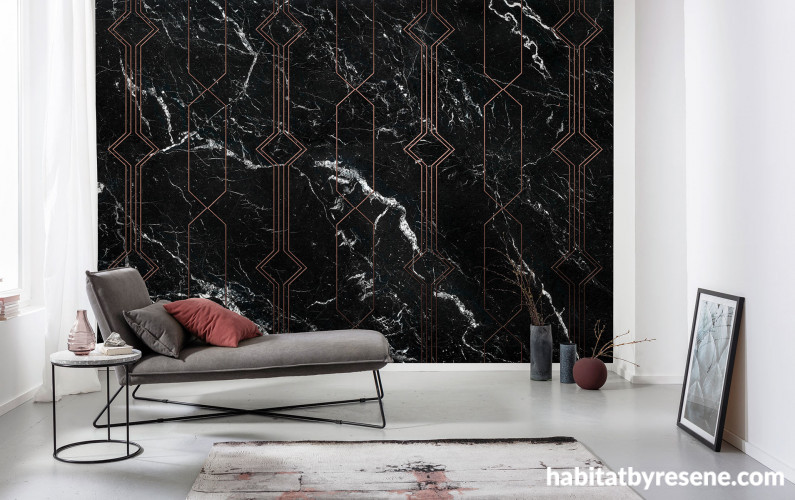 On-trend marble remains a solid design choice
Marble is one of the most elegant building materials out there – and one that's been in use nearly as long as buildings have existed. While marble is inherently timeless, it has become increasingly fashionable in interior design over recent years – and it's a trend that's not going anywhere any time soon.
The rise of art deco revival style may explain marble's recent resurgence in popularity, though the fact still remains that it's an ideal choice for complementing a wide range of design styles. The neutral nature of most marbles means that is easy to blend with virtually any Resene colour palette, and its versatility makes it an especially perfect match for balancing out bold colours. When used well, it adds to the opulence of a look without detracting from the overall scheme.
Since it is able to withstand extreme heat, marble has long come into its own as a glamourous option for kitchen countertops though, more and more, it is being used extensively in bathrooms and as flooring, too.
Published: 24 Jul 2019
Do you have a home full of wonderful Resene paint and colour? Send us some snaps by emailing [email protected].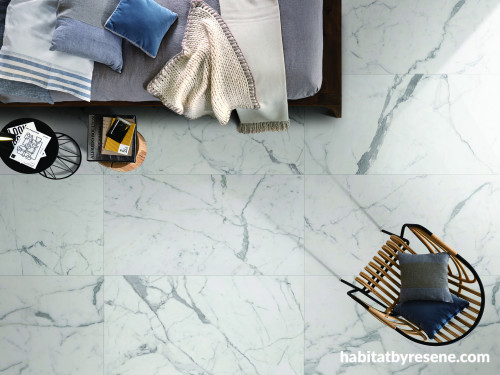 Evo Statuario tiles from Tile Warehouse
A calcified trend
While we may be a long way from Carrara and Calcutta, that doesn't mean there aren't plenty of beautiful options available in our part of the world, both naturally occurring calcites and very convincing look-likes.
Neville Colbert, Managing Director for Tile Warehouse, says that today's most popular marbles tend to have a white background and soft veining, but for accents and feature walls and dramatic impact, some customers are choosing darker colours like black and grey.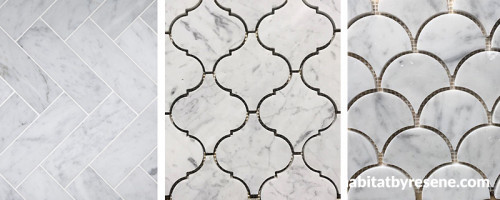 Natural marble mosaics come in a wide range of shapes and sizes and can be oriented in different ways to a variety of patterns.
Neville says that his team often imports particular natural marble for architects and their clients based on their preferred sizes and preferred finishes and thicknesses. "But, what we have seen in the last few years with improving digital technology is marble porcelain that can look like real marble or stone but without the same maintenance requirements."
Magnificent mimics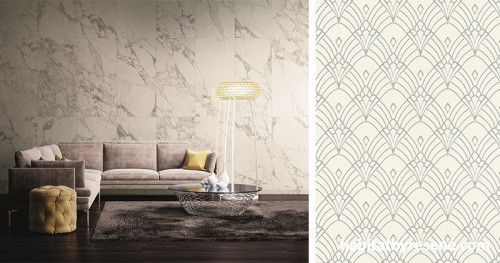 Marmi classici wall tiles (left) and Resene Wallpaper Collection 433937 (right) are a beautiful match for building an art deco revival look – a hugely popular trend.
Neville says that if you are looking for an exact replication of marble that even stonemasons can often not tell from the real thing, the Marmi classici series is unrivalled. The collection is made up of full body porcelain tiles with a translucent white base that are suitable for residential use. It's also from Italy and is considered to be the most realistic representation of marble in the market today.
Try the Marmi classici series with dark timber flooring stained with Resene Colorwood Dark Ebony, surrounding walls and ceilings in a tender cream with just a kiss of pink, such as Resene Eighth Biscotti and Resene Noir in a high-gloss finish for tables, shelves and doors. Then, add in accents in a soft lilac such as Resene I Do and a mellow, buttery citrus yellow such as Resene Chenin.

Top tip: Be sure you use a white-based adhesive if you opt for translucent porcelain and stones so that it doesn't show through.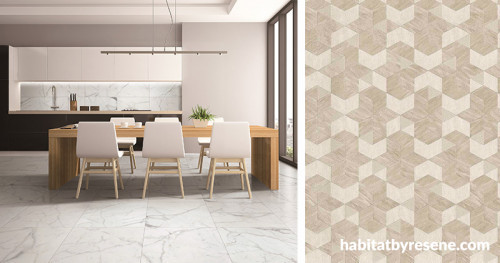 Evo Statuario tiles from Tile Warehouse (left) with a feature wall in Resene Wallpaper Collection 44536 (right) could make for a stunning dining room.
Another option Neville suggests is the Evo Statuario series. While these are glazed porcelain tiles, they still have a nice white background with a hard enough finish to make them suitable for use in a bathroom. "It's a cost effective but still top quality solution, and it's particularly beautiful in the honed finish – which is proving to be extremely popular."
Try the white version of the Evo Statuario series alongside a tonal colour palette in a contemporary kitchen like this one. Go for Resene Eighth Ash ceilings, Resene Half Cloudy walls, and a mixture of Resene Ethereal, Resene Sixth Sense and Resene Rocky Mountain on unadorned cabinetry.

Top tip: Larger tiles, such as 600 x 1200, are perfect for minimising grout joints and making your space look bigger.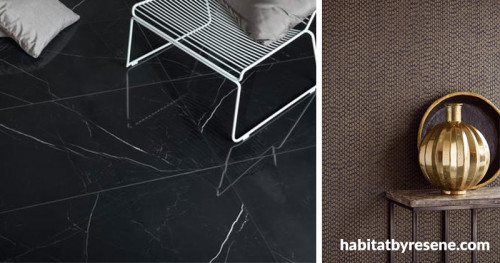 The black version of the Marmi Classici Nero Marquina tiles from Tile Warehouse (left) are a moody option that are ideal for creating an art deco revival look in your home – especially when paired with gold-toned finishes. Try it in an ensuite or powder room with a black basin, a brass faucet and Resene Wallpaper Collection E378035 (right) for a glamourous look.
If it's the black version that speaks to you, go big and bold with walls in a spicy red like Resene Dynamite, a golden ochre like Resene Influential, an emerald like Resene Atlas, a sapphire like Resene Bewitched for a smouldering look in a kitchen, dining room or bathroom. Or, if you're particularly brave, double down and pair it with Resene Charcoal for an opulent and black-on-black look.

Top tip: Try opting for a matte finish for your wall colour for a soft, velvety texture that will match the luxurious vibe of your marble tiles.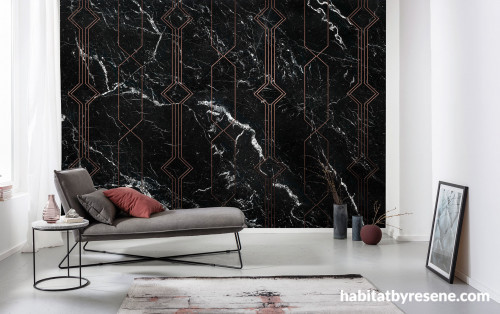 Resene Wallpaper Collection P040-VD4, a marble-like full wall mural with an on-trend deco detail.
Resene Wallpaper Collection P040-VD4 is another option for bringing the look of marble into a living space where it might be impractical to use the real thing. Pair it with Resene Half Cararra on surrounding walls as a nod to its namesake, go for floors in Resene Mountain Mist, a major piece of furniture in Resene Eighth Bokara Grey and add a couple accessories in Resene Code Red and Resene Smoulder.

What to watch for
When choosing a marble or marble look-alike tile, Neville recommends that buyers always look for the nice white base and ensure there are multiple faces so that the patterns do not end up looking repetitive. "Your installer should take special care to sort the patterns when laying marble tile or porcelain replications to avoid too much uniformity and keep things looking natural," he says.
"It's also important to ensure the tile has the correct surface hardness for what you'll be using it for, to pay attention to factors like slip resistance if you are putting it on floors and to ensure full waterproofing goes in first in bathrooms – no matter what you are installing over top."
"While there are plenty of options out there, the key is what works best for you in pattern and design. Remember, your tiles will last your lifetime so select what you really love. The laying cost should be the same regardless of your selection."
Special thanks to Tile Warehouse
the look
If you're stuck on what
colour to use or need colour
advice, try out the Resene
Ask a Colour Expert service.