►
◄
latest
habitat tv
blog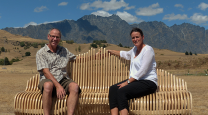 On trend: Peach to pomegranate
Shades of pink and wine are always among current design trends, but there is a whole spectrum of shades within those two colours that allow for endless design options. So go as soft or as strong as you like.
There are myriad examples in the new Resene The Range fashion colours fandeck, from the softest whisper of greyed pink that can be used in place of traditional white or cream neutrals, through to pinks that verge on terracotta, to rich plummy reds. Check out these examples:


Pink to peach
The gentle blush of millennial pink has for some time been morphing into warmer, slightly stronger peach tones. Such colours are surprisingly versatile – you can use them with blue-greys, soft or earthy greens, bitter browns and they look superb with warm whites.
There's still room in the trend for more traditional bubble-gum pinks which can be teamed with mint greens or lemon yellows for a slightly retro feel.
Tonal layers of pale peach through to terracotta or pomegranate reds will instantly transport you to a desert sunset or give you a faded Moroccan vibe. Add textured pots, rustic furniture and cushions made from old kilims or a soft leather sofa for global good looks.
Go all in
At the other end of the spectrum from peach-pinks, comes the trend for bold shades of pomegranate and aubergine. They work well as accent colours to softer shades but for a truly dramatic look go all-in and paint the walls.
Opt for lighter accents in complementary colours and pay attention to texture with natural fibre fittings and furnishings, or sculptural elements to add dimension and catch the eye.
Other ideas to try:
Try sunbaked shades with the on-trend weathered blues such as Resene Raindance.
Emphasise the sunbaked, weathered look with wood floors in Resene Colorwood Greywash.
Spin the warmth of these shades into a Mediterranean feel with olive-leaf greens such as Resene Peace and Resene Family Tree.
Use slightly khaki greens such as Resene Untamed to add a botanical touch to deep aubergines like Resene Virtuoso.
Add touches of gold Resene FX Metallic Gold Dust, or a dark silver Resene FX Metallic Basalt for a luxe jewel look with aubergine shades.

Styling by Claudia Kozub, Leigh Stockton, Lisa Morton, Vanessa Nouwens and Kate Alexander. Images by Melanie Jenkins and Bryce Carleton.
Published: 22 Nov 2018
Do you have a home full of wonderful Resene paint and colour? Send us some snaps by emailing [email protected].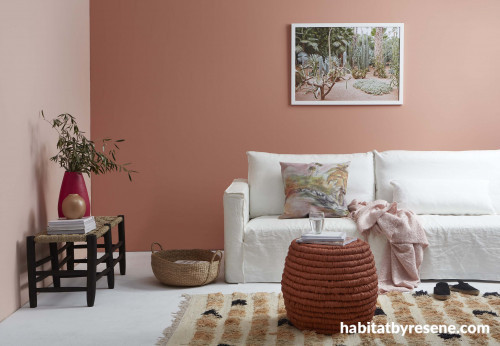 Create a warm yet refreshing space with Resene Just Dance on the back wall, and Resene Sorbet on the side wall. The distressed floor is Resene Poured Milk over a basecoat of Resene Rebel. The base of the side table is Resene Colorwood Pitch Black. The jute ottoman is Resene Sunbaked. The vases are Resene Irresistible (tall) and Resene FX Metallic Rose Gold.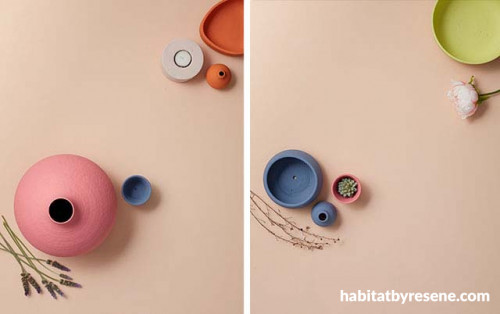 A background in the soft peach of Resene Soulful works well as a neutral base for brighter shades such as lime green Resene Spring Fever, bright pink Resene BFF, orange Resene Jailbreak and blue Resene Time After Time.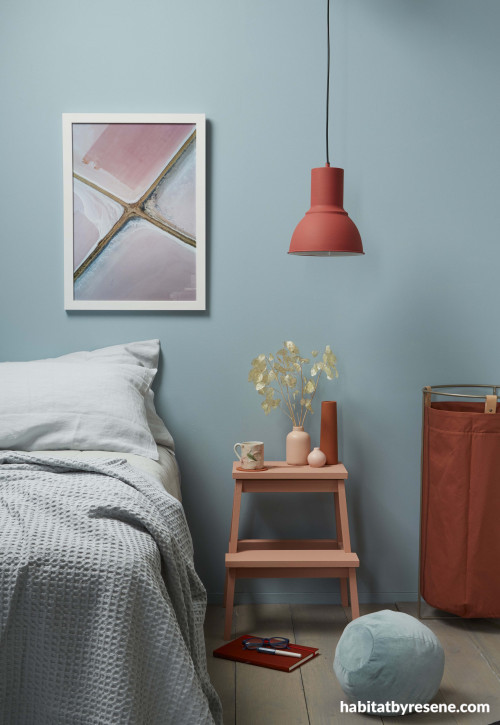 Shades of burnt orange and warm peach work well with on-trend weathered blues. Here the walls are Resene Raindance, and the floor is Resene Colorwood Greywash. The footstool/table is Resene Just Dance. The lightshade is Resene Sunbaked, as is the tall vase. The other two vases are Resene Shilo and Resene Sorbet (small).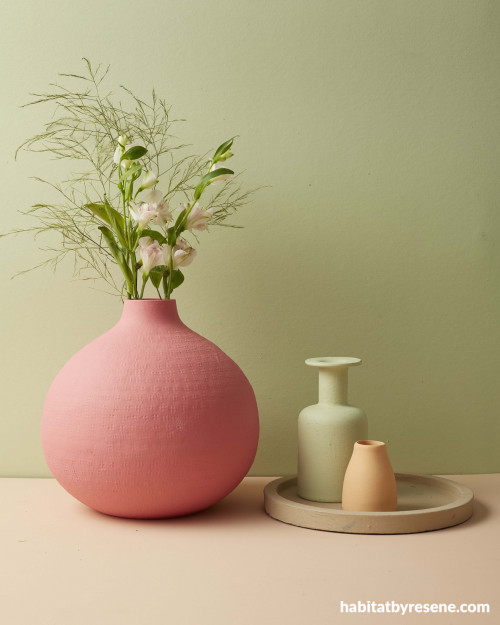 Pink and green are a classic combo. Modern bold pinks such as Resene BFF work particularly well with spring greens such as Resene Aura, used on this wall and the green vase. The smallest vase in the apricot hued Resene Tacao keeps things fresh, as does the table top in Resene Soulful.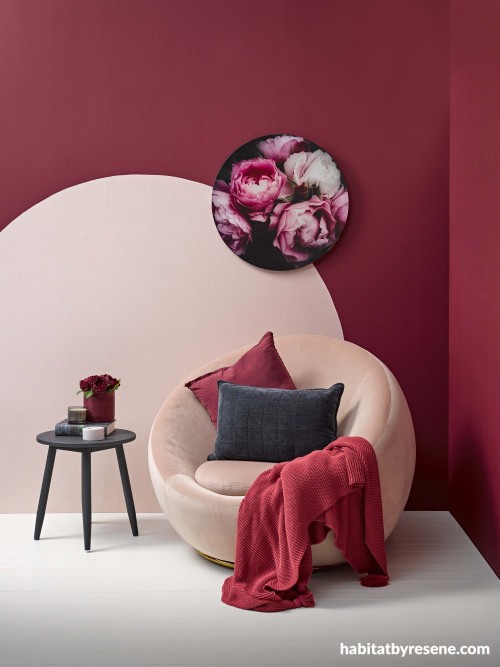 Peachy pink and pomegranate red together could be a confronting combo, but here they ooze luxury and warmth. The circular feature on the wall in Resene Dust Storm, not only echoes the shape of the feature chair but cools down the bold Resene Pohutukawa on the walls and vase. The floor in Resene Double Rice Cake also prevents the space from feeling overwhelming. The table is Resene Foundry and the tealight holder is Resene Dust Storm.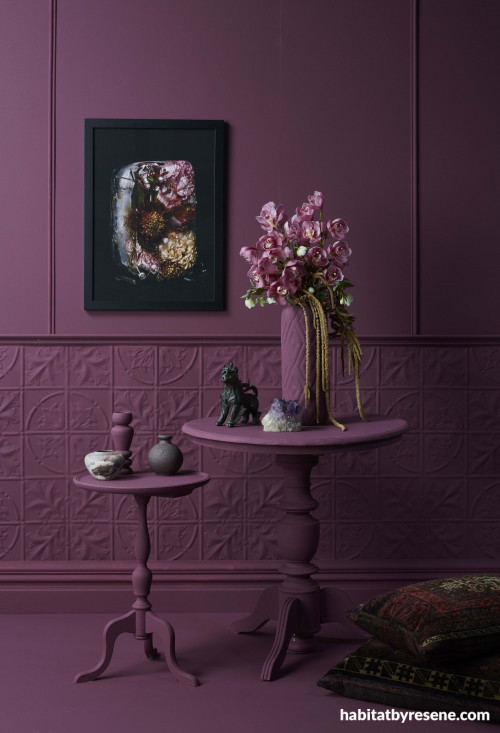 Going all in with one bold plum shade, such as Resene Virtuoso in this room, may seem scary but done in the right way, with plenty of texture and interest for the eye, the result can be amazing.
the look
If you're stuck on what
colour to use or need colour
advice, try out the Resene
Ask a Colour Expert service.