►
◄
latest
habitat tv
blog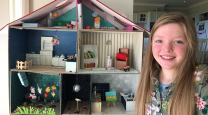 On trend: The return of red
Red, with all its associations of passion, power and personality, is a colour we come back to again and again in our preferred design trends. The shades of red in favour right now are striking, bold true reds, which when contrasted with other bold shades and natural textures, create an exotic Pasifika look, by way of Morocco.
No longer consigned to feature walls from the 1990s, these contemporary reds can be layered through a whole room for a dramatic yet inviting look.
On this side of the world, with our clear, bright, natural light, we have long favoured bluer, deeper reds such as the Resene Dynamite used on the lower wall of the room above. By pairing it with a truer red such as the Resene Poppy, used on the upper wall, the overall effect is much less oppressive and in fact opens the room up.
Further layering of red tones with the floor vase painted in Resene Raging Bull, the shelf vase in Resene Moccasin and the exotic earthy toned rug, all create a frame which can be filled with contrasting tones and textures.
In our feature room the red tones are dramatically combined with a blue floor painted in a base colour of Resene Wishing Well, also used in the matching side table. The use of an overlaid stencilled floor pattern in Resene Time After Time is a clever way to add texture and interest to the space, cooling down the reds, while still enhancing their impact.
Elegant furniture and accessories in natural tones and textures, work in perfectly with these dramatic background colours, adding a lightness and simplicity, without sacrificing style and elegance.
In this room, the lighter accessories such as the cotton stems, cream flowers and the bowl painted in Resene Elderflower stand out against the dramatic reds, while a wine box stained in Resene Colorwood Natural and other wooden accessories, accentuates the natural elements, bringing all the pieces together.
Combined this is a perfect look for the casual lifestyle of a bach or any home with an easy flow to the outdoors.
Other colours to use with the bold, new reds are:




Styling Gem Adams
Images Wendy Fenwick
Accessories: Shell Cluster and Woven Rattan & Bamboo Lounging Chair from Indie Home Collective; Leather Moroccan Slippers, The Kinfolk Entrepreneur and Hideaways from Paper Plane; Bonjour Madame Print, Shape Scoop Bowl, Hand Knotted Persian Rug and Wicker Bottle Lamp from Father Rabbit; Cotton Stems, Willow Branches and Aura Vintage Linen Throw in Pebble from Flux Boutique; Canehill Cushion in Moonbeam from Freedom Furniture.
Published: 08 Nov 2018
Do you have a home full of wonderful Resene paint and colour? Send us some snaps by emailing [email protected].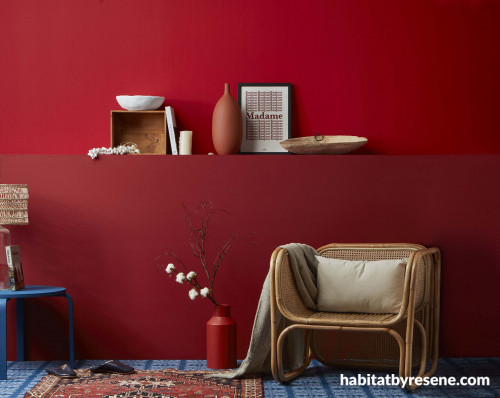 Bold reds create a space that is exotic casual and warm. The upper wall is Resene Poppy with Resene Dynamite on the lower wall. The main floor colour is Resene Wishing Well overlaid with a stencilled pattern in Resene Time After Time. The table is painted in Resene Wishing Well and the floor vase is Resene Raging Bull. On the shelf the vase is Resene Moccasin, the wine box is stained in Resene Colorwood Natural and the bowl is Resene Elderflower.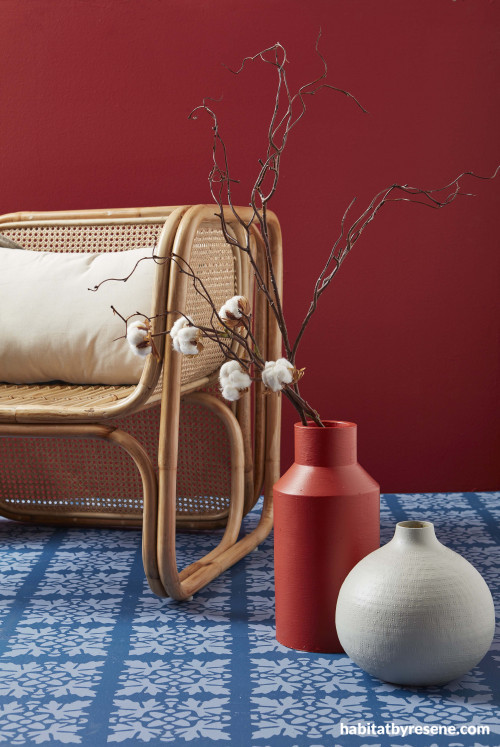 The two shades of blue in the cleverly stencilled floor cool down the intensity of the red wall in Resene Dynamite. A neutral vase in Resene Double Ash works with natural accessories and furniture to bring the contrasting colours together.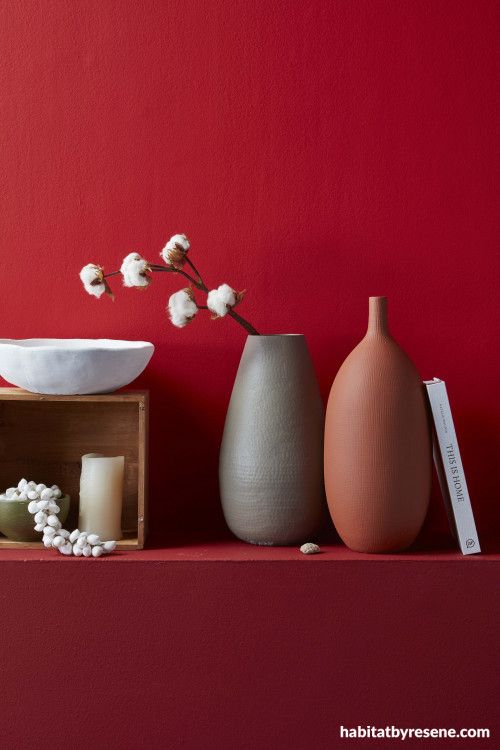 Accessories in complementary shades of Resene Double Pravda (vase on left) and Resene Moccasin, along with cool neutrals both emphasise and soften the bold reds.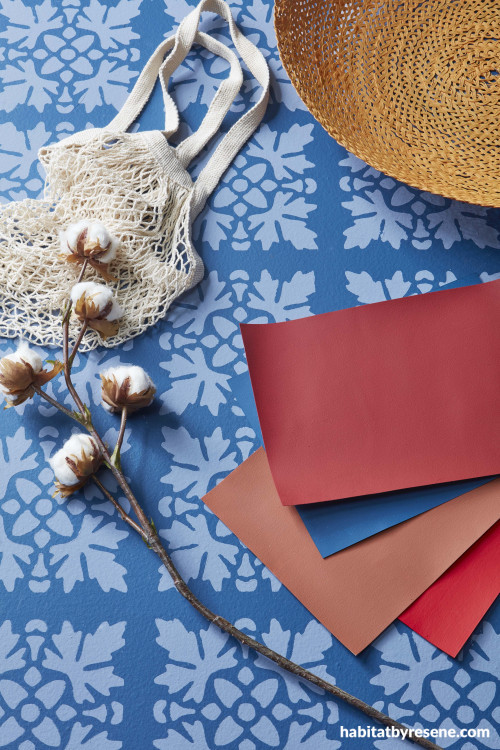 Hints of the Pacific, by way of Morocco, created with a background of Resene Wishing Well, stencilled with Resene Time After Time. A4 drawdown paint swatches are in Resene Dynamite (darker red), Resene Wishing Well, Resene Moccasin (terracotta red) and Resene Poppy (lighter red).
the look
If you're stuck on what
colour to use or need colour
advice, try out the Resene
Ask a Colour Expert service.