►
◄
latest
habitat tv
blog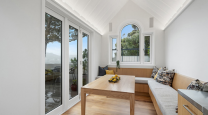 Master Builders' Chief Executive David Kelly shares his tips for building in the challenging climate.

Planning... more
On trend – take it tonal
Not long ago this gorgeous mellow-toned room would likely have been awash in millennial pinks but here there's a subtle shift away from that side of the spectrum into the modern trend for peaches and nudes.
The perfect way to make the most of these delicate, fresh shades? Try layering different tones of similar shades. The overall effect is a gradual colour saturation that gives depth and interest to any room without it becoming an overwhelming collage of competing colours.
And you can really let your imagination run wild. Stylist Emily Somerville-Ryan has embraced a popular trend for geometric shapes in this room as an eye-catching way to use tonal layers on your walls.
This dramatic diamond pattern, reminiscent of a tasteful argyle sweater, takes delicate sunset shades of Resene Tequila, Resene Just Right, Resene Cashmere and Resene Alpaca and combines them for a striking, modern look. It's an effective way to use paler, subtler shades that may lose their impact used over a whole blank wall.
The effect can then be layered up with furnishings, textures and objects across a spectrum of tonal shades in different colour intensities. And don't forget the floor. This one is painted in Resene Umber White.
If you take a close look at this room there are almost no two colours the same, but together they create a calm, warm, inviting space, rather than a riot of clashing colour.
Other tonal schemes to try
Using tonal layers is not limited to shades of sunset pink and coral. Here are some other tonal groups to try:
Greys work particularly well in tonal layers - understated but interesting.
Whites and creams using cool whites and creams together for an edgy interpretation of a classic look.
Try earthy greens for a truly nurturing space.
Relax in a calm sea of blue by layering soft aquas and grey-blue shades.
For a sun-drenched Mexican feel with a little more contrast try terracotta tones merging into ochre.
Style tip:
To get a clear picture of which tones will sit comfortably with each other in your space, check out the Resene Multi-finish palette cards. Grouped into colour themes, they're a great tool to build a tonal scheme in any shade you like.
Accessories: Macramé Wall Decor Natural Large, Denna Fringe Cushion Nude, Aura Lux Velvet Cushion Nude, Tabitha Heart Cushion Blush, Fringe Cushion Natural, from Shut The Front Door; Raffles Buffet 2 Door, Alpine Corner plus 1.5S Modular + Corner + 1.5S Modular + Ottoman Linen Blend Natural, Catalina Table Lamp, Gomez Throw 130x150cm Rose Smoke, Rogue Mini King Protea 56cm Blush Stem, Rogue Protea Stem 55cm Green, Orissa Floor Rug 300x400cm, from Freedom Furniture; Feruto Slippers Blossom, from Thread Design.
styling by Emily Somerville-Ryan
images by Melanie Jenkins
Published: 06 Sep 2018
Do you have a home full of wonderful Resene paint and colour? Send us some snaps by emailing [email protected].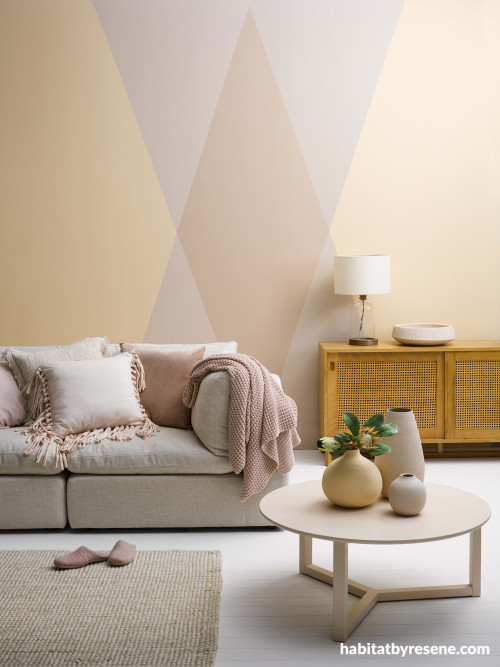 Note how there are few colours the same here, but the room works together as a whole. This scheme uses Resene Tequila in the side diamonds; Resene Just Right on the left triangles; Resene Cashmere on the centre diamond, and right triangles in Resene Alpaca. The floor is Resene Umber White, the table is Resene Bone, the small vase is Resene Alpaca., the medium vase is Resene Tequila and the tall vase and large round bowl are in Resene Just Right.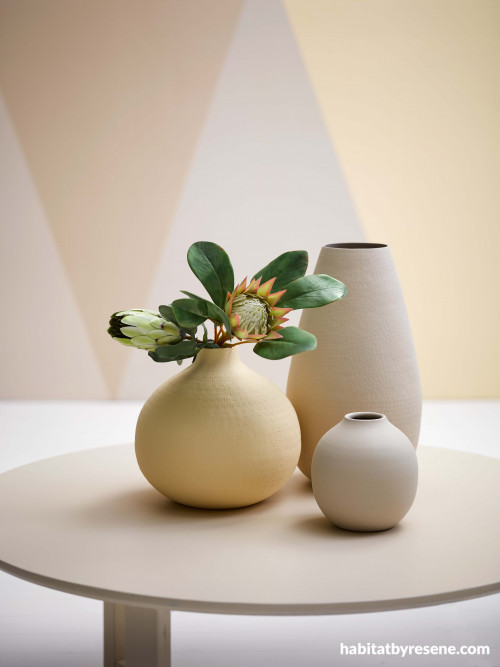 Organic shapes in varying tones work nicely against the sharp angles of the diamond design. The small vase is painted in Resene Alpaca, the medium vase is Resene Tequila and the tall vase is Resene Just Right.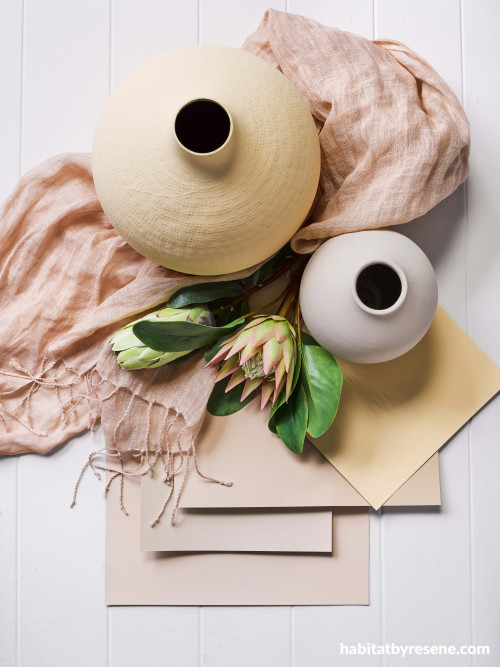 Floor in Resene Umber White, medium vase in Resene Tequila, small vase in Resene Alpaca, and A4 drawdown paint swatches are from top, Resene Tequila, Resene Cashmere, Resene Just Right and Resene Alpaca.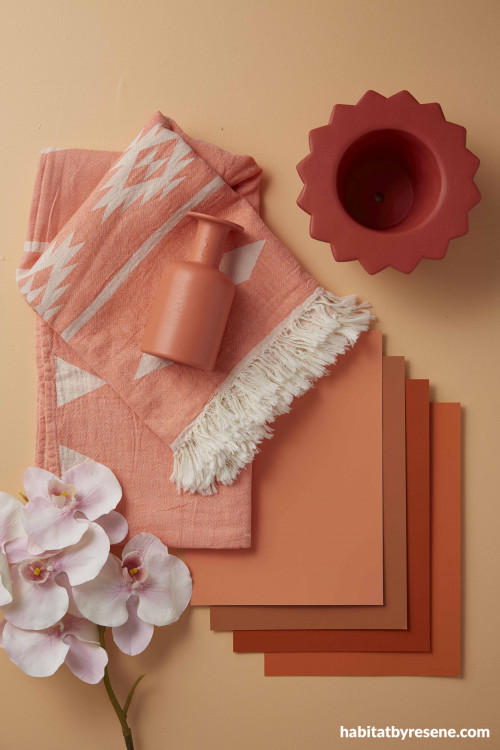 Layers of burnt orange and apricot inspire a feeling of warmth and sun. The background is Resene Tacao, and the A4 drawdown paint swatches are, from top to bottom, Resene Ruby Tuesday, Resene Tuscany, Resene Rock Spray and Resene Ecstasy.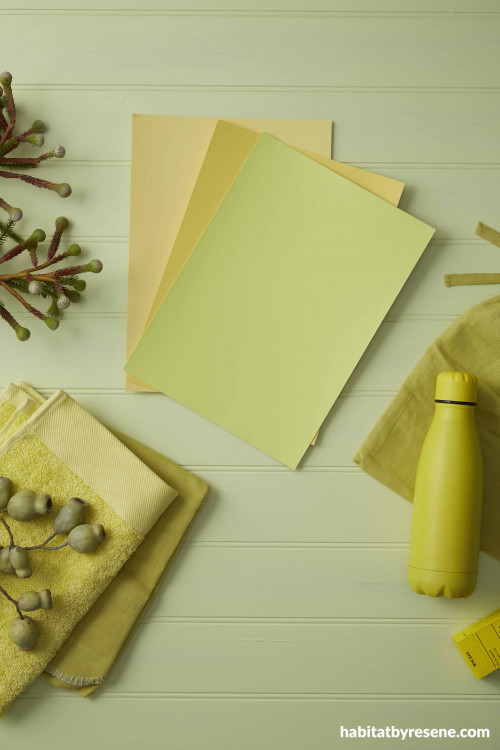 Tones of citrus give a fresh vibrant feel. The background is Resene Geneva, the A4 drawdown paint swatches are, from top to bottom Resene Sublime, Resene Energy Yellow and Resene Sweet Corn.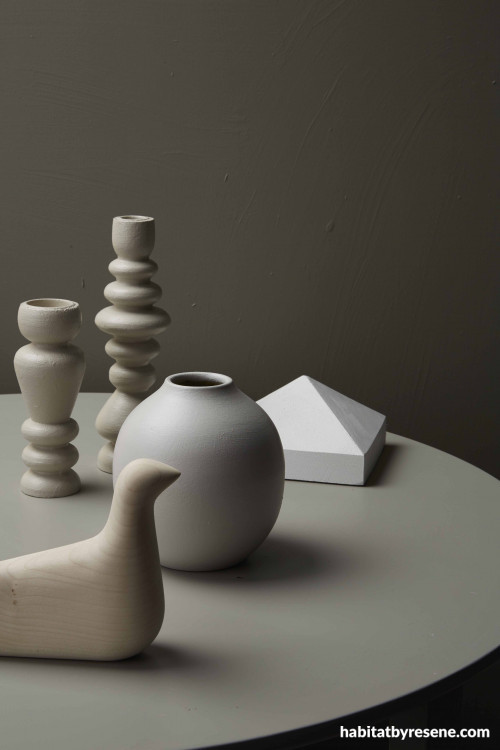 On-trend warm neutrals in different tones and textures. The background here is Resene Triple Friar Grey, the table is Resene Friar Grey, the candlesticks are Resene Cougar, the vase is Resene Cloudy, and the corbel is Resene Eighth Truffle.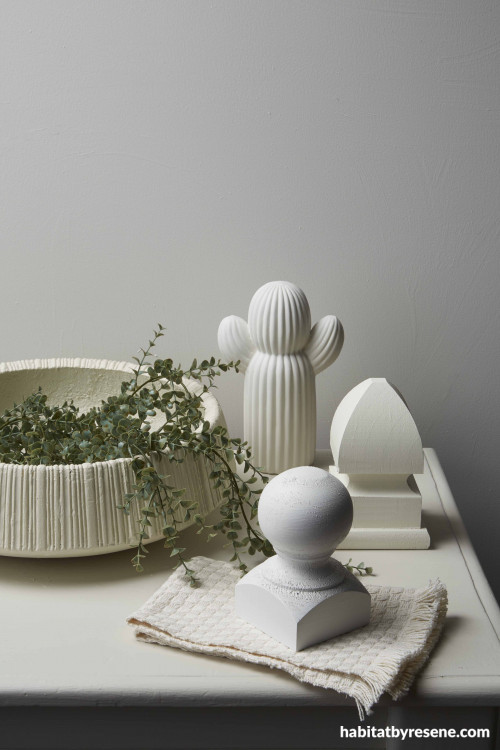 Different tones of warm white add depth and texture to a classic monochrome palette. Here the background is Resene Eighth Tea, the table top is Resene Half Tea, the wide bowl is Resene Spanish White, the pointed post cap is Resene Pearl Lusta and the round post cap is Resene Half Barely There.