►
◄
latest
habitat tv
blog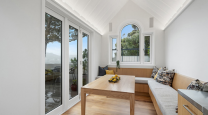 Master Builders' Chief Executive David Kelly shares his tips for building in the challenging climate.

Planning... more
48 hour bedroom updates that will transform your home
Two days is all it takes to revive your bedroom with a lick of Resene paint and a whole new style. These bedroom upgrade ideas have a small budget and a big impact, helping you paint the weekend away without breaking the bank.
While a newly painted bedroom is sure to bring you joy, the act of painting itself is also good for the soul. Studies have shown painting activates feelings of relaxation and creativity, supporting mental wellbeing and boosting your mood. Over the years, painting and renovating have become more journey-oriented. We're no longer solely concerned with the final product, but with the creative journey we go on to get there.
The bedroom is a place of relaxation and most of us will spend approximately a third of our life sleeping. While it's great to do up the living areas of your home to impress guests, remember to take some time, even just a day or two, and treat yourself to a little bedroom update that could have a massive impact on your life.
Bed, white, and blue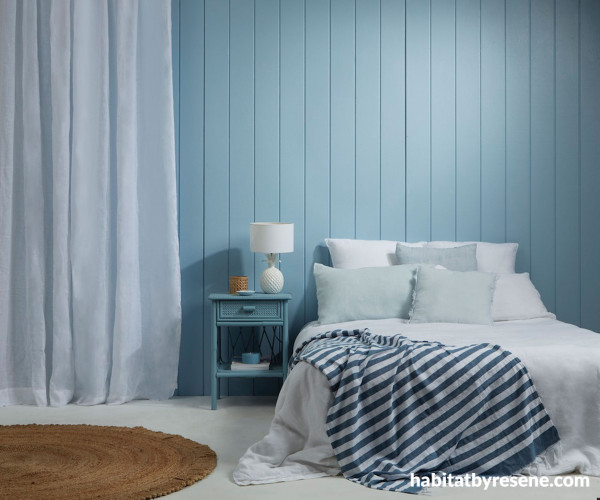 This bedroom will have you in Hamptons heaven with its elegant yet relaxed look. The walls are in Resene Frozen and the floor is in crisp Resene Alabaster. The bedside table continues the beachy theme in Resene Bali Hai and the rattan chair in Resene Casper. Artwork in Resene Bali Hai and Resene Alabaster. Project by Vanessa Nouwens. Image by Bryce Carleton.
Change your stripes with this Hamptons-inspired look and achieve the perfect balance of trendy and relaxed. Depending on the style of your home, you can dress it up or down to create a seamless flow between rooms. For villas, baches and cottages, try incorporating earthy tones through your rugs and vases. Choose a soft grey blue, such as Resene Duck Egg Blue, and pair it with pale sand tones for a seaside sensation. If your home has a more modern style, dress up the room with a chest of drawers painted in crisp Resene White and incorporate brass or gold accents into the handles or lighting. Use a deep blue, such as Resene Indian Ink and a crisp white such as Resene Alabaster for a rich and sophisticated look. If you have interior cladding or a board and batten wall and want to take the Hamptons looks even further, paint each alternating board in Resene Frozen, with Resene Alabaster on the remaining boards.
Thrifty tip: If you're on a tight renovation budget, rather than splashing out on new furniture try upcycling the décor you have. Existing wicker furniture painted in Resene Sea Fog creates a great beachy theme or try upcycling a classic wooden bedside table with Karen Walker Chalk Colour finished with Karen Walker Vintage Wax from Resene ColorShops for a shabby chic look.
Serene with green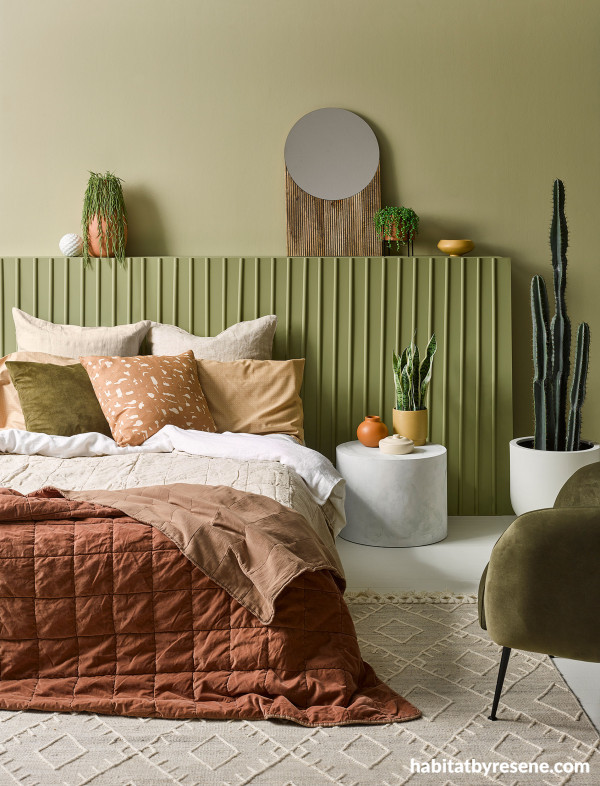 This nature-inspired room uses Resene Stone Age on the upper wall and Resene Wilderness on the lower batten wall. The floor is in Resene Green White and the side table is in Resene Alabaster with a marble effect in Resene FX Paint Effects medium coloured with Resene Rolling Stone.
Be inspired by nature with this trendy colour update. Deciding on your colour palette is the perfect place to start a bedroom renovation. Choose warm colour scheme that works well with various types of décor and helps you to embrace your nature-loving side. Colours with warmer undertones such as yellow and green are best for this look; think warmed up Resene Tulip Tree or take a walk in the forest with Resene Wilderness. Paint your headboard a darker shade of the wall colour to add dimension to the room. Finish the room with natural elements and colourful layered textiles. For a more casual and collected atmosphere, try incorporating timber shelves or a floor stained in Resene Colorwood Natural.
Thrifty tip: If you're not ready to abandon your white walls, creating a headboard in a bright colour such as Resene Wasabi is a great way to add character and on-trend colour to a neutral room. Using painted battens for your headboard can add interest and texture to the room and save you from the expense of covering the entire wall in battens.
Snow place like home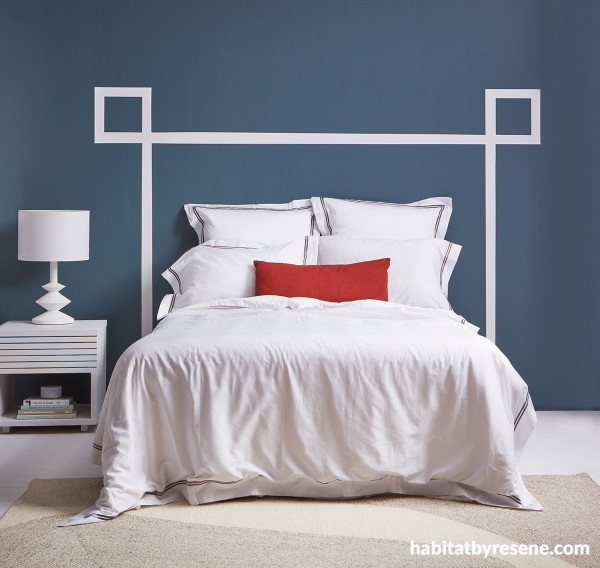 This trendy hotel-inspired room has a wall in Resene Atomic with a painted design in Resene Half Concrete. The grooved floor and bedside table are in Resene Half Concrete. Project by Laura Lynn Johnston. Image by Wendy Fenwick.
Go on a winter getaway without leaving the comfort of your bed. Turning your bedroom into a hotel-inspired retreat is about as luxurious as you can get and using deep Resene colours adds a touch of glamour. Create a minimalist-style headboard with a masked pattern that will add interest to your bedroom without overwhelming the space. Other designs you can try include a striped wall, a diamond pattern or a stylised mountain mural. For best results, use a deep, rich base colour such as Resene Atomic or Resene Indian Ink, with detailing in a bright white or grey. Keep your hotel inspired bedroom simple with minimal décor and crisp but comfortable bedding. For bed-spiration, check out the Resene Living range at Briscoes.
Thrifty tip: Using your leftover paint will not only save you money, you'll also be doing your part for the environment. Create a cohesive space and use your leftover paint to create accent features or colour your furniture. For example, if you've tried out the above wall design in Resene Half Concrete, use Resene Half Concrete to repaint lampshades to bring them into the room's colour palette.
Headboard heaven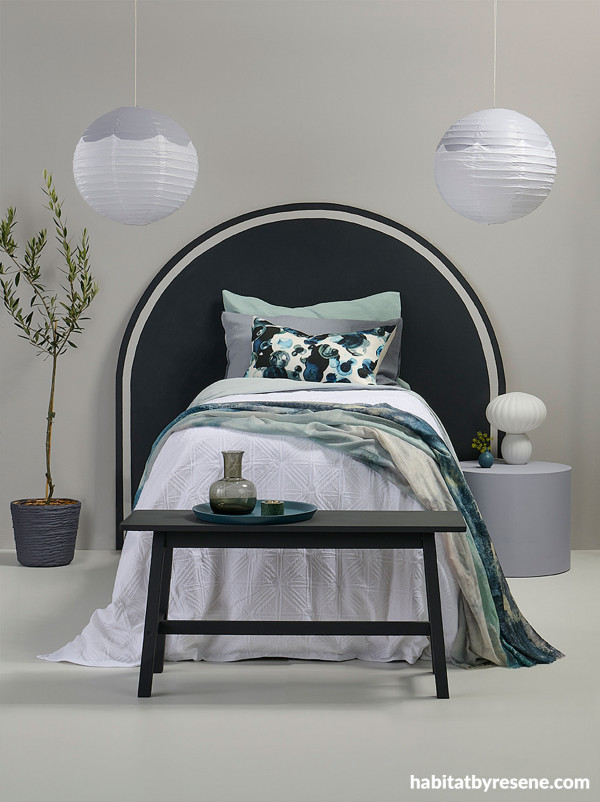 This moody Grecian bedroom pairs walls in Resene Rakaia with lighter Resene Quarter Rakaia on the floor. The striking headboard and bench are in Resene Shark with a round plinth side table and lampshades in Resene Santas Grey. Project by Melle van Sambeek. Image by Bryce Carleton.
Choosing bedroom themes and colour schemes can be a little overwhelming sometimes, so we've come up with a few tips to get you on the right track. Choosing a theme from history, such as a Grecian chamber or 70s alcove, will automatically give you a colour scheme to work with. Alternatively, choose a favourite piece of colourful décor, such as a headboard or chest of drawers, and upload a photo to the Resene Colour Palette Generator, www.resene.com/palettegenerator, to determine a palette of similar colours that will work well in the space. A cool grey or white colour palette has the potential to look harsh, so bring in a touch of softness with a curved headboard. Try painting this stylised décor with pastel colours such as Resene Duck Egg Blue or Resene Stone Age. These muted colours, combined with the curved shape of the headboard, will soften the room and add a sense of movement.
Thrifty tip: Select a flexible colour palette that you can use again and again by using neutral colours on your walls. Depending on the accent colours that you choose, mid-tone greys such as Resene Rakaia can instantly be made to feel warmer or cooler.
Pick all the boxes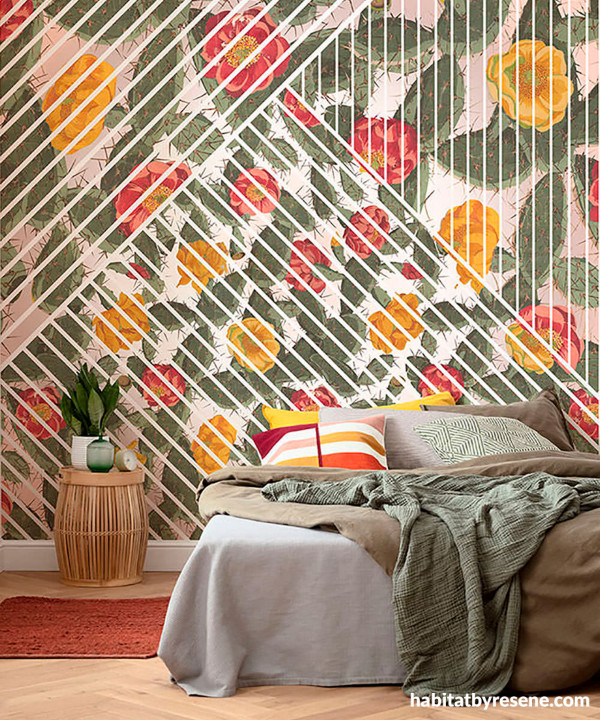 Resene Wallpaper Collection HX6-042 is a modern take on cottage wallpapers, with clean stripes creating a great sense of movement in this bedroom. Pair it with flooring in Resene Colorwood Natural and trim in Resene Alabaster.
Cottagecore is a big interior trend with rooms inspired by country whimsy and floral softness. Embrace idyllic rural life with floral wallpaper and colourful décor to match. But cottagecore isn't just about the flowers. Put a modern twist on traditional with this bright Resene Wallpaper Collection HX6-042. The cacti add a point of difference and the sharp white lines add a modern touch, while also giving a subtle nod to the popular use of stripes and gingham in the 1800s. With such vibrant wallpaper, it's best to keep décor to a minimum. Pull out earthy colours from the wallpaper, such deep greens or pops of yellow, and include them in the décor you do have to create striking accent pieces. Embrace the timber grain and strip your floors back to the bare wood and stain with Resene Colorwood Natural. Finish the look with a crisp trim in Resene Alabaster.
Thrifty tip: Investing in good quality faux or dried flowers for your cottagecore bedroom can save you the trouble, and expense, of constantly replacing live flowers down the line. If you're after a change, just repaint the vase to match the seasons and boom: colourful blooms all year long.
Published: 07 Jul 2021
Do you have a home full of wonderful Resene paint and colour? Send us some snaps by emailing [email protected].
the look
If you're stuck on what
colour to use or need colour
advice, try out the Resene
Ask a Colour Expert service.