►
◄
latest
habitat tv
blog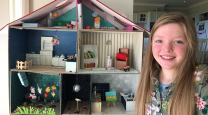 Try these home office ideas for a stylish working nook
The adage 'dress for success' is also true of office nooks. Having a work space at home that's organised and conducive to your practice, projects and thought processes is a recipe for good things, especially when that space is part of a larger room and often feels like just an accessory.
To this end, we've put together five room ideas to help you make your office nook more than an add-on. With their careful balance of work and play, these looks are sure to inspire your next refresh.
Published: 18 Nov 2020
Do you have a home full of wonderful Resene paint and colour? Send us some snaps by emailing [email protected].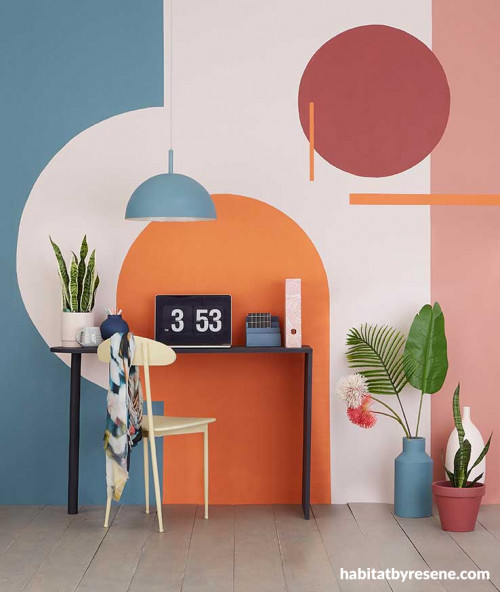 Wall inResene Soothe, mural arch and lines inResene Sebedee, mural circle inResene Merlot, mural stripe (at far right) inResene Coral Tree and other mural shapes (at left, top and bottom) inResene Streetwise. Floor in Resene Colorwood Mid Greywash, desk inResene Jaguar, chair inResene Yuma and plant pot inResene Coconut Cream. Furniture stylist's own.
Wall inResene Wishing Well (withResene Influential and Resene Time After Time feature), floor inResene Colorwood Mid Greywash and side table inResene Half Tea. Large rounded vase inResene Soulful and small ribbed vase inResene Cleopatra. Rug and table from Freedom Furniture, art by Emma-Kate from Endemic World, lamp from Nood, throw from Kmart.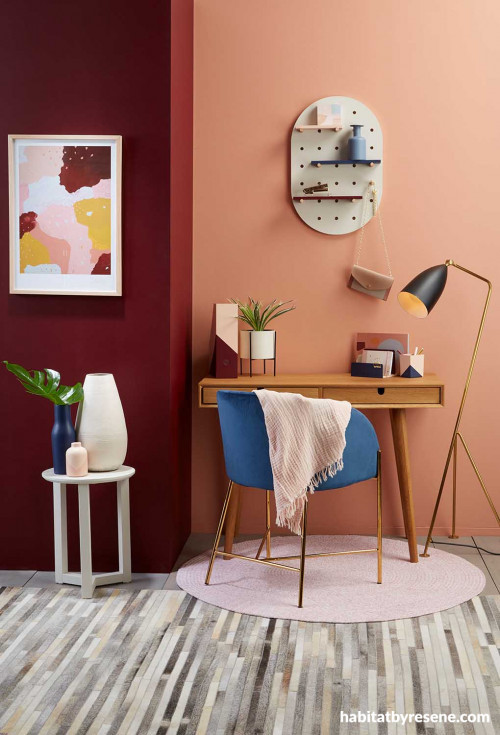 Walls inResene Just Dance andResene Smoulder. Floor inResene Colorwood Mid Greywash and peg board inResene Half Tea with Resene Shilo, Resene King Tide andResene Smoulder. Side table inResene Half Tea, large round vase in Resene Shilo, tall carafe vase inResene King Tide, pencil cup inResene Shilo with Resene King Tide and plant stand inResene Smoulder. Desk, chair and lamp from Freedom Furniture, rug from Kmart.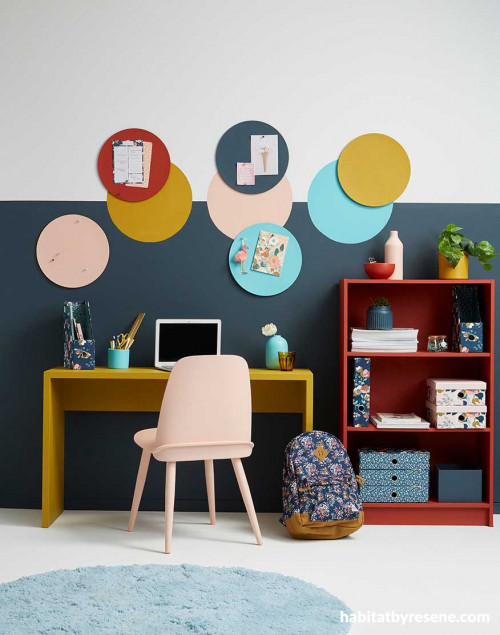 Lower half of wall inResene Coast and top half of wall inResene Poured Milk. Floor inResene Poured Milk, desk inResene Influential, chairs inResene Yes Please andResene Shilo and bookshelf inResene Raging Bull. Mini drawer unit (inside bookshelf) inResene Poured Milk,Resene Yes Please,Resene Coast andResene Influential. Pencil pot inResene Yes Please,
Wall inResene Moonlight and tongue-and-groove panelling inResene Untamed. Shelf (on top of panelling) inResene Noir, floor inResene Colorwood Mid Greywash and spare chair inResene Moccasin andResene Noir. Hooks inResene Moccasin, pencil holder inResene Moccasin, tall textured vase inResene Moccasin, round dimpled vase inResene Mystery, low plate (with apple) inResene Family Tree, table inResene Noir withResene Family Tree legs and chair inResene Pohutukawa. Desk and rug from Freedom Furniture, throw from Nood, pencil holder and hook set from Kmart, art by Contour Creative Studio from Endemic World, purse from Miniso.
the look
If you're stuck on what
colour to use or need colour
advice, try out the Resene
Ask a Colour Expert service.
the look
If you're stuck on what
colour to use or need colour
advice, try out the Resene
Ask a Colour Expert service.