►
◄
latest
habitat tv
blog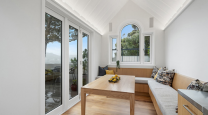 Master Builders' Chief Executive David Kelly shares his tips for building in the challenging climate.

Planning... more
Try these on trend hues to paint your space with positivity
With many of our best laid plans long since out the window, we've hunkered down at home and rediscovered a love for making the most of what we have. From baking to crafts to painting, we've all been reminded how much we can achieve ourselves when we allow ourselves time.
Our mission is now one of care; both for ourselves and our greater community – and we need colour trends, inspiration, ideas, rooms and spaces that embrace this. More than ever, there is a desire for soothing and calming spaces in our homes, but we also need spaces that are stimulating to spend time in – much more time, perhaps, than we might be used to.
In our fast-paced world and 'always on' culture, most of us yearn for ways to disconnect. The stress we are exposed to each day can easily become overwhelming, and it influences the way we feel about our homes. Recent developments have brought a major shift in how our homes are being used. From a place to sleep, eat and take a shower, our personal space has now, once again, become the most meaningful place in our lives: one that may also have to do double-duty as a workplace but still needs to facilitate rest and rejuvenation.
Now that we have become aware of the significance of creating a healthy and nurturing environment for us to withdraw and recuperate, decluttering, slow decorating and maximising the available natural light have also come into focus. Decorators are turning away from the 'fast fashion' approach to interior design and prioritising investments in furniture and decor. To create a stimulating environment where you can express your authentic self, it's no surprise that many are turning to items with a story behind them. A rediscovered appreciation for less than perfect pieces, raw, handmade and vintage furnishings sees us seeking expressive art and adopting folk motifs into our homes. And we're embracing the old and redecorating to make old 'new' again with finishes like Karen Walker Chalk Paint and wax. With a little effort one piece of furniture can be invented as often as you like with new paint and colour.
For many, a few touches of cheerful colour have livened up living spaces, for others a cheerful front door in a favourite bright hue now provides an uplifting welcome home. For others, fresh colour has provided a much needed oasis of calm in amongst the chaos. Colour has a powerful way of lifting the spirits, even on the darkest days, and reminding us all that we can always make more of what we have already.
Here's a taste of the latest in colour and decorating trends to help inspire your next project.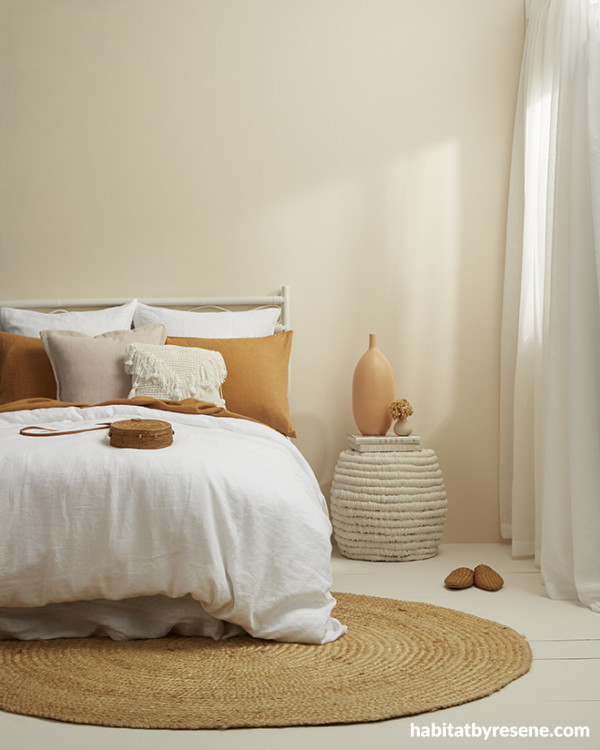 Different character neutrals can easily be layered with one another if they share a similar undertone. Wall in Resene Eighth Canterbury Clay, floor and headboard in Resene Eighth Joss, side table in Resene Parchment and vase in Resene Beethoven. All props from Mood Store.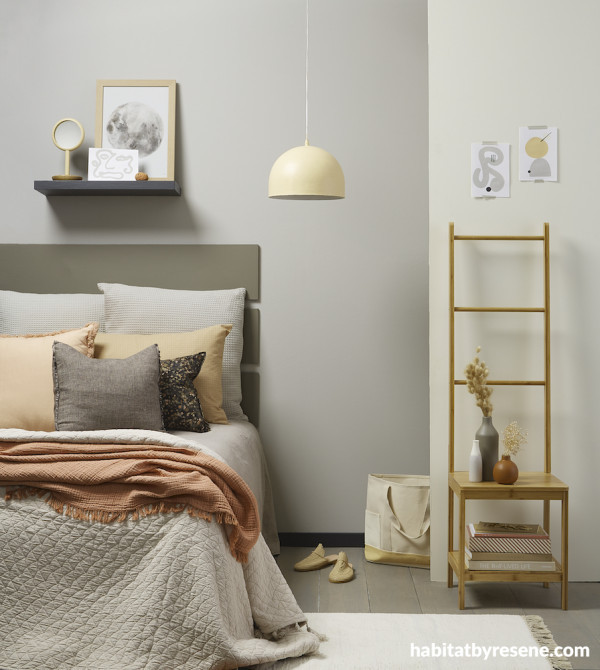 Greige, which is – as its name suggests – a mix of grey and beige, is a gorgeous hue for grounding a bedroom. Pick it up with a few pops of apricot to add character and interest, such as Resene Corvette on this pendant lamp, mirror and tote bag bottom. Back wall in Resene Eighth Stonehenge, right wall in Resene Half Gin Fizz, floor in Resene Colorwood Mid Greywash, slatted headboard in Resene Double Stonehenge, skirting board and shelf in Resene Ebony Clay, vases on chair in Resene Double Stonehenge (tall), Resene Half Barely There (medium) and Resene Cinnamon (small). Duvet cover, pillowcases, quilted bedspread, mirror, rug and canvas tote bag from H&M Home, waffle throw, cushions and slippers from Collect Living, art print by George Sands from endemicworld, chair from Kmart.
Slow down with soul
Given the efforts to turn our spaces into more relaxing places to spend time, we're embracing living a more clutter-free and thoughtful life.
Those looking to bring a truly contemporary look to their homes can look to what we've come to call 'character neutrals' – hues with soul, which are much more intriguing than your typical true neutral and are anything but flat. Look to nude and mushroom taupe, terracotta, greige and warm stone grey as the base of your colour scheme, which will bring that little extra 'something' to your space thanks to their subtle undertones.
Even whites have gotten creamier and those that feature more colourful undertones have become desirable for their inherent simplicity that can also be manipulated with different types of lighting. Resene Thorndon Cream – a timeless cream that shifts dramatically richer and deeper as the sun sets – is a reigning favourite for this reason. Try it with beige neutrals like Resene Double Tea, blackened whites like Resene Alabaster or deep dusk greens like Resene Warrior.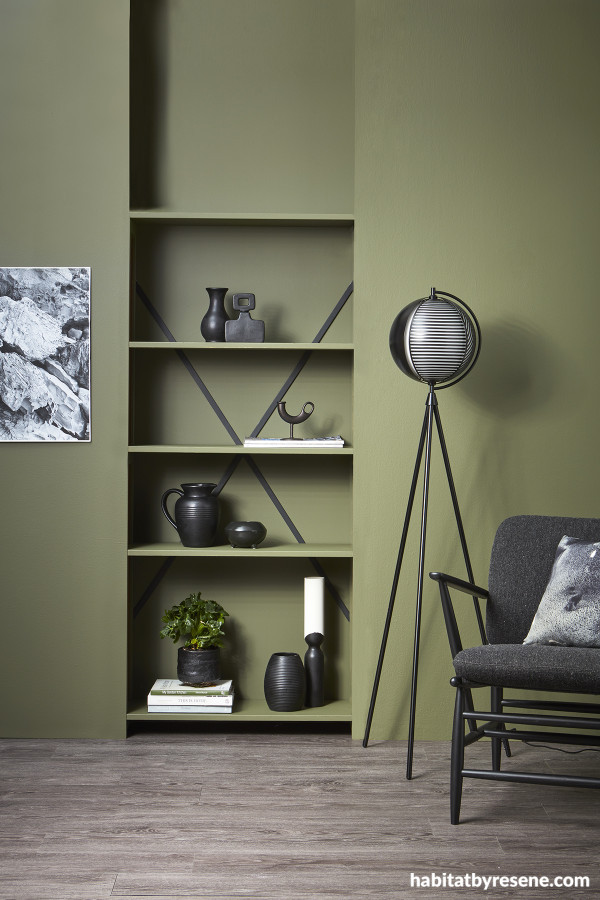 Wall and shelf in Resene Kelp and floor in Resene Colorwood Dark Ebony timber stain. Accessories painted in Resene Nero. Lamp and chair from Good Form.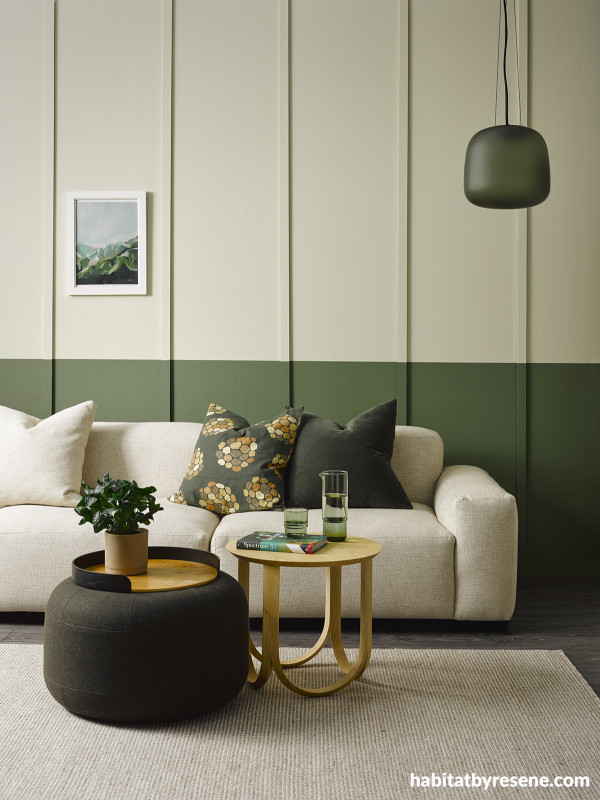 Upper wall in Resene Zen, lower wall in Resene Woodland, floor in Resene Colorwood Dark Ebony timber stain. Furniture, rug, pendant lamp, table top accessories and cushions from Citta.
Back to nature
While nature itself has long been a common inspiration for home décor, woodland tones including silvery sages such as Resene Bud, muddy stone greys like Resene Nomad, jades like Resene Palm Green and olive greens such as Resene Saratoga are among the most popular trending hues.
Luckily, these shades are all suitable for building tonal looks – an approach which is still very much on trend. Since tone-on-tone schemes are built on layering, the more you add, the more the whole scheme will hang together. The trick is to pick hues that complement with enough variation to keep things from becoming completely homogenous – and earthy greens like Resene Rivergum and Resene Mangrove are particularly excellent to work with when you're trying to create a serene space but don't want it to lack in interest or contrast.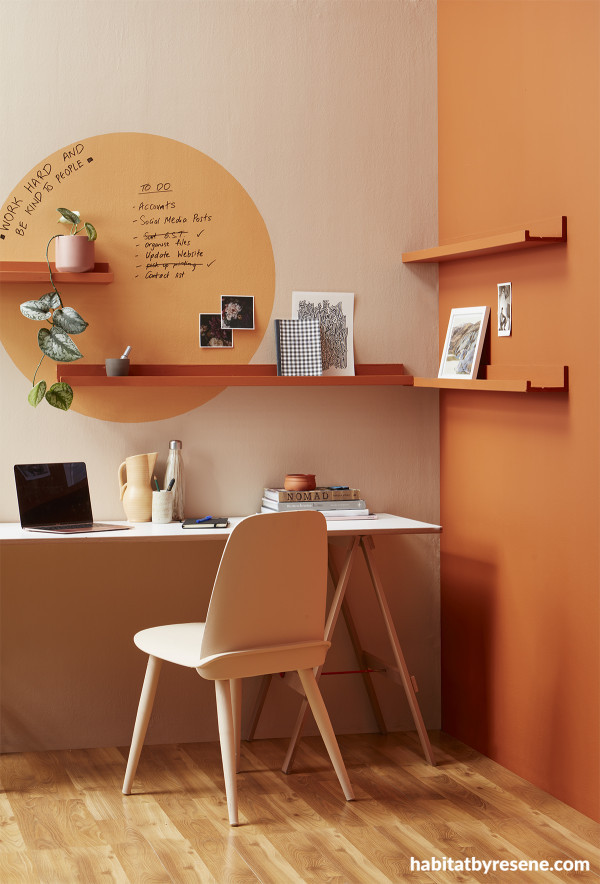 Bitter oranges are a trending colour that's really heating up. Last year, we saw shades like Resene Alert Tan primarily on accessories. Today, the trend has progressed to see these hues used in much larger doses. Back wall in Resene Sour Dough with whiteboard circle feature in Resene Whiskey Sour topped with Resene FX Write-on Wall Paint for a coloured whiteboard, floor in Resene Colorwood Natural timber stain, right wall and shelving in Resene Alert Tan, deck legs in Resene Leather and chair in Resene Sour Dough.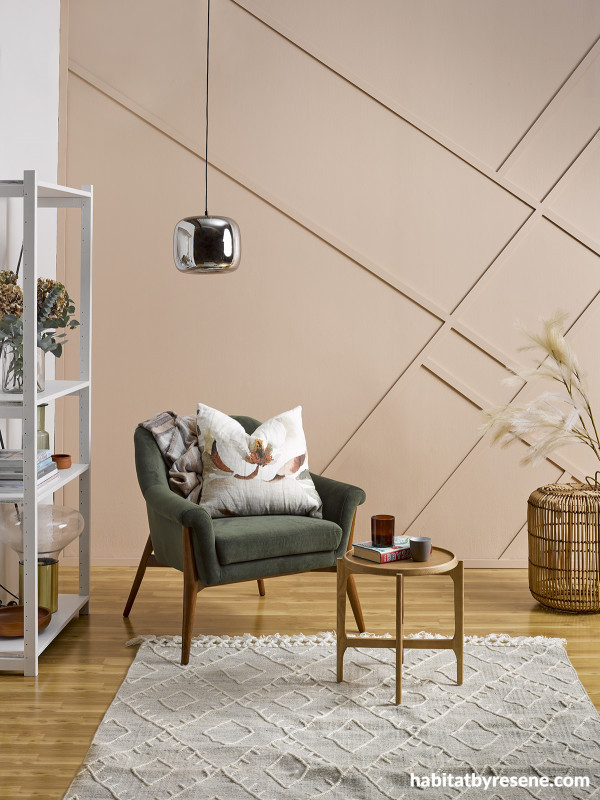 Back wall in Resene Cashmere, left wall in Resene Alabaster and floor in Resene Colorwood Natural timber stain. Rug, chair, cushion, lamp and tables from Freedom Furniture.
Dawn to dusk
For elemental, nature-inspired colours with a truly contemporary feel, dusty desert and terracotta hues simply can't be beat.
Seemingly baked with heat, these rosy earth hues are inherently cosy and lend themselves well to lounges and other rooms you like to linger in. Browner shades are becoming the variation of choice over the earlier pinker versions meaning deeper clays like Resene Desperado, Resene Redwood or Resene Hairy Heath are the ones to watch. Whether you use them in small doses or splash them around liberally, they're extremely effective at grounding a space. Try them with a soft olive like Resene Double Tana, a rich blue-green like Resene Deep Teal or a violet grey like Resene Bastille.
Layer desert-like shades together to create a tonal sunset effect. Try combining Resene Crail, Resene Sante Fe, Resene Cashmere and Resene Burnt Sienna for a toasty look fit for a casual living room. For something completely different, team your favourite terracotta with a celery white like Resene Arrowroot and add a pop of a vibrant cerulean blue such as Resene Resolution Blue as a point of contrast.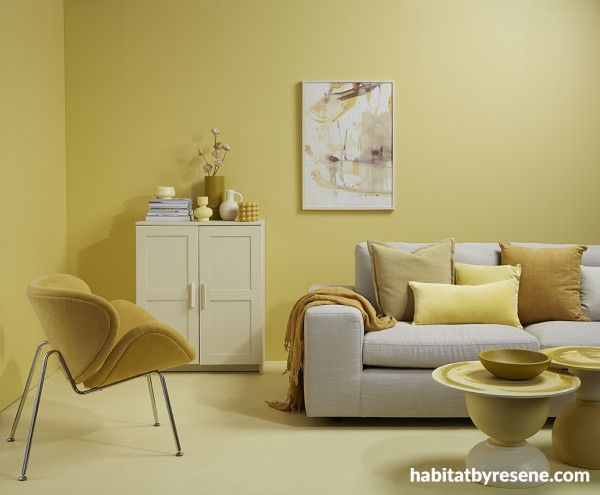 Walls in Resene Chenin, floor in Resene Mellow Yellow, sideboard in Resene Double Spanish White, coffee tables and small accessories in Resene Stinger, Resene Mellow Yellow, Resene Chenin, Resene Gin Fizz, Resene Laser, Resene Golden Sand and Resene Double Spanish White and picture frame in Resene Blank Canvas. Sofa from Freedom Furniture, chair from Nood.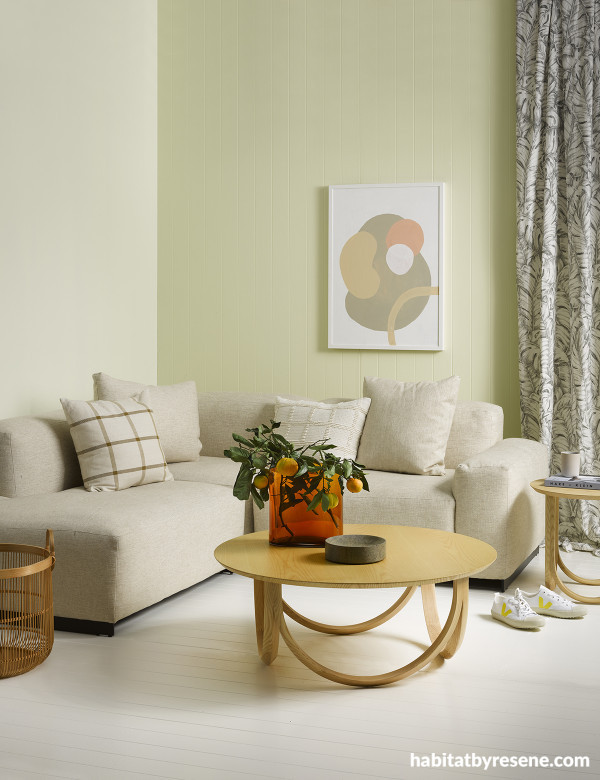 Fresh and summery, this living room soothes with walls in Resene Moon Glow (left) and Resene First Light (right) and a floor in Resene Orchid White. Sofa, coffee table, side table, basket, vase and cushions from Citta.
Sunny side up
If you're looking to adopt a more optimistic mood in your home, look to rich warm colours, bold patterns, shapes and textures. Yellows, oranges and reds do the job like no other when it comes to bringing cheeriness and energy to enliven and invigorate a space.
Feel-good hues such as trending sunshiny yellows come as a ray of positivity in a world that is increasingly challenging. According to colour experts, no hue expresses hope and reassurance more than yellow. Building a scheme anchored with soft and buttery shades like Resene Mellow Yellow, Resene Chenin, Resene Essential Cream and Resene Chamois are an easy way to add a refreshing burst of brightness to our homes.
Yellow is also known to bring out the best in other colours. If your current scheme could use a pick-me-up, what better way than with a cheerful corn-coloured cushion, art, picture frame or throw? Use softer shades like Resene Sweet Corn and Resene Manuka Honey as accents to duck egg blues, earthy greys or olive greens like Resene Duck Egg Blue, Resene Schooner or Resene Quarter Grey Olive. Or, stick with classic mustards like Resene Cleopatra or Resene Influential with sapphire blues, greyed whites or coffee browns.
Top tip: Yellows intensify more than any other colour when used inside. Consider choosing a lighter shade of your favourite yellow for large areas. When you test your colour paint it using two coats of a Resene testpot onto large A2 card leaving an unpainted border around the edge. Move it around the space at different times of the day and night to see how it looks. Roll the sample with the colour innermost and look down into the tube to see how the colour will look once all four walls are painted.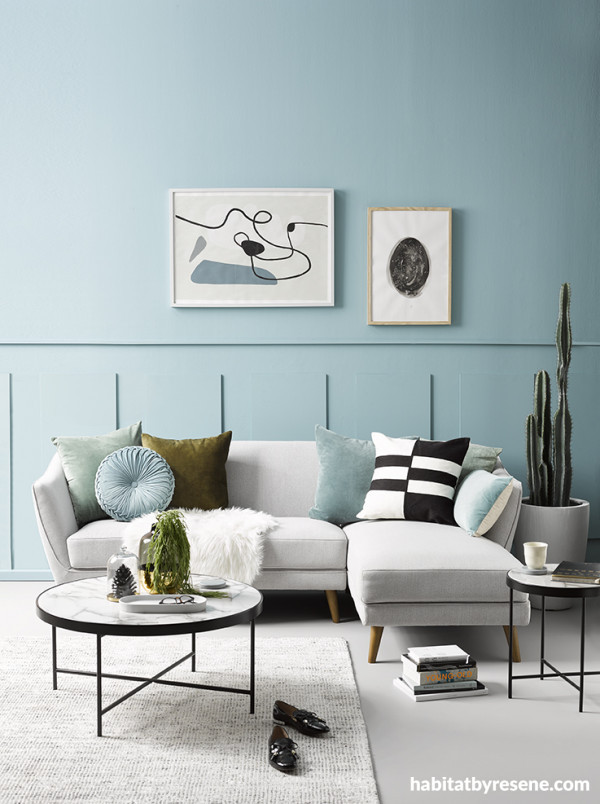 Green-blues are ideal for spaces you want to relax in, such as bedrooms, living rooms and bathrooms. Wall in Resene Ziggurat, floor in Resene Mountain Mist, plant pot in Resene Celeste, coasters in Resene Rolling Stone, oval tray in Resene Half Duck Egg Blue and DIY artwork in Resene Celeste, Resene Blue Bayoux, Resene Rolling Stone, Resene Triple Rice Cake and Resene Nero. Sofa, tables and select cushions from Nood, rug, plants and select cushions from Freedom Furniture.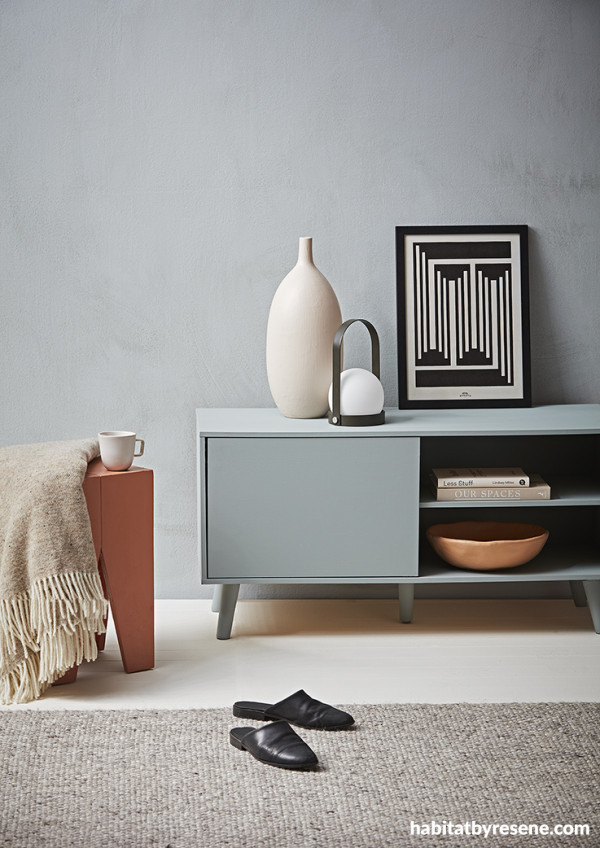 Duck egg blues are timeless, but that doesn't mean they can't be the base of a trend-forward space too. Pair them with accents in a trendy terracotta like Resene Sante Fe on the stool, and Resene Kalgoorie Sands on the bowl, a deeper greyed green blue like Resene Inside Back on the sideboard and finish the look with sharp black and white accessories. Walls in Resene Duck Egg Blue with paint effects finish for visual texture created using Resene FX Paint Effects mixed with Resene Rolling Stone and floor in Resene Half Villa White. Art print from Father Rabbit, rug from Me & My Trend, lamp from Paper Plane.
Colour me tranquil
One of the all-time favourite classic colours has been making a huge buzz: blue. In lives full of busyness and interruptions, light blue helps us filter out the noise and focus on what truly matters.
Whether you have a bach or simply want a similarly casual and comfortable vibe at home, don't look past beach colours that evoke the sea, sky, sand and surrounding scenery to create a soothing space. Try a delicate greyed blue like Resene Half Dusted Blue, a chilled-out ice blue like Resene Oxygen, a sea glass green like Resene Nebula or a cloudy white like Resene Sea Fog. Opting for Resene Colorwood Whitewash or Resene Colorwood Light Greywash on timber elements will give off a softly lived-in look and allow the natural beauty of the wood grain to show through.
Popular blues have also taken on green undertones, with Resene Green Meets Blue, Resene Dark Slate and Resene Jurassic being among the most covetable variations. Try them stone greys like Resene Pale Slate, sharp yellow whites like Resene Rice Cake or soft grey greens like Resene Aspiring. For a pop of interest, bring in small accents of bitter orange, rich ochre or peridot green such as Resene Mai Tai, Resene Pirate Gold or Resene Flourish to finish the look.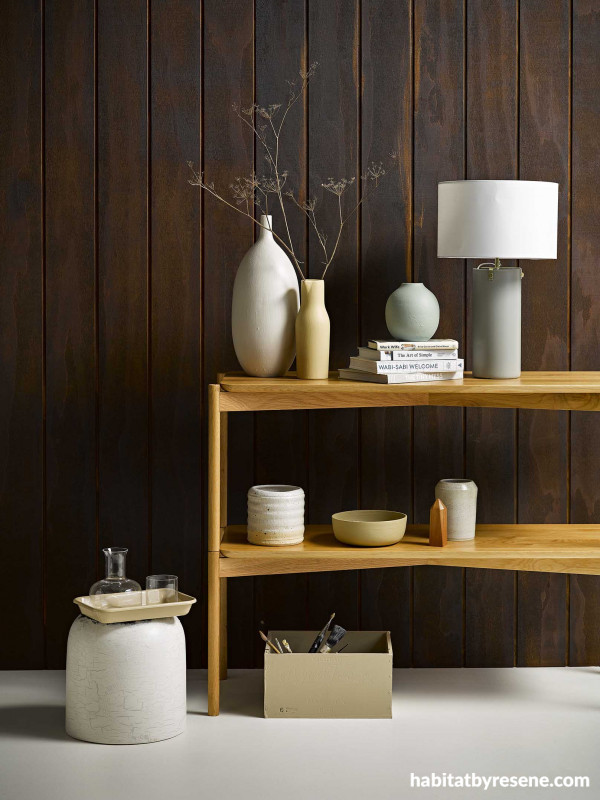 This timber tongue-and-groove panelled wall has been stained in Resene Colorwood Ironbark wood stain. Floor in Resene Quarter Spanish White, tall vase in Resene Canterbury Clay, jug vase in Resene Putty, low bowl in Resene Collins Wicket, plant pot (with tray on top) in Resene Double Pravda, Resene FX Crackle effect and Resene Quarter Fossil, small round vase in Resene Peace, lamp base in Resene Tapa and wooden storage box in Resene Double Pavlova. Shelving unit from Citta, citrus squeezer from Everyday Needs, carafe set from Father Rabbit.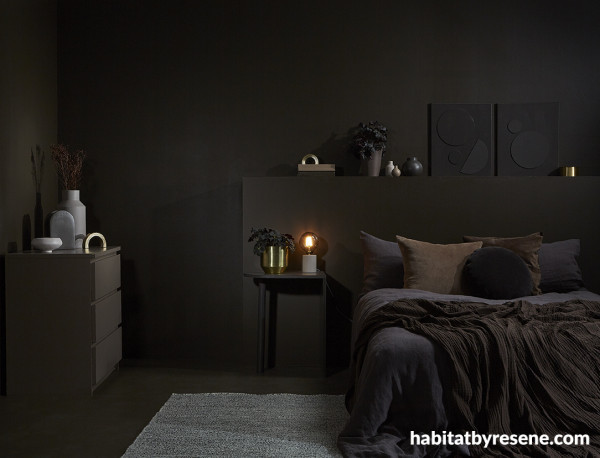 This swoon-worthy bedroom is swimming in tonal chocolate brown and grey tones. Wall in Resene Monkey, floor in Resene Space Shuttle, bedside table and DIY artwork in Resene Kilamanjaro, lamp base in Resene Americano, books in Resene Kabul and Resene Space Shuttle, plant pot in Resene Felix and vases in Resene Kabul, Resene Americano and Resene Monkey. Duvet cover, pillowcases, rug and select cushions from Citta, brass plant pot, throw and select cushions from H&M Home.
Coffee break
Changing times require changing measures. With the popularity of cool greys slowing, colour palettes are showing signs of warming up. Beige and taupe are becoming the 'new' go-to neutrals offering dreamy elegance. The retro obsession of recent years has helped in quietly sneaking in pops of brown décor, but now it seems we've reached a tipping point for chocolate hues to make a bigger splash. The future looks brown – but we promise that declaration is much better than it sounds!
One reason why brown is on the rise may stem from a desire to shift away from the pinker and redder palettes that have been pervasive. Warm terracottas and golden beiges are maturing, and browner tones have begun to come forward as a natural progression of those hues. The overall demand for increased sustainability and our growing need to feel more connected to nature, also makes brown a logical candidate for decorating. This hue previously experienced strong popularity in the early 2000s and in the 1970s, so it's current upswing could also be attributed to a sense of nostalgia for those times.
Brown, according to colour and psychology experts, also stands for stability, reliability and safety. It reminds us of simpler times, recalls ancient rituals and brings to mind a more down to earth lifestyle. Brown is natural, comfortable and familiar and plays well with a wide range of colour schemes.
Unlike certain other colour trends, it isn't just one particular type of brown that's been dominating; cocoa, cinnamon, caramel and creamier coffee colours are all gaining traction. Look to Resene Felix, Resene Hairy Heath, Resene Pendragon and Resene Americano as particularly hot options, but don't rule out bringing in touches of Resene Swiss Coffee or Resene Alpaca and Resene Monkey or Resene Rebel to provide interest and contrast.
When you're looking to incorporate new colour and decorating trends in your home, always remember the golden rule – only bring in those elements that you truly love. Just because something is on trend doesn't mean it is right for you or your home. What's right for you are those colours and those decorating styles that make your heart sing. And don't be afraid to experiment– a dose of colour is can be the perfect pick me up.
For more ideas and inspiration see the latest looks at resene.com/latestlooks and visit your Resene ColorShop.
styling Melle Van Sambeek Gem Adams, Kate Alexander, Amber Armitage, Laura Lynn Johnston, Vanessa Nouwens
images Bryce Carleton, Wendy Fenwick, Melanie Jenkins
Published: 26 Aug 2020
Do you have a home full of wonderful Resene paint and colour? Send us some snaps by emailing [email protected].