►
◄
latest
habitat tv
blog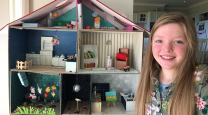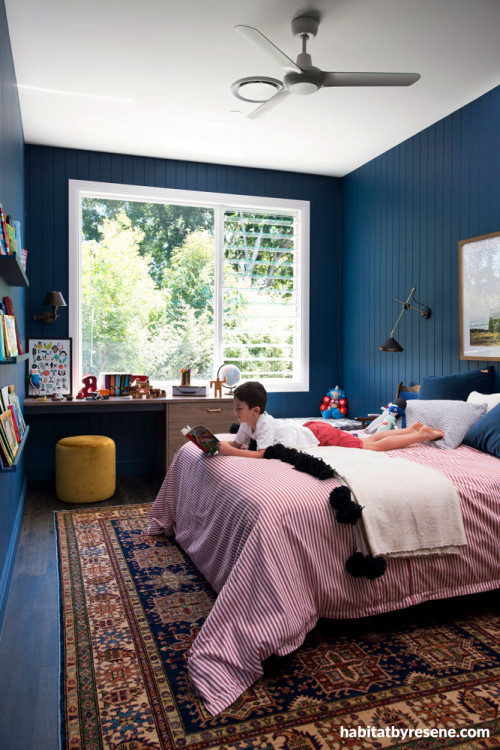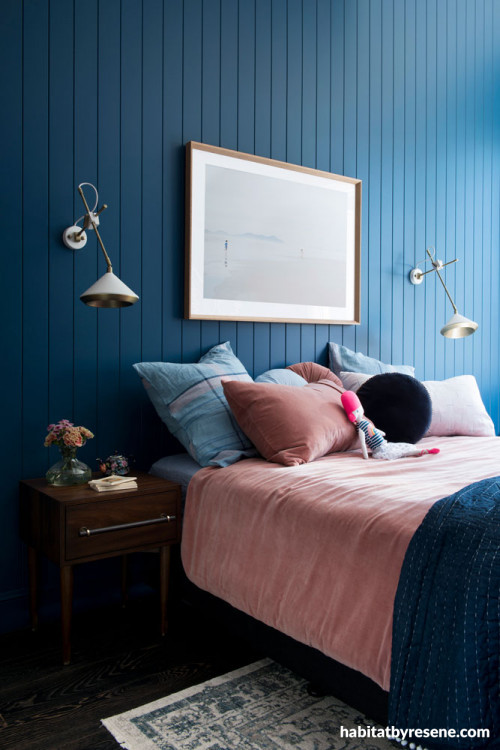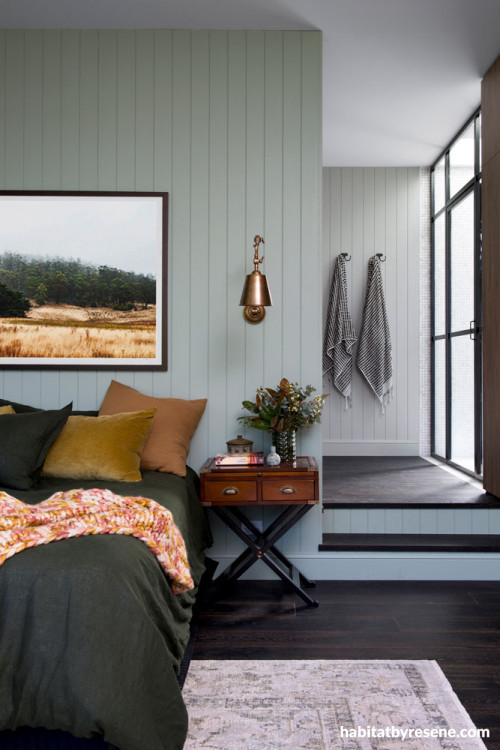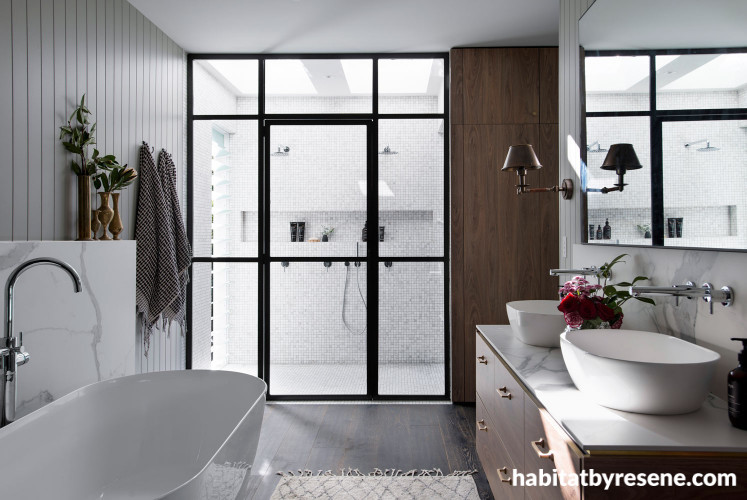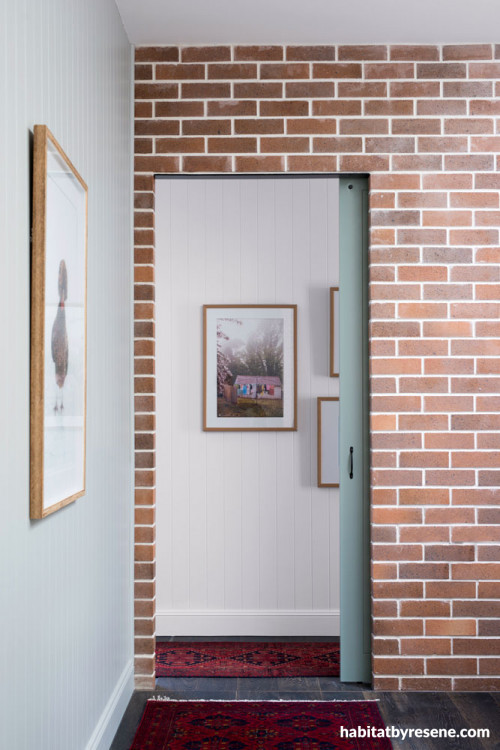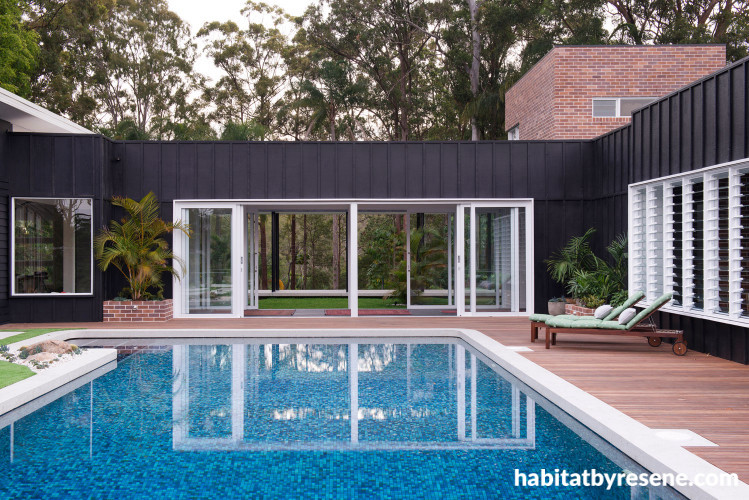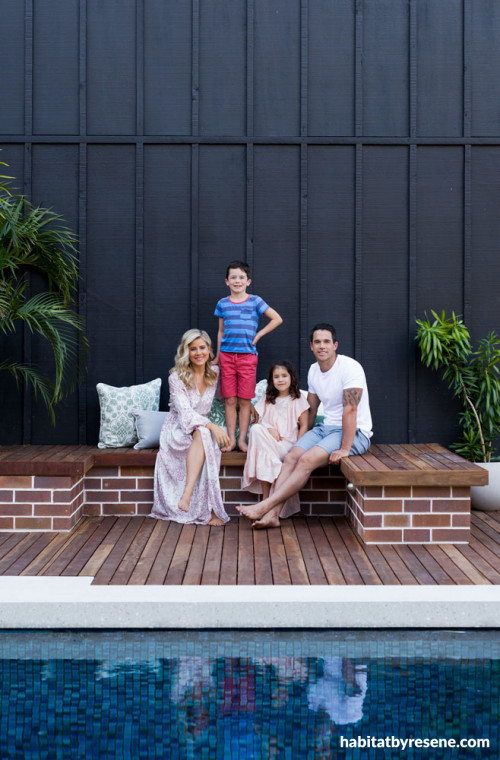 TV couple's stunning renovation
Being part of an intense and demanding reality TV show like The Block might put some contestants off renovating for life. Dynamic Australian husband and wife team Michael and Carlene Duffy seem to have been galvanised by the experience, renovating their home with incredible flair and style in Resene colours… while also parenting Paddy (9) and Stella (7).
The renovating duo made their mark on The Block Glasshouse in 2014 and have more recently hosted the renovation show Ready Set Reno and Open Homes Australia. They also run Cedar + Suede an Australian home renovation, design and styling consultancy service and blog. Their home isn't quite complete but an area they light-heartedly call the West Wing with bedrooms, bathrooms and a breezeway has featured in recent blogs. Here's a room-by-room look at Carlene and Michael's colour choices.
Published: 12 Jul 2018
Do you have a home full of wonderful Resene paint and colour? Send us some snaps by emailing [email protected].
Children's bedrooms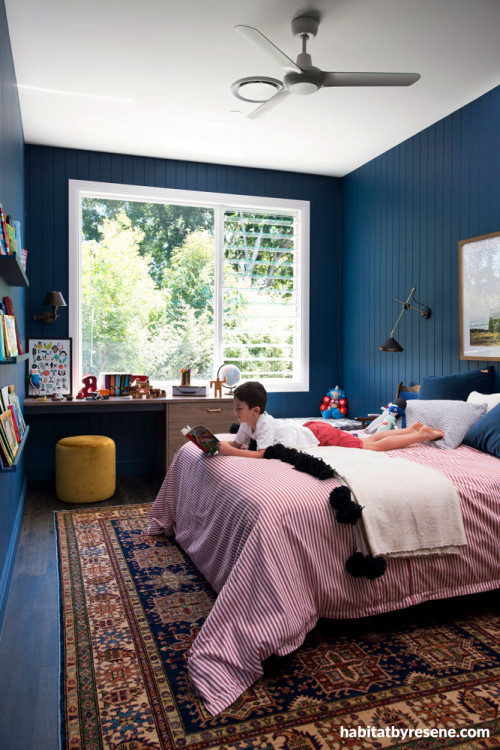 "Paddy's and Stella's bedrooms are mirror images of each other in terms of layout and it felt right to use the same colour, Resene Madison, on the walls on both rooms and use different accent colours to create different looks. As the kids mature, these rooms are going to adapt so easily.
"In Paddy's room the blue, red and white colours are undoubtedly classic but there is nothing cliche about this space. There is enough 'quirky' in here to keep it interesting and unexpected."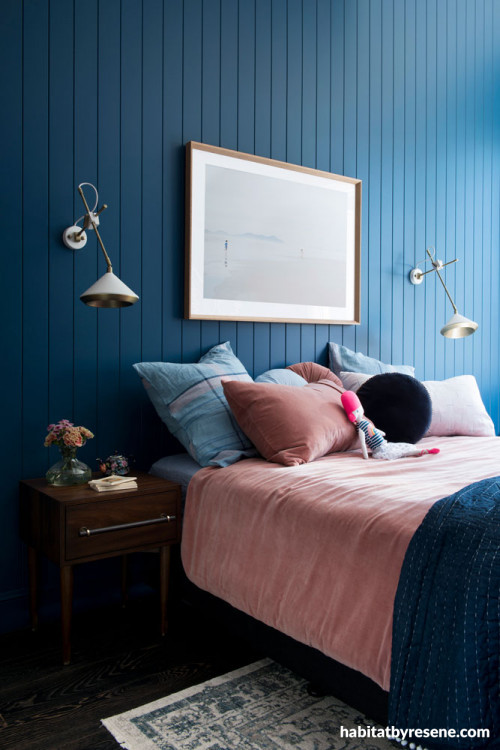 "We painted the Easycraft VJ cladding in Stella's bedroom in Resene Madison and then used different accent colours to create a very different look. For Stella's room, I was drawn to the dusty shade of the velvet pink quilt cover because it worked with the boldness of the wall colour.
"I tested five shades of blue on the wall and let the kids 'choose' their blue. Inverted commas because they think the blue on the wall is the one they chose but it was really the one I chose. They'll never know."
Main bedroom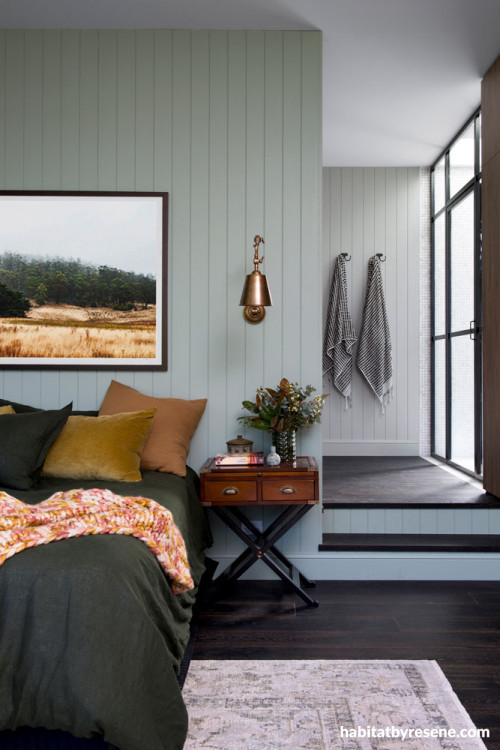 "I genuinely love the result of every room of our home renovation but the master bedroom has got me good. The green on the walls took me a couple of attempts to get right. I learned that testing the colour on plywood is not the same as testing it on the MDF (Easycraft). The first colour I tried came out too bright and was throwing a bit of turquoise. We got it right with Resene Mantle but if you like this colour and plan on using it on plasterboard walls then do a test run because it looks different on different surfaces." The far ensuite wall is painted in Resene Foggy Grey.
The ensuite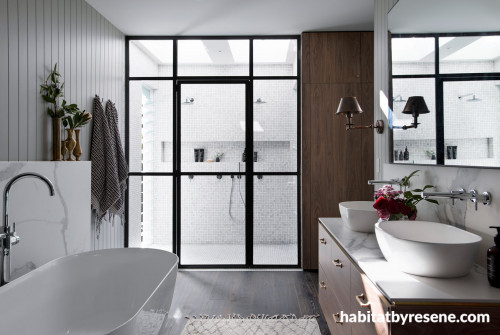 "Our ensuite is probably the most masculine, no-nonsense, toned-down space in our house. It's completely monochromatic, which is something I don't typically do. There are however, some very cool design elements that I wanted to be left alone to shine without adding colour to the mix: the marble splashback, the fine black accents, the aged brass, and the refined organic shapes. The wall colour in here is Resene Foggy Grey and the black of the door and dado rail is Resene Black."
Hallway and breezeway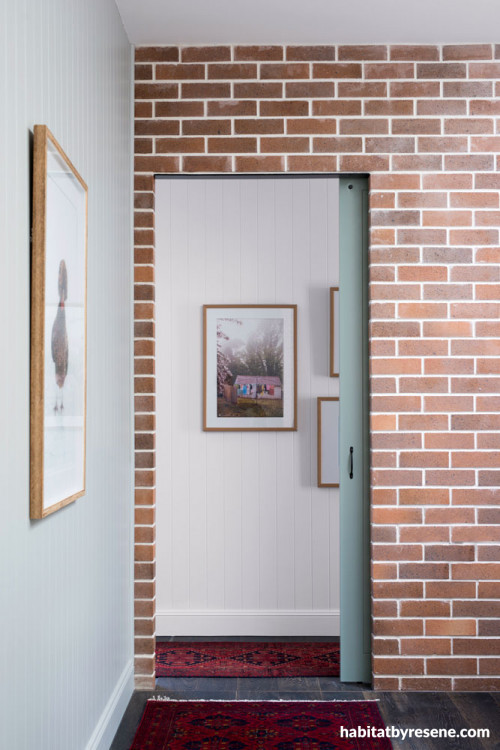 "The hallway and the breezeway are the only rooms to don white walls and we've used Resene Black White, a really crisp, black-based white which means it doesn't throw blues or pinks or yellows. I wouldn't be surprised if I end up painting the skirting the same grey as the bathrooms (Resene Foggy Grey) because the kids are constantly rubbing their feet up against that white and making it grubby. At least, if it's grey I won't see it. All of the internal doors in the house are Resene Blue Smoke."
Exterior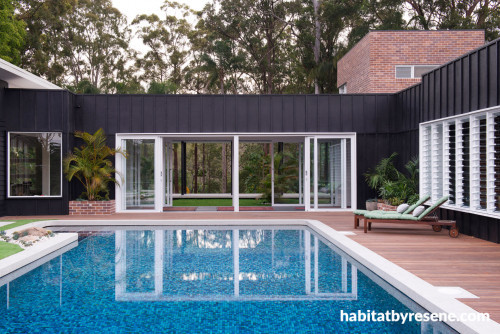 Not really a room but certainly with the house wrapping around a large existing swimming pool and garden, the exterior of the house, in Resene Black, is an integral part of the design.
Says Carlene: "I was nervous about committing to a black house. I loved the idea of it but I'd never seen a black house on this scale or style before… I had nothing to compare it to. The idea was that that there was enough greenery, brick, and glass to absorb the black and more than that, to complement it. There was no other colour that I wanted to bother trying. So black it was and black it is and the black is fab."
Exterior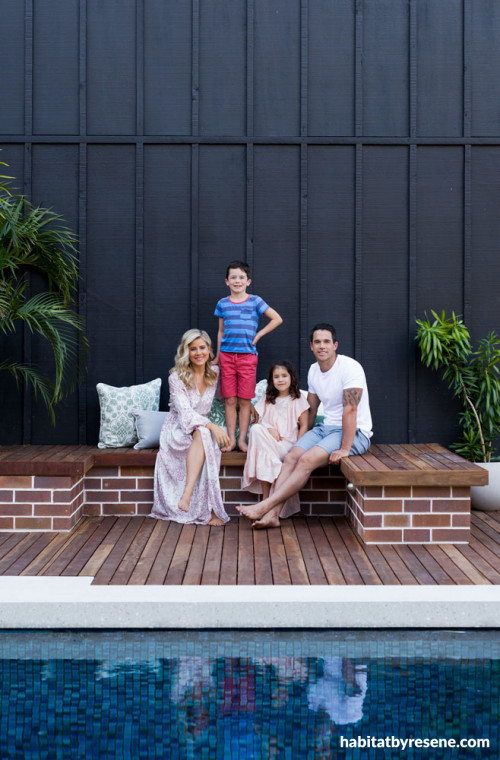 "All paint looks different depending on the surface it's used on," says Carlene, pictured here with husband Michael and kids Paddy and Stella. "Resene Black works so well because of the type of cladding we've opted for - a rough sawn plywood."
For more about Michael and Carlene's business and renovation, see Cedar + Suede.
pictures
the look
If you're stuck on what
colour to use or need colour
advice, try out the Resene
Ask a Colour Expert service.