►
◄
latest
habitat tv
blog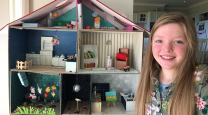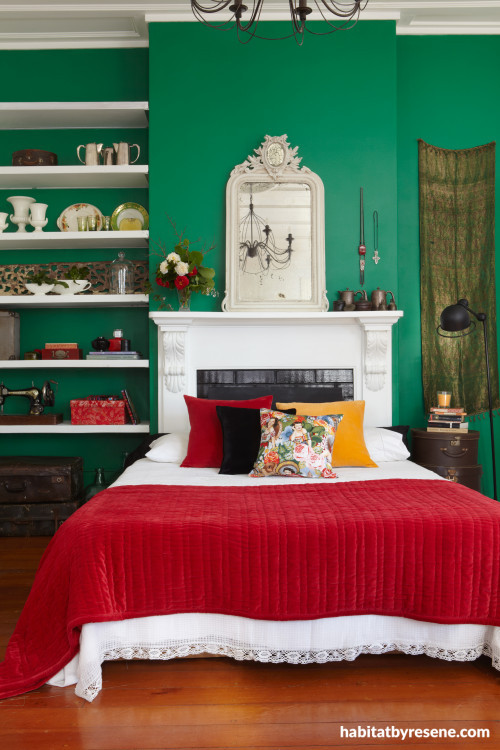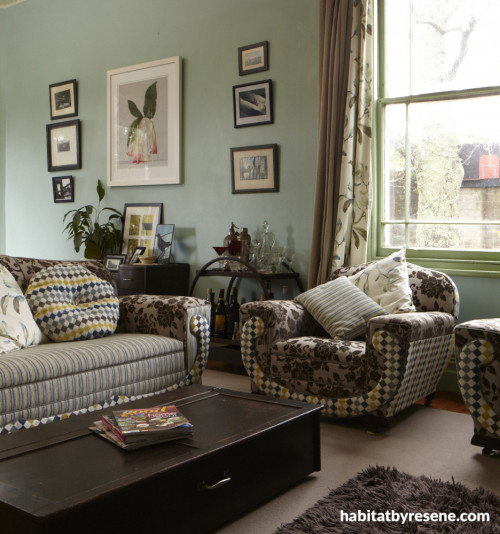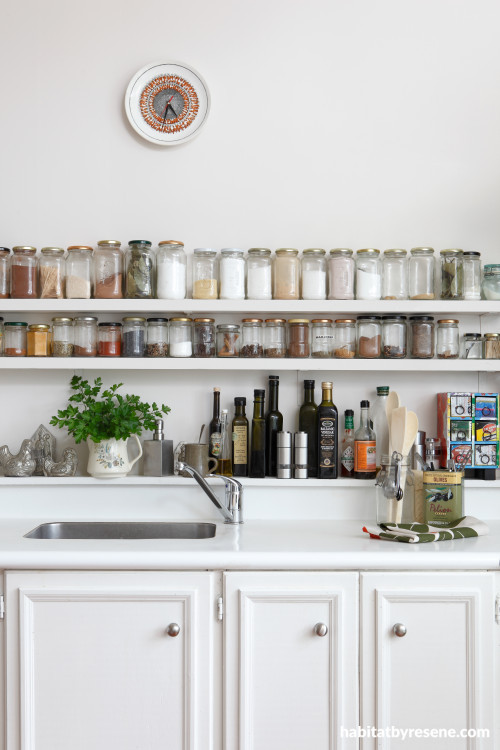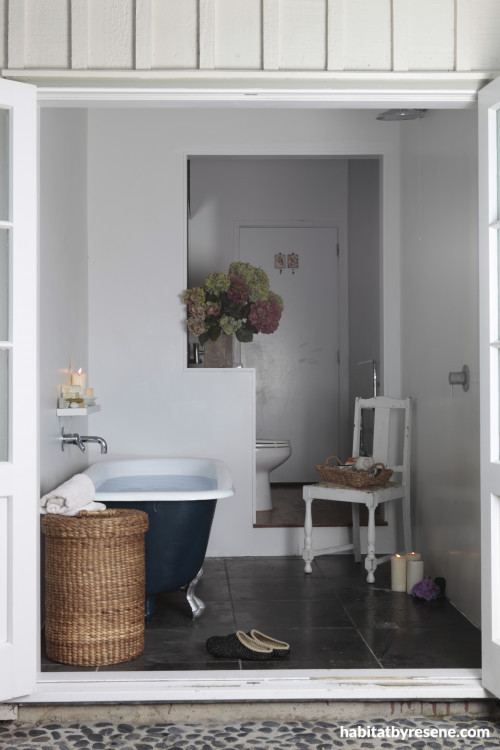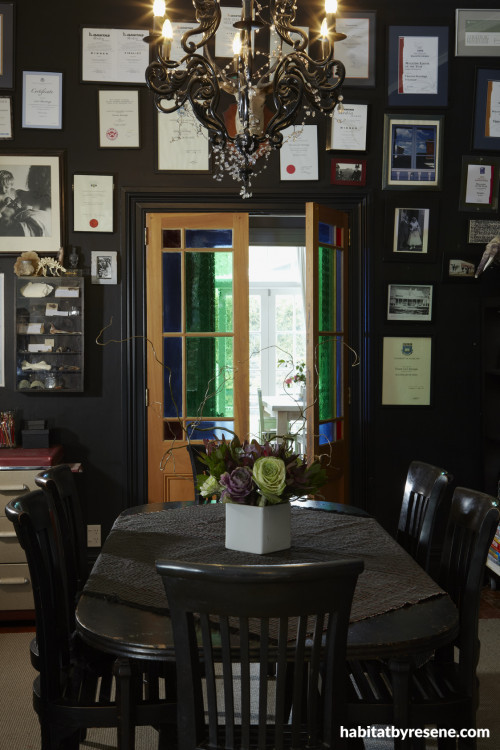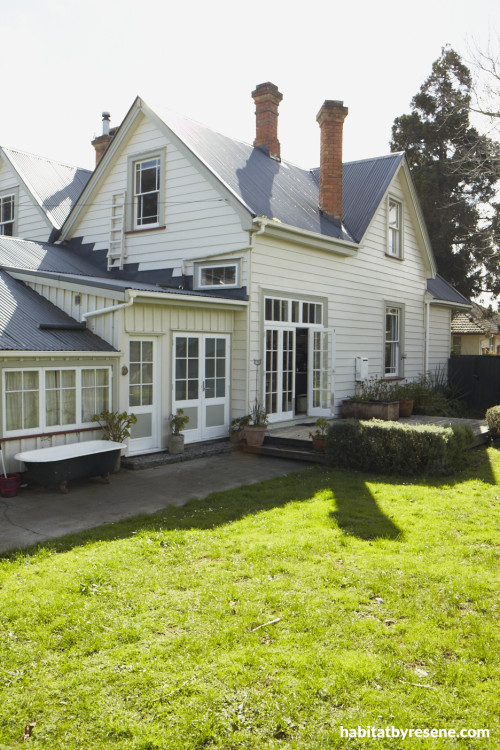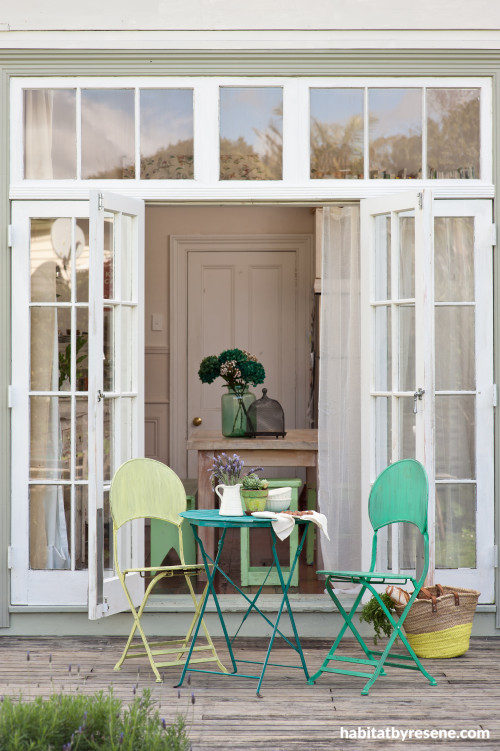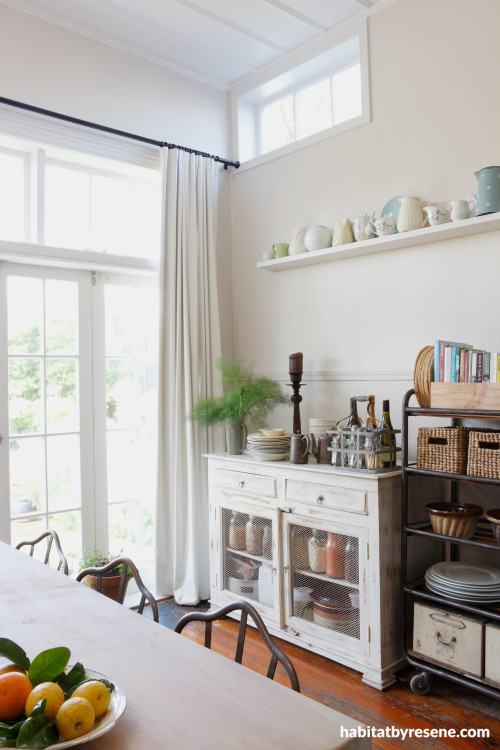 Vincent and Sarah give old bones an eco twist
A grand old home is the perfect canvas for strong Resene colour… but has posed a few problems for its sustainability-aware owners. How do you, after all, make a draughty, energy-sapping heritage home badly oriented to the sun conform to eco principles?
When Vincent and Sarah Heeringa first saw the old Auckland house, Vincent likened it to "a gracious old lady whose stockings have sagged". Rumpty, rented out and looking the worse for wear, the house however has a long and proud heritage.
Built in 1852 and called Allendale House (after the Allen family), it would have once been surrounded by farmland. Now, it's tucked behind commercial buildings.
Originally a two-storey cottage, it had villa features added to it later on. The house was a good match with the couple's love of retro and vintage pieces, and perfectly caters for their family of four children, one dog, one cat, and four chickens. Sarah is the editor of Good magazine, New Zealand's lifestyle magazine for simple, healthy living, and the recent winner of Supreme Magazine of the Year.
Now, its rooms are painted in a handful of gorgeous greens (apt, given the couple's 'green' views) such as Resene Scandal, Resene Norway and Resene Camarone as well as various strengths of Resene Drought and a striking Resene Black dining room.
Making an old home energy-efficient
Says Sarah: "I've written a lot about our country's substandard housing stock, about poor insulation, the lack of passive heating, and how homes are typically not built for sun. And this house is typical of its era - built for the outlook but they somehow managed to position it to repel the sun completely.
"We appreciate the age of the house and didn't want to mess with that, but want it to be comfortable and as energy efficient as possible."
She and Vincent had the sash windows reconditioned to stop draughts; added floor insulation; put as much insulation as possible to the attic-style roof; replaced a fireplace with a New Zealand made Metro wood burner; laid wool carpet and hung thermal curtains.
Sarah says the modern propensity to heat an entire house in winter isn't necessary good for family relationships. "If the bedrooms are cold, everyone congregates in evenings around the fire in the lounge which is good when you have teenagers. You can catch up and not have them disappearing off into separate bedrooms.
Other eco-renovation ideas
· It doesn't have to be shiny and new. Think about how to use pre-loved and recycled materials.
· If it ain't broke, don't fix it! Don't replace something just because you can. Think about refreshing it or upcycling to get the maximum life out of it.
· Relocate it – the old bathroom mirror could be removed framed and used in a bedroom. Most likely there is a ton of material you can salvage and re-use.
· Don't biff it, donate it. The local charity shop may be very keen to get hold of your old bits and pieces. Or sell it – your junk will be another person's treasure. And don't forget to take your unwanted paint to a Resene ColorShop for the PaintWise recycling scheme.
· If you're making structural changes, look for opportunities to open up to the sun – with bigger or new windows, or skylights
See Good magazine for more ideas on living life simply.
Published: 13 Aug 2015
Do you have a home full of wonderful Resene paint and colour? Send us some snaps by emailing [email protected].
Inspired by art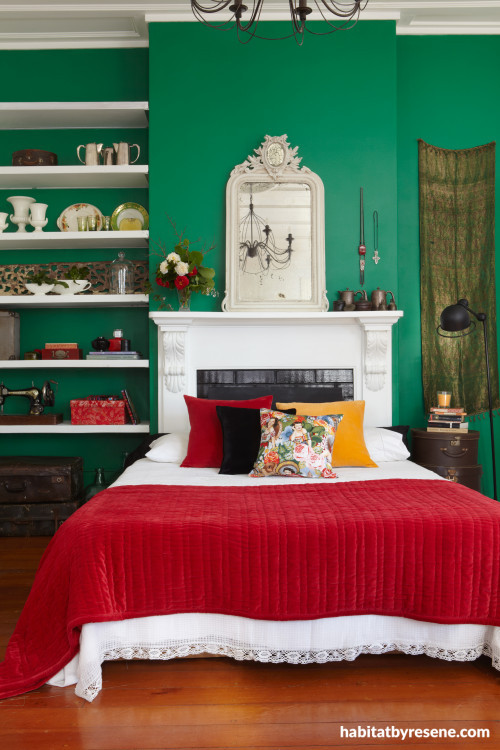 The main bedroom has a feature wall in Resene Camarone, inspired by an artwork by Mexican artist Frida Kahlo.
Victorian summer room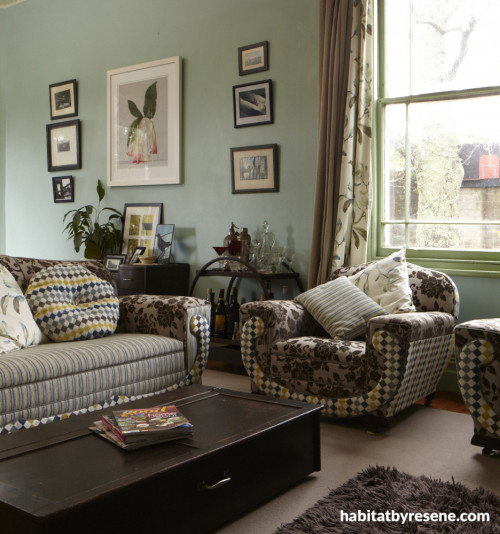 The main living room is painted Resene Scandal with trims in Resene Norway, giving the room a Victorian summer room feel. Floral upholstery and botanical themes, including a sofa in a mix of patterns, enhances the look.
pictures
Photograph by Toaki Okano
Waste not, want not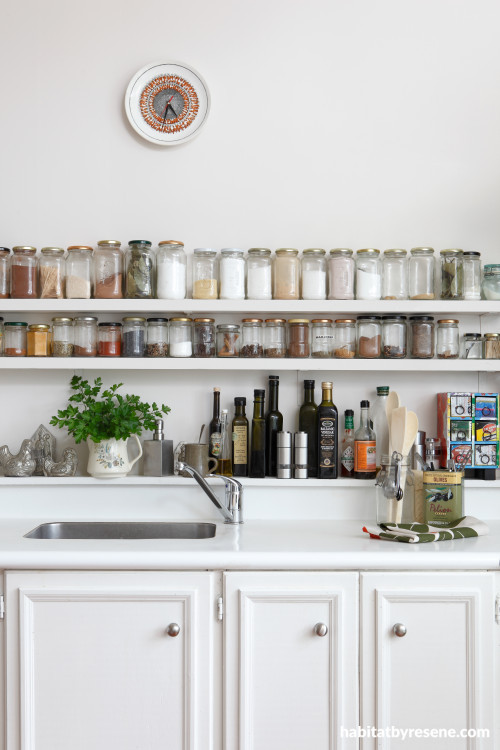 The kitchen is painted in varying strengths of Resene Drought with trims in Resene Black White. It was refurbished with new door fronts, but keeping the carcasses behind.
Upcycling a clawfoot bath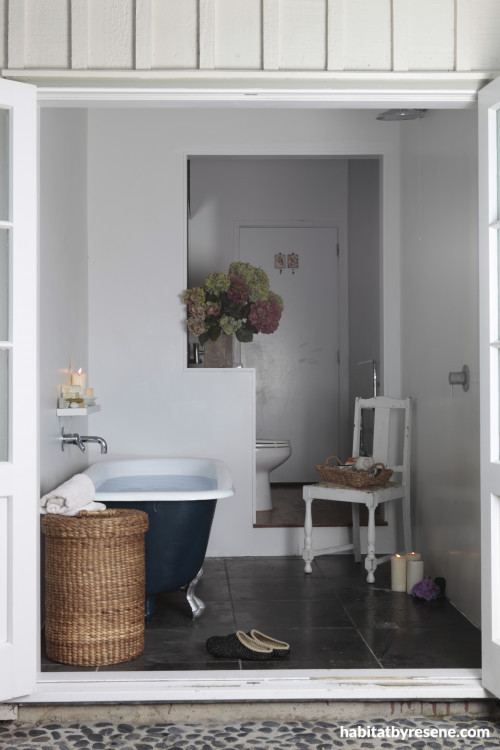 The clawfoot bath in the downstairs bathroom has been transformed using a Resene Armourcote and dark blue Resene Magnum and Resene Silver trim – and plans are afoot for a jewel-coloured feature wall.
pictures
Photograph by Charlie MacKay
Moody and magical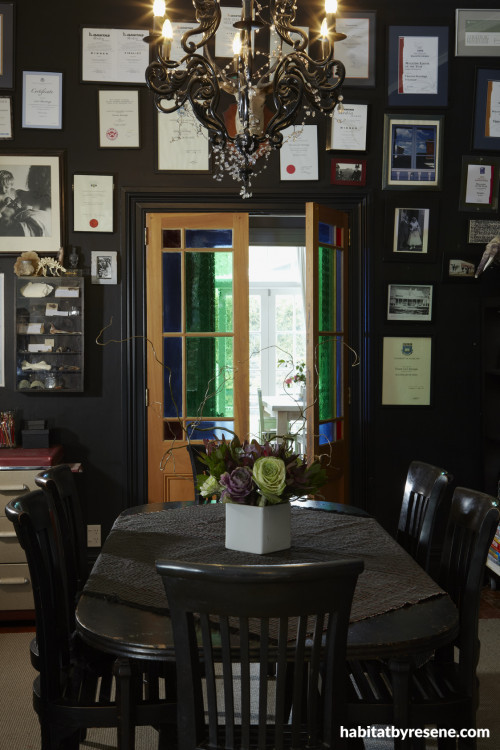 Painted in Resene Black, the dining room is definitely a night space.
Bringing the old up to date, gently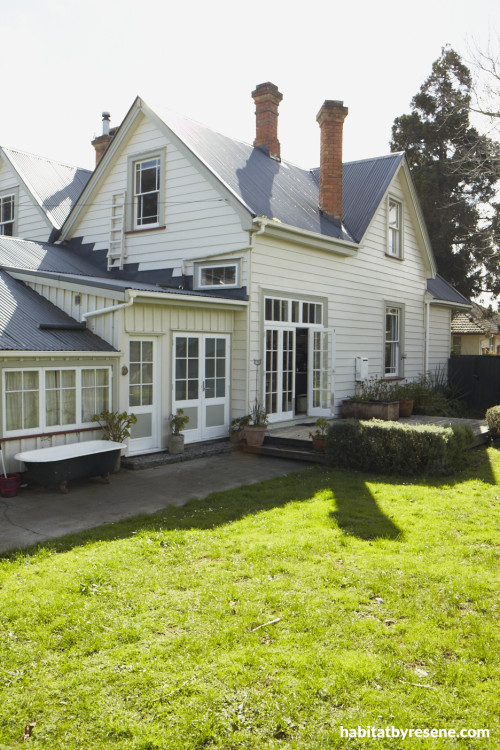 Sarah and Vincent's modern interpretation of a heritage exterior includes Resene Lemon Grass weatherboards, Resene Joanna trims and a Resene Grey Friar roof. The window sills and front door are from the heritage range in Resene Bright Red.
A delicious deck setting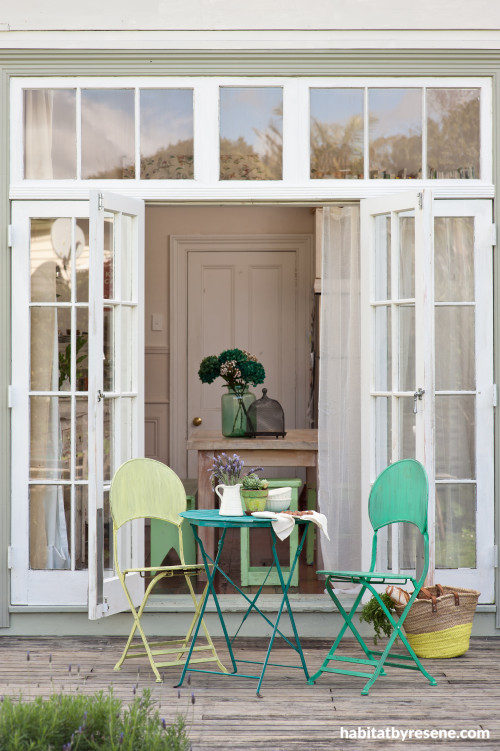 An old cafe setting is refreshed and put to good use, in Resene Origin for the table with Resene Spring Fever and Resene Home Run for the chairs. Even the market bag has a partial paint job, in Resene Holiday. The doors open out from the kitchen.
pictures
Photograph Tony Brownjohn
Keeping the farmhouse flavor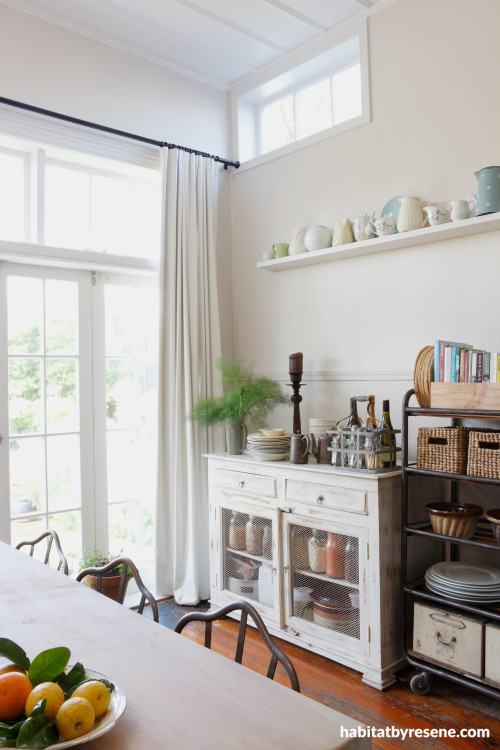 A table sits in the kitchen, catering for everyday meals for the family of six. Old dressers are used for extra storage.
the look
If you're stuck on what
colour to use or need colour
advice, try out the Resene
Ask a Colour Expert service.