►
◄
latest
habitat tv
blog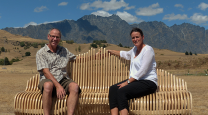 Warm your space with a statement rug this winter
We sure felt that crisp telltale breeze that signals the start of autumn blowing in with the beginning of April. While warmer weather was still around mere weeks ago, it's almost hard to remember now how nice those polished concrete and marble tile floors felt during summer.
Beyond adding some badly needed cosiness before the truly cold temperatures set in, incorporating the right statement rug in your room can also inject it with a dose of instant style. While those reasons alone are good enough to decorate with a rug, there are many others just as compelling. Here are some of our favourites:
Create a focal point – AND a colour scheme
Patterned and richly coloured rugs can make a huge impact in a space and work great as focal points. Choose a wall colour that echoes one of your rug's accent hues and bring in accents based on other colours in the pattern. Or, if your rug has limited colours, add in shades that complement.
Published: 10 Apr 2019
Do you have a home full of wonderful Resene paint and colour? Send us some snaps by emailing [email protected].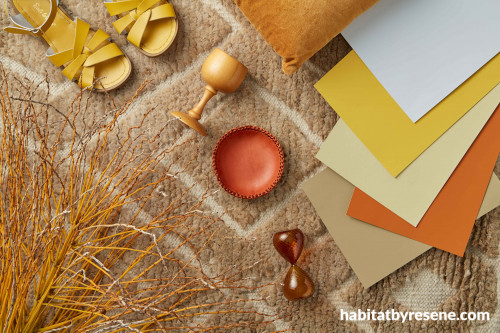 While there are limited colours in this statement rug from The Ivy House, stylist Kate Alexander built this stellar 70s-inspired palette to complement it (from top) in Resene Half Duck Egg Blue, Resene Cleopatra, Resene Yuma, Resene Daredevil and Resene Collins Wicket.
Define an area
Use a rug to define or separate areas, such as seating or dining areas. This approach is especially useful in open plan spaces that need to be broken up for different activities.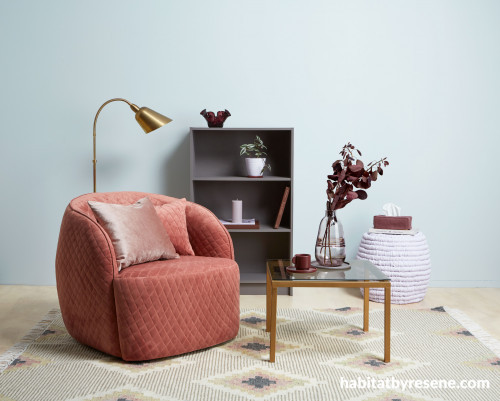 In an open plan home, a rug can stake out a space for a dedicated reading nook. The walls are in Resene Half Duck Egg Blue, the floor has been stained Resene Colorwood Rock Salt, the bookshelf is in Resene Rocky Mountain and the round jute side table is in Resene Dreamtime – colours chosen to specifically complement the colours in this rug (similar available here).
Dress up a wall
Hang a rug on a wall as another way to create a focal point or display a more delicate collector's piece that you'd rather not walk on.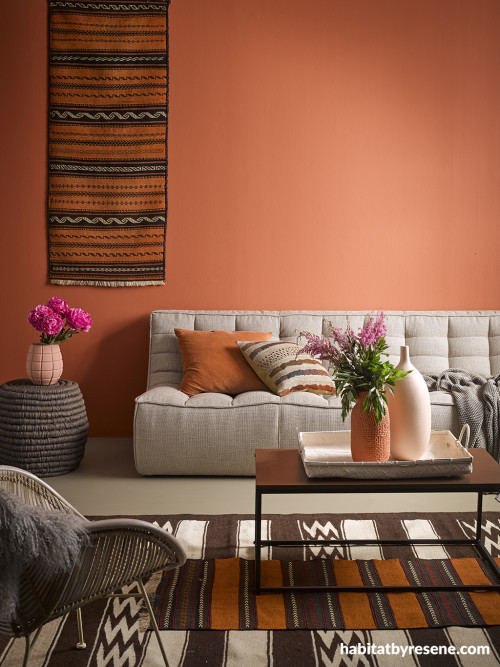 These 60 and 90-year-old handwoven Balouch Sofrah kilim rugs (originally from Central Afghanistan, from Republic) were used to dress up both the Resene Sunbaked walls and the Resene Earthen floors of this lounge. Accents, like the vases in Resene Shilo, Resene Moccasin and Resene Despacito, as well as the side table in Resene Rebel, pick up some of the colours in the smaller details of the rug patterns.
Play around with shapes
A rug doesn't always have to be a rectangle. Let the way you group your furniture dictate the shape of your rug and try a square, round or oval shape if they seem to complement your arrangement better than a rectangular one. Plus, the right shaped rug can create a better scheme overall by repeating forms that are already in the room.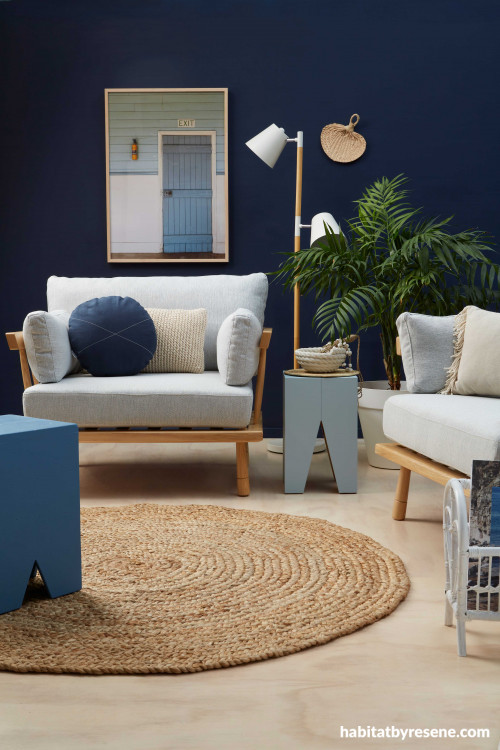 A rug doesn't need to be a vibrant colour to make a statement. This round jute rug from Freedom Furniture has just enough colour contrast on this Resene Colorwood Whitewash stained floor to stand out, but a more intense colour would end up fighting for attention with the Resene Indian Ink walls or the painted Pegg Stools in Resene Eskimo and Resene Wedgewood. The shape also plays perfectly off the round cushion.
Use different rugs for different seasons
Along with cushions and artwork, change out rugs to update a room for changing seasons to introduce a fresh palette into a space that coincides with the weather. Since colours can have a huge psychological effect, picking warmer colours during colder months can actually help trick you into feeling warmer.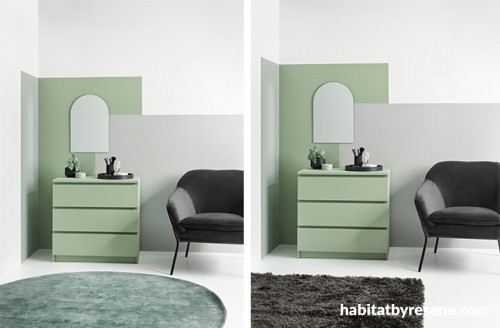 Just by changing out the rug, the feel of this Resene Alabaster room completely changes. The low-pile round rug on the right creates a lighter and airier feel during the warm weather months while the dark, high-pile rug on the left can be swapped in to add extra warmth in the winter. Both shapes work well in the space, with the round rug playing off the shape of the mirror and the Resene Noir tray and vase, while the rectangular rug reflects the painted colour block wall feature (from far left to right) in Resene Helix, Resene Peace and Resene Silver Chalice.
Top tips:
Be sure to choose the correct rug size for your space. When buying a room-sized rug, subtract 1m from the length and width of the room. Leaving the floor bare at the edges will help to make the room look larger.
In conversation areas, like lounges, ideally at least the front feet of your seating should be on the rug. Don't let it float around in your floor space all on its lonesome.
For rugs under dining tables, try to leave at least 60cm of the rug from the edge of the table out on all sides. This enables the back legs of the chairs to stay on the rug, even when they're pulled out.
Runners should ideally be 10cm narrower than your hallway and 40-60cm shorter. Make sure they are wide enough to accommodate both feet on the rug when you walk.
Be watchful that the sides and corners of rugs don't stray too far into walking paths, as this can create tripping hazards. To remove the hazard altogether, get really creative and try painting a feature rug directly onto your floor.
When using more than one rug, try to choose styles that complement each other or you could end up with an unpleasant, jarring effect. But, they shouldn't be exactly the same rug either.
When you use two rugs in a room, be aware that same sized rugs can visually cut the room in two. Use different sized rugs to create a sense of variety.
Yes, you absolutely can put a rug on top of wall-to-wall carpeting. Look for versions with a lower pile – which is to say, less 'floof'. The same goes for rugs that extend underneath door swings.
When in doubt, ask your interior's store or an interior designer or stylist – most are happy to provide recommendations and affordable quick consultations.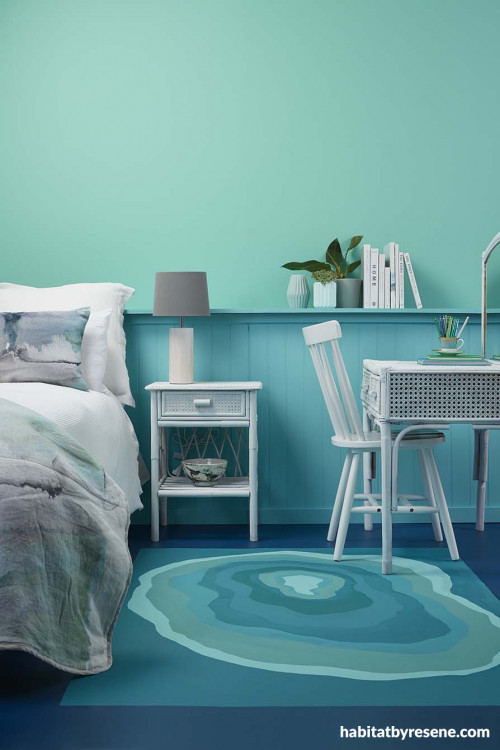 The room-defining painted rug feature – inspired by agate – adds plenty of interest to this Resene Wishing Well floor. With its natural, asymmetric forms, it's easy to replicate the same idea in your own home. Stylist Megan Harrison-Turner created this one using Resene Deep Teal, Resene Maestro, Resene Hullabaloo, Resene Blue Chill, Resene Yes Please and Resene Freelance. The walls are also in Resene Freelance and the tongue-and-groove paneling is in Resene Yes Please.
styling Kate Alexander, Megan Harrison-Turner, Claudia Kozub, Vanessa Nouwens
images Bryce Carleton, Melanie Jenkins