►
◄
latest
habitat tv
blog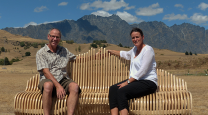 For your own baby prince or princess
Do you have your own little royal on the way? A future prince or princess of your family? Before you go decking out the new nursery in red, white and blue (I doubt Princess Charlotte's is so 'British'), take a look at these ideas, and consider just why we so often use soft happy Resene colours in a baby's room. Is it simply a tradition, or is there some science behind it?
A bit of both probably but muted pastel tones are certainly psychologically soothing so are a great choice for any room where you want to create a calming environment. Simply pick up: 1. A copy of the Resene KidzColour chart, and 2. Copies of the Resene Multi-finish cards that number 48 to 53. These particular cards carry most of the pale colours in the collection, although there are others, of course.
It doesn't mean that you'll choose rose petal pink for your daughter, or fresh blue for your son. Nurseries are tending towards more gender-neutral looks with mellow yellows (Resene Shalimar), apple greens (Resene Willow Brook), juicy mango tones (Resene Consuela), snow-water greens (Resene Cut Glass) or even lavender-tinged neutrals (Resene Midwinter Mist).
Baby's rooms or nurseries can be small, and light colours make small spaces feel larger. If pastels aren't your thing, or you want to future-proof a room that won't always be used for the baby, dove greys (Resene Quarter Rakaia), beiges (Resene Quarter Akaroa) and ivory whites (Resene Bianca) can be easily dressed with more colourful accessories like bed linen, or even painted furniture.
Of course, Resene has a specially compiled collection of colours to suit all ages and stages of childhood with its Resene KidzColour range. It includes everything from soft slipper pinks to fiery reds and bold blues, as well as some fun metallic paints.
Working those walls
There are obviously many creatively repressed parents-to-be out there. Nursery walls are becoming the recipients of not only gorgeous colour but also murals and artworks. We've seen clouds, geometric creations, stripes, animal and house silhouettes, trees and flowers.
Adding a pattern or stylised mural to a wall is a great way to really brighten up a baby's room but if you are artistically challenged, you can always cheat and use one of the fun murals available at Resene.
To theme or not to theme
Which leads on to the decision to theme a room or not. Many of us keep it a simpler early on, when your baby is young, then break out the theming when our kids become toddlers, and start to voice their own preferences (like a friend's daughter who declared herself in love with One Direction at the age of three… hmmm).
With the recent trends towards vintage style, classic nursery themes have had a resurgence: farmyard and jungle animals, fairies and sprites, polka dots and stars, teddy bears and Winnie the Pooh, hot air balloons, old airplanes and cars.
If you're having trouble choosing paint colours, having a theme may help to focus your choices and create a more cohesive look. Or choose your bedlinen and window fabrics first, then use those to inspire your paint colour choices.
Don't forget the furniture – maybe there's an old chest of drawers that could be given new life with a fun paint job. Use Resene Enamacryl for projects like this – it's a hardwearing, waterborne enamel so easy to use and clean up after painting.
And the ceiling. Babies spend much of their time on their backs so think about painting the ceiling a colour – maybe taking the wall colour up and over the ceiling. Or use a mural or decal.
Top tip... Use Resene Zylone Sheen VOC Free paint for your baby's room. It gives you a lovely low-sheen finish, is very low odour and doesn't contain volatile organic compounds.
Read more See how one nursery looks with four different schemes; Creative solutions for older kids
Published: 04 Jun 2015
Do you have a home full of wonderful Resene paint and colour? Send us some snaps by emailing [email protected].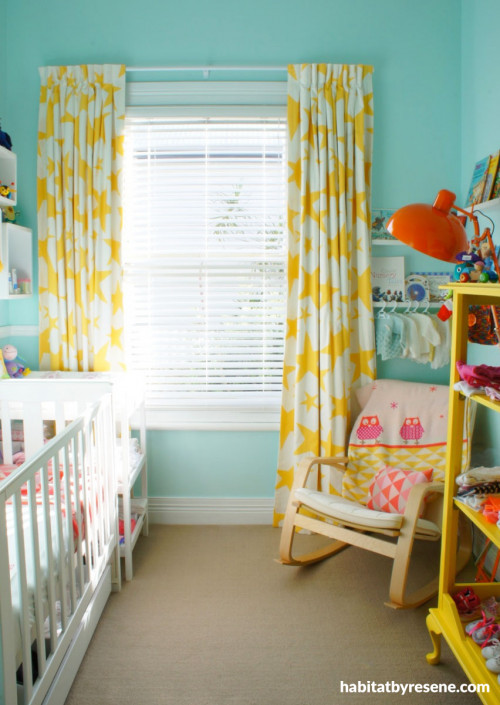 Before she was born, Lulu's new room took shape under the creative guidance of mum and dad, Marcelle and Simon Baker. They loved the calmness of Resene Reservoir for the walls, and added fun and boldness with Resene Wild Thing (yellow) and Resene Glamour Puss (pink). The trims are Resene White.
When Lulu arrived, Simon and Marcelle shared the Resene colours with MyCanvas.co.nz who incorporated them in to the birth announcement print.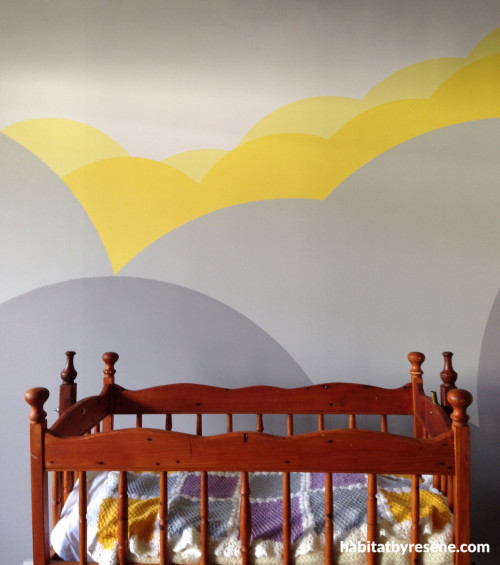 Anthony and Yea Woodside had their head in the clouds when their new baby was due. After trying out a few Resene testpots, they had a chat to a Resene colour consultant, then decided on a slight twist on the cloud theme by choosing yellows and greys: Resene Moonbeam, Resene Energy Yellow, Resene Pale Slate and Resene Shady Lady. The design was planned out on Word, and the curves created using a string attached to a small speed brush.
This fun leaf motif was created by Ana Dermer using Resene Padua for her newborn's room, and painted around a corner rather than on a flat wall. She added a tiny bit of grey to the Resene Padua for the stems and the lines in the leaves.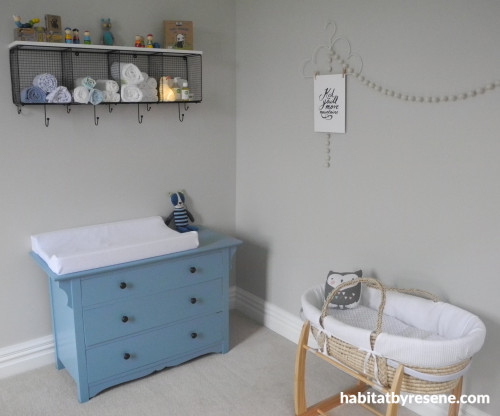 Pale neutrals are always an option for a nursery. Tessa Simpson wanted a peaceful, warm environment that wasn't too 'babyish'. Resene Half Truffle had just the right amount of warmth she was looking for.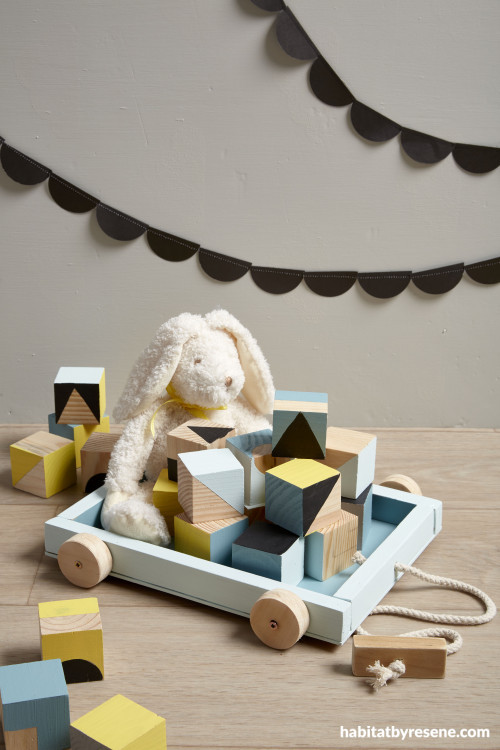 Make a set of play blocks and a trolley to put them in. Little Treasures magazine shows you how in the latest issue, on sale now. The colours used here are Resene Reservoir
(pale aqua), Resene Wishlist (mid aqua), Resene Wild Thing (yellow), Resene Triple Rakaia (grey) and Resene All Black.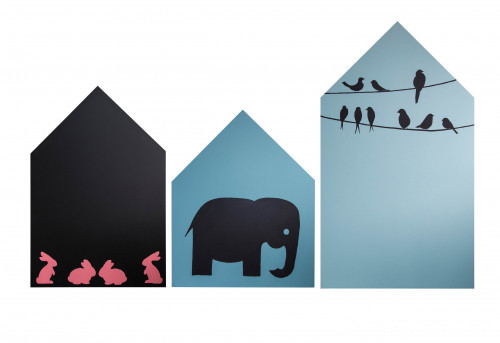 Try an animal theme for your baby's wall, set within cute house shapes. The cute bunnies are in Resene Glorious on Resene Blackboard Paint, the elephant is in
Resene Blackboard Paint on a Resene Wishlist background, and the birds are Resene Blackboard Paint on Resene Half Kumutoto.