►
◄
latest
habitat tv
blog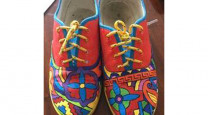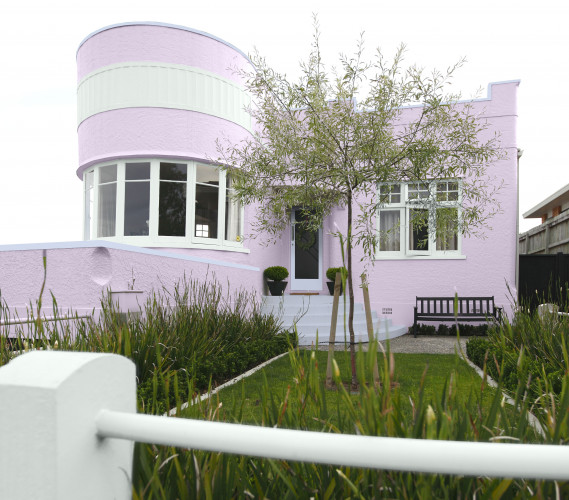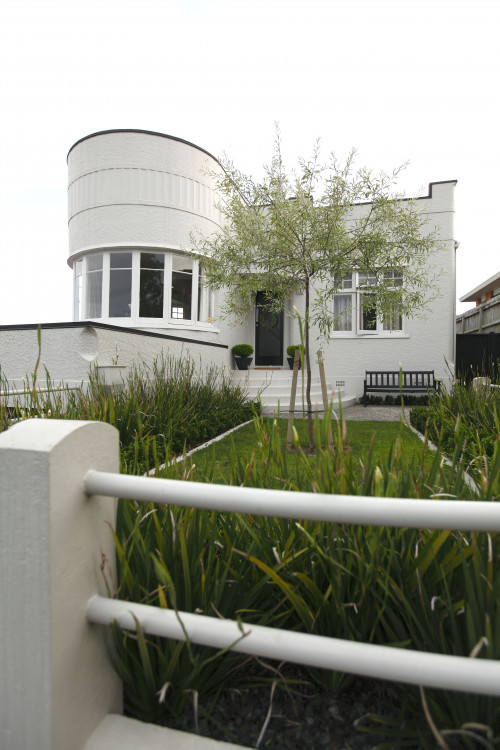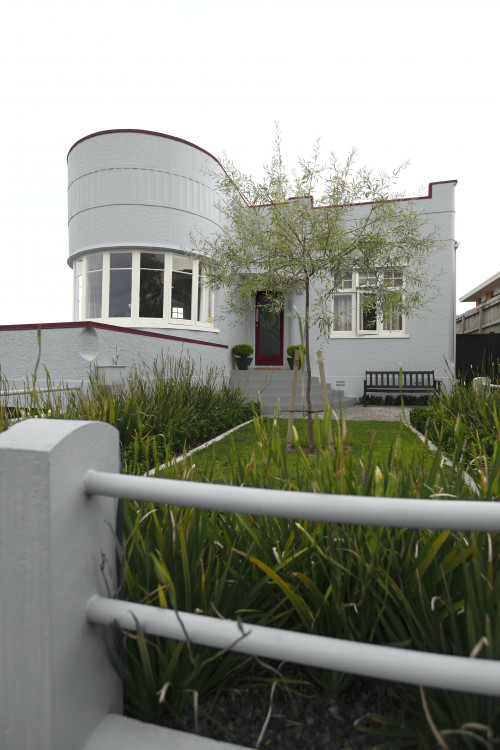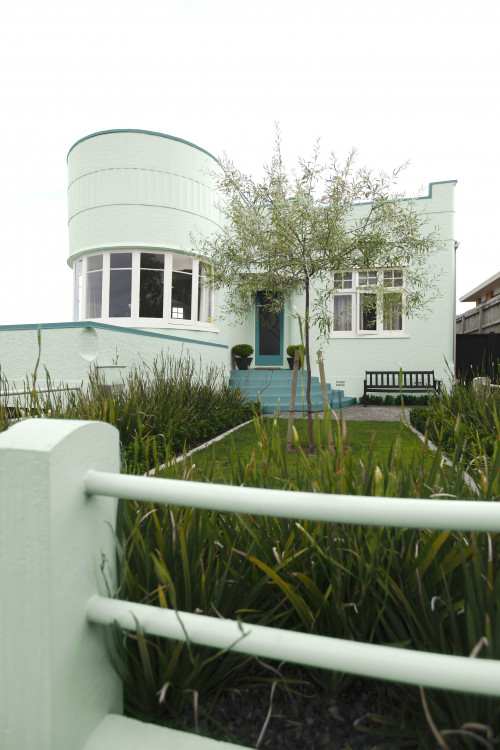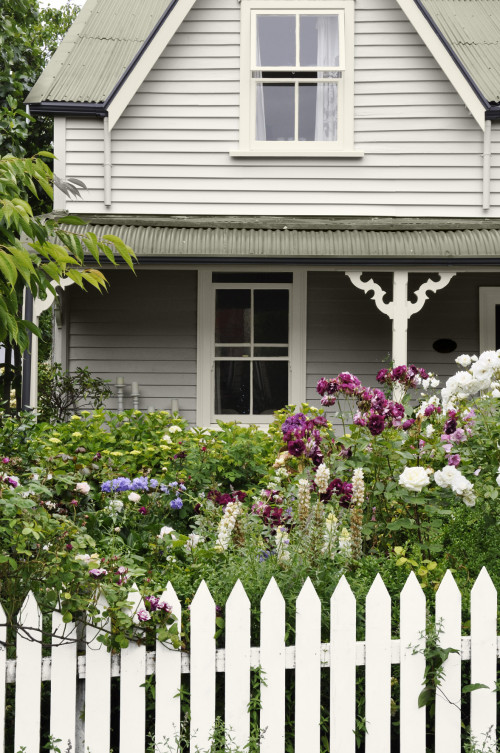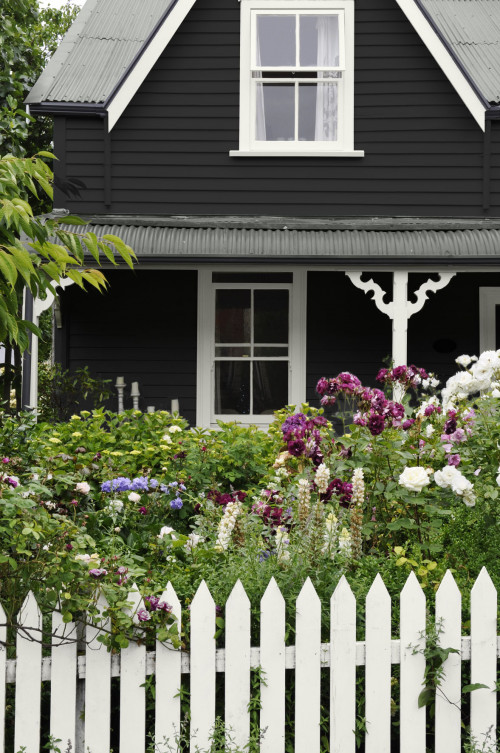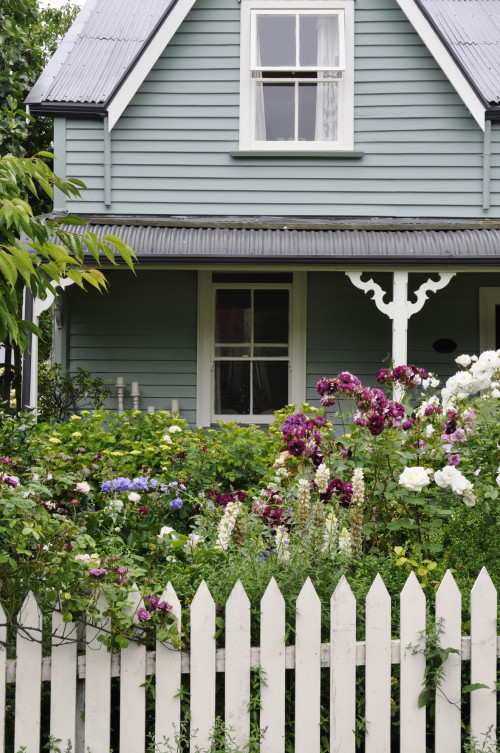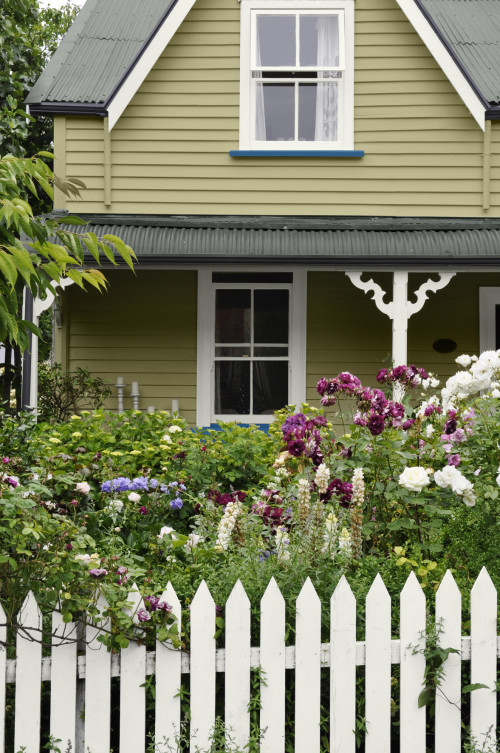 1 house, 4 ways
30 Jan 2014
Do you have a home full of wonderful Resene paint and colour? Send us some snaps by emailing [email protected].
Exterior schemes to try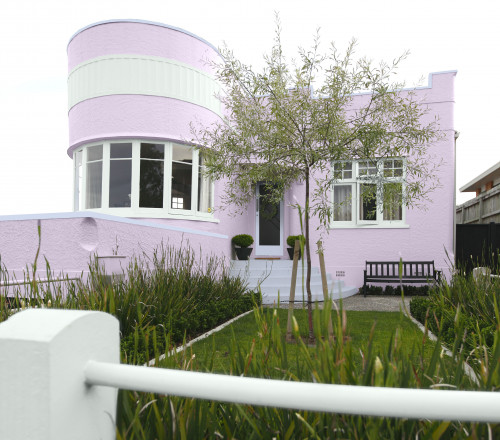 When your canvas is literally as big as a house, you want to ensure you get the paint colours right. It can be a daunting task deciding on a scheme for the exterior, especially given the cost of materials and labour.
Which is why Resene has created a helpful booklet, available at Resene ColorShops, to let you see how different styles of exteriors – from ultra modern to classic heritage – look in various colour schemes. We've taken an existing house, then virtually painted it with alternative schemes to show you the difference that paint colours can make.
This week we give you a sneak preview of a couple of the schemes for a cute colonial cottage and for a handsome Art Deco home, shown here in a delicious combo of pretty pastel shades - Resene Blue Chalk (which is actually a delicate lilac-pink) brings romance to the walls while the window frames and the band of ribbing are picked out in Resene Saltpan. Adding to the fun, steps and a front door in the bubbly Resene Hawkes Blueare the icing on the cake of this pretty scheme.
With its fluid forms, motifs, parapet roofs and bold colours, Art Deco architecture is very distinctive. Today, many people associate Art Deco colours with soft pastel and gelato tones – pink, yellow, sky blue and minty green. Art Deco houses appeared throughout the country but especially in Napier, a city which was virtually rebuilt after the devastating 1931 earthquake.
Did you know… that you can try out different colour schemes for your own exterior by using the Resene EzyPaint software, available free at www.resene.com/ezypaint.
Handsome… ungarnished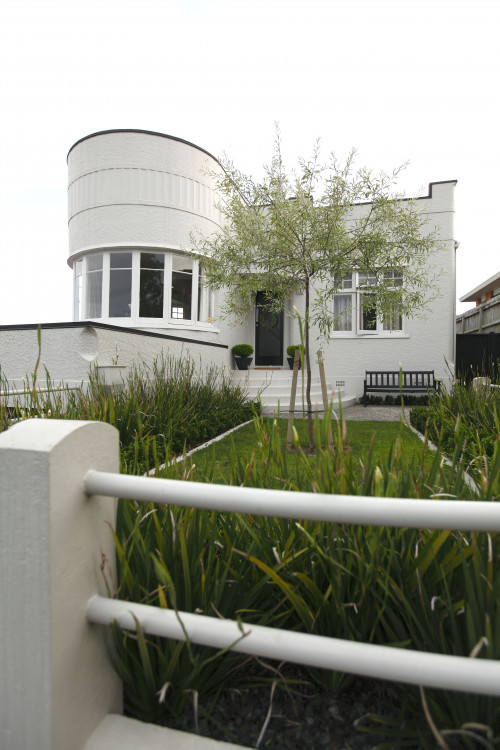 This handsome Art Deco house with its bold curved bay window, high ribbed panel, crenallated parapet roof and curved steps needs little in the way of complicated colour to enhance its natural good looks. Painted in Resene Half Thorndon Cream, this serene green-tinged cream is a superb complement to the garden's evergreen wild iris and the delicate weeping silver pear. A slim capping of Resene Nero on top of the parapet and a glossy black front door help finish off the scheme.
Distinguished in silver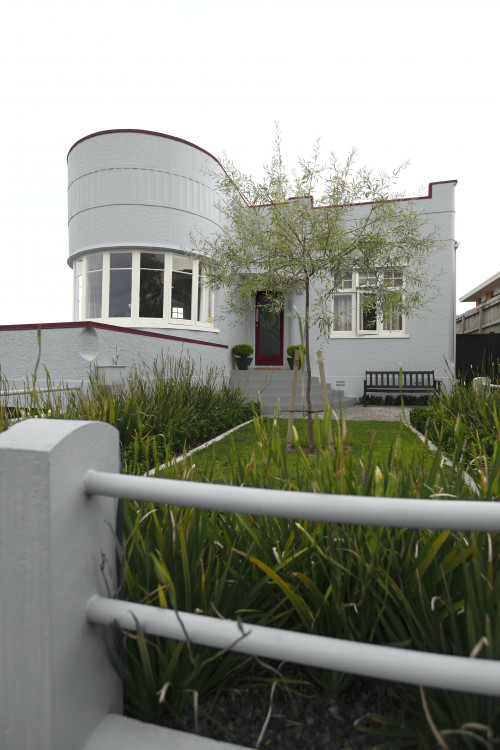 In a city setting, the distinguished silver grey tones of Resene Half Surrender are perfect for the quite masculine profile of this house. Used on the main body of the house and the fence, this paler grey is joined by staunch Resene Trojan on the steps while the deep red Resene Hot Wired sizzles out from the door androof capping. The crisp grey-tinged Resene Black White lightens the look on the windows.
An Art Deco darling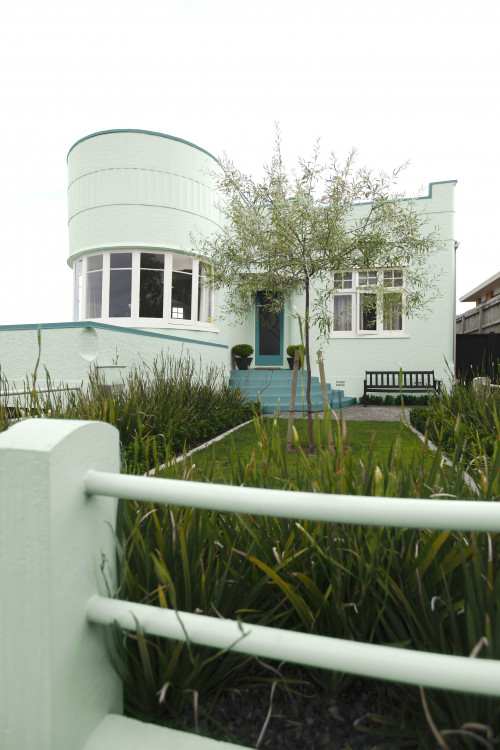 Green was very popular in the Art Deco era whether it was mint, jade, foam or fern. This scheme uses the invigorating freshness of the aptly named Resene Apple Green as the main colour and on the fence, with a fun splash of another Art Deco darling – teal blue Resene Ming – on the front door, steps and roof capping. The windows are in the warm off-white of Resene Quarter Bianca.
A heritage cottage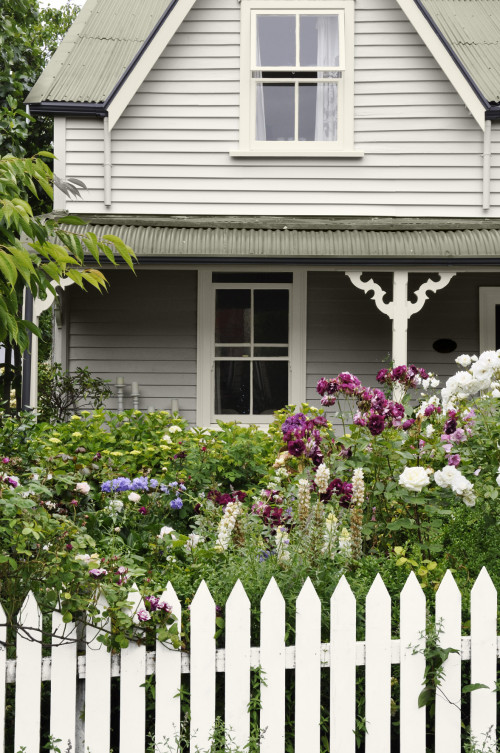 This heritage cottage fits comfortably withinits environment and acts as a gentle backdrop to cheerful garden displays. With careful colour choices from nature or heritage ideals, it's easy to achieve a suitably integrated effect. Light shades will help make a small home look larger while clever contrasts in the detailing will bring the scheme to life.
Resene Quarter Rice Cake on the weatherboards and picket fence is the perfect recipe for decorating success here when offset by Resene Half Thorndon Cream on the fascia, fretwork and windows and a roof in Resene Bone White. This smooth, sophisticated scheme is sure to stand the test of time – and it isn't necessarily only suitable for old wooden houses. In town or in country, it's a safe, yet smart choice for new-build dwellings, too.
Black is back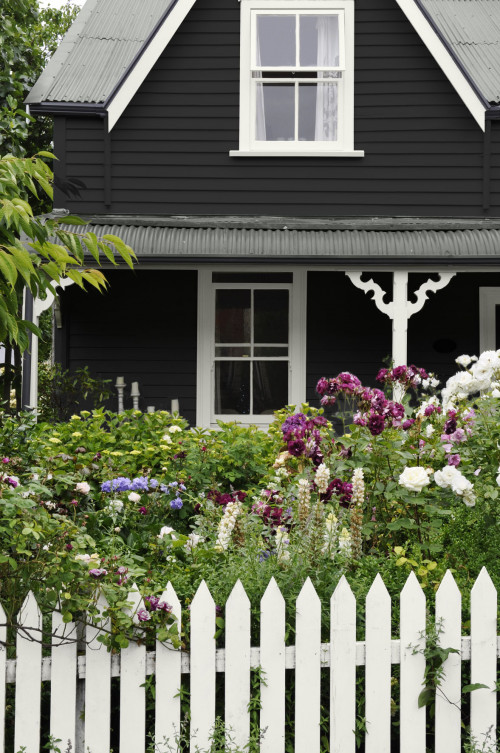 The recent trend for black weatherboards particularly suits two types of architecture – very modern homes, and character cottages such as this. As a true and simple expression of that look, Resene Black is crisply partnered here by Resene Half Sea Fog trims and fence, and a roof in the silvery grey Resene Atmosphere. It's a scheme that needs no further embellishment and acts as a superb backdrop to the colourful garden. Not strictly a 'colour lovers' scheme but bold all the same.
A serene scheme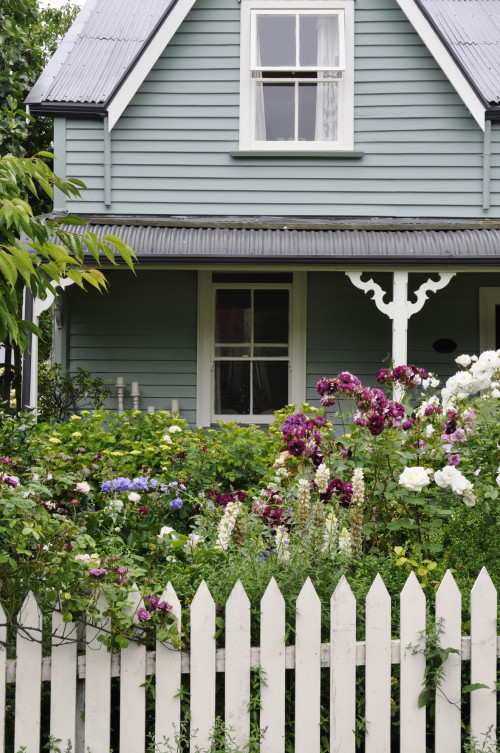 The weatherboards in the original scheme for this Akaroa dwelling are painted in the deeply cool Resene Hermitage. The choice for most of its trims and the charming picket fence focusses around the popular Resene Quarter Spanish White. This seemingly neutral, yet versatile shade, provides a tempered finish when pure white seems too bright and overpowering. The roof is in the classic Resene Mid Grey, with window sills in the slightly more blue-toned Resene Inside Back.
Traditional interpretation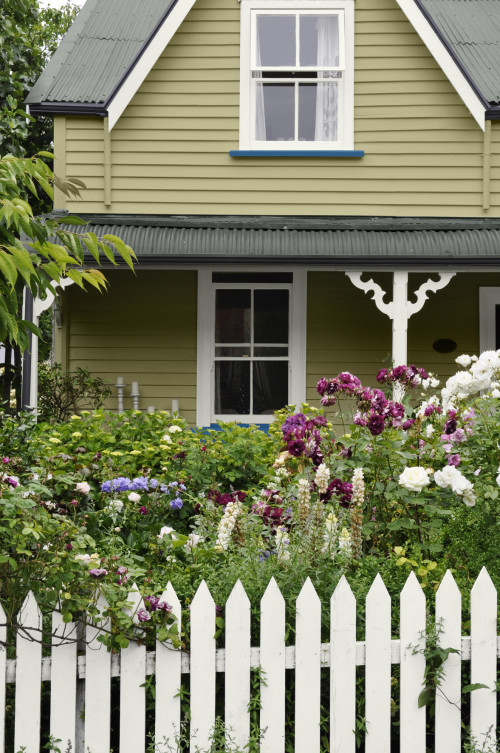 The muted herbal green of Resene Coriander for these weatherboards references a favourite colonial colour. The edgy, retro Resene Blumine is used on the window sills with the classic Resene Lattitude on the roof. Teamed with the ethereal white of Resene Half Sea Fog on the fascia boards, fretwork and fence, the effect is grounded yet gorgeous.
Resene Half Thorndon Cream
the look
If you're stuck on what
colour to use or need colour
advice, try out the Resene
Ask a Colour Expert service.