►
◄
latest
habitat tv
blog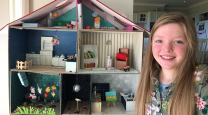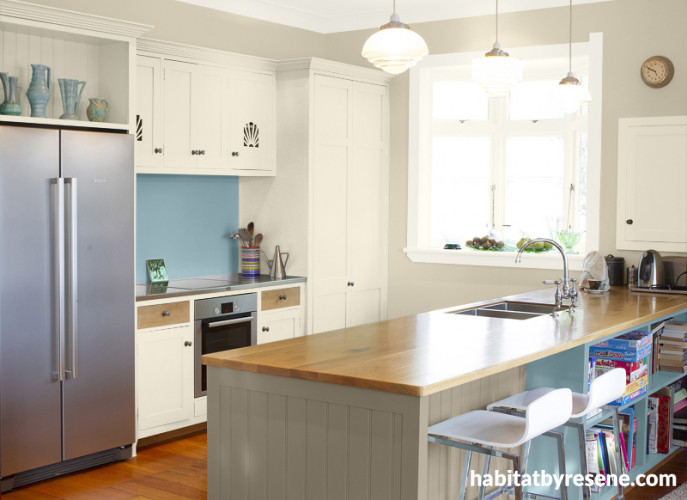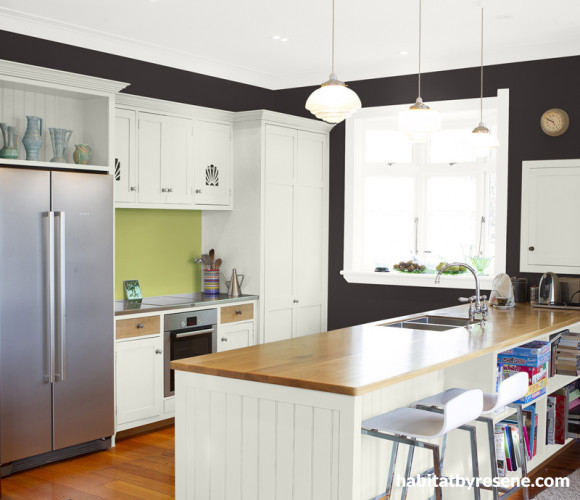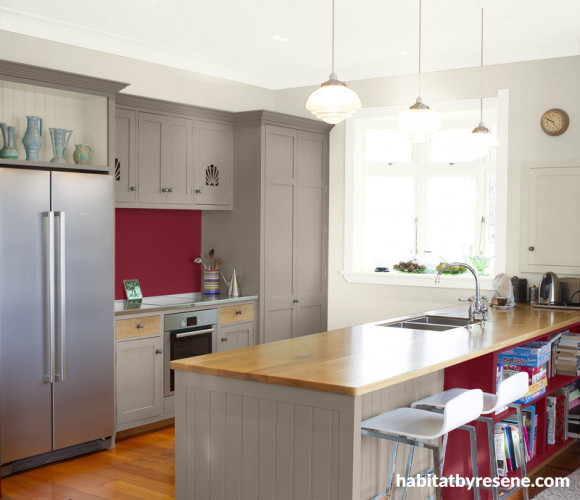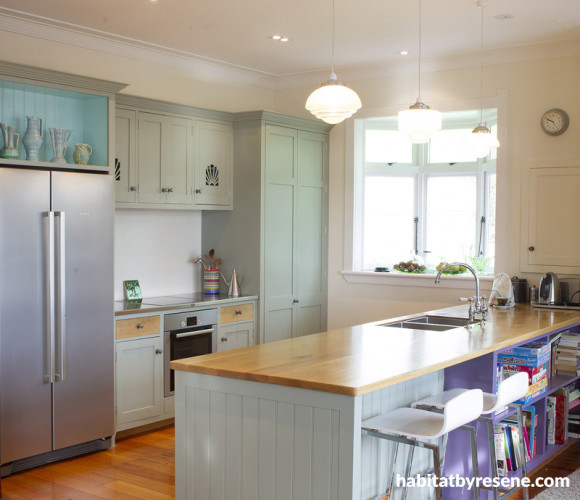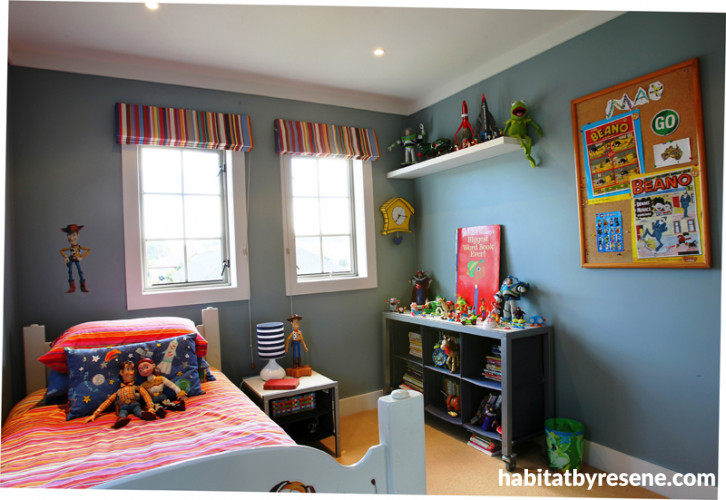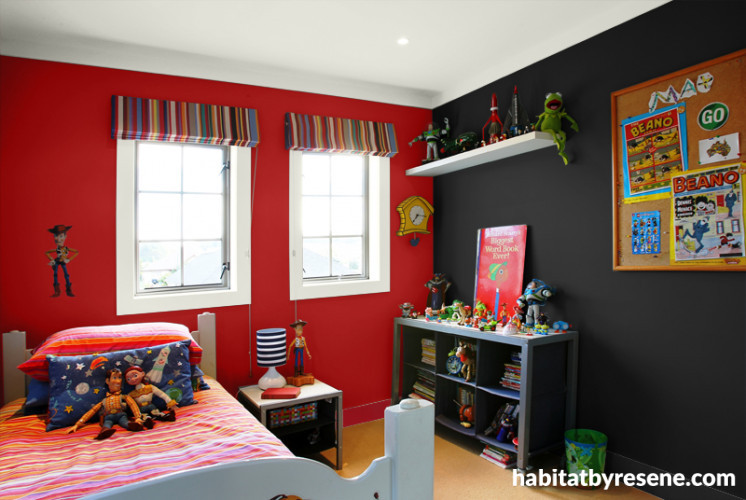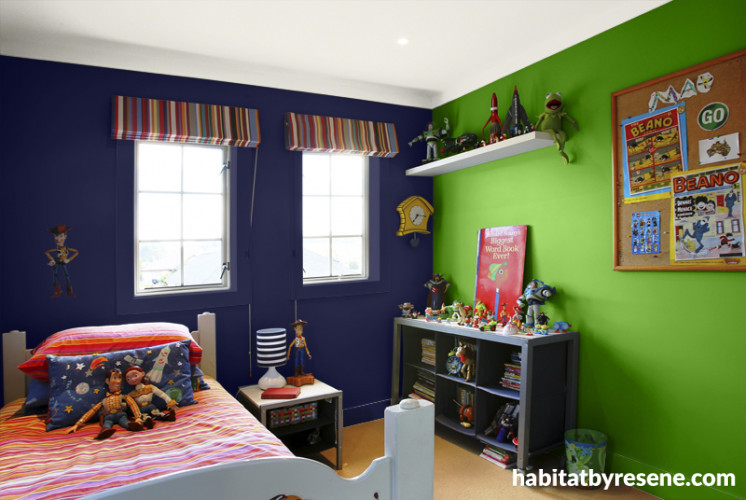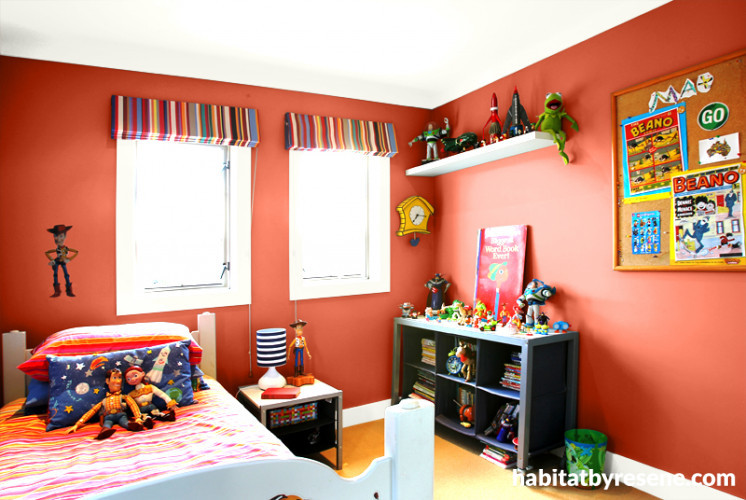 1 room, 4 ways
We've all done it – pondered long and hard over the paint colour charts, worried over our interior colours, bought armfuls of Resene testpots to check out those choices. Are they too bold? Or are they too blah? Sometimes, it's very difficult to visualise what a room will look like in a particular colour.
Which is why Resene has just released a helpful booklet (available at Resene ColorShops and resellers) called Habitat Plus 1 look 4 ways, interior colour schemes to let you see how different rooms and styles of interiors – from living rooms to nurseries, traditional to modern – look in various colour schemes. We've taken photographs of existing homes, then virtually painted them with alternative schemes to show you the difference that paint colours can make.
We've also scaled them in terms of boldness, from 'nice and neutral, through 'touch of colour' to 'colour lover'. Here's an excerpt from the book, showcasing a kitchen and a child's bedroom, both showing the enormous potential of a colour makeover.
The kitchen
This is without doubt the hub of a family home, so needs to be a friendly and welcoming space. While it can be fertile territory for making bold style statements, these tend to work better in moderation where kitchens are concerned.

Classic kitchen joinery can be re-coloured as often as you like to reflect current fashions, as can walls. We often choose paint colours based on what others will think. Indulge your wildest colour fantasy using secret colour – paint it inside your cupboard, wardrobe or chest of drawers for you to enjoy.
Kid's room
There is no place as full of potential as a child's room when it comes to letting your decorating imagination – and theirs – run riot. Bright colour is practically a prerequisite, and the Resene KidzColour range is guaranteed to provide the perfect colour for the job. There are also many fabulous contemporary variations such as Resene Blackboard Paint – which is a hit with the youngsters, but can end up being just as much fun in adult spaces too!

As well as Resene Blackboard Paint, Resene Write-On Wall Paint can be applied over any colour from the Resene range to create an area you can write all over without damaging the walls. Also try Resene Magnetic Magic paint, used as a basecoat to turn any wall into a magnetic surface.
Published: 06 Jul 2014
Do you have a home full of wonderful Resene paint and colour? Send us some snaps by emailing [email protected].
Gentle and harmonious, this kitchen features a quartet of classic coastal colours. Resene Orchid White is a reserved yet steady, oriental cream on the cabinetry while its cousin Resene Half Orchid White is a pale warm white for the ceiling and window trims. Resene Akaroa, the palest pebble grey, brings a subtle depth to the walls, while the crisp sea blue of Resene Botticelli is a welcome contrast on the island shelf and splashback. The deeper sand tones of Resene Quarter Mondo anchor the island base.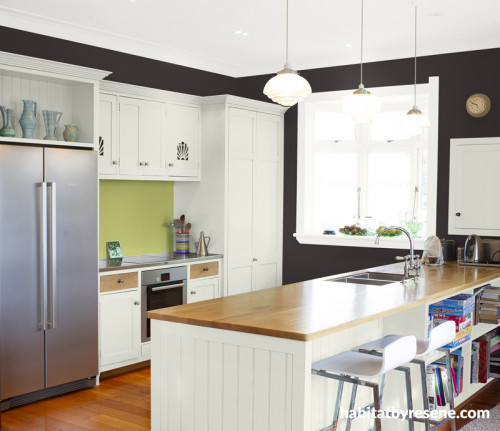 This kitchen is a study in contrast with bold wall colour used alongside more conservative shades. On all of the cabinetry, Resene Black White lends its chalky white calcite grey tones, then suddenly, the deep and mysterious Resene Diesel blackens the walls. In contrast, the fresh salad green of Resene Celery appears on the splashback. Understated Resene Half Alabaster is used on the ceiling and trims.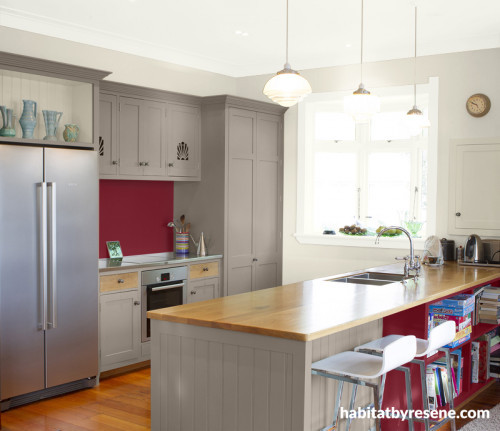 If earthy tones are your forte, the Resene Half Stonewashed cabinetry will answer your needs. It's offset with the versatile neutral Resene Eighth Pearl Lusta on ceiling and window frames while the skeletal pared-back Resene Quarter Fossil shines on the walls and open cabinet. A sharp pop of chilli red Resene Jalapeno draws the eye to the shelf and splashback.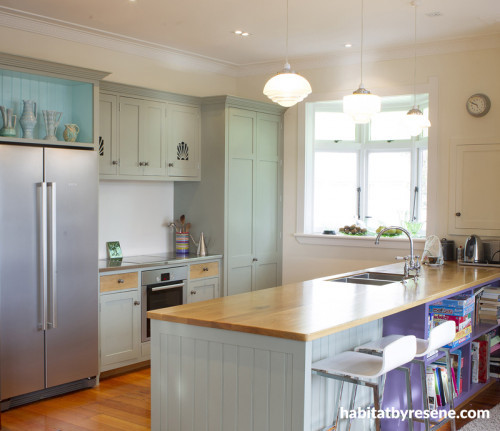 The original schemes uses an unexpected but stunning palette of colours, including the subdued, greyed hues of Resene Washed Green for a touch of nature's beauty to the cabinetry and island base, set alongside the clean transparent blue of Resene Scandal in the open cabinet above the refrigerator, and the elegant shadowy lilac of Resene Centaurian (who would have thought purple would look so good here?). The absolute classic of Resene Quarter Spanish White sits on the ceiling, trims, walls and splashback.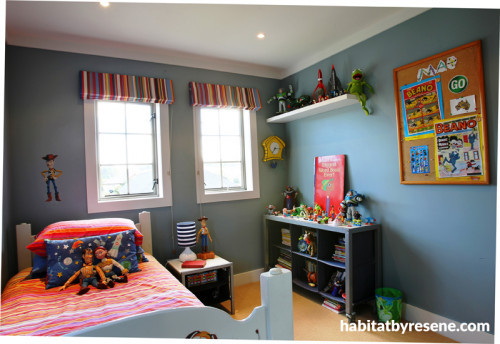 This cool scheme for a boy's room features walls in Resene Bounty, a Provencal steel blue with a grounding patina of age. It's a colour that will take children from babyhood through to the teen years, and has an aged vintage feel. Contrasting crisply on the ceiling and skirting is Resene Half Ecru White, a clean-edged shade with a warming touch of ivory.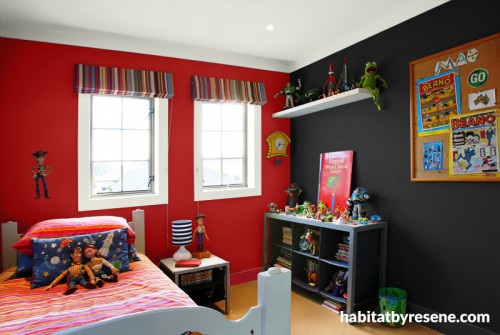 Feature walls rule, but with a twist. Resene Blackboard Paint provides the perfect reusable canvas for a budding Picasso to hone his or her skills, and the smart black contrasts perfectly with Resene Chaos, used on the window wall. This bold, sassy pillar box red is bright, pure and infinitely interesting. Chalky, soft almost-grey Resene Black White complements this scheme perfectly, on the ceiling and trims.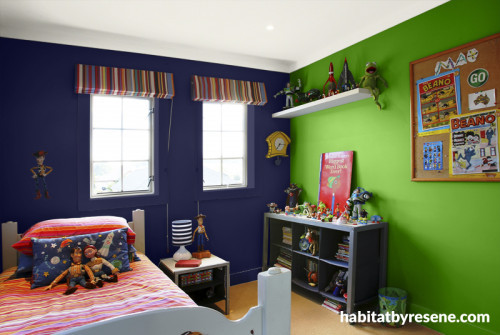 There are no rules with kids' colour, and if he or she has more than one favourite – no problem! The deep delicious summer sea blue of Resene Surfs Up – used on the back wall and window frames – sits easily with the flamboyant yellow-based green of Resene Wham on the adjacent wall for a result that's undeniably striking. Sharp white Resene Eighth Thorndon Cream is perfect for the ceiling and trims with its faint, inherent touch of green.
The mischievous clean, bold orange of Resene Orang-atan has proved a huge hit in the Resene KidzColour range with its lively and uplifting qualities. It resonates perfectly with the blue furniture and with Resene Eighth Pearl Lusta, a versatile, changeable, almost white neutral used on the ceiling and trims.