►
◄
latest
habitat tv
blog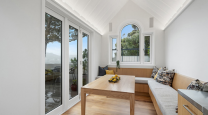 Master Builders' Chief Executive David Kelly shares his tips for building in the challenging climate.

Planning... more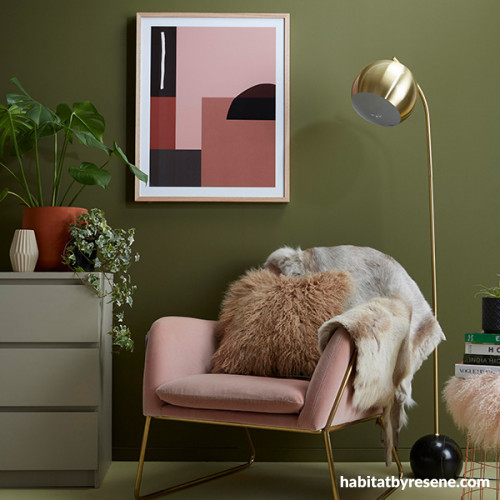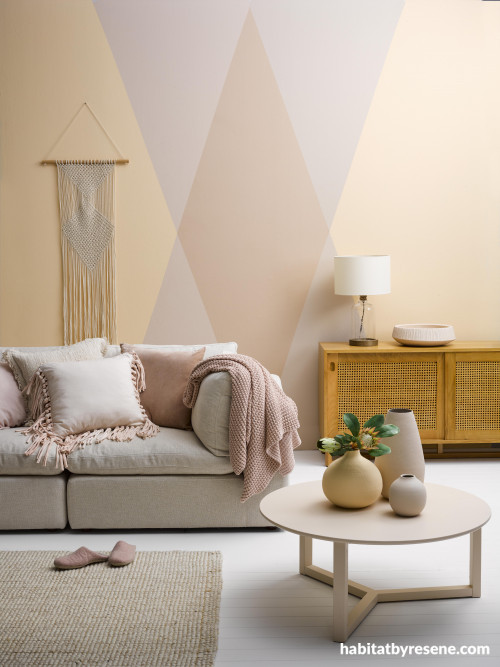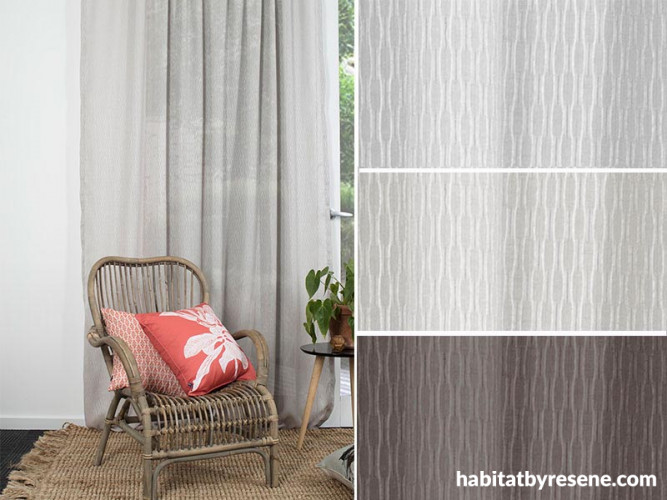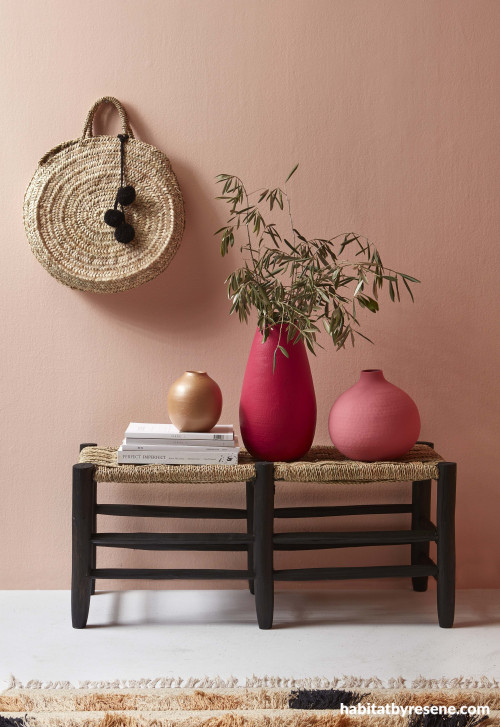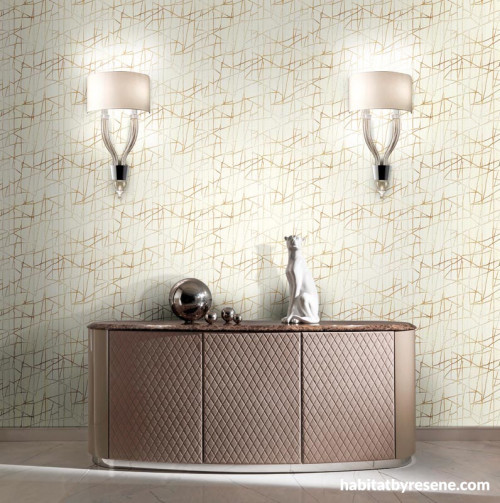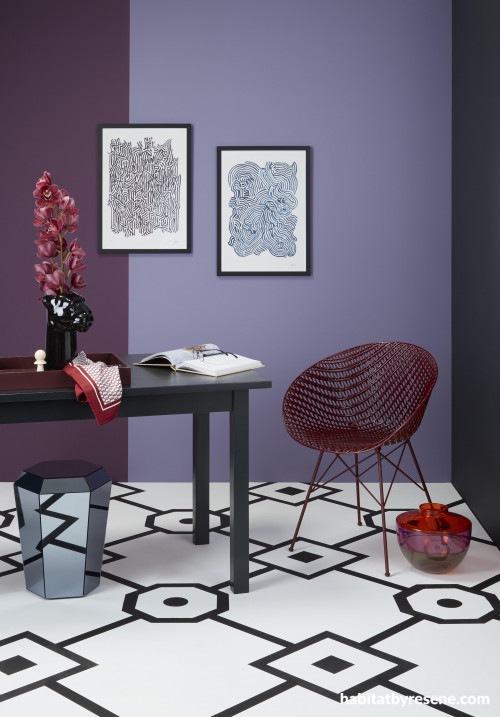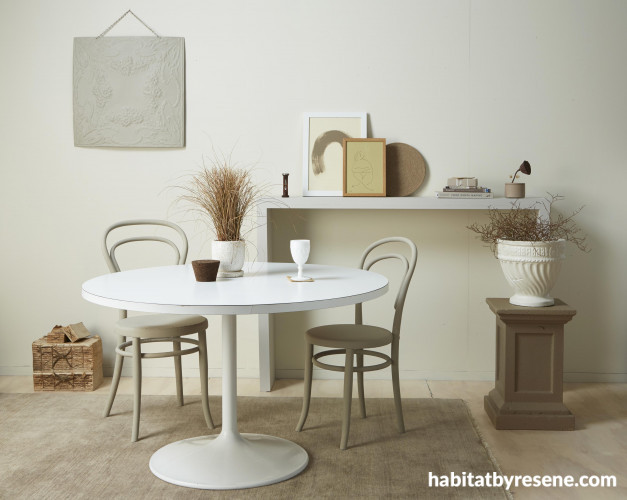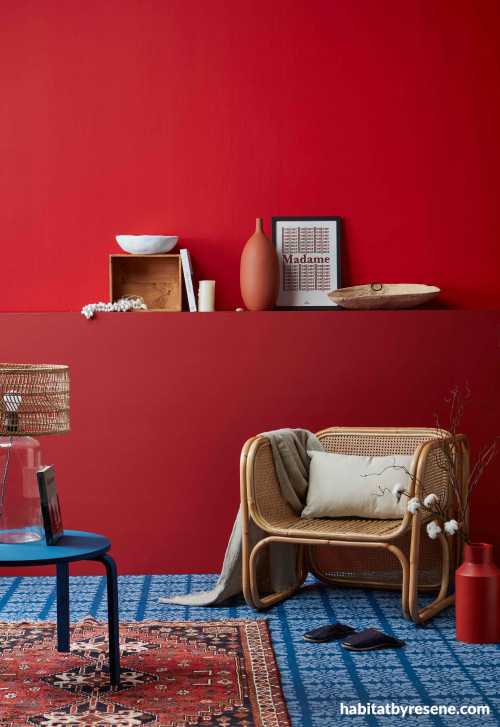 10 designer tips for making a dark room brighter
A well-lit space isn't just more inviting, it can also improve your overall well-being by boosting your mood and lowering your stress level. But just because a room lacks natural light doesn't mean that you have to settle for living in darkness around the clock.
While a major renovation can certainly correct the issue, it's luckily not the only option you have. Try out some of these top decorating tips and tricks that designers commonly rely on to brighten up a too-dark room.
1. Use a high-gloss finish on your ceiling
One of the best ways to bring more light into a room is with a high-gloss paint colour on your ceiling. A glossy ceiling finish will help reflect light downward and add an unexpected element to the room.
On walls, however, a glossy finish can create glare rather than reflect light equally. On the other hand, matte, flat or low sheen surfaces, such as Resene SpaceCote, reflect light evenly across their surface.
Published: 06 Nov 2019
Do you have a home full of wonderful Resene paint and colour? Send us some snaps by emailing [email protected].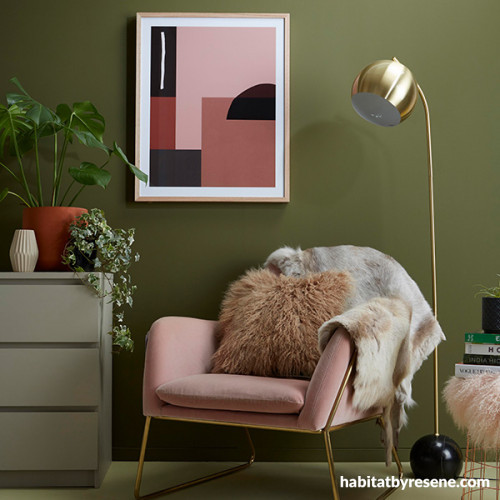 Choose a gloss finish on your ceilings but go for matte walls, which reflect light evening. The walls are in Resene SpaceCote Flat tinted to Resene Waiouru, the floor is in Resene Bubble N Squeak, the drawers are in Resene Napa, the large planter is in Resene Sunbaked, the vase is in Resene Double Ash and the small dark planter is in Resene Twilight Zone.
2. Keep flooring light
When a space is in need of additional light, it's best to choose light coloured flooring to brighten up the room. Try painting your floor in shades like Resene Sea Fog, Resene Quarter Tea, or Resene Secrets.
Light timber stains are also perfect for high-traffic areas since they're better at masking scratches. Try Resene Colorwood Whitewash, Resene Colorwood Light Greywash or Resene Colorwood Rock Salt timber stain for a light look that still lets the grain of the wood show through.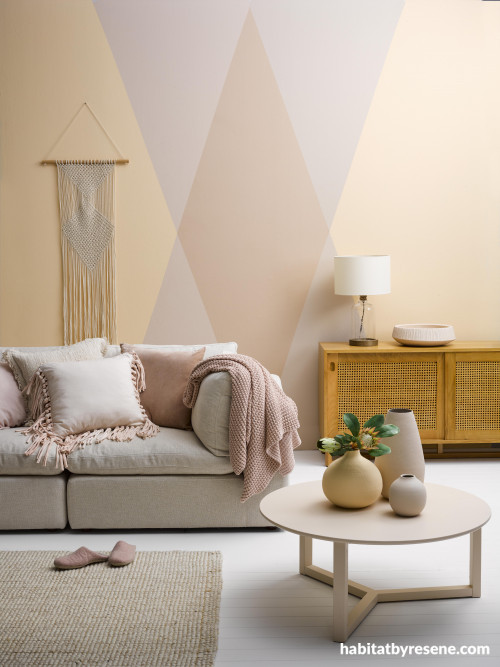 These timber floors look bright in Resene Umber White and help reflect light back up into the space. The diamond accent wall was created with some creative masking and Resene Cashmere (middle diamond), Resene Tequila (side diamonds), Resene Just Right (left triangles) and Resene Alpaca (right triangles). The table is painted Resene Bone, the small vase is in Resene Alpaca, the medium vase is in Resene Tequila and the tall vase and large round bowl is in Resene Just Right.
3. Hang some mirrors
Double the amount of sunlight in your space by hanging a large mirror directly across from the largest window in your room. Or, arrange a collection of smaller mirrors on one or more walls, which will allow light to bounce off their reflective surfaces and spread it around the space.
4. Nix the heavy curtains
There are plenty of window treatment options on the market that provide privacy without turning your abode into a vampire's lair. Get rid of heavy, dark curtains that absorb light, and instead opt for translucent shades that allow sunshine to spread throughout the room.
Try a sheer design from the Resene Curtain Collection, such as Resene Pause Voile, Resene Meander Voile, Resene Harmony Voile or Resene Chia. You can order Resene Curtain Collection fabric and purchase custom made pencil pleat curtains from your local Resene ColorShop and get them delivered to your home or get your curtain specialist to produce curtains, roman blinds or other drapery to suit.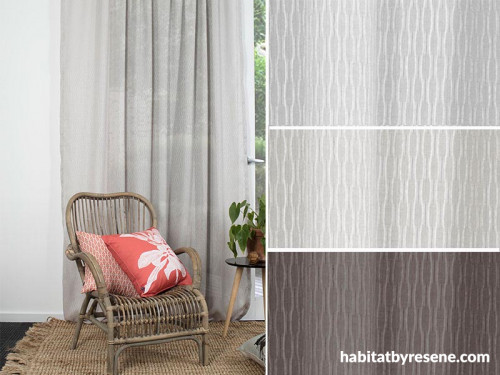 Just because your room needs sheer curtains to allow in more light doesn't mean that they have to be boring. Resene Chia is a textured sheer that is anything but plain. The weave uses different thicknesses and brightness in threads to create depth and direction. Available in four colours: Blonde, Latte, Stone and Slate.
5. Clean your windows
While this one might seem a tad obvious, simply cleaning your windows can have a huge effect on how much sunlight streams into the room. The less dirt and dust they have on them, the more light they'll let in.
6. Add metallics
Incorporating shimmery gold, silver or copper accessories is an easy way to transform a dark and dreary space. The simple addition of a light fixture, vase or piece of artwork has a way of reflecting light and making your interior scheme feel more luxurious.
If you can't find a metallic accent you like, you can always paint a piece you already own and love with a Resene metallic paint. Try Resene Rose Gold, Resene Gold Dust or Resene Proton to give an old favourite some shimmer and shine.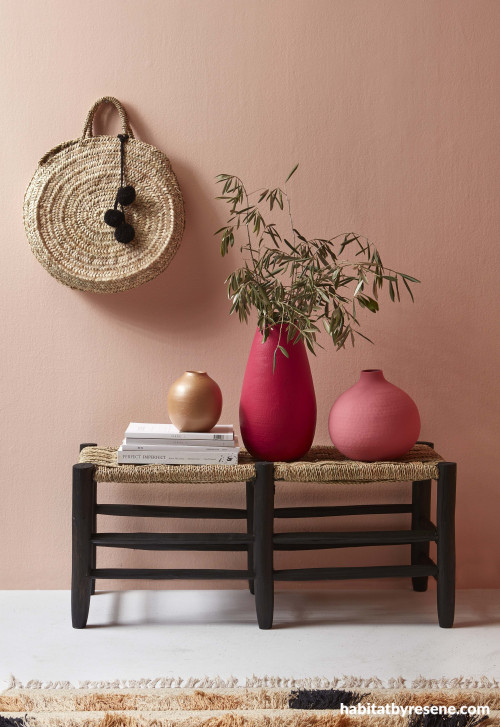 A small vase in Resene Rose Gold metallic paint adds just the right touch of sparkle to this living room. The wall is painted Resene Sorbet, the distressed floor is in Resene Poured Milk painted over a basecoat of Resene Rebel, the tall vase is in Resene Irresistible, the medium vase is in Resene BFF and the legs of the jute ottoman are stained in Resene Colorwood Pitch Black timber stain.
7. Invert your accent lighting
Carefully think about where you place light fixtures throughout your space. Indirect lighting aimed upward – such as a torchiere-style floor lamp or a few upward oriented sconces – can make up for lack of light on the ceiling as daylight dwindles.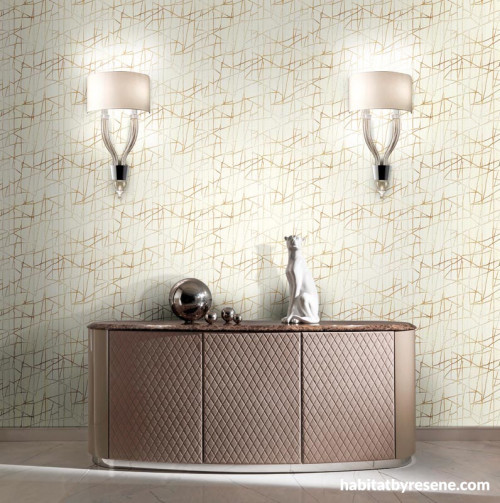 Upward oriented light fixtures, such as wall-mounted sconces, will help brighten a room better than ones that face downward. Try a lightly-coloured metallic wallpaper design, such as Resene Wallpaper Collection Z44553, to reflect even more light around the space.
8. Use shiny surfaces to your advantage
While you don't want to go glossy on the walls (remember: glare), reflective surfaces can play to your advantage when it comes to bouncing light around a space. For a room with limited sunlight, opt for glimmering items like acrylic accents, translucent furniture and mirrored surfaces such as reflective coffee tables.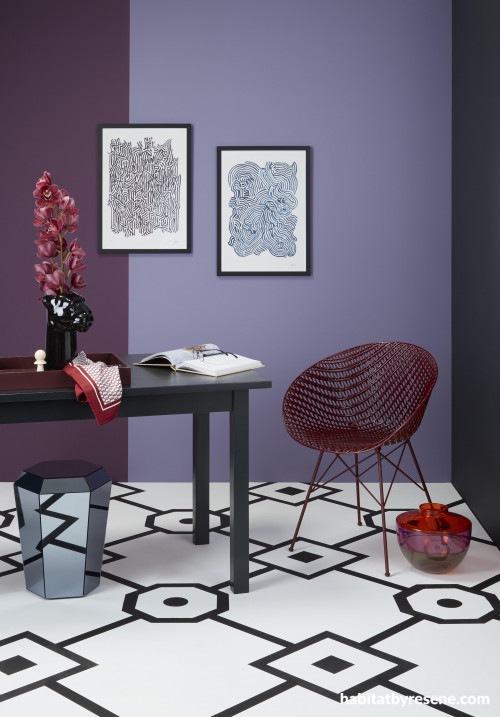 This dining table has been painted in high-gloss Resene Enamacryl tinted to Resene Blackjack while other shiny surfaces, such as the mirrored stool and the vases, work alongside the glossy finish of the table to reflect light around the room – an element that is especially important for a space with darker wall colours. Back wall in Resene RSVP (left) and Resene Memory Lane (right), left wall in Resene Noir and floor in Resene Elderflower with geometric pattern in Resene Black.
9. Opt for a neutral colour scheme
Think back to Year Six science class: the lighter the colour of your walls, the more light they'll reflect. Once you pick the right neutral colour for your walls, paint your ceiling in a lighter strength of the same shade to help light bounce around the room. If you choose walls in Resene Truffle, for instance, go for Resene Quarter Truffle on the ceiling and Resene Eighth Truffle on the ceiling and trim.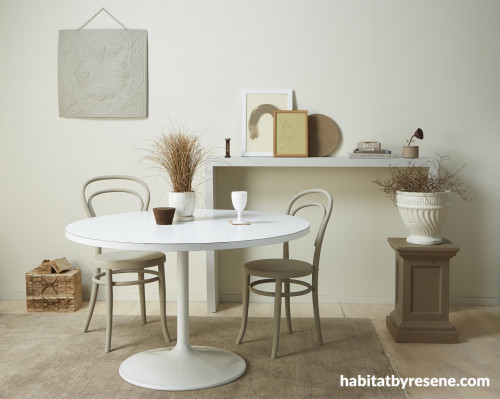 This tonal dining room feels light, warm, fresh and open. Plus, it's a fantastic example of how carefully layering multiple graduating neutral tones can really bring a room to life. The trick is to make sure your layers all have a similar, warm base tone so they build on each other rather than fight each other. Floor stained in Resene Colorwood Whitewash timber stain, sideboard in Resene Eighth Stonewashed, chairs in Resene Napa, plant stand in Resene Artisan and large plant pot in Resene Half Spanish White.
10. Embrace your courageous side
If an all-neutral room is not your style, there's no need to worry. Going for a bold accent wall and a palette of daring hues can energise a room and make it appear brighter.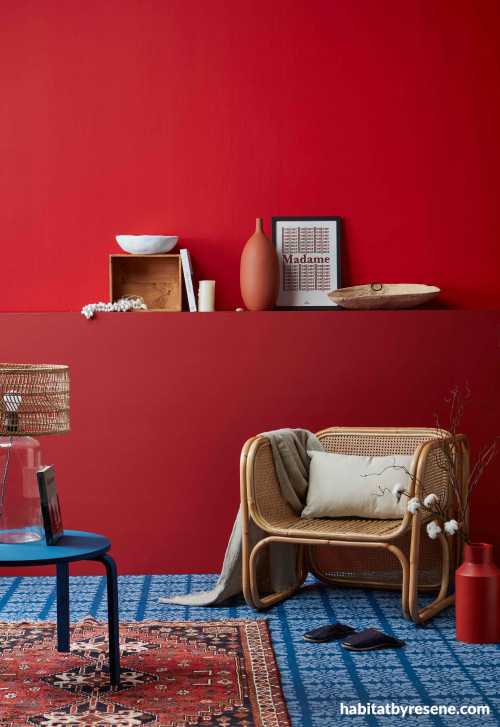 Red is a warm and positive colour, one that energises, excites the emotions and motivates us to take action – and it's a hue that will definitely affect the way the room feels when you're in it. The upper wall is painted Resene Poppy, the lower wall in Resene Dynamite, floor in Resene Wishing Well with stencilled pattern in Resene Time After Time, table in Resene Wishing Well, vase on shelf in Resene Moccasin, vase on floor in Resene Raging Bull, wine box stained in Resene Colorwood Natural timber stain and the bowl (on wine box) is in Resene Elderflower.
styling Gem Adams, Kate Alexander, Annick Larkin, Emily Somerville-Ryan??
images Bryce Carleton, Wendy Fenwick, Mel Jenkins