►
◄
latest
habitat tv
blog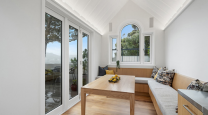 Master Builders' Chief Executive David Kelly shares his tips for building in the challenging climate.

Planning... more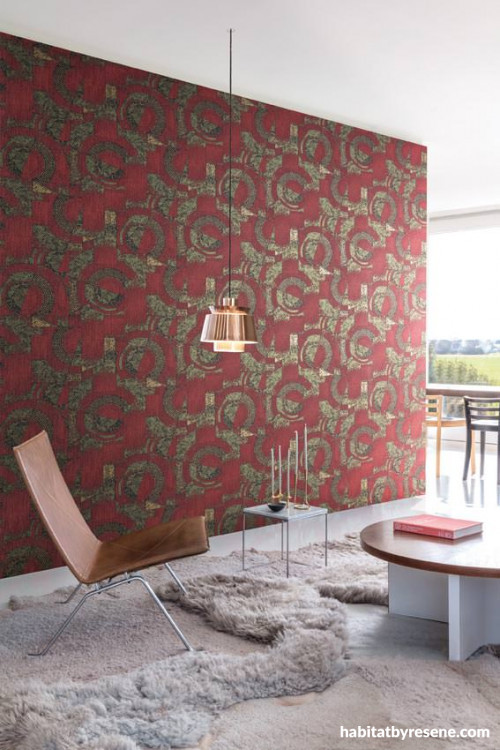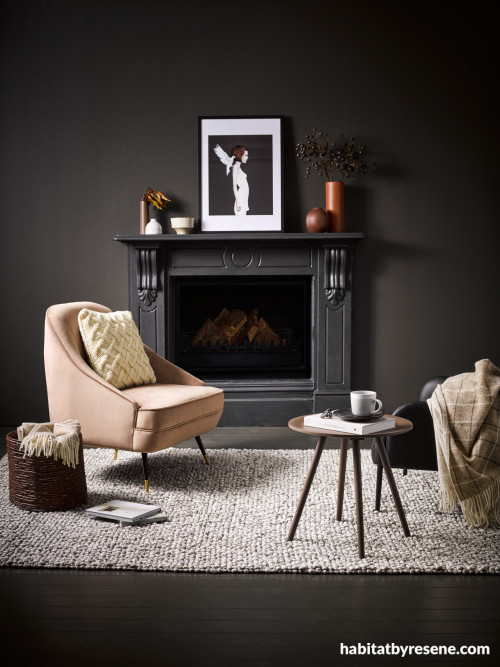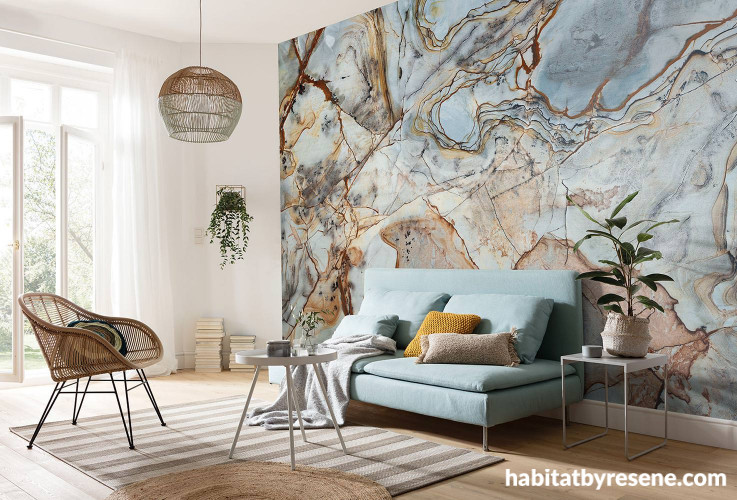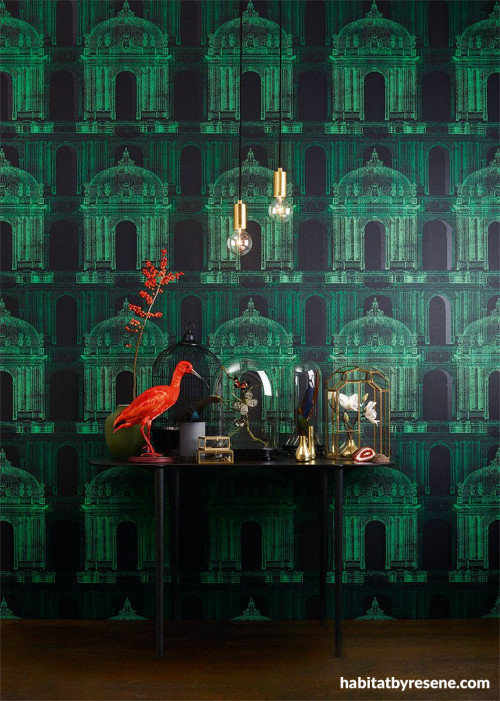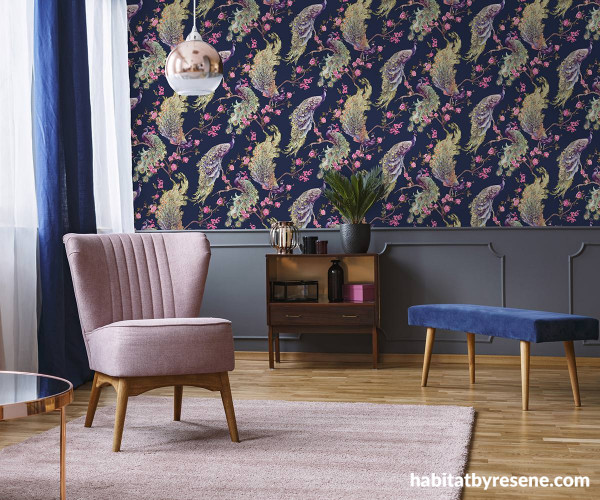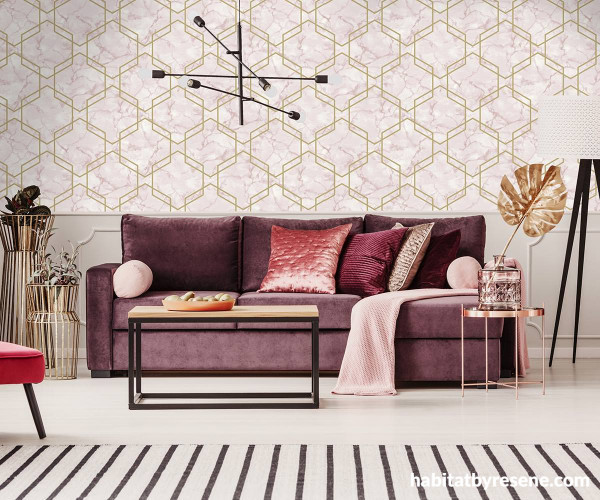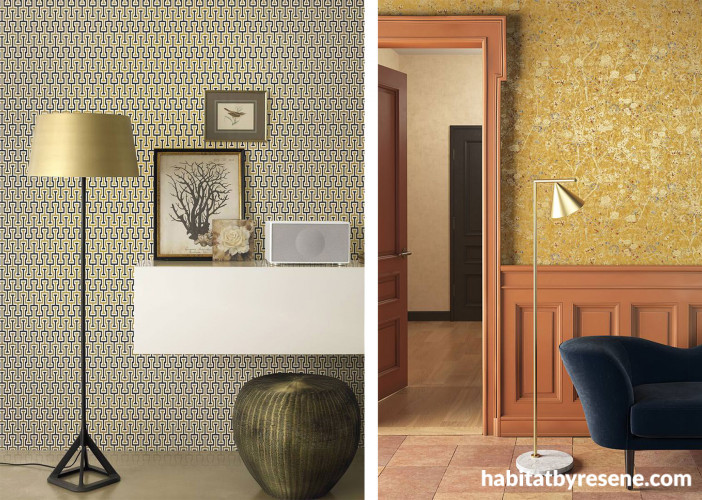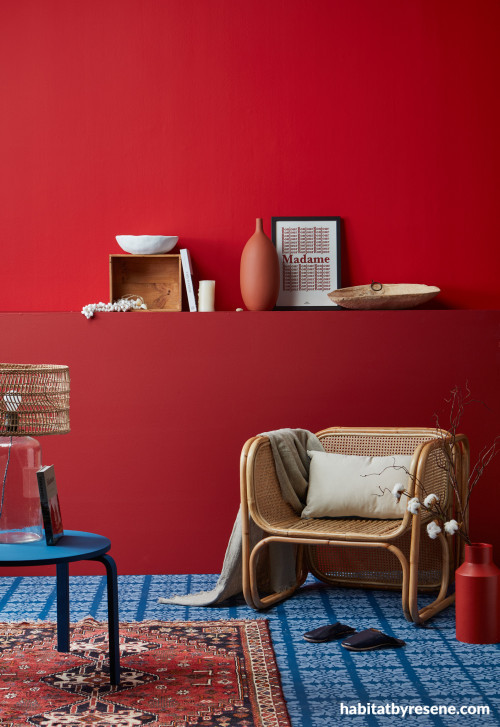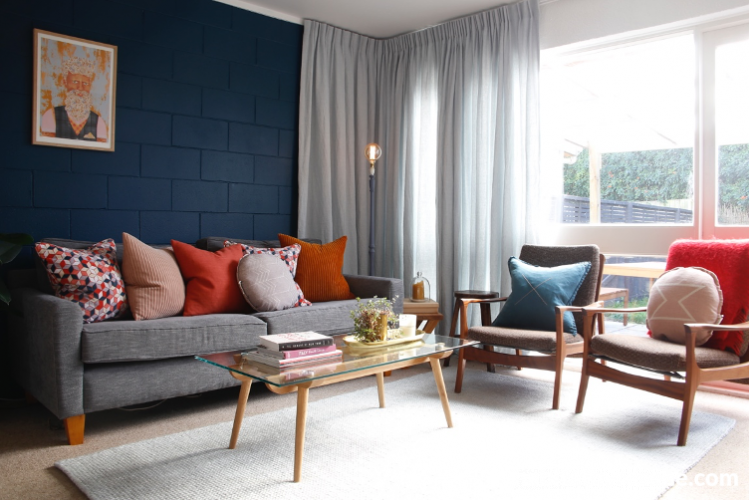 11 decadent living room looks that will convince you to indulge in colour
Ever walked into a living room that's left you green with envy, one that exudes richness and a sense of luxury? Well, we have good news – bringing that same feel to your own space doesn't have to break the bank. With the right Resene colours, textures and accessories, decorating with a sense of decadence is completely within arm's reach.
Here are our top tips for bringing luxury home, from playing with rich hues, to using opulent and oversized furnishings.
Covet rich colours
One way to bring luxury into your living room is to paint the walls in colours often associated with that vibe – think blue-reds such as Resene Poppy, olive and earthen greens such as Resene Waiouru, plum purples such as Resene Fandango, and grey-blacks such as Resene Nocturnal. These colours create an air of cosiness and mystery and also pair perfectly with metallic accents, especially golds and bronzes, which emphasise the sensation of luxury.
Jewel tones, in particular, carry inherent elegance and are a great place to begin when it comes to building a decadent living space. Try starting off your scheme with walls in an elegant emerald like Resene Aquamarine, a sophisticated sapphire like Resene Blue Night or a rich ruby like Resene Vanquish for a space that's steeped in drama.
Published: 29 Apr 2020
Do you have a home full of wonderful Resene paint and colour? Send us some snaps by emailing [email protected].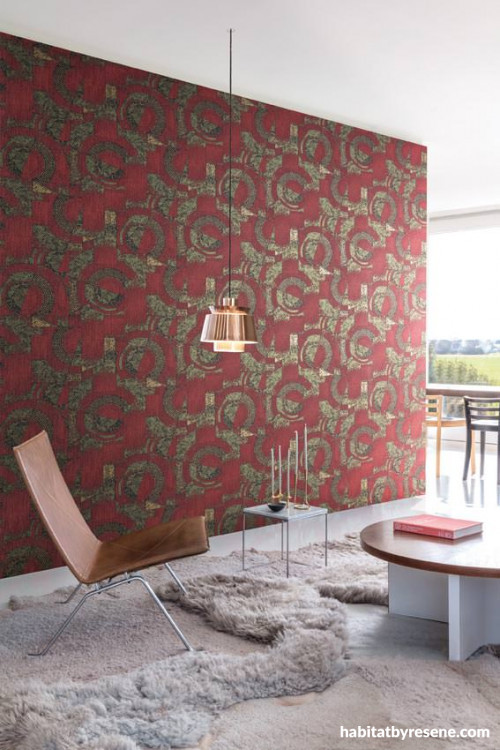 Richly coloured wallpapers, such as Resene Wallpaper Collection IUM202, are heavy hitters when it comes to creating a sense of luxury in a living room. For a similar look, try it with a floor in Resene Black Haze, a lounger in Resene Dark Buff, a pendant lamp in Resene Rose Gold metallic paint, and a few rouge-hued accessories in Resene Jalapeno and Resene Candy Floss.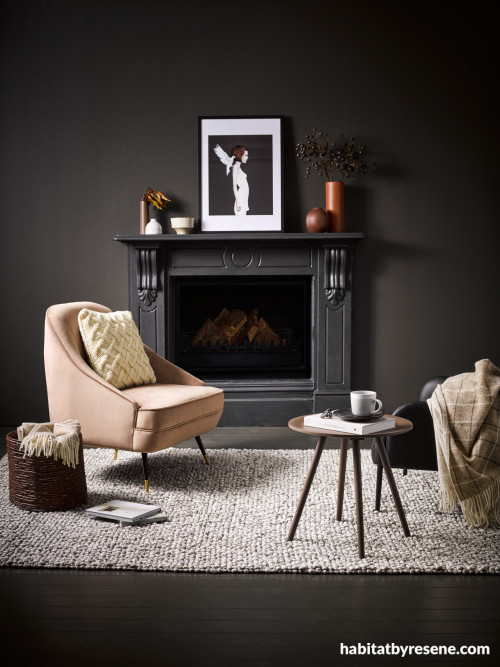 Charcoal is a smouldering choice for walls and floors in a lounge, especially when layered with toasted browns. Wall and floor in Resene Suits, fireplace in Resene Noir, side table in Resene Thunder Road, basket in Resene Rebel, small ribbed vase in Resene Grey Seal, tall vase in Resene Moccasin, round vase in Resene Barnstorm and skinny vase in Resene Route 66.

Go opulent and oversized
Hefty throw pillows, large hardcover coffee table books, voluminous vases – think grand yet elegant when picking out your décor. This approach extends to patterns as well. If you're going down the wallpaper route, look to classic statement patterns; ones that will tell a story of charm and decadence, such as a retro Gatsby-esque print or a pattern with gold-flecked peacocks. Resene has a huge range of luxurious-style wallpaper available to order at your local Resene ColorShop. View a selection of the latest releases online.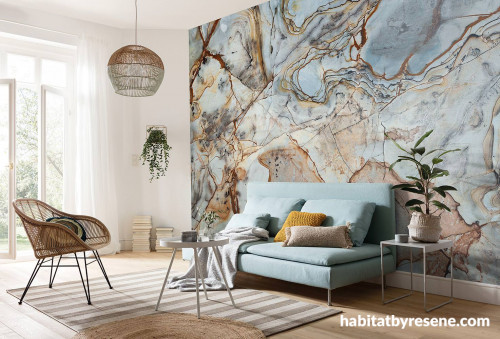 This oversized stone-look wall mural, Resene Wallpaper Collection P032-VD4, certainly says opulence. Bring the most eye-catching colours from its pattern out into the rest of the room for a cohesive look, such as a sofa in Resene Half Opal and a couple of cushions in Resene Hot Toddy and Resene Just Right.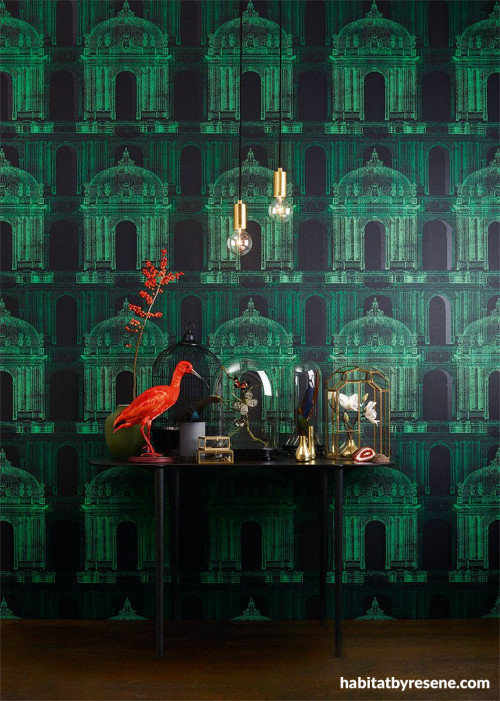 Resene Wallpaper Collection GLA403 is maximum glamour thanks to its emerald hue and elegant design. Pair it with an exotic timber floor stained in a deep chocolate brown such as Resene Colorwood Bushtrack, layer it with curio-esque accessories and plenty of metallics and throw in some accents in eye-popping Resene Roadster for contrast.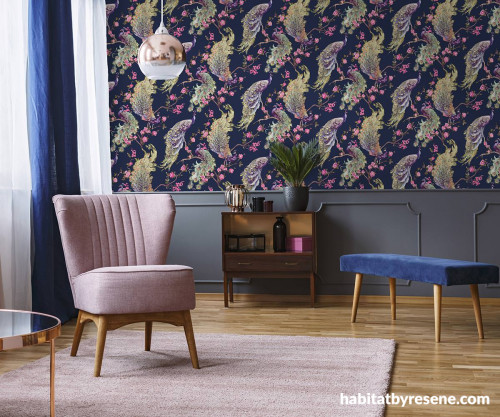 Exotic animal motifs and decadence go hand in hand. Try a peacock patterned wallpaper like Resene Wallpaper Collection 90670 with jewel-toned furnishings in Resene Lucky Point and Resene Alluring.
Did you know?
Even if you can't get to a Resene ColorShop, you can still order your favourite wallpaper design or paint. Just call your local Resene ColorShop and they can help with your order and get it delivered to you. Or order favourite paints and accessories through the online shop, shop.resene.com, and click and collect or get it delivered. Many wallpapers need to be ordered in so make sure you allow enough time.
Win with gold
Going for gold accents in your living room will immediately bring that feeling of decadence to your home life. Gild your space through tall floor lamps, eye-catching feature walls in a golden wallpaper from the Resene Wallpaper Collection, framed art and painted decor, such as vases, furniture legs and candlesticks.
While gold may be the standard for glamour, other metallics definitely add to the decadence of a space. And don't be afraid to mix and match multiple metallics, either. Look to the Resene FX Metallic paint range for a full spectrum of glittering options, and play with the gorgeous golds, coppers and bronzes on offer.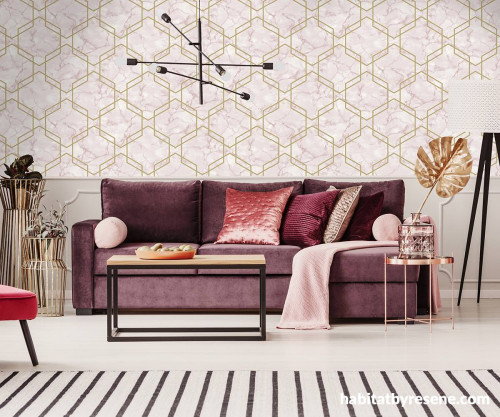 Combining the elegance of geometric shapes, gold and marble in its design, an upper wall in Resene Wallpaper Collection 90601 sets the tone for glamour in this living room. Try it with lower panelling in Resene Caraway, a floor in Resene Quarter White Pointer, a sofa in Resene Mulberry, a statement chair in Resene Geronimo, a coffee table in Resene Hampton, cushions in Resene Coral Tree, Resene Merlot and Resene Alpaca plus a throw in Resene Vanilla Ice for a similar look.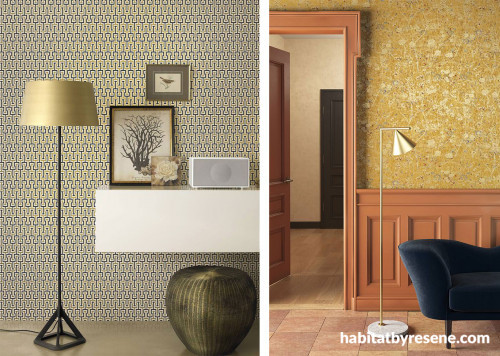 Resene Wallpaper Collection 525328 (left) and Resene Wallpaper Collection GLA805 (right) are other glittering options for opulent wallpaper.
Think about texture
What story are the textures in your living room telling the world? Decadence isn't about filling every space with expensive decor, but it isn't about being sparse either. You need to strike a balance through colour, décor and layering and be considerate about the ways you implement texture – whether it be through visual contrast, patterns, shininess, or tactile elements like plush textiles. You want it cosy, but not cluttered; lived in, but also luxurious.
Work from big to small so that it'll be easier to tell when enough is enough. Have a strong colour palette that has two to three colours known for luxury living, and work with that: think rich jewel tones, blues with reds, greens with gold, blacks with earthy browns. Buy a couple of statement furniture pieces and layer them up with large throws and pillows. Introduce a signature piece of art or a large gilded mirror. Keep it simple and stately for a look that says opulent rather than overkill. Take photos on your phone as you add things and arrange your room – that way you can easily go back to the earlier look if you decide you like it better.
The mix of layers of colour, faux fur, velvet and metallics bring this living room a sense of opulence. Walls in Resene Waiouru, floor in Resene Bubble N Squeak, drawers painted in Resene Napa, planter painted in Resene Sunbaked, vase in Resene Double Ash and small dark blue planter in Resene Twilight Zone.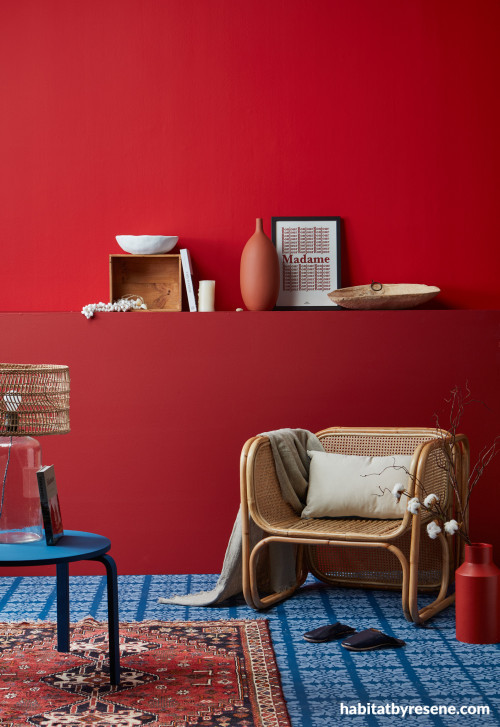 This boldly beautiful space showcases two striking reds, which have been cleverly used together for added dimension. Resene Poppy has been painted on the upper wall and Resene Dynamite is on the lower wall. To add to its richness, further layering of red comes with a floor vase painted in Resene Raging Bull, the shelf vase in Resene Moccasin and the exotic earthy toned rug. A Moroccan-style stencil is used to pattern the floor and amp up the texture, painted in a base colour of Resene Wishing Well with Resene Time After Time over top. Coffee table in Resene Wishing Well, bowl (on box) in Resene Elderflower.
Luxury in lighting
As we said before, luxury may be about elegance, it still needs to maintain a cosy feel to it. Lighting plays a big part in that, especially if you're introducing bolder colours to the room. Relying solely on an overhead light or natural light may leave the room looking too sterile or too dark, so use lamps around the lounge to create ambience and warmth.
Paint colours also play a huge part in how the mood of your room responds to natural light, as do the finishes you choose. Talk to the staff at your local Resene ColorShop about how the colours you're leaning towards react under different lighting conditions and which finish will give you the look you're after, or ask for free advice online using the Resene Ask a Colour Expert service at www.resene.com/colourexpert. Use Resene A4 drawdown paint swatches to test the colour in the room itself. Or, pick up a few testpots in your 'shortlisted' hues and paint the entire contents of each in two coats onto a A2 piece of cardboard, leaving an unpainted border around the outside. Be sure to move your samples around the room at different times of the day and evening before you narrow them down to your final picks.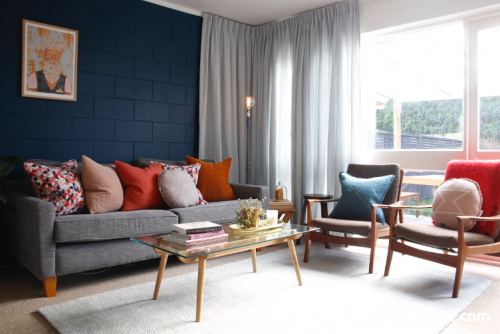 A mix of natural light which can be controlled with curtains or other flexible window treatments, different types of overhead, task and accent lighting – preferably controllable with dimmer switches – and, of course, candlelight will yield the best results when trying to create a luxurious mood. Accent wall in Resene Tangaroa, other walls, ceiling and trims in Resene Alabaster.
Other top tips and tricks:
● Fresh flowers and greenery bring a living room alive and shows a place that is constantly being cared for. Try displaying them in a smoked glass vases or one painted with sparkly Resene Rose Gold metallic paint.
● Opt for classic colours and textures for high-ticket items like furniture, rugs, etc. as those will be with you for years to come. Instead, have a bit more fun with things that can easily be changed such as your wall colour, candles, cushions and lampshades. These will keep your living room looking luxurious and modern while not limiting your ability to mix things up later down the road should your tastes change.
● Don't omit 'DIY' from your luxury lexicon. Try Resene Crackle on a tabletop to create an antique crackle effect, using Resene Gold metallic paint as the base for an opulent look.
styling Kate Alexander, Annick Larkin, Gem Adams, Vanessa Nouwens
images Kate Alexander, Bryce Carleton, Melanie Jenkins, Wendy Fenwick