►
◄
latest
habitat tv
blog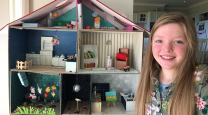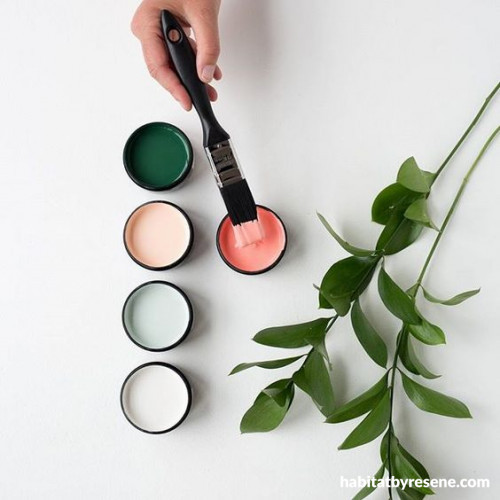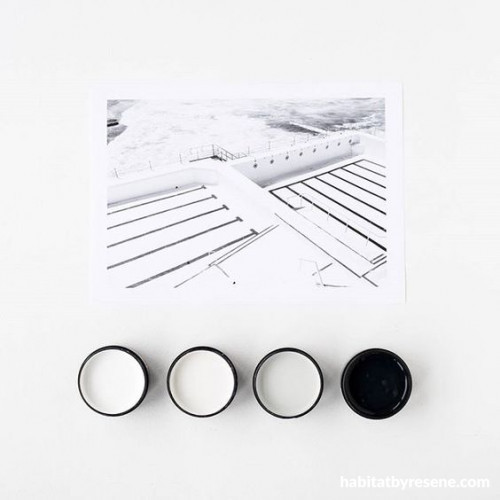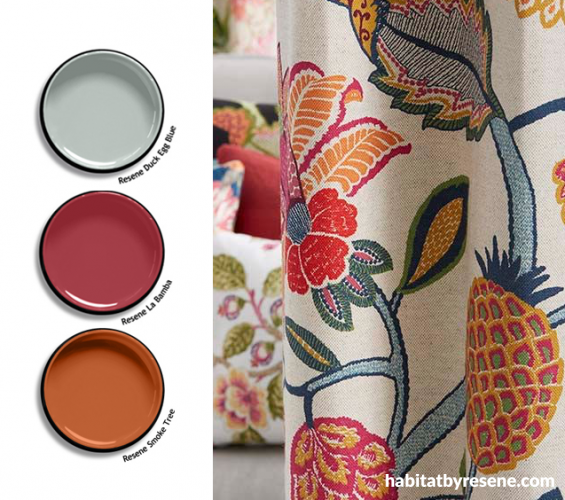 3 favourite colours
We asked three Resene colour experts to pick their favourite colours from the Resene The Fashion Range 18 fandeck, with insights to colour trends for the home.
What did we learn? Strong greens and Scandinavian neutrals are a go-to this season, while dusky tones are gaining traction. Here are their picks.
Sarah Gregory, Resene colour expert, Auckland
When it comes to colour for 2017, think earthy hues and dusky tones in pinks, blues and greens. The Scandinavian style is still very on trend and not going anywhere in a hurry. These soft earthy hues soften our white interiors making them feel more homely.
Using natural textures such as brick, timber and hessian enhance the look. Metal such as copper and bronze bring some warmth and drama. Upcycling is also still popular as we rescue old pieces from 50s, 60s and 70s and integrate them into our modern spaces.
Being surrounded by colour each day my favourites change with the season. Right now my favourites are the fresh-toned, strong pastels.

Resene Ruby Tuesday is a tender apricot orange, and Resene Freelance is an aqua green, soft toned but fresh. These paired with Resene Half Rice Cake, a clean starchy white with the tiniest touch of yellow, is an exciting colour combination and can be used in many different places.
Try upcycling some tired wooden dining chairs by painting them in Resene Ruby Tuesday and Resene Freelance with Resene Half Rice cake on the walls.
Use this colour combo to paint old picture frames with art or photos for the wall.
Paint an old picnic bench in stripes with the three colours, and finish with seating painted in Resene Half Rice Cake.
The softness of the Resene Half Rice Cake makes a perfect neutral backdrop to balance the strong pastels. These colours simply make me happy!
Deanna Hills, Resene colour expert, Waikato
As a designer I love and enjoy a lot of colours, and it depends on the space and what I'm working with. But if I have to choose, it would be Resene Sea Fog, Resene Half Secrets and Resene Half Bokara Grey to reflect my personal style of simple/minimalistic Scandinavian.

Resene Sea Fog is a great all round colour for a whole Interior. For a simple but modern look, pair it with Resene Quarter Black White or Double Alabaster for the ceilings and trims. You'll have an interior that's timeless and light, and works well with warm earthy colours, as well as greys and cooler tones.
Resene Half Secrets is a beautiful soft pastel green with a lovely dusky undertone. It's great for Interior use and better used for colour blocking or features. (But don't be scared to use it in an entire room if you love it.)
Resene Half Bokara Grey is a warm charcoal and looks fabulous for the interior and exterior. Use it as a feature wall behind a master bed, or paint the whole bedroom for a moody feel. For the exterior, use it on entire weatherboards or to colour block. It's another versatile colour that works well with both warmer and cooler tones.
You can definitely use all three colours together... particularly in an interior setting, with plywood ceilings and cabinetry, and polished concrete floors.
Brooke Calvert, Resene colour expert, Canterbury
The trends I see coming through for 2017 are terracotta tones, muted tones of peachy pinks, earthy tones of greens and tones of blue. The colours seem to be quite musky with a pop of cheerful brightness.

I love the muted nude undertone of Resene Dawn Chorus, a mature toned pink. It's a great all-rounder neutral, adding a splash of colour to walls without overcomplicating the colour palette.
Greens are all go this season! I love the cool tone and mysterious depth of Resene Atlas. Bringing earthy tones of nature inside seems to be very popular, which I am personally excited to embrace.

If you are a little unsure on taking the plunge, try the half and half look… paint the bottom half of the walls in Resene Atlas and the top half and ceilings in Resene Chalk Dust.
You can't go past a classic soft white, such as Resene Chalk Dust. It's a versatile white that I would use almost anywhere, given that it tones well with existing elements within the space.
Together, these colours would work extremely well in a teen girl's bedroom. Use Resene Dawn Chorus as the main wall colour and Resene Chalk Dust on the ceilings and woodwork. Accessorise with a framed blackboard painted in Resene Atlas.
Published: 15 Mar 2017
Do you have a home full of wonderful Resene paint and colour? Send us some snaps by emailing [email protected].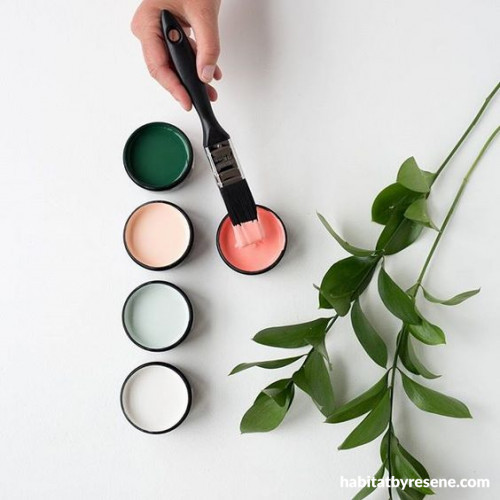 Greens, dusky pinks and greyed neutrals are popular colours for 2017. They also look beautiful together, as you can see in this colour combo. Pictured are testpots in Resene English Holly, Resene Wax Flower, Resene Ashanti, Resene Quarter White Pointer and Resene Glorious. Styling by Amber Armitage.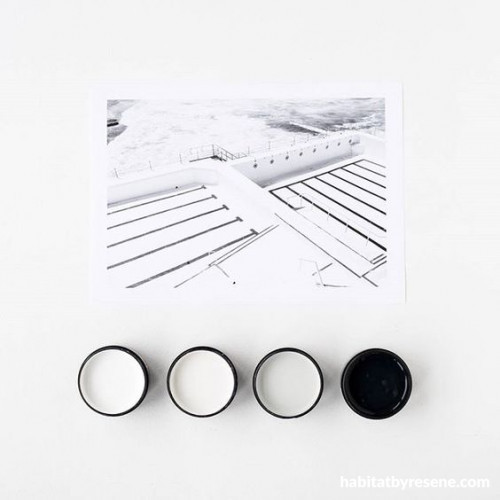 Scandi and minimalism for interior design is still popular and inspires this colour combo. These testpots from left are Resene Eigth Black White, Resene Double Black White, Resene Quarter Stack and Resene All Black. Styling by Amber Armitage.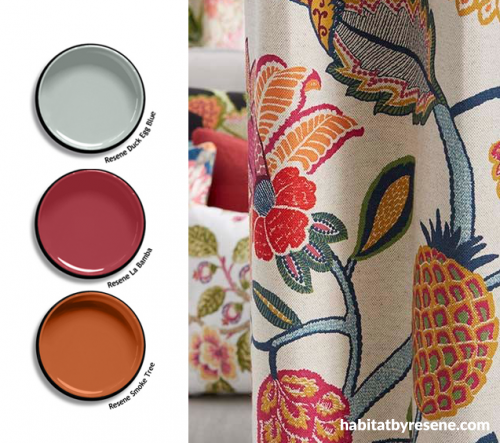 Earthy hues such as Resene La Bamba and Resene Smoke Tree bring warmth this season, softened by the ever popular Resene Duck Egg Blue. This Floranova fabric from Warwick sums up the look.
the look
If you're stuck on what
colour to use or need colour
advice, try out the Resene
Ask a Colour Expert service.