►
◄
latest
habitat tv
blog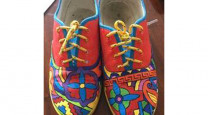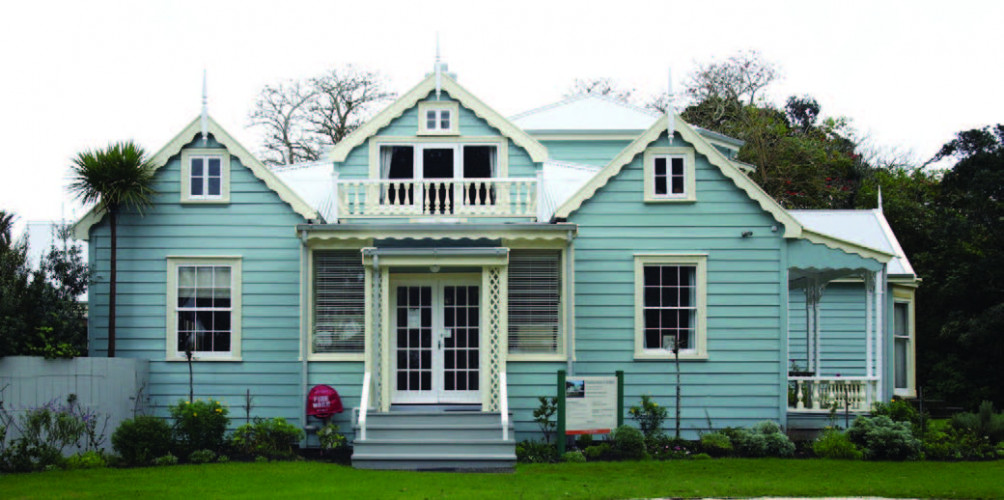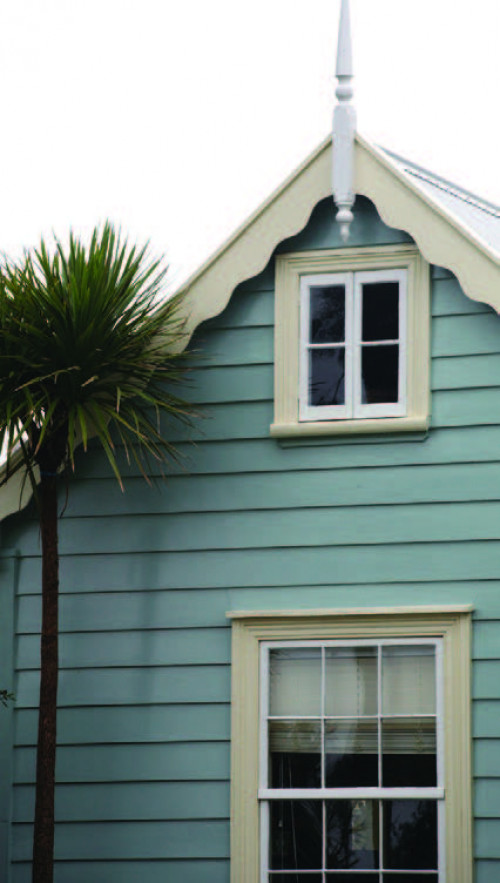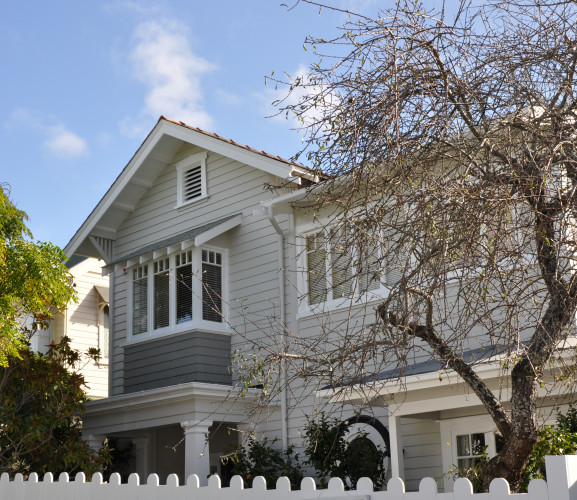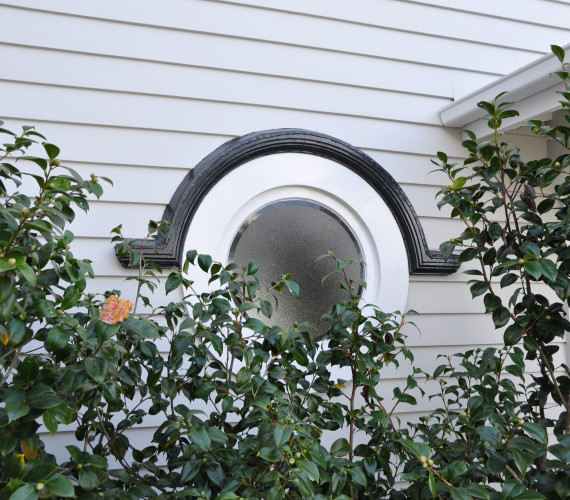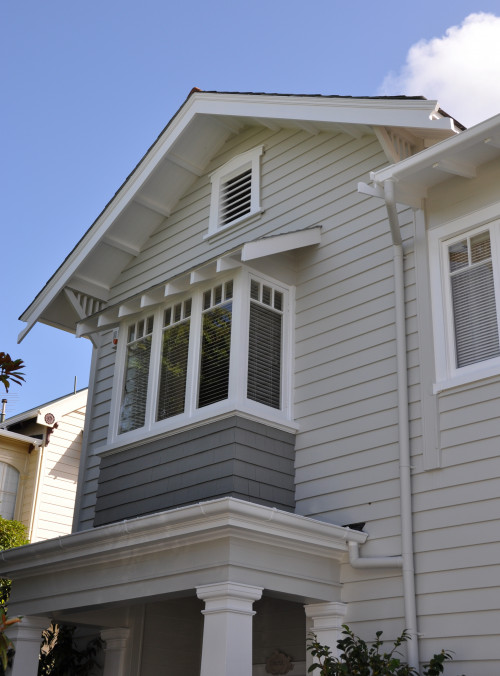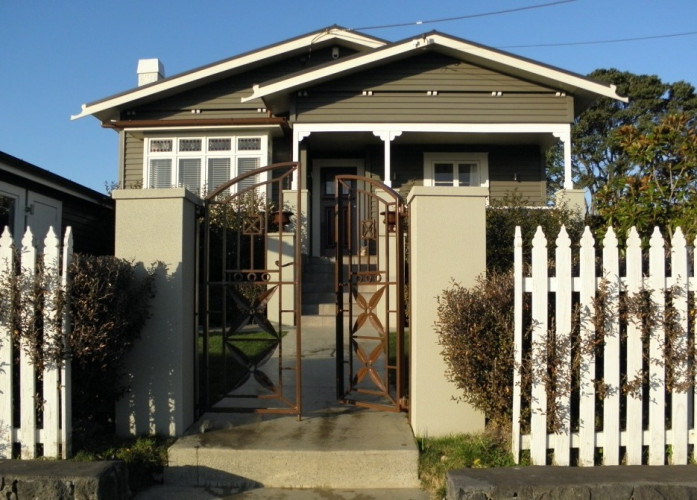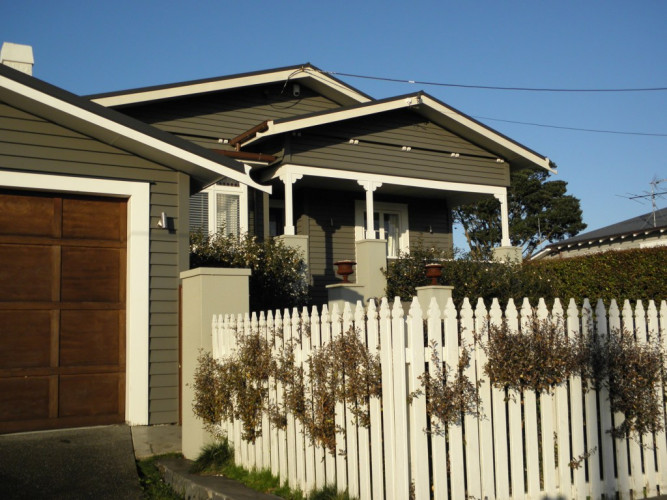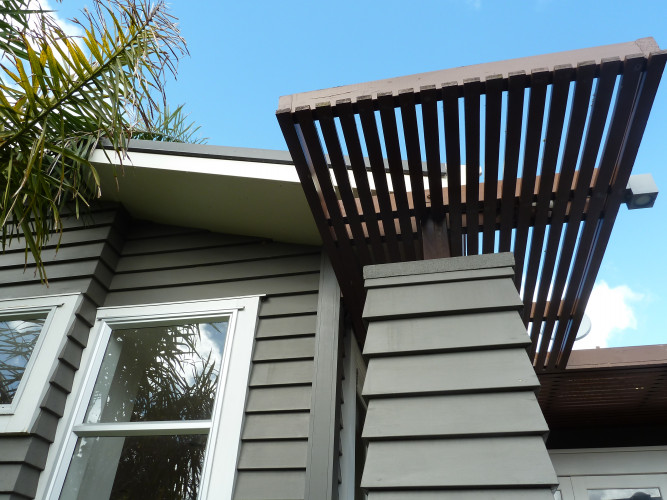 3 foolproof schemes for character homes
16 Aug 2012
Do you have a home full of wonderful Resene paint and colour? Send us some snaps by emailing [email protected].
Dark, dusky or dreamy blue: you choose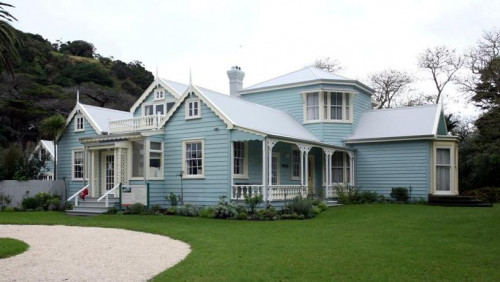 This gorgeous old home dates back to 1857 and during the years various owners have changed it to fit their needs. The result is a sprawling two-storeyed building with a different architectural periods and 'features'. Called Couldrey House after its last private owners, it serves as a museum in Wenderholm Park just north of Auckland, administered by Auckland City. Renowned heritage architects Salmond Reed Architects were called in to help with the exterior colour selection when the roof needed replacing. Their solution takes into account the unique setting of the house – surrounded by a tranquil colonial garden, backed by bush-clad hills and facing towards a sandy beach and sea – so that the house neither dominates nor is overwhelmed by its environment.
They began with roofing in Colorcote Gull Grey then added a blue/grey palette of Resene Destiny for the weatherboards with Resene Half Colonial White, Resene Alabaster and Resene Zombie on the various timber joinery elements. The verandah floor was finished with Resene Waterborne Sidewalk Amber Grey and the base of the house and the chimneys were painted Resene Tapa.
Tip: Download Resene's virtual painting software free from the website. You can either download a photograph of your house and 'paint' it on line, or use one of the pre-existing styles already loaded onto the Ezypaint software.
Classic good looks
When Alaister and Bev Wall wanted to repaint the exterior of their lovely old 1916 transitional villa, they didn't know where to start. But after a chat with Resene colour consultant Nikki Morris, they were spoilt for choice. She gave them three schemes to consider that would suit the age and style of the house… then they took the best from all three!
After a week of taping various paint samples to the walls and asking the opinion of various family and friends, the settled on weatherboards in Resene Half Ash, window surrounds in Resene Quarter Bianca, board on the box window in Resene Gauntlet and a front door in Resene Double Foundry. The painting was overseen by Auckland-based Arjen Bloem of Paint and Plasterboard Finishing.
Says Alaister: "We're thrilled with it. It's certainly a change from the shabby green paint we had before, and since it's been finished we've had people knocking on the door wanting to know the colours."
Tip: If you're stuck with choosing colours, take advantage of Resene's colour consultancy service – they can either visit you or you can get free advice in-store.
Dramatically dark
An extension and renovation of what was once a small workingman's bungalow deserved a new and more dramatic exterior colour scheme to give it more presence. Designer Liz Kerby of Workspace Design chose Resene Masala for the weatherboards because she finds its dark brown/grey tones very versatile. "It's a colour that goes so well with many garden elements and plants." She complemented that with Resene Quarter Thorndon Cream for the window surrounds and detailing, and Resene Iron Sand for the roof and side fences.
The front door was painted a clear red, Resene Renegade, as a welcoming feature and to tie with its existing stained glass panel.
Slatted pergolas added to the rear of the house over deck and patio spaces were painted Resene Old Copper to match the copper-finish guttering. Plants with coppery tones - like corokia Frosted Chocolate, michelia flower buds and the underside of magnolia leaves - were added to the garden to echo the colour and Liz designed tapa-motif front gates also finished in the same colour.

Tip: If you want to paint your exterior in dark colours, use Resene CoolColour paint, which is specially formulated to reflect more of the UV light in our strong sunlight so that the paint and any surface underneath doesn't get as hot and cause the paint to age prematurely.

DRUM ROLL PLEASE: Next week we unveil the winners in this year's Resene Total Colour Awards. Announced on Thursday, August 23, at a gala event, we'll bring the news first thing on Friday morning.
Coloured by the sea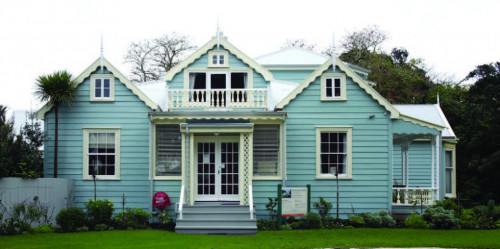 The exterior scheme, designed by heritage architects Salmond Reed Architects, takes its cue from the seaside setting with Resene Destiny for the weatherboards and Resene Half Colonial White, Resene Alabaster and Resene Zombie on the various timber joinery elements.
A history of details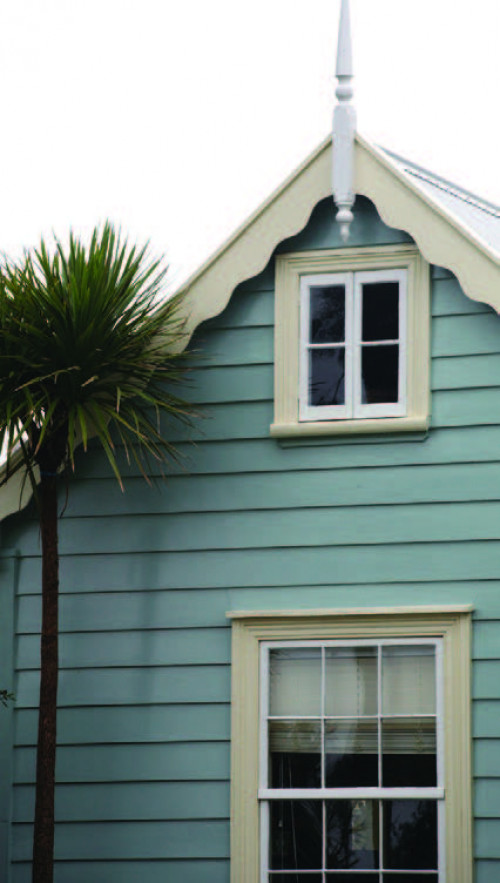 Windows and other detailing are picked out in Resene Half Colonial White and Resene Alabaster along with the pale sand colour of Resene Zombie.
From green to sophisticated grey
The street appeal of the 1916 transitional villa is so improved that people have knocked on the door wanting to know the paint colours used - Resene Half Ash weatherboards, Resene Quarter Bianca window surrounds, and Resene Gauntlet under the box window. The painting was overseen by Arjen Bloem of Paint and Plasterboard Finishing.
Delightful details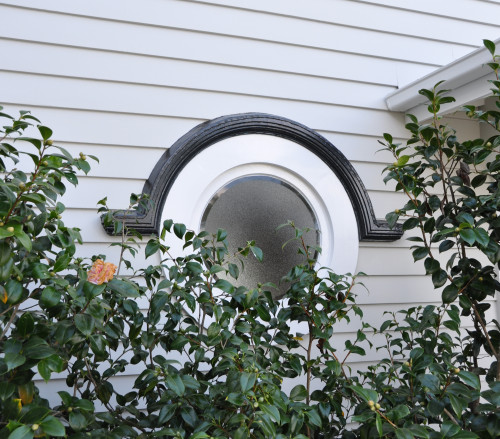 Delightful features like the detailing over this round window were picked out in Resene Double Foundry.
A flexible approach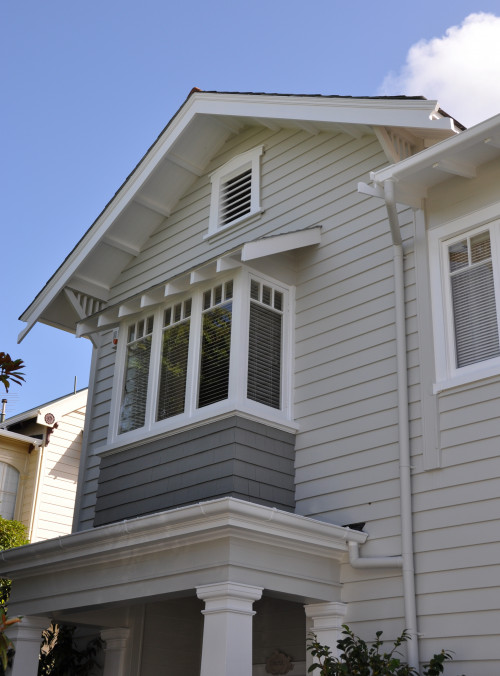 Some of the box bay windows are highlighted in Resene Gauntlet while some are left in the main colour of Resene Half Ash. The window surrounds are Resene Quarter Bianca.
Go dark for drama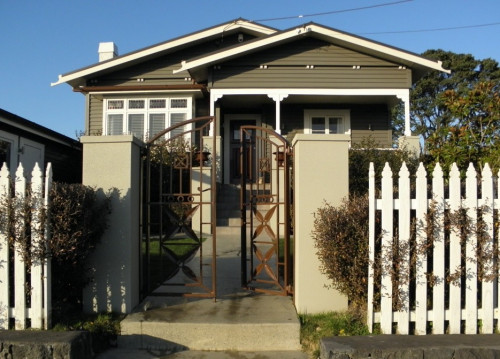 A dramatically dark colour scheme based on Resene Masala weatherboards and Resene Quarter Thorndon Cream trims transforms a plain bungalow into a sophisticated home. The colours were chosen by Liz Kerby of Workspace Design.
Warmed up with russet tones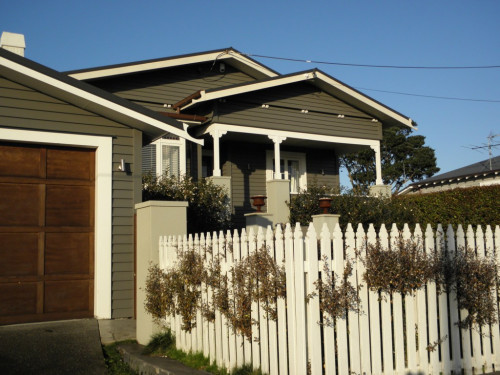 Russet tones are used as highlights against the Resene Masala weatherboards, on the specially designed front gate, plant foliage and garage door.
Contemporary details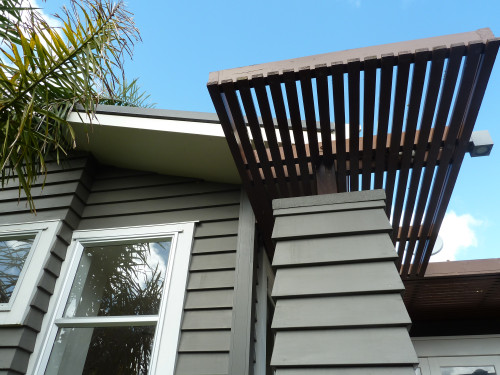 Slatted eaves are used over deck areas and finished in Resene Old Copper. The weatherboards are Resene Masala and the window trims are Resene Quarter Thorndon Cream.