►
◄
latest
habitat tv
blog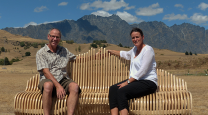 4 considerations for creating a home office that works
As we continue to handle more and more of our business responsibilities on portable devices, homework is no longer just a concept for school-aged children. But if you're feeling squeezed for space, you'll need to employ a bit of creativity to carve out a niche where you can get business taken care of.
Luckily, with so much of our work lives now stored 'in the cloud', many workspaces have become virtually paper-free – so while we're getting more work done than ever before, we're doing it in much less space.
Here are four key considerations that will help to make the most of the space you have to create a home office that works for you.
1. Be honest with yourself and your needs
"You can put a workspace just about anywhere now," says Laura Lockhead of Pocketspace Interiors, who specialises in small spaces. "For a lot of people, a workspace can be something much more transient than it used to be. A home office can be a study nook built into a wall in a bedroom or hallway – freeing up the 'historical home office' for other uses."
Determining whether you need a fixed or flexible space comes down to work/life balance, says Laura. "It's about how much time people spend working at home, how much time they spend on the phone, and how they deal with distractions. If work is checking on emails, you can probably do it from just about anywhere."
"Having a dedicated space or zone can help some with productivity and concentration levels, but It's really about creating a space where you know you can work and limit the distractions."
Deciding on the type of space that will best suit your needs begins with identifying your own work patterns and habits. Do you have a family around you and need to keep an eye on the kids? Do clients visit? Do you like to work with music playing? Do you like to pin things on the wall? Each can influence the way you set up space around you for work.
Whether you share the same workspace as your children depends on your family dynamic, says Laura. Finding what works for you will likely mean finding the right balance between being completely out in the open and being completely cut off.
Published: 04 Jul 2019
Do you have a home full of wonderful Resene paint and colour? Send us some snaps by emailing [email protected].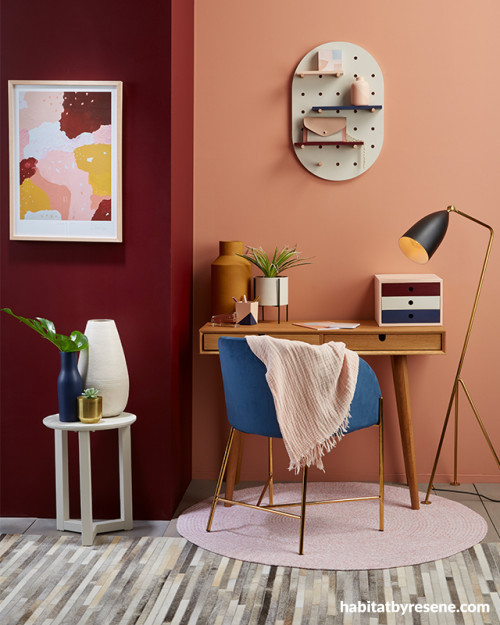 This unused alcove was turned into a cosy office by popping in a small desk, a lamp and some handy organisers. The main wall is painted Resene Just Dance and the darker wall is Resene Smoulder. The side table and large white vase are in Resene Half Tea, the wall and desk organisers are in Resene Half Tea, Resene King Tide, Resene Smoulder and Resene Soulful. The mustard vase is Resene Influential and the dark vase is Resene King Tide.
2. Be colour cognizant
Surrounding yourself with the right colours can aid your concentration and stimulate creativity while you work.
"Identify those colours that have a psychological effect on your creativity and well-being. If you're a confident type, surround yourself with oranges. If you're a strategic thinker, go for blues and muted tones," suggests Laura.
Warm colours like yellow, red and orange are said to inspire creativity – try Resene Thumbs Up, Resene Red Herring or Resene Twisted Sister.
Soft pinks and greens help to relax an over-stimulated brain. For pinks, try Resene Soulful, Resene Ethereal or Resene Shilo. Restful greens include Resene Nourish, Resene Peace and Resene Unwind.
Blue is thought to be associated with intellect. For some, being in a blue room can help increase productivity. Try Resene Excalibur, Resene Meditation or Resene Remember Me.
If you like a colour but find it too intense to use on your walls, try putting it right onto your workspace by painting your desk or chair with durable Resene Lustacryl semi-gloss or Resene Enamacryl gloss waterborne enamel.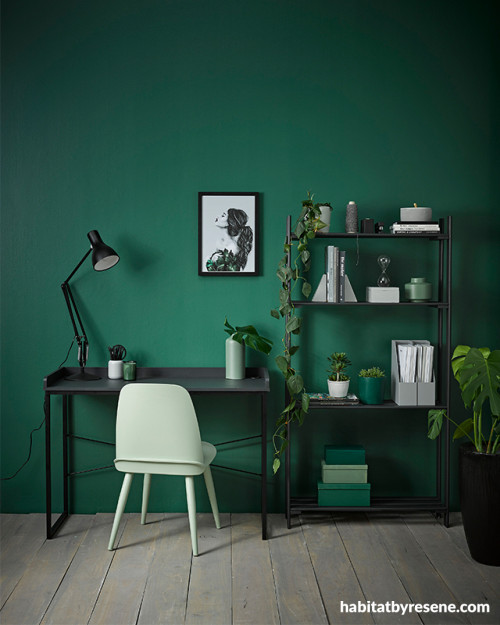 The walls in this office nook look restful in Resene Mother Nature. The chair and vase are painted Resene Peace, the accessories are in Resene Family Tree, Resene Permanent Green, Resene Silver Chalice and Resene Rivergum, the desk top, bookshelf and large planter are in Resene Noir and the floor is stained in Resene Colorwood Mid Greywash.
3. Rearrange your thinking – and your desk
When trying to save space, a desk can often leave you staring at the wall. While this may be great for concentration, it can feel uncomfortable to others. One solution is to position your desk diagonally, cutting off a small corner of the room and leaving your back to it. Add a bookcase or shelves behind you to make the most of the space.
Another option could be a triangular desk, perfect for small spaces. For storage, hang corner shelves; make sure you're using proper hardware and a stud-finder to anchor shelving safely and securely.
Whichever way you decide to orientate your space, be sure to invest in key quality pieces. If you're uncomfortable, you're unlikely to be at your most productive, and the wrong ergonomics could result in repetitive stress injuries. Ask your employer to see if there is an allowance for purchasing furniture for your home office or if you can claim some of what you spend on your taxes.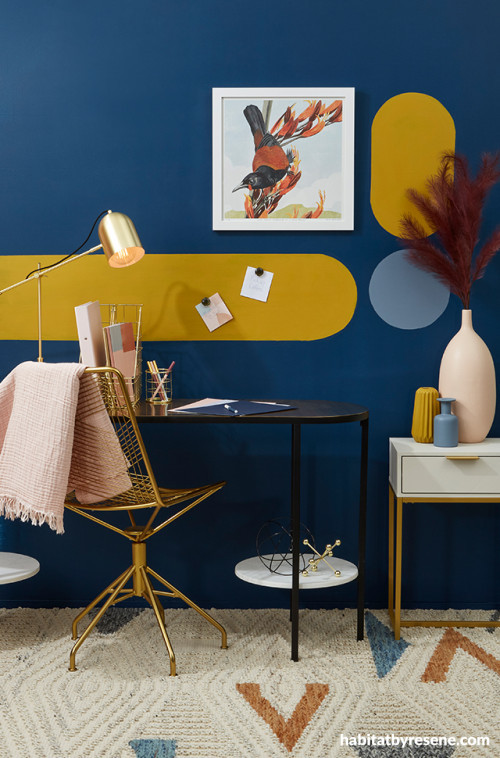 This art-deco console table works well as a 'sometimes office'. The wall effect in Resene Influential and Resene Time After Time has been painted over two coats of Resene Magnetic Magic to create a clever note board that is there when you need it. Everything else can be easily stashed away when company comes over. The main wall is painted in Resene Wishing Well, the side table is in Resene Half Tea and the vases are in Resene Soulful, Resene Time After Time and Resene Influential.
4. Keep little hands busy
For parents who work from home while caring for children, it can be hard to strike a balance between keeping the kids entertained and getting things done. Why not create a special space where your little ones can work alongside you?
Create an easy magnetic chalkboard using a picture frame with the glass removed. Simply paint with two coats of Resene Magnetic Magic on the backing followed by Resene SpaceCote Low Sheen in Resene Family Tree. Once dry, you can write on it with chalk, which can be wiped off with a wet cloth. Hang magnets on it and arrange to suit, like these wooden letters that we painted using cheerfully coloured Resene testpots.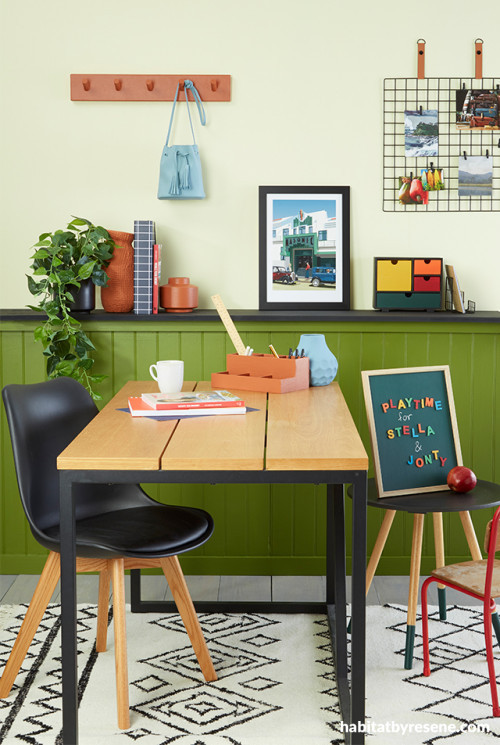 In this fun and vibrant space – inspired by an old schoolhouse – the upper wall has been painted Resene Moonlight, the paneling is in Resene Untamed, with accents throughout in Resene Moccasin, Resene Mystery, Resene Away We Go, Resene Moana, Resene Daredevil, Resene Cleopatra, Resene Pohutukawa and Resene Noir. The chalkboard has been painted with two coats of Resene Magnetic Magic followed by Resene SpaceCote Low Sheen in Resene Family Tree.
Top tips:
Having the right lighting is important for avoiding eye fatigue, and it's healthy to have a good amount of natural light. If your desk is in a cupboard or hallway, choose a good study lamp to bring in direct light and look for ways to bring in natural light where possible.
Where space is a luxury, consider using multi-functional items like vertical shelving units that can double as a room divider or a desk big enough to support a flip-down mattress at night.
Mask fun or geometric shapes above your desk and use two coats of Resene Blackboard Paint, Resene Chalkboard Paint or clear finish in Resene Write-on Wall Paint to create a place to leave yourself paper-free reminders.
Look beyond the home office section for items that can help you to organise, divide and conquer clutter. Items designed to help you organise other parts of your home, like your kitchen or laundry, can offer opportunities for clever solutions.
Studies have shown that using a standing desk can be better for your overall health and well-being. To mix things up try a desk that can easily be adjusted from a sitting to a standing level, so you're not confined to a chair.
Introduce at least one live, easy-to-care for plant into your space to bring beauty, oxygen and life to your work area.
---
styling Vanessa Nouwens, Laura Lynn Johnston
images Bryce Carleton, Melanie Jenkins