►
◄
latest
habitat tv
blog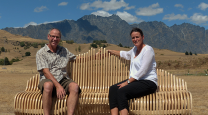 One home office, three ways – and the lessons we learned
When Architect Michael Cooper built a new extension on Emily and Henry's 1930s bungalow in Auckland's Pt Chevalier neighbourhood to reorganise and expand their floor plan, it created a brand new space that the couple could use as a second sitting area and home office.
Published: 05 Sep 2019
Do you have a home full of wonderful Resene paint and colour? Send us some snaps by emailing [email protected].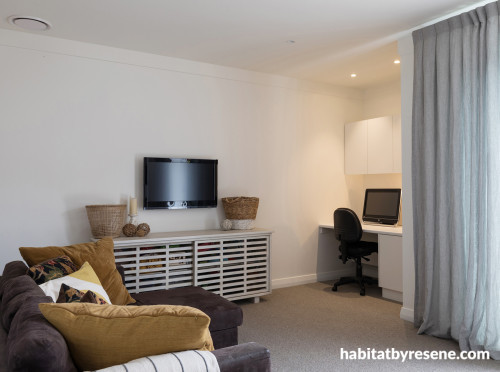 Emily and Henry's new bonus room looks light and cosy with walls, ceiling and trims painted Resene Half Bianca.
While the room looks light and lovely with walls, trims and ceilings painted in Resene Half Bianca, two other designers have also come with their own ideas for how the space could look with other colours brought in.
Designer Anna Major suggests this alternative scheme: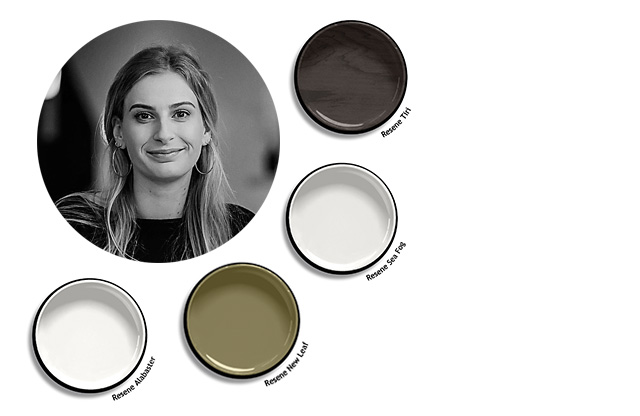 "My design for this space was intended for a professional who uses their office for consulting or working from home. I have used feature cabinetry in Resene New Leaf to balance colour across the room and accent against the cooler tones in the furniture and carpet. I've also brought in some natural timber furnishings that, despite it being a small space, don't feel heavy and are still comfortable and practical for meetings. Task lighting has been installed above the computer station and accessories have been kept to a minimum so that the office itself doesn't distract from the work at hand. The eco-friendly cork tiles are also an acoustic absorber, easy to maintain and introduce additional natural texture and warmth."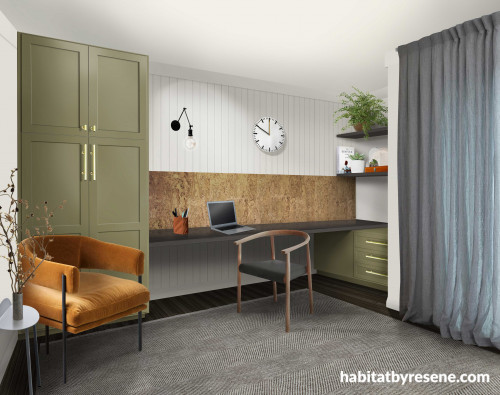 Behind the desk, James Hardie grooved walls have been painted in Resene Sea Fog and clear finished cork flooring tiles have been used to create a custom pinboard. The vertical and horizontal cabinets have been painted with Resene New Leaf and the ceilings are in Resene Alabaster. The floating shelves and desk bench have been stained with Resene Colorwood Tiri and sealed with Resene Aquaclear urethane for protection. The timber flooring beneath the rug has been stained with Resene Colorwood Iroko natural wood stain.
Top tip: Resene has an extensive range of Environmental Choice approved paints and stains suitable for a myriad of applications. Environmental Choice approved Resene Enamacryl gloss and Resene Lustacryl semi-gloss are durable and easy clean options for furniture and joinery.
Designer Emma Wallace suggests this alternative scheme: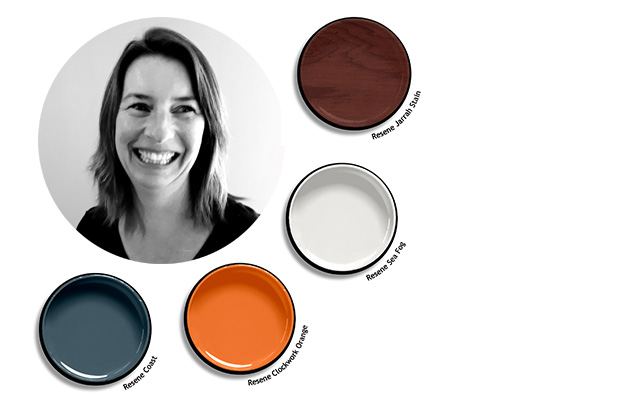 "I took my inspiration for this office space from a painting that I own by Margo Martin (which is displayed on the wall) as I like the complementary contrast of the blue and the orange, which has been reflected back into the space through Resene Clockwork Orange and Resene Coast. I wanted to create a modern, vibrant and stimulating home office space while remaining uncluttered with functional classic furniture and lighting selections. By keeping the brighter Resene Clockwork Orange accent wall out of the desk space's line of sight, it stops it from being distracting to the worker, and the Resene Sea Fog ceiling provides some brightness and balance to the deep Resene Coast walls."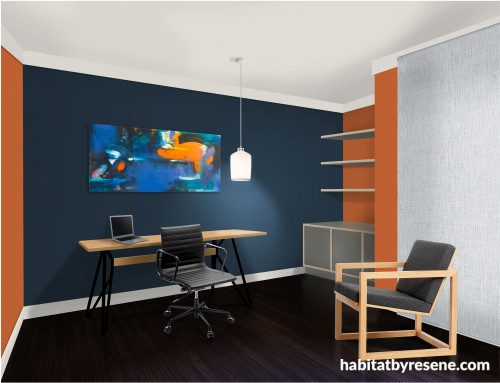 In Emma's alternative solution, the main wall is painted in Resene Coast while the wall behind the shelving and the wall next to the window, which is dressed in Four Families Rami Blinds (in Snow), are painted in Resene Clockwork Orange. The ceiling and timber joinery are in Resene Sea Fog and the bamboo flooring has been stained with Resene Colorwood Jarrah natural wood stain. The "Owls" artwork is by Margo Martin.
Top tip: If you love the colours in a fabric or artwork, load a photo of it into the Resene Colour Palette Generator and it will suggest some Resene colours to help get you started. Try it out at www.resene.com/palettegenerator.
All three of these designs teach some important lessons in home office design. Here are three takeaways you don't want to miss out on.
Takeaway #1: Make the desk the focal point
Your home office should be a sanctuary—a place you can go to get your best thinking and work done. And like any sanctuary, it could use a decorating shake-up from time to time.
One thing that both Anna and Emma did in each of their alternative design solutions was bring the desk further into the space. Not only is there more room to spread out paperwork in these solutions, it also brings the desk space into the spotlight, making it the focal point of the space. Investing in a versatile desk with a simple design profile will help to anchor your office, regardless of how you style the room around it.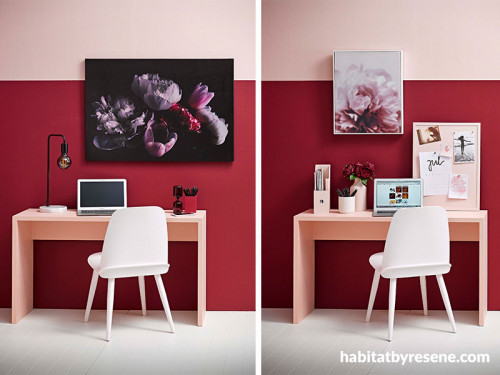 A simple desk design allows for more flexibility when it comes to redecorating. This desk is painted Resene Sakura, the chair is in Resene Sauvignon, the walls are in Resene Pohutukawa (bottom) and Resene Dust Storm (top), the floor is in Resene Double Rice Cake, the vase and corkboard are in Resene Dust Storm and the pencil cups are in Resene Pohutukawa (left image) and Resene Sauvignon (right image).
Choose a desk that's the right height, has plenty of drawer and cabinet space so you can keep your desktop clean and organised. For a bohemian vibe, add a patterned wallpaper to the drawer fronts or sides. Feeling more minimalist? Bring in polished brass shelving and sheer, white curtains to allow more light to shine through. Which brings us to…
Takeaway #2: Make sure you have adequate lighting
All three designs have a direct lighting source above the workspace to ensure whoever is using it will be able to see properly. Task lighting is an especially important consideration in a home office to avoid eye strain and fatigue. If you have a large desk, try incorporating lighting that can be redirected to shine on different areas of the desktop to give you more flexibility in how you use the space.
Takeaway #3: Do what's right for you
All three designs are perfect for the user they're intended for. Your home office should reflect the needs and tastes of you and your family. If you're a strict minimalist who has forgone paper completely, you'll likely need less storage. If you use lots of paper or use your office for crafts, you may need more spaces to store your files or supplies. If you like bold colour, an office can be a great place to experiment with different hues or try interesting painted features like colour blocking, a grid pattern or a floor-to-ceiling chalkboard. Do what's right for you, and have fun doing it.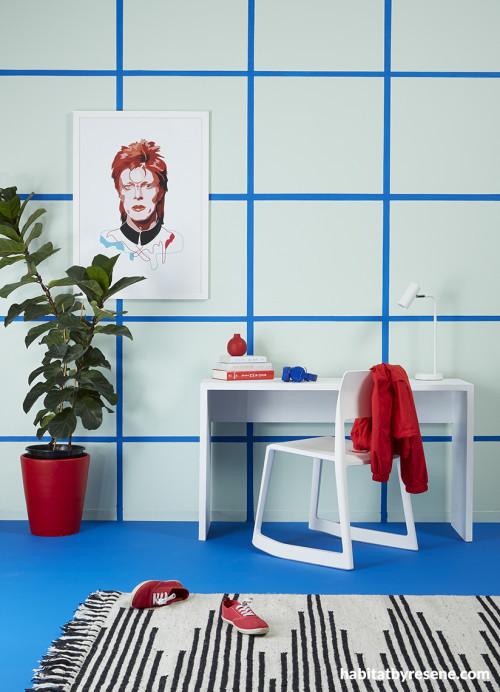 This fun Memphis-revival home office would suit someone creative with minimal possessions and storage needs who gets inspired by bold patterns and vibrant colours. The grid wall pattern was created by first painting the wall in two coats of Resene Wet N Wild, allowing it to dry completely, taping off the pattern using high-quality painter's masking tape and then painting topcoats in Resene Kandinsky before peeling off the tape to reveal the blue beneath. The floor is in Resene Wet N Wild, the plant pot and small vase are in Resene Jalapeno and the chair, lamp, picture frame and desk are in Resene Alabaster.
architectMalcolm Walker
designersAnna Major,Emma Wallace
illustrationsMalcolm White
styling Vanessa Nouwens, Laura Lynn Johnston
photography Melanie Jenkins, Mark Scowen, Bryce Carleton
the look
If you're stuck on what
colour to use or need colour
advice, try out the Resene
Ask a Colour Expert service.