►
◄
latest
habitat tv
blog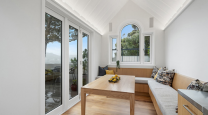 Master Builders' Chief Executive David Kelly shares his tips for building in the challenging climate.

Planning... more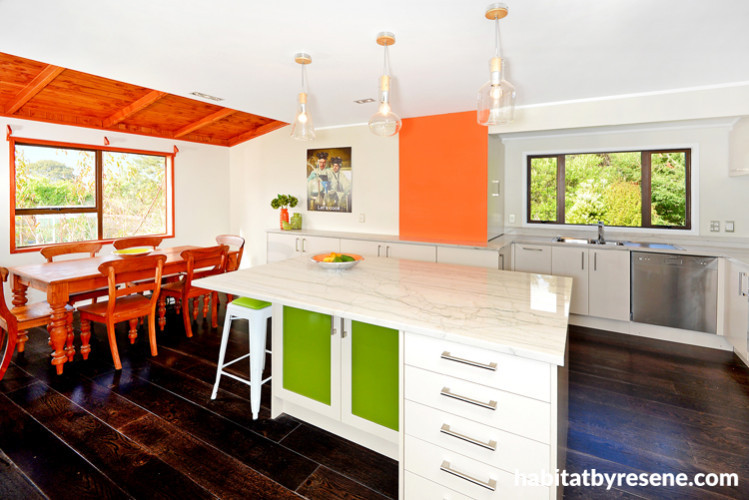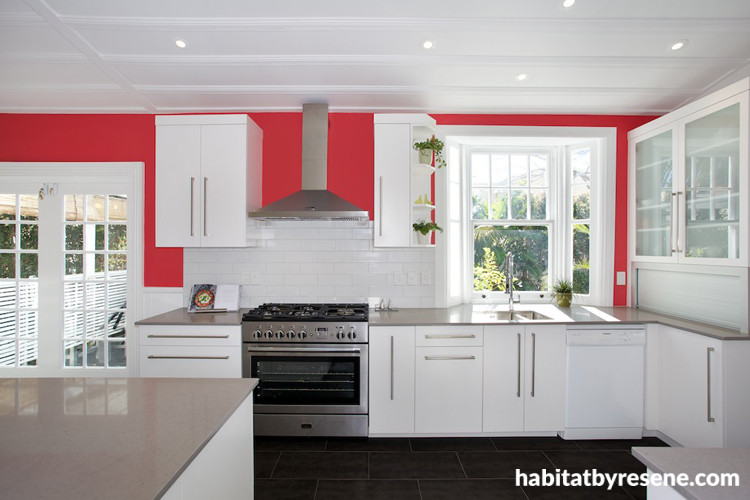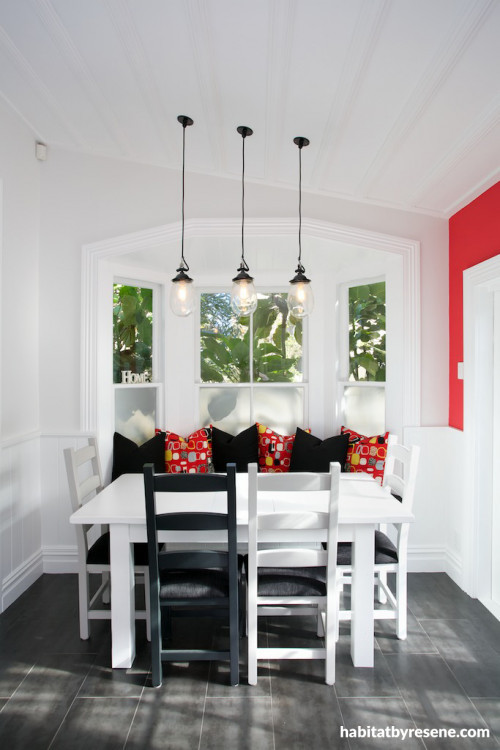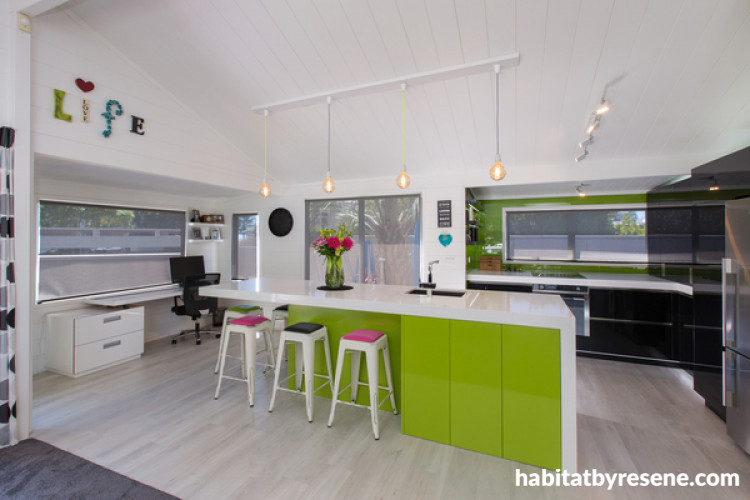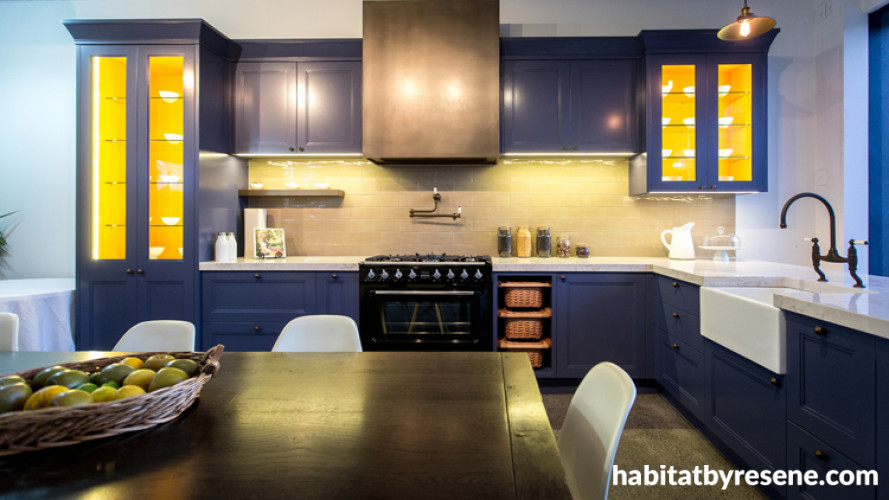 4 fab colour-shot kitchens
Still wedded to the idea of a white kitchen? Never fear, choosing white cabinetry doesn't mean you can't have a bit of colour in your life, or rather your kitchen.
In fact, by adding Resene colour accents to areas that can be more easily changed, you can extend the timelessness of your kitchen, and then ring in the colour changes to keep up to date with interior fashions:
* Paint the walls inside your cupboards or pantry in one colour, and repaint in another colour later on.
* Paint the front of an island bench to echo accent colours used throughout an open-plan living area.
* A back-painted glass splashback in green this year, then change it out in a few years for another colour.
* And, of course, one of the easiest surfaces to repaint in a kitchen is the wall – choose a rich appetite-stimulating red to superbly 'frame' your white cabinets, or maybe a moody and calming deep grey. The choices are vast.
Tip: White isn't often pure white. Check out the Resene Whites & Neutrals range for a selection of off-whites and creams for your cabinets and remember to ask for Resene ArmourCat paint – it's a super-tough paint that's perfect for cabinetry.
Published: 07 Sep 2014
Do you have a home full of wonderful Resene paint and colour? Send us some snaps by emailing [email protected].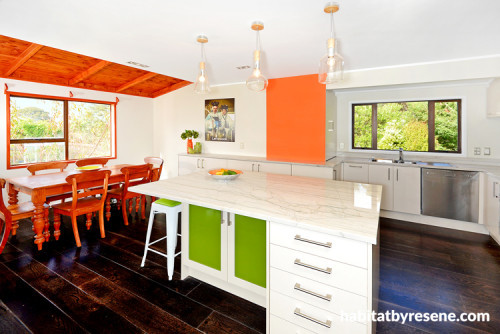 Juicy orange and fresh spring green are a great colour combination, used here by Amanda Neill of Designworx. The Resene Ayers Rock orange seen here is actually a blackboard using Resene SpaceCote Low Sheen while the green is Resene Kombi. The walls are in Resene Quarter Akaroa and the ceiling and trims are Resene Alabaster.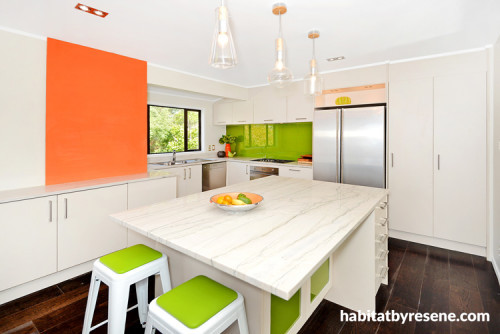 Says Amanda of the kitchen: "The house sits in amongst farmland with a lot of green around it. We wanted to bring this into the house with a youthful energy which lime-based greens (Resene Kombi) do, and then overlay that with a pop of the orange (Resene Ayers Rock). Orange stimulates conversation and adds energy."
pictures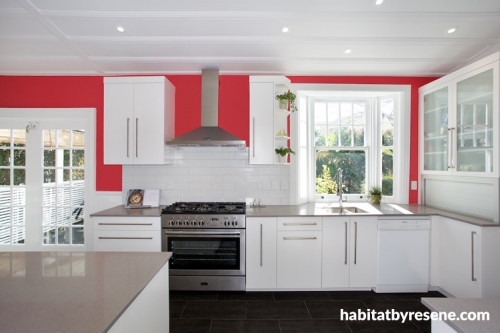 Here's a kitchen that would make you smile each and every day. Designed by Susan Templer, the bright red Resene Vibe walls were chosen to match a favourite painting while the cabinets are in Resene Black White.
pictures
For more of Susan's design, see www.templerinteriors.co.nz.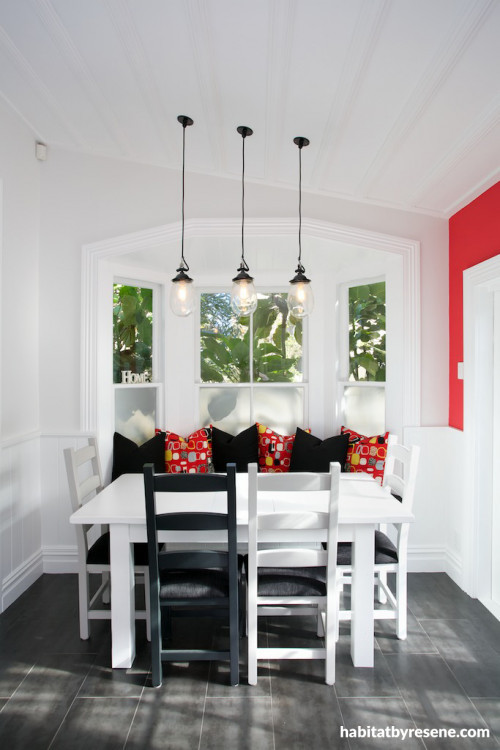 To complement the kitchen designed by Susan Templer, the dining furniture was upcycled with paint. The table and chairs were painted in Resene Black White, with other chairs in Resene Cloudy and Resene Blackjack. The red wall is in Resene Vibe while the others are Resene Black White.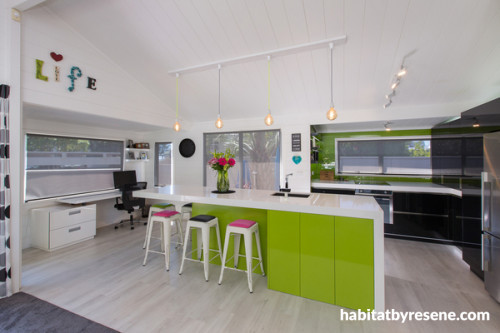 This old Lockwood home has been superbly updated by designer Tracy Murphy of Vekart Kitchens, using Resene Quarter Merino on the timber walls and ceilings, against which Resene Lima shines out from the island bench and around the window.
pictures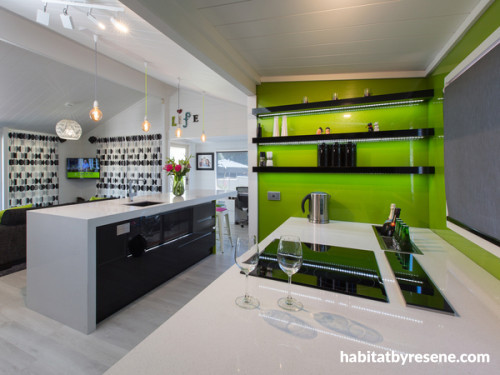 Another view of Tracy's kitchen, showing how the Resene Lima back-painted glass is carried around onto the side wall.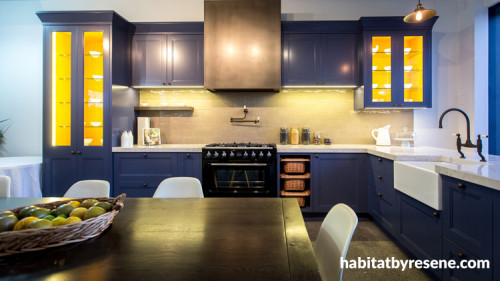 This one is a bit different but uses the same principles of adding an accent colour to the inside of a couple of glass-fronted cabinets with orange Resene Flashback. Designed by Maggie Gardner, it has Resene Avalanche cabinets to give a colourful twist to an otherwise traditional look.
This kitchen is on display at Kitchens by Design.