►
◄
latest
habitat tv
blog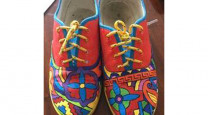 4 paint colours you'll love if you're already over winter
29 Aug 2019
Oh, those endless days of soaking up the sunshine. They seem so long ago.
If you're already sick of the dreadfully damp winter weather – we know we are – it's probably high time to start planning out your spring and summer decorating projects.
What's in the forecast? Fully saturated shades are still very much in style, especially in earthy emeralds, spicy golds and bitter oranges. We're also seeing a slow yet steady rise in mushroom taupes with plum undertones.
Try one of these four on-trend spring-worthy Resene colours to get in the mood for sunnier skies and warmer temperatures.
Resene Mother Nature
Do you have a home full of wonderful Resene paint and colour? Send us some snaps by emailing [email protected].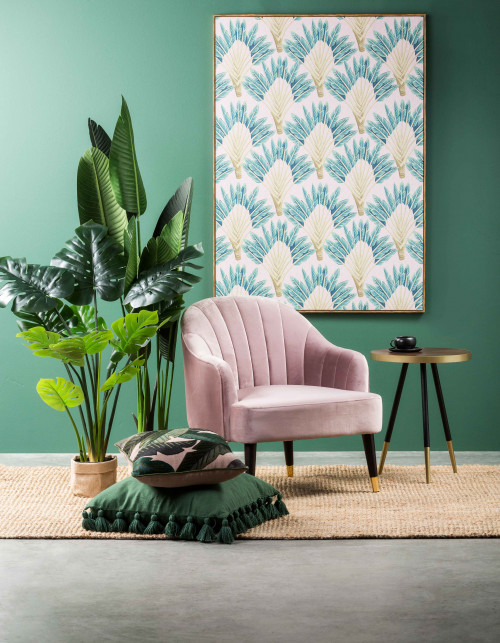 This wall in Resene Mother Nature is not unlike the colour we're looking most forward to seeing all around us once the rain and snow let up. Try it in a lounge with a super springy pink like Resene Shilo, a barely-there blush like Resene Ethereal, a grey-green like Resene Helix and a gorgeous gold like Resene Cleopatra.

Props: Delphi Armchair in Rose, Arthur Side Table in Ash, Jungle Leaf Cushion in Pink/Green, Greta Tassel Cushion in Green, Forst Jute Rug in Natural and Palm Springs Framed Canvas, all from Nood.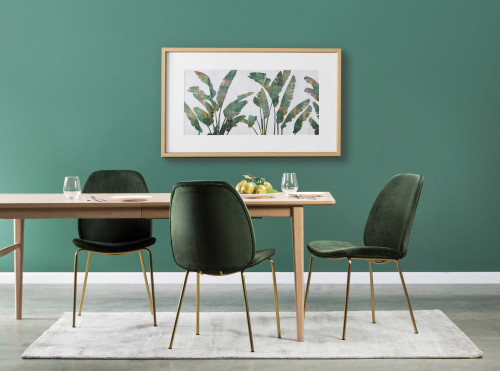 For a simple and elegant space, Resene Mother Nature looks just as lovely in a paired down dining room. Try it with an olive green like Resene Waiouru, a frosted celadon green like Resene Secrets, a bitter green gold like Resene Rococo, skirting boards in Resene Alabaster and timber floors stained in Resene Colorwood Mid Greywash.

If Resene Mother Nature tickles your fancy but the above palettes don't, try it instead with taupe browns, stark off-whites or oily browns such as Resene Coffee Break, Resene White Pointer or Resene Thunder Road.
Props: Koppen Dining Table in White Oak, Carlos Dining Chairs (coming soon), Tropical Symmetry Fine Art and Antique Viscose Rug in Sand, all from Nood.
Resene Cinnamon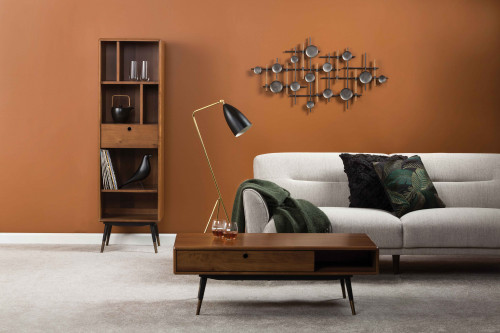 Resene Cinnamon, used on the wall in this living room, has warmth baked right into it. Try it with mid-mod style furnishings, timber flooring in Resene Natural timber stain, a deep emerald like Resene Atlas, a fleecy beige like Resene Eighth Stonewashed and a soft black like Resene Noir in a satin finish. Then, bring in the brass details – and plenty of them.

Props: Hayden 3-Seater Sofa in Wheat, Stanley Coffee Table in Dark Brown, Stanley Shelf in Dark Brown, Nod Floor Lamp, Mellor Weave Throw in Olive Green, Jungle Leaf Cushion in Black/Green and Fringe Trellis Cushion in Black, all from Nood.
Resene Swiss Caramel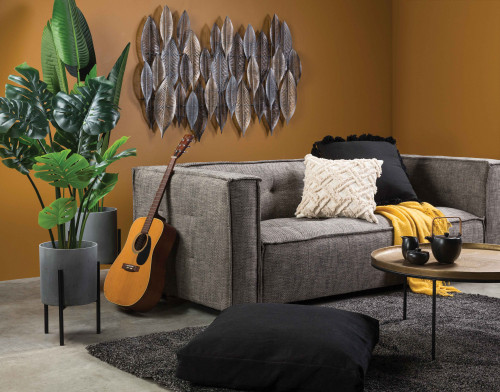 Resene Swiss Caramel is one of the hottest up-and-coming colours, so get ready to see plenty of this shade around. Try it on the walls of a living room or den with floors in Resene Colorwood Iroko, plant pots in Resene Quarter Baltic Sea, accents in a near black like Resene Charcoal, and accessories in Resene Half Spanish White with just a pop of Resene Thumbs Up.

If you love the colour but you're after a different look, rich ochre golds like Resene Swiss Caramel also look great with olive greens, royal purples or warm timber stains such as Resene New Leaf, Resene Purple Rain or Resene Colorwood Natural.
Props: Immerse 3-Seater Sofa in Charcoal, Forge Coffee Table (available in store only), Broad Leaves Metal Artwork, Bink Planter and Stand, Fringe Trellis Cushion in Off White, Greta Tassel Cushion in Black, Mellor Weave Throw in Mustard, Gus Floor Cushion in Black and Monty Shag Rug in Anthracite, all from Nood.
Resene Rocky Mountain
Along with the popularity of the 80s revival design movement comes a resurgence in – you guessed it – rag rolled paint effects. The wall in this living room was created using Resene Rocky Mountain, Resene Paint Effects Medium and Resene Sepia. Try it on a single wall with floors in Resene Rice Cake or a pewter grey like Resene Silver Chalice for some levity and one or two accessories, such as vases or plant pots, in Resene Sixth Sense to play up the plum undertones of the two wall colours.

The dusky warm grey tones of Resene Rocky Mountain also look superb with deep wine reds, light greys or tar blacks timbers such as Resene Aubergine, Resene Grey Seal or Resene Colorwood Pitch Black.
Props: Aspen 3-Seater Sofa in Black, Replica Noguchi Coffee Table in Walnut, Stanley Media Unit in Dark Brown, Max Loop Pile Rug in Grey, Karoo Cushion in Black/Natural, Greta Tassel Cushion in Cream, Retro Bird Cushion in Black/White, Pure Bloom Fine Artwork and Mavi Vase, all from Nood.
Special thanks toNood