►
◄
latest
habitat tv
blog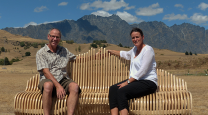 5 bach bedroom decorating ideas so you can snooze in style
If there's one place you should be guaranteed absolute serenity and a comfortable sleep this summer, it's your bach. Low maintenance décor paired with cool, comforting colours can help set the right tone, allowing those long-awaited holiday slumbers to come easy.
The key lies in creating the right atmosphere, one that'll put you in the mood to put your feet up and forget about all the pressures of home and work life the second you walk in the door.
Try these easy breezy top tips to give your bach bedroom a fresh and restful look this summer. And if you don't have a bach, try these tips at home so you can enjoy them year round.
1. Switch out your bedhead for wallpaper
As chic as they are, headboards don't exactly scream 'holiday home essential.' Instead, why not go for a charming design from the Resene Wallpaper Collection? An accent wall behind your bed can be an inviting presence, especially with a pattern that weaves in a beachy, natural vibe.
Published: 20 Nov 2019
Do you have a home full of wonderful Resene paint and colour? Send us some snaps by emailing [email protected].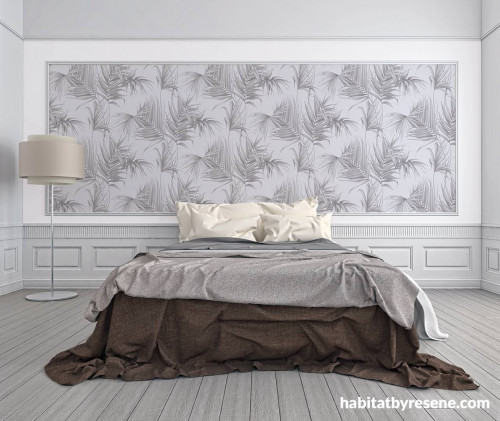 Rather than a headboard, a statement wall in Resene Wallpaper Collection 36505-4 brings a touch of the great outdoors to this bedroom. Paint surrounding walls in a soft grey like Resene Rakaia, the floor in Resene Colorwood Light Greywash and complete the look with earthy-coloured coloured furnishings or a hint of on trend lilac to play off the undertones of the wallpaper design. Greys, browns, creams and off-whites are easy to live with and just as easy to swap in and out when you want to refresh your room.
2. Paint up some rattan
Rattan furniture is commonplace on bach decks and outdoor lounging spaces thanks to its durability and lightweight nature – but its uses extend far beyond the outdoors. Rattan also looks fabulous indoors when prepped and painted in your favourite colours.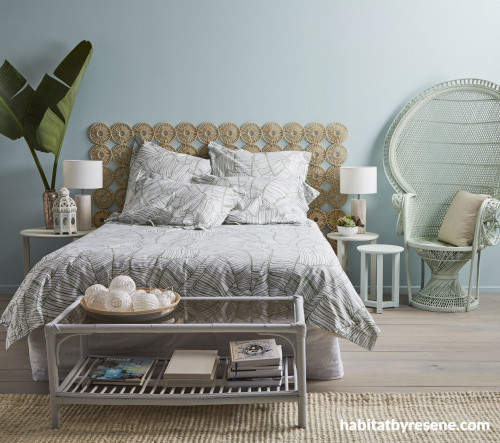 When incorporating rattan furniture, each piece doesn't need to be painted the same hue. To create a cohesive look, choose your wall shade and then paint rattan using paint in tones within the same colour family. The wall in this blissful looking bedroom is in Resene Half Opal, the floor is in Resene Colorwood Mid Greywash, the rattan peacock chair is in Resene Surf Crest, the nesting tables are in (from left to right) Resene Half Cut Glass, Resene Secrets and Resene Kandinsky and the cane table is in Resene Half Duck Egg Blue.
3. Go dark
There's something to be said for dark colours and how effectively they infuse contemporary glamour into a room. When it comes to holiday homes, combining dark walls with earthy colours as part of a tone-on-tone scheme is definitely the way to go for a look that's both elegant and casual.
Layering is the name of the game here, and doing so in variable shades of green and grey brought in through soft furnishings, side tables, shelving and decorative accents can provide a calming and timeless look in a dark walled bedroom.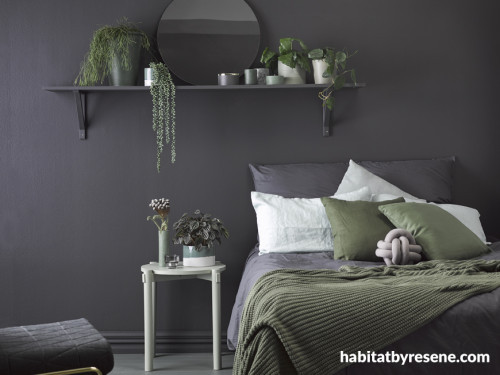 Whichever dark tone you go with, make sure to invite some colour into your room that ties into your natural surroundings. Think of the bush, ocean, sand and the sky and pick shades that put you at ease. Wall, skirting boards, shelf and brackets in Resene Nocturnal, floor in Resene Viktor, side table in Resene Organic and pots, vases and tea light holder in Resene Paddock, Resene Seaweed, Resene Passport and Resene Ciderhouse.
4. Keep it casual
You don't want to spend all holidays cleaning, so opt for a low-maintenance style. Keep bedding simple and casual with easy-to-clean cotton, linen or flannel in your favourite colours – especially earthy tones. Bring the look together with functional furnishings in natural materials like timber, rattan and wool then keep the rest of the space paired down to the essentials. Décor like easy-to-maintain succulents, baskets for storage, a simple rug and a few cosy throws are all you need for a cool, casual vibe.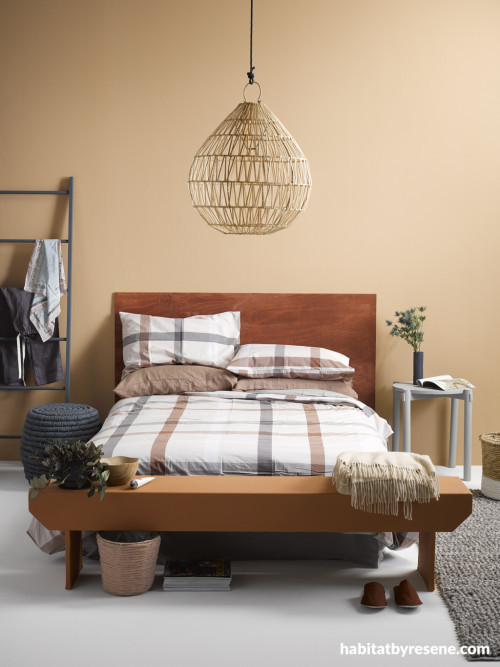 Creating a casual bedroom should be simple and fun. This bedroom features warm and toasty Resene Calibre on the walls contrasted with Resene Wan White, a cooler greyed-white, on the floor. Bring nature into the space with a stained headboard in Resene Colorwood Meranti and plenty of heavy woven textures for visual interest. The bench seat is in Resene Toffee, the rope side table is in Resene New Denim Blue, the side table is in Resene Delta, the ladder is in Resene New Denim Blue and the vase is in Resene Dark Side.
5. Bring in some battens
Batten walls are a popular on trend choice, but they don't have to surround the entire space – nor do they have to go all the way from floor to ceiling. Instead of a headboard, use battens to create an interesting focal point above the bed. A vertical pattern is incredibly eye-catching and, in a small space, they can help your ceilings feel higher than they actually are.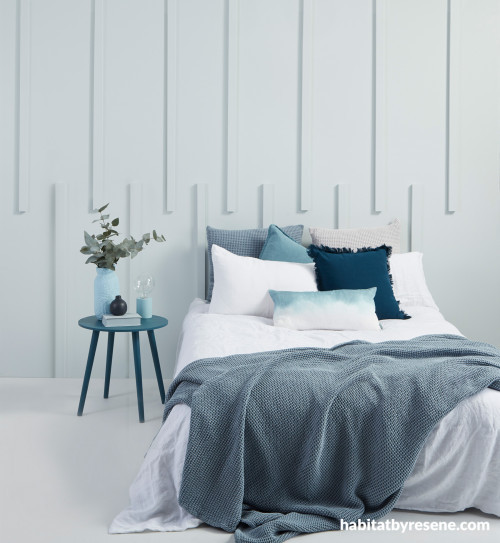 The partial vertical battens and the wall in this tonal bedroom are both painted Resene White Island but battens can be a great place to bring in a bit of contrasting colour – try painting them in a double or triple strength version of your wall colour or go for something completely different. To bring that desirable and calming beach setting into your bedroom, go with layered blue tones like a bedside table in Resene Fast Forward, a lamp in Resene Mystery, vases in Resene Raindance and Resene Indian Ink and a floor painted in Resene Walk-on tinted to Resene Quarter Concrete.
styling Gem Adams, Megan Harrison-Turner, Vanessa Nouwens?
images Bryce Carleton, Wendy Fenwick, Melanie Jenkins